Are you a clerical associate looking for a new job? Writing a great resume is one of the most important steps you can take in the job search process. It is the first impression potential employers receive about you and your professional experience. A well-written resume is essential to stand out in a competitive job market. This guide provides tips and examples to help you craft the perfect clerical associate resume.
If you didn't find what you were looking for, be sure to check out our complete library of resume examples.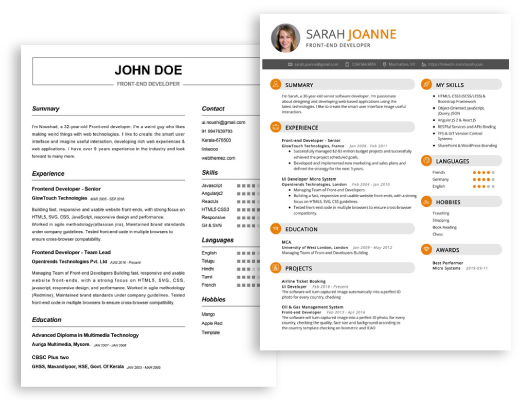 Start building your dream career today!
Create your professional resume in just 5 minutes with our easy-to-use resume builder!
Clerical Associate Resume Examples
John Doe
Clerical Associate
123 Main Street | Anytown, USA 99999 | Phone: (123) 456-7890 | Email: john.doe@email.com
A highly motivated and organized individual with over 7 years of experience in office administration and clerical operations. Possess excellent communication skills, competent in Microsoft Office suite, and able to take initiative to improve processes and procedures. Eager to join an organization that values hard work and dedication.
Core Skills:
Office Administration
Data Entry
Clerical Tasks
Proofreading
Time Management
Microsoft Office Suite
Customer Service
Professional Experience:
Clerical Associate, ABC Company, 2020- Present
Provide administrative support to managers and staff
Handle incoming and outgoing calls
Maintain and update filing systems
Process and distribute incoming mail
Input data into computer system
Assist in preparing documents and reports
Schedule and coordinate meetings
Clerical Assistant, XYZ Company, 2017- 2020
Performed data entry and filing duties
Assisted customers with inquiries and requests
Prepared and processed documents
Prepared mailings
Answered and routed phone calls
Inputted customer information into database
Education:
Bachelor of Science in Business Administration, ABC University, 2017
Clerical Associate Resume with No Experience
Dedicated and hardworking college student with a passion for administrative work and a commitment to excellence.
Eager to utilize my organizational and multitasking skills in a clerical associate role.
Skills:
Organizational Skills: Proven ability to manage multiple tasks with outstanding efficiency while maintaining a high level of accuracy.
Communication: Exceptional interpersonal and verbal communication skills with a high degree of professionalism.
Computer Skills: Proficient in Microsoft Office Suite, including Word and Excel.
Responsibilities
Greeted visitors and answered phones in a professional and friendly manner.
Sorted and distributed incoming mail and managed outgoing mail.
Created and updated filing systems for both paper and electronic documents, ensuring accuracy and confidentiality.
Assisted with various administrative tasks such as photocopying, faxing and scanning documents.
Provided clerical support to staff members, including scheduling appointments, ordering office supplies and preparing reports.
Ensured that office equipment was functioning properly and maintained in good condition.
Clerical Associate Resume with 2 Years of Experience
Hardworking and dedicated Clerical Associate with two years of experience providing administrative and clerical support in a range of industries. Experienced in data entry, filing, customer service, inventory control, and other clerical duties. Highly organized, with excellent problem- solving and interpersonal skills. Looking to leverage this experience to secure a position with a reputable organization.
Core Skills:
Data Entry
Filing
Customer Service
Inventory Control
Record Management
Time Management
Attention to Detail
Interpersonal Communication
Problem Solving
Responsibilities:
Performed data entry and filing
Assisted customers with inquiries
Managed inventory control and record keeping
Scheduled appointments and organized meetings
Handled mail and faxes
Monitored and maintained office supplies
Developed administrative procedures and systems
Provided support to other departments and management staff
Clerical Associate Resume with 5 Years of Experience
I am a highly motivated and organized Clerical Associate with 5 years of experience providing administrative, organizational, and technical support. I have a proven track record of successfully managing, organizing, and completing multiple tasks in a timely and professional manner. I am a creative problem- solver, with excellent communication, interpersonal, and customer service skills. I am highly reliable and committed to providing a high level of customer satisfaction.
Core Skills:
Excellent organizational and administrative skills
Proficient in Microsoft Office products, such as Word, Excel, and Outlook
Strong research and data entry skills
Ability to multi- task and prioritize tasks
Excellent communication and customer service skills
Creative problem- solving skills
Responsibilities:
Answered and directed incoming calls
Scheduled and organized meetings
Created, edited, and maintained various spreadsheets and documents
Performed daily data entry tasks
Assisted with preparing and sending correspondence
Prepared and distributed reports
Updated and maintained filing systems
Completed any other related clerical duties as assigned
Clerical Associate Resume with 7 Years of Experience
I am an experienced Clerical Associate with 7 years of experience in office and administrative support roles. I have excellent organizational skills and am dedicated to maintaining accuracy and efficiency in my work. My attention to detail and ability to anticipate upcoming demands allows me to complete projects quickly and efficiently. I am well- versed in multiple software programs and can easily assist customers and colleagues with any technical issues. I am a team player and am always willing to provide assistance to any member of my team.
Core Skills:
Organizational Skills
Attention to Detail
Microsoft Office Suite
Data Entry
Customer Service
Communication
Problem Solving
Responsibilities:
Managed and maintained electronic and paper filing systems.
Completed data entry tasks in a timely and accurate manner.
Answered incoming calls and provided customer service.
Processed and managed incoming and outgoing mail.
Developed and maintained positive relationships with customers and colleagues.
Assisted with scheduling, timekeeping, and payroll activities.
Resolved customer and internal inquiries in a professional manner.
Developed and implemented policies and procedures to improve workflow.
Coordinated meetings and events as needed.
Clerical Associate Resume with 10 Years of Experience
A professional Clerical Associate with 10 years of experience providing administrative, customer service and organizational support. Innovative problem- solver with a passion for creating efficient, streamlined processes. Skilled in data entry, records management, filing systems and customer service. Adept in utilizing various software programs, including Microsoft Office and QuickBooks.
Core Skills:
Interpersonal Communication
Data Entry
Records Management
Filing Systems
Customer Service
Problem- Solving
Microsoft Office
QuickBooks
Responsibilities:
Greeted customers and answered phones in an efficient and professional manner.
Managed customer service inquiries in an organized and timely fashion.
Organized and maintained office files and records.
Assisted in the preparation of reports, presentations and documents.
Completed data entry and database management tasks.
Responded to customer emails and other correspondence.
Assisted in budgeting and financial reporting.
Performed clerical duties and general office functions.
Implemented new organizational systems and processes.
Clerical Associate Resume with 15 Years of Experience
Dedicated and detail- oriented Clerical Associate with a 15- year track record of success in providing quality clerical support to various departments. Proven ability to provide accurate and timely data entry, file management, and recordkeeping. Adept at developing and maintaining a filing system and tracking the flow of documents. Well- versed in customer service and uses strong organizational and communication skills to ensure efficient operation of departmental procedures.
Core Skills:
Proficient in Microsoft Office Suite, including Word, Excel, PowerPoint, and Outlook
Knowledgeable in data entry and filing systems
Ability to work efficiently and accurately under pressure
Excellent communication and customer service skills
Strong organizational and problem- solving skills
Responsibilities:
Perform data entry and document filing tasks
Assist in the preparation and submission of documents, records, and forms
Answer incoming calls and respond to customer inquiries
Maintain records and filing systems
Greet visitors and direct them to appropriate personnel
Assist in the preparation of reports and other documents
Assist in the performance of various administrative tasks
In addition to this, be sure to check out our resume templates, resume formats, cover letter examples, job description, and career advice pages for more helpful tips and advice.
What should be included in a Clerical Associate resume?
A Clerical Associate resume should include many aspects of a job candidate's skills and experience. Here is a checklist for what should be included when writing a Clerical Associate resume:
Personal information: Name, address, phone number, email address
Objective: A brief summary outlining the job candidate's career goals
Education: List the name of the school, degree earned, and year of completion
Work experience: List the dates of employment, job title, and a brief overview of the duties and responsibilities associated with the job
Skills: List any special skills or knowledge related to the clerical field that the job candidate brings to the table
Certifications/Accreditations: List any certifications or accreditations held by the job candidate
Interests: List any hobbies or interests related to the clerical field that the job candidate enjoys
References: List two or three professional references who can attest to the job candidate's qualifications
What is a good summary for a Clerical Associate resume?
A summary for a clerical associate resume should highlight the essential skills, knowledge and experience an individual has to excel in a clerical position. It should present a concise snapshot of the individual's abilities and accomplishments, as well as their qualifications for any clerical or administrative roles. A good summary should focus on the most important components of the individual's work experience, such as customer service and communication, organization, data entry and processing, filing, proofreading and other skills required in a clerical setting. It should also include details of any relevant certifications, such as Office Administration or Technical Writing, as well as any other qualifications and experience they may have to offer. Overall, the summary should be a strong summary that showcases an individual's existing skills and experiences, while also highlighting any qualities or experiences that make them stand out.
What is a good objective for a Clerical Associate resume?
Writing an effective resume for a clerical associate position is essential for a successful job search. A compelling resume should clearly and concisely explain your key qualifications and experience, as well as your professional objectives. Crafting an effective objective statement can be a challenge, but it's an important first step in creating an effective resume.
Here are some tips for writing an effective clerical associate resume objective:
Start with a strong statement about your qualifications: A proven clerical associate with six years of experience and a commitment to accuracy and customer service.
Highlight your unique skill set: Experienced with managing customer inquiries, data entry, and inventory management.
Describe the type of environment you're looking for: Looking for a clerical associate position with a progressive organization that values excellence, accuracy, and customer service.
Indicate your career goals: Seeking to use my experience and knowledge to contribute to the continued success of the organization.
A good objective for a clerical associate resume should highlight your qualifications, unique skill set, and career goals. The objective should be clear, concise, and tailored to the job description. By focusing on these key elements, you can create an effective resume that will help you stand out from the competition and land the job of your dreams.
How do you list Clerical Associate skills on a resume?
When creating a resume for a clerical associate position, it is important to showcase your skills and experience in the best possible light. One way to do this is to list your skills in a clear, easy-to-understand way that demonstrates your qualifications.
Here are some tips on how to list clerical associate skills on a resume:
Include a section labeled 'Skills' near the top of your resume. This helps employers quickly identify your abilities and gives them an idea of the types of tasks you can handle.
Make sure to include any software programs you are familiar with, such as Microsoft Office, Adobe Suite, or Quickbooks.
List any clerical experience you have, such as filing, data entry, customer service, scheduling, and other administrative duties.
Demonstrate your ability to work with technology, such as by listing your experience with computers or other digital devices.
Highlight your ability to work with a team by mentioning any collaborative projects you've been involved in.
Focus on transferable skills, such as communication, organization, problem-solving, and time management.
By listing your skills in a concise and organized way, you can demonstrate to employers that you are the right person for the job. Good luck!
What skills should I put on my resume for Clerical Associate?
When creating a resume for a Clerical Associate position, there are certain skills that employers will be looking for you to have. Below are a few of the key skills to consider including in your resume:
Data Entry: Clerical Associates are frequently responsible for entering data into computer systems quickly and accurately. Highlight any prior experience you have with data entry, as well as any specialized software you are proficient in.
Communication: Clerical Associates must have excellent communication skills, both written and verbal. Be sure to include in your resume any experience you have with effectively communicating with both customers and colleagues.
Organization: It is essential for a Clerical Associate to have strong organizational skills. Showcase any prior experience you have with organizing and managing paperwork, files, project materials, etc.
Customer Service: As a Clerical Associate, you will likely be interacting with customers or clients on a regular basis. Demonstrate any customer service experience you have on your resume.
Attention to Detail: Clerical Associates must pay close attention to detail when dealing with paperwork, data entry, etc. Show employers that you have an eye for detail by sharing any previous experience you have with ensuring accuracy.
Overall, employers are looking for Clerical Associates that possess a mix of technical skills and interpersonal skills. Make sure to highlight your strengths in both areas on your resume. With the right combination of skills, employers will be sure to take notice!
Key takeaways for an Clerical Associate resume
Having a professional, well-written clerical associate resume is critical for any job seeker. Your resume should be tailored to the job you're seeking and emphasize the skills and experiences that make you the best person for the position. Here are some of the key takeaways for a clerical associate resume:
Highlight Your Skills: Your resume should include a list of the skills that you possess that make you the best fit for the position. This could include computer skills, administrative abilities, organization, problem-solving, customer service, and communication skills.
Quantify Your Accomplishments: When possible, include examples of your accomplishments, successes, and awards. Use numbers to quantify your achievements, such as, "decreased customer wait times by 25%" or "successfully completed 100 customer inquiries in a week."
Focus on Relevant Work Experience: Your resume should include relevant work experience. Be sure to include the job title, company name and dates of your employment. Don't forget to include details about responsibilities, successes, and accomplishments.
Demonstrate the Ability to Work Independently and as Part of a Team: Clerical associates often need to be able to work both independently and as part of a team. Demonstrate your ability to do both by including examples of tasks you've completed either as an individual or as part of a team.
Show Your Potential for Growth: Your resume should also show potential for growth by including any courses you have taken, certifications, or skills you have acquired. This will demonstrate to potential employers that you are a lifelong learner and can continue to grow with the company.
By following these key takeaways, you can create a resume that will get you noticed and help you stand out from other applicants.
Let us help you build
your Resume!
Make your resume more organized and attractive with our Resume Builder