Writing a resume for a capacity manager role can be an intimidating process, but following a few tips and tricks can help you create an effective resume that will stand out from the crowd. Using this capacity manager resume writing guide with examples, you'll be able to craft a resume that will help you land the job you want. This guide will provide you with an overview of what to include in a capacity manager resume, tips for writing an effective resume, and resume examples from actual capacity managers. By following these tips and utilizing the resume examples provided, you can create a resume that will clearly showcase your skills and experience to employers.
If you didn't find what you were looking for, be sure to check out our complete library of resume examples.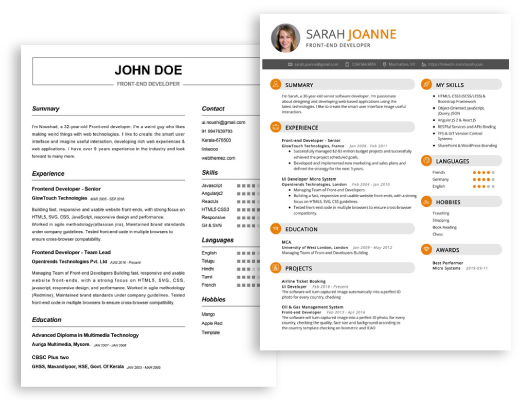 Start building your dream career today!
Create your professional resume in just 5 minutes with our easy-to-use resume builder!
Capacity Manager Resume Examples
John Doe
Capacity Manager
123 Main Street | Anytown, USA 99999 | Phone: (123) 456-7890 | Email: john.doe@email.com
Highly capable and motivated Capacity Manager with 8 years of experience developing and implementing capacity management strategies for large organizations. Proven expertise in monitoring capacity capacity utilization, calculating capacity requirements and forecasting for future needs. Experienced in developing capacity plans and strategies for optimizing resources and managing costs. Possess exemplary communication and problem- solving skills.
Core Skills:
Capacity Planning & Management
Resource Optimization
Capacity Utilization
Capacity Requirements
Cost Management
Forecasting & Analysis
Change Management
Problem Solving
Communication
Professional Experience:
Capacity Manager, XYZ Corporation, June 2012 – Present
Lead capacity management initiatives and developed strategies for optimization of resources and cost savings
Developed programs for monitoring, analyzing and forecasting capacity utilization & requirements
Monitored and reported on capacity trends and identified opportunities for improvement
Implemented change management process and procedures to ensure smooth transition
Assessed existing capacity utilization & requirements and recommended changes
Developed and maintained capacity plans to ensure sufficient resources
Education:
Bachelor of Science in Computer Science, ABC University, 2009
Capacity Manager Resume with No Experience
Highly organized professional with experience in project management, customer service, and problem solving. Highly analytical with excellent attention to detail, seeks opportunity to begin a career as a Capacity Manager.
Skills
Analytical thinker
Strong attention to detail
Exceptional organizational abilities
Project management skills
Ability to multi- task
Excellent customer service
Effective problem solver
Responsibilities
Monitor and analyze capacity trends and performance
Create data- driven reports to support capacity planning decisions
Develop and maintain capacity plans for both short- term and long- term
Coordinate with various stakeholders to ensure accurate utilization
Create and maintain capacity models
Ensure accuracy of data used in capacity planning
Develop and implement continuous improvement initiatives
Capacity Manager Resume with 2 Years of Experience
I am an organized, detailed- oriented Capacity Manager with 2 years of experience in managing and optimizing capacity in fast- paced, high- demand settings. I have strong technical skills as well as a proven ability to provide reliable and timely advice and support to my colleagues. My approach to capacity management is highly analytical, utilizing data to assess current capacity and provide strategies to maximize revenue and efficiency. I am a proven problem solver who quickly identifies issues and develops creative solutions to ensure operations are meeting target goals.
Core Skills:
Capacity Planning
Data- driven Decision Making
Analysis & Problem Solving
Process Improvement
Change Management
Project Management
Resource Allocation
Team Leadership
Vendor Management
Responsibilities:
Developed and monitored capacity management plans, ensuring goals and objectives were met.
Developed and implemented capacity planning processes to identify and maximize resource potential.
Conducted regular capacity assessments, producing detailed reports and analyses to identify areas of improvement.
Managed resource utilization and allocation, ensuring optimal performance and cost efficiency.
Developed capacity models to predict future trends and facilitate decision making.
Collaborated closely with team members to ensure tasks were completed accurately and in a timely manner.
Worked with vendors to manage contracts and negotiate service agreements.
Developed and implemented processes and procedures to improve operational efficiency.
Established and maintained effective working relationships to drive operational excellence.
Capacity Manager Resume with 5 Years of Experience
A highly motivated and organized professional with 5 years of experience as a Capacity Manager. Proven track record in streamlining capacity management processes, monitoring and analyzing data to identify trends, and proactively responding to capacity challenges. Ability to effectively collaborate with cross- functional teams to develop strategies to ensure the availability of resources for future demands.
Core Skills:
Capacity Management
Trend Analysis
Future Capacity Planning
Resource Allocation
Data Collection
Cross- Functional Communication
Problem Solving
Responsibilities:
Developed capacity management processes and practices to ensure the availability of resources for future demands.
Monitored and managed capacity utilization to ensure optimal use of resources and ensure availability for future demands.
Analyzed data to identify trends and proactively identified opportunities and challenges related to capacity.
Collaborated with cross- functional teams to develop strategies to address capacity challenges and maximize resource utilization.
Conducted regular capacity planning and forecasting to ensure availability of resources for future demands.
Developed and maintained capacity plans and documented processes and procedures.
Developed and implemented policies and procedures related to capacity management.
Worked with vendors to ensure the availability of resources and monitored service levels.
Capacity Manager Resume with 7 Years of Experience
Experienced Capacity Manager with seven years of industry experience in the design, implementation and maintenance of capacity management systems and processes. Proven ability to successfully manage operations, resources and personnel to ensure efficient use of available capacity and prevent bottlenecks. Skilled in developing innovative solutions to ensure service availability and performance.
Core Skills:
Capacity Management
Resource Management
Operational Compliance
Capacity Planning
Process Improvement
Quality Assurance
Stakeholder Management
Project Management
Responsibilities:
Developed and implemented capacity management systems and processes to ensure efficient use of available resources and prevent over- capacity.
Analyzed capacity utilization and proposed solutions to optimize resources and ensure service availability.
Managed the development and implementation of capacity plans to ensure proper use of resources and to meet service level expectations.
Ensured operational compliance in capacity management and performance planning.
Conducted regular capacity reviews and provided recommendations for process improvement.
Monitored and reported on capacity utilization, resource requirements, and performance.
Provided guidance and support to stakeholders in capacity planning and management.
Led the design and implementation of capacity management projects.
Contributed to the development and implementation of quality assurance practices in capacity management.
Capacity Manager Resume with 10 Years of Experience
Focused and proactive Capacity Manager with 10 years of experience, specializing in IT infrastructure capacity management, project management, and business analytics. Proven track record of developing and delivering cost- effective solutions that meet corporate objectives. Skilled in supervising, training, and leading a team of capacity planning professionals to maximize efficiency and client satisfaction. Possesses excellent communication and problem- solving skills to solve complex capacity issues.
Core Skills:
Infrastructure Capacity Management
IT Project Management
Business Analytics
Risk Analysis
Process Optimization
Systems Design and Implementation
Resource Allocation
Quality Assurance
Database Design
Strategic Planning
Team Management and Leadership
Responsibilities:
Develop and implement capacity management strategies and processes to ensure optimal performance of systems and applications
Monitor IT infrastructure to ensure scalability and performance
Analyze capacity utilization and identify potential performance issues
Develop and maintain capacity models for predicting future trends
Identify and recommend capacity improvement solutions
Collaborate with stakeholders to develop cost- effective capacity solutions
Design and implement systems to improve efficiency and performance
Develop and execute capacity testing plans to identify any gaps
Lead capacity planning projects and ensure timely completion
Train and mentor capacity planning team members to maximize productivity
Optimize database design to ensure scalability and performance
Monitor capacity and recommend strategies to ensure availability and security of data
Develop capacity management plans to ensure performance and reliability of IT infrastructure
Capacity Manager Resume with 15 Years of Experience
Excellent capacity manager with over 15 years of experience working with cross- functional teams to deliver high- quality IT services. Skilled in production optimization, process improvement, and capacity planning. Proven track record of successful implementations of IT projects, resulting in improved performance and cost savings. Highly organized and detail- oriented, with excellent problem solving and communication skills.
Core Skills:
Production Optimization
Process Improvement
Capacity Planning
IT Project Implementation
Problem Solving
Communication
Cost Savings
Performance Evaluation
Responsibilities:
Establish capacity management plans and specifications to ensure the effective planning, implementation, and maintenance of IT services.
Monitor and analyze production performance and make recommendations for improvement.
Develop strategies and plans to optimize production and ensure overall performance of IT services.
Perform capacity planning and forecasting to anticipate increased demand and adjust resources accordingly.
Lead teams in the implementation of IT projects to ensure successful delivery.
Monitor and evaluate IT services performance and identify areas for improvement.
Develop processes and procedures to improve efficiency and reduce costs.
Provide technical expertise and advice for capacity management related issues.
Analyze trends and make recommendations for capacity planning.
In addition to this, be sure to check out our resume templates, resume formats, cover letter examples, job description, and career advice pages for more helpful tips and advice.
What should be included in a Capacity Manager resume?
Having a Capacity Manager role can be a rewarding and highly-demanded role in a company. Many businesses are looking for qualified Capacity Managers to help manage and optimize the performance of their networks. When you're ready to apply for a Capacity Manager role, you need to make sure your resume is up to par. Here are some key points to include in a Capacity Manager resume:
Expertise in automation and orchestration tools, such as Ansible, Puppet, and Chef
Strong problem-solving and analytical skills
Knowledge of scripting languages and cloud computing
Understanding of server infrastructure and hardware components
Ability to identify and troubleshoot performance issues
Proficiency in monitoring and performance analysis tools, such as Splunk and Grafana
Excellent communication and interpersonal skills
Ability to work with cross-functional teams
Experience with network management and optimization
Ability to develop capacity plans and forecasting models
What is a good summary for a Capacity Manager resume?
A Capacity Manager is responsible for planning, managing, and tracking the capacity and performance of IT systems, networks, and applications. They must possess a range of technical, business, and organizational skills to ensure that systems remain secure and accessible.
An effective Capacity Manager resume should be concise and focused on the qualifications and experience relevant to the position. It should include a skills section that highlights the applicant's technical expertise and experience in capacity management, as well as any certifications or qualifications that are relevant to the role. It should also include a work experience section that outlines the applicant's previous roles and responsibilities, and should emphasize any accomplishments or challenges that have been successfully addressed. Finally, the resume should also include a professional summary section that succinctly summarizes the applicant's background and skills in a few brief sentences.
What is a good objective for a Capacity Manager resume?
A Capacity Manager is responsible for managing the workloads of a company or organization and ensuring maximum efficiency of all operations. A successful Capacity Manager will have to demonstrate excellent organizational and analytical skills, as well as the ability to manage multiple projects simultaneously. Writing a resume for this position requires an effective and well-crafted objective statement.
An objective statement should explain why you are the best candidate for the job and how you can help the organization achieve its goals.
Be specific and highlight the most relevant skills and qualifications you bring to the role.
Focus on the values and strengths you can offer, such as understanding of the industry, knowledge of the organization's systems and processes, or the ability to develop and implement innovative strategies.
Highlight your ability to lead teams, manage resources and provide effective solutions for capacity issues
Mention your experience and qualifications, such as certifications or training, as well as any awards or recognition you may have received.
By crafting an effective objective statement for your Capacity Manager resume, you can show potential employers that you are the perfect candidate for the job and demonstrate your commitment to the organization's success.
How do you list Capacity Manager skills on a resume?
When applying for a job in Capacity Manager, it is important to highlight your skills on your resume. Capacity Manager skills are specialized and should be listed in a way that conveys your knowledge and experience in the role. Here are some tips on how to list Capacity Manager skills on your resume:
Start with a summary of your overall experience and expertise. This should be tailored to the specific role you are applying for and should also include any certifications or credentials you possess in the field.
Include a detailed list of your technical and managerial skills. Make sure to include any tools or technologies you are proficient in and any software engineering knowledge you have.
Highlight any special projects or initiatives you have led in the past.
Demonstrate your problem-solving, organizational, and communication skills.
Showcase any experience you have in capacity planning, resource utilization, and trend analysis.
Discuss any customer service, training and development, or help desk experience you have.
By including these skills on your resume, you can show employers that you have the necessary experience and expertise to be a successful Capacity Manager.
What skills should I put on my resume for Capacity Manager?
As a Capacity Manager, you play an essential role in managing and optimizing server workloads, ensuring that the infrastructure is optimized for performance. When creating your resume, it's important to highlight the skills and qualifications that you can bring to this role. Here are some of the key skills you should feature on your resume:
Technology Knowledge: You should demonstrate your technical expertise in network, server, and storage systems. Showcase your knowledge of capacity planning and performance optimization.
Analytical Thinking: You should have a keen eye for analyzing data and making decisions based on those insights. Demonstrate your problem-solving and troubleshooting abilities.
Communication: Capacity Managers must collaborate with a number of teams and stakeholders, so strong communication skills are essential. Showcase your ability to communicate effectively, both verbally and in writing.
Leadership: Highlight your ability to lead projects and initiatives, and your attention to detail.
Project Management: Showcase your ability to manage multiple tasks, prioritize work, and stay organized.
Time Management: Capacity Managers must often juggle multiple deadlines and tasks. Demonstrate your ability to manage your time and work efficiently.
Key takeaways for an Capacity Manager resume
A capacity manager's resume should stand out to potential employers and showcase the candidate's experience and qualifications. The following are key takeaways for crafting a great capacity manager resume:
Highlight past successes. Demonstrate your accomplishments in the capacity manager role, including projects you've completed, initiatives you've spearheaded, and successes in optimizing resource utilization.
Include relevant technical skills. Showcase your knowledge of capacity planning, forecasting, and analysis, as well as your experience with capacity management tools and software.
Demonstrate strategic thinking. Prove your ability to think critically and solve problems. Showcase your understanding of the capacity management process and your ability to develop strategies to improve it.
Demonstrate strong communication skills. Illustrate your ability to communicate effectively with teams, both internal and external, to ensure successful capacity optimization.
Describe your project management experience. Highlight any project management experience you may have, including your ability to organize, plan, and manage resources for a variety of projects.
By following these key takeaways, you can create an effective capacity manager resume that will help you stand out to potential employers.
Let us help you build
your Resume!
Make your resume more organized and attractive with our Resume Builder