Your resume is a critical part of your candidacy for a board member position. It needs to reflect not only your qualifications, but also your passion for the cause of the organization and demonstrate your commitment to making a difference. Creating a resume for a board member position can be challenging, as you need to convey a lot of information in a limited amount of space. This guide is designed to help you create an effective board member resume that showcases your qualifications and makes a strong impression on potential employers. We'll provide you with examples of successful resumes and provide helpful tips to ensure that your resume stands out from the competition.
If you didn't find what you were looking for, be sure to check out our complete library of resume examples.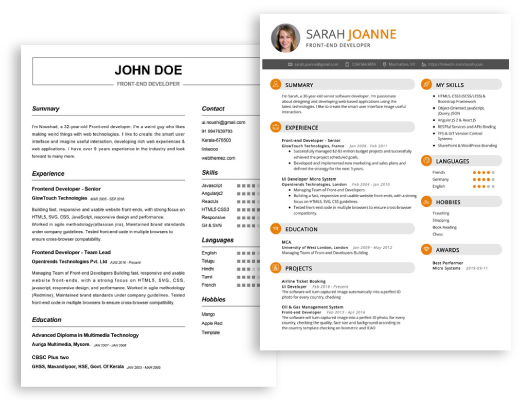 Start building your dream career today!
Create your professional resume in just 5 minutes with our easy-to-use resume builder!
Board Member Resume Examples
John Doe
Board Member
123 Main Street | Anytown, USA 99999 | Phone: (123) 456-7890 | Email: john.doe@email.com
I am a strong and capable leader with a proven track record of success in the business arena. I have a keen understanding of corporate governance, financial strategy, and operations, and I am confident that I can use my expertise to help an organization reach its highest potential. My strategic vision and my commitment to collaboration have enabled me to work on boards of both private and public companies, and I am dedicated to using my experience to ensure that each organization in which I am involved achieves its goals.
Core Skills:
Financial Management
Strategic Planning
Team Leadership
Board Governance
Risk Management
Public Relations
Legal Compliance
Analytical Skills
Problem- solving
Professional Experience:
Chairman of the Board, ABC Corporation, 2018- Present
Board Member, XYZ Corporation, 2012- 2018
Board Member, Technology Ventures, 2008- 2012
Board Member, Private Equity Group, 2006- 2008
Education:
MBA, Business Administration, Harvard University, 2005
B.S., Finance and Economics, Massachusetts Institute of Technology, 2003
Board Member Resume with No Experience
Dedicated and enthusiastic individual with a strong desire to bring success to any team.
No previous experience in board work, but a proven track record of commitment and excellence in other areas.
Motivated to learn and grow as a board member, and bring a fresh perspective and diverse set of skills to the table.
Skills
Strong communication and interpersonal skills.
Excellent organizational and planning skills.
Exceptional problem- solving and critical thinking abilities.
Proficient in all Microsoft Office applications.
Ability to work independently or as part of a team.
Responsibilities
Attend board meetings and provide input, suggestions and feedback.
Participate in board discussions and decision making.
Maintain up- to- date knowledge of board policies, procedures and regulations.
Follow up on issues and tasks assigned by the board.
Monitor progress towards board objectives and report back to the board.
Ensure that board decisions are communicated clearly.
Board Member Resume with 2 Years of Experience
I am a highly motivated and experienced board member with two years of professional experience in corporate boards. I have a proven track record for providing meaningful and effective solutions for my organization that have encouraged positive growth. I have a strong ability to lead and influence others as well as an adept knowledge of corporate governance principles. I also have excellent communication skills which allow me to effectively represent the interests of the board and the organization as a whole.
Core Skills:
Leadership and influence
Knowledge of corporate governance
Excellent communication skills
Decision making and problem solving
Ability to develop and implement individual and organizational goals
Responsibilities:
Representing the interests of the board and the organization
Establishing policies, guidelines and procedures to ensure board effectiveness
Ensuring the board and organization are in compliance with legal and regulatory requirements
Participating in board meetings and decision making
Developing and implementing individual and organizational goals
Evaluating the performance of senior executives
Approving business proposals, budgets, and other strategic initiatives
Board Member Resume with 5 Years of Experience
A board member with 5 years of experience in creating and executing strategic plans and managing relationships with stakeholders. Experienced in leading initiatives, creating and implementing policy, and developing and sustaining relationships with members and the community. Possesses strong management and communication skills and adept in working with people from all backgrounds. In addition, has proven skills in leading and motivating team members, problem solving, and decision- making.
Core Skills:
Financial and budget management
Strategic planning
Stakeholder relationship management
Business and policy development
Team leadership
Conflict resolution
Problem solving and decision- making
Communication
Responsibilities:
Work with board members and executives to develop and execute strategic plans.
Maintain relationships with stakeholders, including partners, local and state governments, and the community.
Create and implement policy and business objectives.
Monitor and review board activities and operations.
Lead initiatives to encourage growth and improve team performance.
Resolve conflicts and make decisions to ensure that the organization meets its goals.
Oversee financial and budget management.
Develop and sustain relationships with members and the community.
Communicate effectively with board members and stakeholders.
Board Member Resume with 7 Years of Experience
With seven years of Board Member experience, I have an impressive record of success in creating and implementing property strategies, providing strategic advice and direction, and creating and maintaining a positive working environment. My excellent communication and interpersonal skills have allowed me to develop strong relationships with board members, provide valuable insights into board decisions, and ensure that board decisions are carried out in a professional and timely manner. I am also highly knowledgeable of corporate governance and regulatory issues and ensure that all board decisions are compliant with applicable laws and regulations.
Core Skills:
Strategic Thinking
Corporate Governance
Project Leadership
Relationship Building
Supervisory Skills
Problem- solving
Decision Making
Responsibilities:
Developing and implementing effective policies and procedures in accordance with board regulations.
Managing board meetings, taking minutes, preparing agendas and issuing reports.
Providing strategic advice and direction to board members and executive staff.
Monitoring corporate performance and progress against corporate plans.
Ensuring board decisions are compliant with applicable laws and regulations.
Representing the board in public forums, including media interviews.
Overseeing budgeting and financial planning for the organization.
Evaluating and recommending new business ventures and investments.
Board Member Resume with 10 Years of Experience
A highly capable and accomplished board member with 10 years of successful service in the corporate sector. Possesses a deep understanding of business operations, decision- making, and problem- solving. Proven track record of being a reliable, collaborative, and dedicated team member for the stakeholders. High aptitude for quickly analyzing data and developing strategies for maximum efficiency and profitability. Skilled in overseeing the implementation of effective policies and procedures for a diverse range of organizations.
Core Skills:
Strategic Planning
Business Administration
Financial Analysis
Regulatory Compliance
Project Management
Risk Management
Negotiation
Mentoring & Coaching
Team Leadership
Stakeholder Relations
Responsibilities:
Assessed financial performance and provided guidance to ensure fiscal responsibility.
Established effective governance policies and procedures to ensure compliance with applicable laws and regulations.
Monitored the development and implementation of key strategic initiatives.
Collaborated with executive staff and board members to make informed decisions regarding organizational objectives.
Facilitated the development of meaningful relationships with stakeholders.
Conducted regular reviews and assessments to ensure efficiency and accountability.
Assisted in the development and implementation of operational strategies to maximize organizational performance.
Provided leadership and guidance to support staff to ensure best practices.
Analyzed financial data and presented reports to the board to inform key decisions.
Ensured proper communication and collaboration between departments.
Board Member Resume with 15 Years of Experience
I am an experienced Board Member with over 15 years in the field of corporate governance and strategy. I have extensive experience in financial analysis, stakeholder relations, and risk management. My background includes developing strategic plans, providing operational oversight, and ensuring regulatory compliance. I am a highly analytical and detail- oriented individual who has a proven track record of success in building and managing successful strategies.
Core Skills:
Analytical thinking
Financial acumen
Strategic planning
Stakeholder Relations
Risk Management
Regulatory Compliance
Problem Solving
Leadership
Responsibilities:
Developing strategic plans to meet the goals of the organization.
Providing oversight to ensure that operations are conducted efficiently and effectively.
Analyzing financial performance and recommending proactive measures to mitigate risks.
Establishing and maintaining effective relationships with key stakeholders.
Ensuring compliance with all applicable laws, regulations and policies.
Leading board meetings and ensuring all discussions are recorded.
Making decisions based on data, ensuring all decisions are well informed.
Providing guidance and support to other board members.
In addition to this, be sure to check out our resume templates, resume formats, cover letter examples, job description, and career advice pages for more helpful tips and advice.
What should be included in a Board Member resume?
A Board Member resume is an important tool for highlighting your career and educational achievements. It should also demonstrate your potential to be an effective leader on a board. To ensure that your Board Member resume stands out, make sure you include the following:
Professional Profile: Your Professional Profile should provide a snapshot of your professional background, accomplishments, and experience. Include your job titles and years of experience, as well as any special awards or recognition.
Education: List your educational qualifications, including degrees, majors, and schools attended.
Leadership Roles: Describe any past or current leadership roles you've held, such as chairing a committee or heading a project.
Board of Director Experience: Highlight your previous Board of Director experience. This may include Board of Directors positions you've held, as well as any other professional organizations you've been involved in.
Executive Summary: This should be a brief summary of your professional experience, qualifications, and skills, and how they make you a good fit for the board.
Professional Skills: Include any pertinent professional skills, such as public speaking, strategic problem-solving, or effective communication.
Core Strengths: List any core strengths you have that make you an effective leader, such as collaboration, decision-making, or team-building.
References: Include references from previous board positions or professional colleagues.
Having these items included in your Board Member resume will help you stand out and demonstrate your qualifications for the role.
What is a good summary for a Board Member resume?
A board member resume should provide a clear and concise summary of the applicant's qualifications and experience. It should include the individual's educational background, professional experience, and any relevant volunteer activities. It should also highlight any special skills or expertise the applicant has that make them an ideal candidate for the position. Finally, it should include a list of references and any other relevant information that would help the board make an informed decision about the individual. By providing an outline of the individual's qualifications and experience, a board member resume can help to quickly identify the right person for the position.
What is a good objective for a Board Member resume?
A board member resume should demonstrate excellent leadership, problem-solving, and communication skills. It should also showcase a candidate's ability to work well with a variety of people. With this in mind, a good objective for a board member resume should include:
A commitment to making a positive impact on the organization through effective leadership and management.
An ability to think strategically and make informed decisions.
Utilizing problem-solving skills to manage and resolve conflicts.
Proven track record of effective communication and collaboration with a variety of stakeholders.
A commitment to staying current on best practices and trends in the industry.
A dedication to upholding the organization's vision, values, and mission.
By demonstrating these skills and qualities in an objective, a board member resume can effectively stand out in a competitive applicant pool.
How do you list Board Member skills on a resume?
When it comes to listing Board Member skills on your resume, it is important to highlight any experience and qualities that could be applicable to a board-level role. This includes abilities such as strategic thinking, problem solving, financial planning, and decision-making skills.
In order to make the most of your Board Member skills, you should include them in both the skills section and the work experience section of your resume.
In the skills section, include a bullet list of your Board Member skills. Ensure that all skills are accurate, relevant, and up to date. Here are some examples of Board Member skills to consider listing:
Strategic Thinking
Problem Solving
Financial Planning
Decision Making
Leadership
Communication
Team Building
Networking
In the work experience section, you should include a detailed overview of any prior roles that demonstrate your Board Member skills. Be sure to include the company name, the role you held, and a few bullet points that illustrate how you used your Board Member skills in the role.
By including your Board Member skills in both the skills and work experience sections of your resume, you can demonstrate that you are a qualified Board Member. Doing so will help you stand out and make a good impression on potential employers.
What skills should I put on my resume for Board Member?
For any resume, it is important to focus on the skills that are important to the position you are applying for. As a board member, you will need to have a unique set of skills and qualifications. Here are some skills that should be included on your resume:
Leadership: Board members need to be able to demonstrate strong leadership skills to lead a successful board. This includes the ability to make strategic decisions and to motivate and inspire other board members.
Problem Solving: Board members must have the ability to identify and address problems in a timely manner.
Communication: Board members need to be able to articulate their ideas effectively to the rest of the board and to other stakeholders.
Teamwork: Board members need to be able to work well with others to ensure the board is working towards a common goal.
Decision Making: Board members need to be able to make sound decisions and be comfortable with taking risks.
Financial Management: Board members need to understand basic financial principles and have the ability to read and interpret financial statements.
Time Management: Board members need to be able to manage their time efficiently and prioritize tasks.
Networking: Board members should be able to network and build relationships with other stakeholders to ensure the success of the board.
Strategic Planning: Board members must have the ability to create a long-term vision and strategy for the organization.
Including these skills on your resume will demonstrate that you have the requisite skills to be a successful board member.
Key takeaways for an Board Member resume
When an experienced executive is asked to join a board of directors, they must present an impressive resume. To be successful in this role, board members must have a wealth of knowledge and experience. This means that any board member's resume must be carefully crafted to present the most impressive qualifications for the position. Here are some key takeaways for crafting a board member resume:
Highlight the Impact of Your Experience: It's important to include details about your past executive roles and the positive impact you made in each role. Focus on showcasing your financial and organizational acumen, as well as any leadership positions you held.
Emphasize Your Strategic Thinking: Board members must be able to think strategically. Highlight any strategic initiatives you have led in the past, as well as any innovative solutions you have created.
Showcase Your Network: Board members must have strong industry connections and a wide network. Make sure to showcase any connections that you have made, as well as any professional organizations you are a part of.
Demonstrate Your Commitment: Board members must be able to commit time and energy to their role. Detail any past board roles you have held with your previous employers, as well as any volunteer work or pro bono work you've done.
Be Specific: Be sure to include specific details rather than generic statements. This will help the board understand the depth of your experience and the value you can bring to the table.
By highlighting your qualifications and experience, you can create an impressive board member resume that will help you stand out from the competition. With these key takeaways in mind, you should be able to craft an effective board member resume that will increase your chances of being selected.
Let us help you build
your Resume!
Make your resume more organized and attractive with our Resume Builder