If you are looking to begin or further your career in bids, then having a strong resume is an invaluable tool to get your foot in the door. Developing a strong, up-to-date resume is the first step in getting noticed by potential employers. To stand out from the competition when applying for a bid management role, you need to create a bold and comprehensive resume. This guide will provide you with the essential tips, advice, and examples needed to create a successful bid manager resume.
If you didn't find what you were looking for, be sure to check out our complete library of resume examples.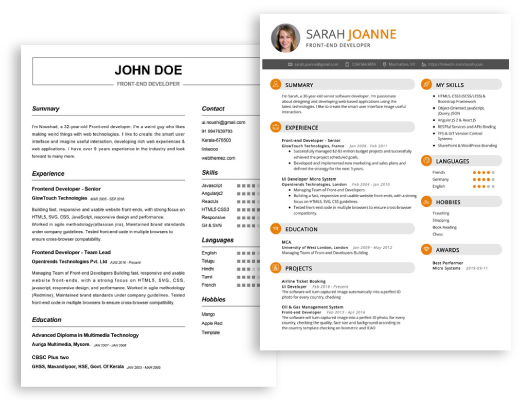 Start building your dream career today!
Create your professional resume in just 5 minutes with our easy-to-use resume builder!
Bid Manager Resume Examples
John Doe
Bid Manager
123 Main Street | Anytown, USA 99999 | Phone: (123) 456-7890 | Email: john.doe@email.com
I am a highly organized and detail- oriented Bid Manager with 8+ years of experience in successfully managing and executing bids for major projects. I have a proven track record of completing projects within budget, ahead of schedule and exceeding customer expectations. I possess in- depth knowledge of the bid process, strong analytical skills and an ability to think strategically. My excellent communication and problem- solving skills have enabled me to build strong working relationships with clients and colleagues alike.
Core Skills:
Bid Process Management
Project Planning & Execution
Scheduling & Cost Control
Negotiations & Proposals
Contract Management
Market Analysis & Trends
Client/Vendor Relations
Budgeting & Financials
Professional Experience:
Bid Manager, ABC Industries, San Jose, CA
July 2017 – Present
Establish and manage the bid process including coordinating with internal and external stakeholders, preparing materials, and tracking & assessing all relevant data
Draft and submit proposals within required timelines, ensuring accuracy and compliance with the requirements set forth in the request for proposal
Monitor market trends and competitor activities to effectively develop bids that meet customer needs
Establish and maintain ongoing relationships with clients to create a reliable source for future business
Develop and implement pricing strategies to ensure highest rate of success
Analyze and evaluate bids from vendors to ensure quality and value for money
Manage the bid process from start to finish to ensure effective outcomes
Education:
Bachelor of Science in Business Administration, San Jose State University, San Jose, CA
May 2017
Bid Manager Resume with No Experience
A motivated, dedicated and organized individual with excellent communication and organizational skills. Seeking to apply these skills to a role as a Bid Manager where I can utilize my experience in customer service and project coordination.
Skills:
Adaptability
Customer service
Project organization
Problem solving
Strong communication
Time management
Responsibilities:
Providing administrative support in the preparation of bids
Collecting and analyzing data for bid management
Developing bid strategies for winning bids
Coordinating bid processes and activities
Developing and maintaining relationships with prospective clients
Researching the market and industry trends
Creating detailed bid reports
Updating bid records and databases
Bid Manager Resume with 2 Years of Experience
Results- driven Bid Manager with 2 years experience managing customer bid responses and evaluating potential businesses. Demonstrated ability to lead customer negotiations and deliver successful outcomes while maintaining customer relationships. Possesses solid business acumen, superior problem- solving skills, and strong communication, presentation and negotiation capabilities.
Core Skills:
Bid Preparation & Management
Contract Negotiation
Customer Relationship Management
Business Analysis
Risk Management
Team Leadership
Responsibilities:
Managed customer bid responses for large- scale projects, including pricing and contractual components
Developed and maintained customer relationships to successfully identify, qualify and close deals
Conducted market and competitor analysis to identify new customer opportunities
Created comprehensive presentations and proposals to engage customers and guide negotiations
Performed cost- benefit analysis to predict and manage financial risks associated with bid proposals
Provided guidance and support to sales teams to ensure successful customer engagement
Oversaw management of contracts and customer documents to ensure compliance with company guidelines
Bid Manager Resume with 5 Years of Experience
I am an experienced Bid Manager with 5 years of success in creating and managing competitive, effective bids; with a proven track record of successfully negotiating contracts with clients. I am highly organized, with great attention to detail, and my communication and interpersonal skills are second to none. I possess an in- depth understanding of tender processes and the ability to manage multiple projects simultaneously. I am confident that I have the skills and experience required to contribute to a successful bid process.
Core Skills:
Strong Bid Management skills
Excellent negotiation skills
Excellent communication and interpersonal skills
Highly organized with great attention to detail
In- depth knowledge of tender processes
Project management
Able to manage multiple projects at once
Proficient in Microsoft Office Suite
Responsibilities:
Developing and managing competitive bids
Identifying potential opportunities and researching potential clients
Developing the bid strategy and timeline
Managing the bid process and acting as the primary contact for the bid team
Liaising with clients and other stakeholders throughout the bidding process
Managing data and documents in a secure and organized manner
Conducting market research and analyzing data
Developing presentations and reports
Negotiating contracts and ensuring a successful outcome for the bid
Managing budgets and resources in a cost- effective manner
Bid Manager Resume with 7 Years of Experience
A highly experienced and motivated Bid Manager with 7+ years of experience in driving bids and tenders, developing and delivering winning bids to customers and ensuring successful customer relationship management. Possessing strong communication, presentation, negotiation and organizational skills, along with the ability to precisely interpret customer requirements and create an effective bid strategy. Experienced in working closely with customers and stakeholders, conducting market analysis and gathering intelligence in order to effectively secure new business contracts.
Core Skills:
Bid Management
Relationship Management
Negotiation
Customer Requirements Analysis
Proposal Writing
Market Analysis
Tender Writing
Presentation
Goal Setting
Responsibilities:
Develop and deliver winning bids for customer contracts
Work closely with customers and stakeholders to understand customer needs and produce detailed bid proposals
Analyse customer requirements, competitor activity and market trends to produce effective bid strategies
Negotiate with customers on pricing, terms and conditions for bids
Track and monitor bids to ensure responsiveness and accuracy
Act as a point of contact for customers during the bid process
Prepare and deliver presentations and presentations to customers
Manage customer relationships and provide support throughout the bid process
Research and gather market intelligence to identify potential new customer opportunities
Bid Manager Resume with 10 Years of Experience
Experienced Bid Manager possessing 10 years of experience in developing and managing successful bids. Proven record of providing detailed, accurate and timely bid submissions to ensure success. Dedicated team leader with exceptional communication and interpersonal skills. Highly motivated individual with a demonstrated ability to identify, recommend and implement improvement initiatives.
Core Skills:
Bid Creation and Submissions
Bid Management
Vendor Negotiations
Budget Creation and Management
Risk Assessments
Contract Management
Project Management
Team Leadership
Microsoft Office Suite
Industry Knowledge
Responsibilities:
Develop and manage successful bids for organizational services, products and solutions
Ensure bid submission accuracy and timeliness
Identify, analyze and mitigate risks associated with bid submissions
Develop and manage operational and financial budgets for bid submissions
Negotiate and manage vendor contracts and agreements
Lead and coordinate project teams to ensure successful bid delivery
Analyze bid performance and recommend improvement initiatives
Provide ongoing reporting and updates to project stakeholders and senior management
Bid Manager Resume with 15 Years of Experience
Highly experienced Bid Manager with 15 years of experience managing bids and tender responses, setting bid strategies and developing cohesive bid teams. Experienced in preparing and submitting bids for multi- million dollar contracts, with a track record of success. Skilled in coordinating teams of sales, finance and operations personnel to produce bids that meet customer requirements. Able to spot risks and opportunities in the bid process, identify areas of improvement and plan effective strategies for winning bids.
Core Skills:
Strong interpersonal and communication skills
Highly organized with strong time management skills
In- depth understanding of contract law
Ability to develop comprehensive bid strategies
Expertise in preparing and submitting bids
Proficient in MS Office Suite
Ability to coordinate and manage bid teams
Responsibilities:
Develop and implement bid strategies to maximize chances of winning contracts
Develop and manage bid teams composed of sales, finance, and operations personnel
Oversee the development of bid documents, ensuring they are compliant with customer requirements
Analyse customer requirements and identify areas of risk and opportunity
Review and analyse bids from competing companies
Liaise with customers and suppliers to obtain information and materials needed for bid submissions
Research and develop case studies for use in bid documents
Assist in the negotiation of contracts terms and conditions
Ensure all bid documents are accurate and comply with regulatory requirements
In addition to this, be sure to check out our resume templates, resume formats, cover letter examples, job description, and career advice pages for more helpful tips and advice.
What should be included in a Bid Manager resume?
A Bid Manager resume should include a well-crafted summary that highlights the candidate's key strengths and experience. The summary should also include information about any special skills the candidate has acquired over the years.
The resume should also include a detailed list of the candidate's professional experience. This should include information about their current or previous positions, as well as any relevant accomplishments or awards. It should also include information about their educational background.
Other important items that should be included on a Bid Manager resume include:
Demonstrated experience in working with tender and proposal processes
Working knowledge of the government procurement process
Proven ability to manage multiple bids in a timely manner
Expertise in reviewing contract documents and related documents
Strong written and verbal communication skills
Proficient in MS Office suite, especially Word, Excel, and PowerPoint
Demonstrated ability to multitask and manage competing priorities
Highly organized with a keen eye for detail
Proven track record of meeting deadlines and delivering quality results
By including these items in the resume, a potential employer will be able to get a better understanding of the candidate's qualifications and experience. A Bid Manager resume should be tailored to the specific job being applied for and should emphasize the skills and qualifications that are most relevant.
What is a good summary for a Bid Manager resume?
A Bid Manager resume should provide a summary of the applicant's experience in a way that demonstrates the individual's competencies and ability to succeed in the position. The summary should include a brief overview of the applicant's career and experience, including any relevant education, skills, and certifications. It should also outline the applicant's achievements and success in previous roles, as well as any special qualifications or accolades. Additionally, the summary should include the applicant's knowledge and expertise in the bidding process, their ability to develop high-quality bids, and their familiarity with the latest market trends and regulations. Finally, the summary should emphasize the applicant's commitment to the position and their ambition to grow and succeed in their role as a Bid Manager.
What is a good objective for a Bid Manager resume?
A bid manager is tasked with ensuring a successful bid process for a company. As such, a good resume objective for a bid manager should reflect the experience, knowledge, and skills necessary to make sure the bidding process goes smoothly.
Demonstrate knowledge of bidding processes, regulations, and procedures
Showcase ability to develop and execute strategies to ensure successful bids
Highlight experience in organizing data, maintaining records, and preparing reports
Demonstrate experience in communicating and collaborating with internal and external stakeholders
Exhibit experience in coordinating and managing meetings, briefings, and presentations
Demonstrate ability to conduct research and analyze data to inform decisions
Demonstrate capacity to work well under pressure and meet tight deadlines
Showcase skill in problem-solving and identifying solutions to complex issues
How do you list Bid Manager skills on a resume?
When writing a resume, you may want to highlight your skills as a Bid Manager. This helps employers understand how you can be an asset to their company. Here are some skills to consider including on your resume:
Knowledge of Proposal Development Process: Showcase your understanding of the proposal development process, from researching new opportunities to writing, editing and reviewing bids.
Attention to Detail: Demonstrate that you possess excellent attention to detail and are able to review bids for accuracy and correctness.
Research and Analysis: Highlight your research and analysis skills, which allow you to conduct thorough market research and identify potential opportunities to bid.
Strong Communication: Show that you have strong communication skills to effectively collaborate with other teams and stakeholders.
Negotiation and Contract Management: Showcase your negotiation and contract management skills, which help you develop sound contracts and win or renew contracts.
Project Management: Emphasize your project management skills, which help you manage projects in bid development and ensure that deadlines are met.
By including these skills on your resume, you can give employers a better understanding of how you can be an asset to their team. Good luck!
What skills should I put on my resume for Bid Manager?
A bid manager is tasked with preparing, submitting and managing a company's bids for business. In order to stand out in the job market, a successful bid manager must have a well-crafted resume to showcase their knowledge, experience, and skills.
When creating a resume for a bid manager position, consider including the following skills:
Project Management: The ability to manage and lead bid projects from start to finish, ensuring deadlines are met and goals are achieved.
Strategic Thinking: The ability to think strategically and develop effective plans to win bids.
Analytical Skills: The ability to analyze data and come up with creative solutions to challenging problems.
Communication: The ability to communicate effectively with different stakeholders, such as clients and vendors.
Negotiation: The ability to negotiate competitive terms and prices in order to win bids.
Detail-Oriented: The ability to pay attention to details and ensure accuracy.
Technical Knowledge: Knowledge of computer applications and software programs related to bids, such as Adobe Acrobat and Microsoft Office.
These skills are essential to succeed as a bid manager and should be included in your resume to make it stand out from the competition.
Key takeaways for an Bid Manager resume
When it comes to presenting yourself in a resume as a Bid Manager, there are several key takeaways you'll want to consider. As Bid Managers are responsible for overseeing the bidding process and ensuring that their client's proposals are competitive and successful, these key takeaways can optimize your chances of impressing a potential employer and getting the job.
First, it's important to showcase your knowledge of the bidding process. You should include specific examples of how you've successfully managed bids in the past, as well as any awards or recognition you may have received for your accomplishments. Furthermore, be sure to discuss your experience with managing large-scale bids and any initiatives you have taken to improve the bidding process.
Second, emphasize your ability to think strategically. As a Bid Manager, you must be able to assess the client's goals and develop a plan to maximize their chances of success. Be sure to include evidence of your ability to analyze data and develop creative strategies for winning bids.
Third, highlight your excellent communication skills. A Bid Manager must not only be able to effectively communicate the client's proposal to potential bidders but also be able to negotiate on their behalf. When writing your resume, be sure to emphasize your ability to communicate clearly and concisely, as well as your ability to persuade potential bidders.
Finally, demonstrate your understanding of the industry. As a Bid Manager, you must possess a thorough understanding of the marketplace and the competitive landscape. Include any specialties or qualifications you may have that give you an edge in the field, as well as any industry certifications you may have earned.
By showcasing your knowledge of the bidding process, your strategic thinking abilities, your excellent communication skills, and your understanding of the industry, you can increase your chances of impressing a potential employer and getting the job as a Bid Manager.
Let us help you build
your Resume!
Make your resume more organized and attractive with our Resume Builder