Writing a great resume is a key component of getting hired as an assistant supervisor. It is important to highlight your qualifications, experience, and skills in order to stand out from the competition. An effective resume should also articulate why you are the ideal candidate for the job. This guide provides tips and examples to help you write a strong and impactful assistant supervisor resume. You will learn how to create a resume that accurately reflects your qualifications and accomplishments and that highlights your suitability for the position. You will also find examples that can provide inspiration for crafting your own unique resume. By the end of this guide, you will be well on your way to writing an effective and persuasive assistant supervisor resume.
If you didn't find what you were looking for, be sure to check out our complete library of resume examples.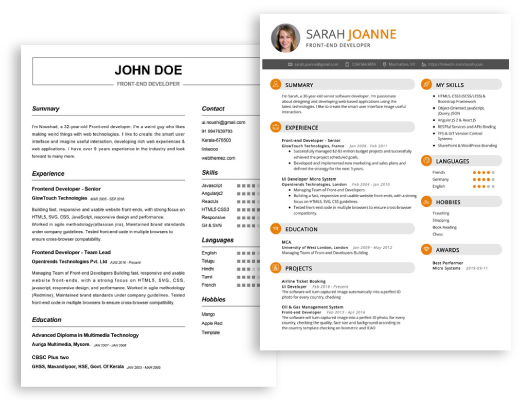 Start building your dream career today!
Create your professional resume in just 5 minutes with our easy-to-use resume builder!
Assistant Supervisor Resume Examples
John Doe
Assistant Supervisor
123 Main Street | Anytown, USA 99999 | Phone: (123) 456-7890 | Email: john.doe@email.com
I am an experienced Assistant Supervisor with a proven track record of success in directing teams, streamlining processes, and working with senior- level management to ensure projects are completed on time and with the highest quality standards. My core skills include communications, problem- solving, project management, and excellent customer service. I have experience leading teams of up to 15 people, and I am comfortable managing high- pressure situations. I am confident that I can bring a level of professionalism and success to any company.
Core Skills:
Excellent communication and interpersonal skills
Detail- oriented and organized
Strong leadership and problem- solving skills
Experienced in project management
Proficient in customer service
Professional Experience:
Assistant Supervisor, ABC Company (2017- Present)
Directed a team of up to 15 people to ensure projects were completed on time and to the highest quality standards
Collaborated with senior- level management to monitor progress and make adjustments as needed
Created policies and procedures to streamline processes and increase efficiency
Trained and mentored new employees to ensure they had the skills needed to succeed
Education:
Bachelor of Science in Business Management, XYZ University (2014)
Assistant Supervisor Resume with No Experience
Hardworking individual with excellent communication skills and the ability to work well under pressure. Experienced in customer service and setting high standards for team performance. A quick learner with a positive attitude who is eager to assume an assistant supervisor role.
Skills:
Strong organizational skills
Excellent communication skills
Ability to multitask
Ability to work in a fast- paced environment
Proficient in Microsoft Office
Ability to lead and motivate a team
Responsibilities:
Assist supervisors in their day- to- day tasks
Support supervisors in the development of team strategies
Maintain records and reports
Ensure compliance with company standards
Assist in training and development of team members
Monitor team performance and provide feedback
Resolve customer complaints efficiently and effectively
Handle customer inquiries and complaints in a professional manner
Assistant Supervisor Resume with 2 Years of Experience
A results- driven professional with 2 years of experience as an assistant supervisor in the manufacturing industry. Proven ability to lead and motivate personnel while developing strategies to improve the overall efficiency of a workplace. Adept at troubleshooting and conflict resolution while providing support to all departments and personnel. Demonstrated knowledge of workplace safety regulations and regulations of the Occupational Safety and Health Administration (OSHA).
Core Skills:
Excellent problem- solving and communication skills
Proficient in developing and implementing departmental goals
Knowledgeable in workplace safety regulations
Ability to multitask and prioritize tasks
Strong team leadership and organizational skills
Responsibilities:
Assisted the supervisor in developing, planning, and evaluating departmental goals
Monitored and assessed employee performance, providing feedback and coaching as needed
Coordinated with other departments, providing assistance and responding to inquiries
Developed strategies to improve efficiency and productivity of operations
Ensured compliance with safety regulations and OSHA standards
Investigated and resolved employee disputes in a timely and efficient manner
Conducted regular safety audits and inspections, ensuring all safety regulations were followed
Assistant Supervisor Resume with 5 Years of Experience
Results- driven Assistant Supervisor with 5 years of experience in leading and managing teams of 10- 15 people. Proven skill in leveraging a blend of strong organizational, multitasking, and communication skills to ensure that operations are efficient and effective. Adept in working with staff to develop goals and objectives for improved productivity, performance, and employee satisfaction. Exceptional problem- solving, decision- making, and conflict resolution skills.
Core Skills:
Ability to effectively lead a team
Proficient in multitasking, problem- solving and decision- making
Strong organizational and communication skills
Adept in developing goals and objectives
Excellent conflict resolution skills
Responsibilities:
Managed a team of 10- 15 employees to ensure that daily operations ran smoothly
Developed and implemented short- term and long- term goals and objectives to maximize efficiency and productivity
Monitored daily operations to ensure quality standards were met
Provided feedback and coaching to staff to improve performance
Resolved any conflicts between employees in a timely and effective manner
Conducted regular performance reviews with staff to ensure goals were being met
Maintained records of employee attendance and performance
Assistant Supervisor Resume with 7 Years of Experience
An experienced assistant supervisor with seven years of experience in supervising teams and ensuring their productivity. Possesses excellent communication, problem- solving and team management skills. Has experience in working with various departments in a large organization and is adept at resolving conflicts and implementing changes.
Core Skills:
Leadership
Team Building
Conflict Resolution
Time Management
Adaptability
Communication
Organization
Responsibilities:
Lead teams and ensure proper execution of tasks
Monitor team progress and take corrective steps when needed
Implement organizational changes and provide feedback
Handle customer complaints and develop solutions
Train and mentor new staff and provide guidance
Monitor budgets and resources allocated to teams
Liaise with other departments to ensure smooth operations
Assistant Supervisor Resume with 10 Years of Experience
Highly experienced Assistant Supervisor with 10 years in the industry. Skilled in overseeing operations, managing personnel, developing strategies, and improving processes. A successful leader with a talent for motivating teams to exceed expectations. Adept at resolving customer and employee complaints and challenges.
Core Skills:
Leadership
Supervision
Strategic Planning
Process Improvement
Productivity
Conflict Resolution
Team Building
Customer Service
Responsibilities:
Direct daily operations and delegate tasks to staff
Monitor employee performance and provide coaching as necessary
Develop and implement strategies to improve efficiency and reduce expenses
Resolve customer complaints and challenges in a timely manner
Assist in developing plans for product launches and marketing campaigns
Ensure compliance with all relevant regulations and safety standards
Collaborate with other departments to ensure a cohesive workflow
Recruit, train, and manage personnel in a fast- paced environment
Maintain accurate records and documents for employee performance and other metrics
Assistant Supervisor Resume with 15 Years of Experience
An experienced and capable assistant supervisor with 15 years of experience in a number of industries, ranging from customer service to warehouse operations. Skilled in leadership, problem solving, and organizational management, I possess the ability to maintain productivity while managing multiple tasks simultaneously. I have a proven track record of achieving and surpassing customer satisfaction, ensuring customer needs are met, and meeting deadlines efficiently.
Core Skills:
Leadership
Problem Solving
Organizational Management
Customer Service
Project Management
Time Management
Team Building
Inventory Management
Communication
Decision Making
Problem Resolution
Process Improvement
Responsibilities:
Assisted in overseeing daily operations
Provided guidance and direction to subordinates
Ensured customer satisfaction by providing timely, efficient and accurate service
Developed and implemented policies and procedures for operations
Collaborated with management to develop and implement strategies for increasing customer satisfaction
Tracked and monitored inventory levels to ensure stock levels at optimal levels
Developed and monitored project timelines to ensure deadlines are met
Created and maintained daily, weekly and monthly reports for management
Provided support to supervisors in staff recruitment and selection
Resolved customer complaints and issues in a timely and effective manner
Identified potential areas of process improvement and suggested recommendations to management
In addition to this, be sure to check out our resume templates, resume formats, cover letter examples, job description, and career advice pages for more helpful tips and advice.
What should be included in a Assistant Supervisor resume?
A good Assistant Supervisor resume should be structured to highlight the most relevant information employers look for when hiring for this position. It's important to include all the essential components to help you land the job. Here's what you should include in your resume:
Professional Summary: Your Professional Summary should be a succinct description of your qualifications, experience and skills. It should also provide a brief overview of your background and how it relates to the position you're applying for.
Skills: A well-crafted resume should showcase your most important skills and accomplishments. List out the key competencies that make you a great fit for the job. Examples could include having strong organizational skills, excellent communication abilities and the ability to handle multiple tasks.
Work Experience: Your work experience section should provide a comprehensive overview of your past job roles. Include each job title, company, dates of employment and a brief description of the duties you performed. Include specific examples of how you added value at each role.
Education: Include all relevant educational credentials and any special certifications or additional qualifications.
Achievements: Include any awards, achievements or accomplishments that demonstrate your ability to succeed in the role.
Additional Information: Include any additional information that could be helpful in your job search. Include any volunteer experience, hobbies or special interests that could be attractive to employers.
By including all of these components in your resume, you can ensure that you present yourself as a qualified candidate for the Assistant Supervisor role.
What is a good summary for a Assistant Supervisor resume?
A good summary for an Assistant Supervisor resume should highlight the applicant's experience in managing and leading teams, with an emphasis on their ability to drive results and maintain an efficient workplace. It should also provide examples of their ability to think strategically, create effective work processes, and handle complex tasks with ease. The summary should also showcase their ability to mentor and motivate employees, while providing a safe and productive work environment. In addition, the summary should also include any special skills, such as knowledge of specific software programs, certifications, or other relevant qualifications. A good summary should be concise, yet still provide a thorough overview of the applicant's experience and qualifications.
What is a good objective for a Assistant Supervisor resume?
A job seeker applying for the role of Assistant Supervisor should have an objective that clearly outlines their goals and expectations. An effective objective will help employers understand what the candidate is hoping to achieve in the role and how they can help the organization.
An Assistant Supervisor should have the following objectives:
Create a positive work environment that promotes employee retention and productivity
Develop and implement plans to improve operational efficiency and customer service
Monitor employee performance and provide feedback and coaching
Manage day-to-day operations, including hiring, training, scheduling, and budgeting
Develop and enforce policies and procedures to ensure compliance with company standards
Utilize data and analytics to identify areas of improvement and develop strategies to address them
Foster a culture of collaboration by encouraging team building and problem-solving
Lead by example by demonstrating a commitment to excellence in all aspects of the job.
How do you list Assistant Supervisor skills on a resume?
When it comes to applying for an assistant supervisor position, you need to list the skills and qualifications that make you the ideal candidate on your resume.
Leadership: Demonstrate your ability to lead and motivate others by showcasing examples of how you have taken charge of a team setting and delegating tasks.
Communication: Showcase your communication skills, such as writing, public speaking and interpersonal skills.
Problem-solving: Highlight your ability to think on your feet and devise creative solutions to challenging situations.
Organization: Show how you can remain organized and efficient in a high-pressure environment.
Teamwork: Demonstrate how you can lead and collaborate with a team in order to achieve common goals.
Conflict Resolution: Showcase your skills in resolving conflicts between colleagues or customers.
Interpersonal Skills: Demonstrate your ability to build relationships with colleagues and customers.
Time Management: Highlight your ability to prioritize tasks and manage your time effectively.
Decision Making: Show how you can make quick and informed decisions in a variety of scenarios.
What skills should I put on my resume for Assistant Supervisor?
As an Assistant Supervisor, there are a variety of skills and abilities that are important to possess and showcase on a resume. Having a well-crafted resume can help distinguish you from other applicants and can be a crucial part of your job search.
When creating your resume, there are a few important skills to consider including:
Leadership: As an Assistant Supervisor, you will be responsible for managing a team and ensuring goals are met. Showcasing your leadership skills can help show employers that you are capable of leading and motivating others.
Problem Solving: As an Assistant Supervisor, you will be faced with situations that require problem solving skills on a regular basis. Being able to effectively come up with solutions and resolve issues quickly can help demonstrate your abilities.
Communication: The ability to communicate clearly and effectively is important for Assistant Supervisors. You will need to be able to communicate with colleagues, customers, and upper management in order to ensure that everyone is on the same page.
Time Management: As an Assistant Supervisor, you need to be able to manage your time effectively in order to get things done. Showcasing your time management skills can show employers that you are capable of meeting deadlines and staying organized.
By including these important skills on your resume, you can demonstrate to potential employers that you have what it takes to be an effective Assistant Supervisor.
Key takeaways for an Assistant Supervisor resume
If you're trying to land an assistant supervisor position, having an effective resume is key. When crafting your resume, you want to make sure that your skills, qualifications, and experiences are highlighted and effectively communicated. Here are some key takeaways for an assistant supervisor resume:
Highlight Your Knowledge and Skills: Make sure to highlight your knowledge and skills that are pertinent to the position. Things like problem-solving, team management, and technical proficiency should all be noted.
Demonstrate Leadership Experience: Demonstrating your leadership experience is incredibly important, so make sure to highlight any leadership roles you've held in the past.
Showcase Communication Skills: Communication is an essential skill for an assistant supervisor, so make sure to showcase your abilities in this area. Talk about any experience you have communicating with customers and other departments.
Quantify Your Achievements: When talking about your accomplishments, make sure to use hard numbers, such as cost savings or increased efficiency. This will demonstrate your effectiveness in a tangible way.
Incorporate Industry-Related Keywords: Finally, make sure to incorporate industry-related keywords throughout your resume. This will ensure that your resume stands out and shows the hiring manager that you have a thorough understanding of the field.
By following these key takeaways, you'll be able to create an effective resume that will help you land the assistant supervisor position. Good luck!
Let us help you build
your Resume!
Make your resume more organized and attractive with our Resume Builder