Having a great area manager resume is essential if you want to get the job you want in the field of management. A resume should be well written and tailored to the position you are applying for, and if you want to stand out from the crowd, you need to make sure that yours is top-notch. In this guide, we will go through the steps necessary to craft an effective area manager resume, with examples to show you how you can be successful. From creating an outline to structuring the resume, this guide will provide everything you need to know to create a great area manager resume.
If you didn't find what you were looking for, be sure to check out our complete library of resume examples.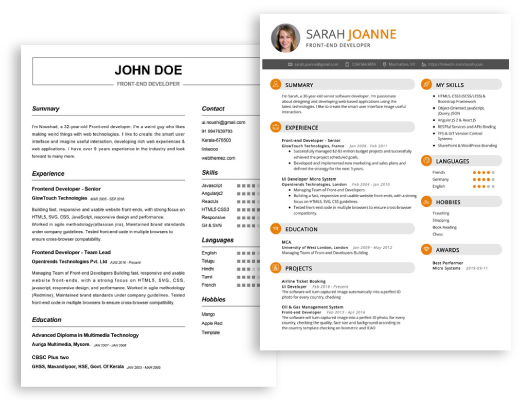 Start building your dream career today!
Create your professional resume in just 5 minutes with our easy-to-use resume builder!
Area Manager Resume Examples
John Doe
Area Manager
123 Main Street | Anytown, USA 99999 | Phone: (123) 456-7890 | Email: john.doe@email.com
I am an experienced Area Manager with over a decade of experience in retail and customer service roles. I am a passionate and driven individual who enjoys leading teams to help them reach their potential, while consistently meeting and exceeding goals. I have a strong understanding of business metrics and KPIs, which allows me to effectively identify areas of improvement and create action plans to achieve them. I excel at building relationships with customers and fostering team loyalty.
Core Skills:
Interpersonal Communication
Leadership & Management
Creative Problem Solving
Training & Mentoring
Team Building
Business Acumen
Sales & Customer Service
Professional Experience:
Area Manager, ABC Company, 2015- present
Manage a team of 50+ associates across multiple stores
Develop and implement strategies to increase sales, profits and customer satisfaction
Analyze store metrics to identify areas of improvement and create action plans
Build relationships and loyalty with customers and team members
Resolve customer complaints
Train and mentor new and existing staff
Oversee store operations and ensure compliance with company policies and procedures
Education:
Bachelor of Science in Business Administration, ABC University, 2010- 2014
Area Manager Resume with No Experience
Hardworking and organized Area Manager with no experience, seeking to utilize knowledge and skills gained through formal education and training to effectively monitor and manage all area operations. Possesses strong organizational, communication, and problem- solving skills along with the ability to coordinate and manage multiple tasks simultaneously.
Skills:
Strong organizational and communication skills
Strong problem- solving skills
Ability to multitask
Knowledge of operations management and management
Proficient in Microsoft Office Suite
Responsibilities:
Ensure efficient and timely completion of tasks
Interact with customers and respond to inquiries
Develop and implement efficient management strategies
Monitor performance and ensure compliance with regulations
Perform financial analysis and generate reports
Track inventory and order supplies when needed
Maintain records and documents for area operations
Ensure customer satisfaction and resolve customer complaints
Analyze and improve operational processes
Train and supervise staff on performance and safety processes
Area Manager Resume with 2 Years of Experience
A highly experienced Area Manager, with two years of extensive experience in managing operations throughout multiple branches, resulting in increased productivity, profitability, and customer satisfaction. Proven ability to develop, lead, and motivate a team in order to achieve set goals and objectives. Demonstrated success in implementing effective strategies to improve processes and service quality.
Core Skills:
Excellent leadership and interpersonal skills
Strategic planning and problem solving
People management and development
Strong organizational and multitasking abilities
Knowledge of customer service and sales strategies
Proficient in MS Office applications
Responsibilities:
Developed and implemented strategies to achieve set goals and objectives
Coordinated operations of multiple branches and monitored performance
Managed sales and customer service activities to ensure customer satisfaction
Analyzed customer feedback to improve customer service quality
Developed and managed a team of staff to ensure efficient operations
Planned and monitored budgets and expenses to ensure cost- effectiveness
Developed and implemented systems, processes and policies to increase productivity
Implemented training, development and performance management initiatives
Negotiated contracts with vendors and suppliers to lower costs
Area Manager Resume with 5 Years of Experience
I am a highly organized and reliable professional with five years of experience as an Area Manager. During my time in this role, I have been responsible for overseeing the daily operations of my area, while providing strategic leadership and guidance to ensure optimal performance. I have a proven track record of success in managing personnel, managing budgets, and improving operations. I have also effectively managed a variety of special projects and initiatives, while meeting the needs of customers and stakeholders. My core skills include planning, problem solving, motivation, and communication, which I have used to build strong relationships with staff, customers, and vendors.
Core Skills:
Planning & Organization
Strategic Thinking & Decision Making
Budget & Resource Management
Communication & Interpersonal Skills
Leadership & Motivation
Project Management & Implementation
Responsibilities:
Oversee the daily operations of the assigned area, including staff, resources, and processes
Develop and implement service plans, policies, and procedures to ensure optimal performance
Monitor the performance of personnel and provide coaching and feedback
Manage the budget and other resources to ensure efficient operations
Develop and implement improvement initiatives to optimize operations
Establish and maintain positive relationships with customers, stakeholders, and vendors
Lead special projects and other initiatives as needed
Area Manager Resume with 7 Years of Experience
I am an innovative and results- oriented Area Manager with seven years of experience in leading, managing and motivating teams. I have a solid track record of significantly improving operational effectiveness and efficiency, while looking for opportunities to integrate new technologies and processes. I have a strong background in developing and implementing new ideas and solutions, with a focus on customer service, process improvement and cost control. I take pride in my ability to create a motivating and effective working environment.
Core Skills:
Leadership
Team Building
Customer Service
Process Improvement
Cost Control
Performance Management
Organizational Skills
Responsibilities:
Developed and implemented strategies to meet operational objectives
Monitored and evaluated operational performance, identifying areas for improvement
Managed daily operations, including oversight of staff and resources
Established effective working relationships with vendors and other stakeholders
Ensured compliance with company and industry regulations
Developed and implemented training and development programs for staff
Provided guidance and support to staff in meeting and exceeding performance targets
Resolved customer service issues in a timely and effective manner
Area Manager Resume with 10 Years of Experience
Dynamic and experienced Area Manager with 10 years of experience in retail and hospitality management. Skilled in developing and managing teams to achieve goals, managing store financials, and providing exemplary customer service. Adept in leading training sessions and developing employees to their highest potential. Possesses excellent communication and organizational skills, with a focus on exceeding customer satisfaction and achieving operational excellence.
Core Skills:
Team Leadership
Financial Management
Store Operations
Training and Development
Customer Service
Problem Solving
Process Improvement
Communication
Administrative Management
Coaching and Mentoring
Responsibilities:
Manage daily store operations, ensuring all employees adhere to company policies and procedures
Develop and lead teams to foster a positive work environment and increase productivity
Monitor and analyze store financial performance, making necessary adjustments to ensure profitability
Monitor employee performance and provide coaching to ensure all goals are met
Lead training sessions to ensure employees are knowledgeable and skilled in customer service and operational excellence
Manage and resolve customer complaints in a timely and professional manner
Develop and implement process improvements to enhance store efficiency and performance
Create store schedules and manage payroll to ensure adequate coverage and labor efficiency
Develop and maintain positive relationships with vendors and suppliers to ensure competitive pricing and quality of goods
Area Manager Resume with 15 Years of Experience
A highly experienced Area Manager with 15 years of experience in leading and overseeing multiple departments in a range of business organizations. Adept at developing and implementing policies and procedures that promote efficiency and increase production and quality. Possesses strong interpersonal, communication and organizational skills.
Core Skills:
Leadership
Excellent communication
Interpersonal skills
Organizational skills
Problem- solving
Project management
Training and development
Responsibilities:
Organizing and managing staff in different departments
Developing and implementing policies and procedures
Monitoring staff performance and making necessary adjustments
Creating and reviewing reports to ensure accuracy
Supervising the implementation of strategies and plans
Organizing and participating in staff training and development programs
Managing and resolving customer complaints
Ensuring compliance with laws and regulations
Negotiating contracts with suppliers and vendors
In addition to this, be sure to check out our resume templates, resume formats, cover letter examples, job description, and career advice pages for more helpful tips and advice.
What should be included in a Area Manager resume?
The role of an Area Manager is a vital one in any organization. As such, it is important for an Area Manager to have a strong resume that accurately reflects their skills, qualifications and experience. A well-crafted resume can help an Area Manager stand out among the competition and secure the job.
When creating an Area Manager resume, there are certain key items that should be included:
Job Objective: Clearly stating your career objective and how you plan to contribute to the company is an important component of the resume.
Education: Include all relevant educational qualifications, such as a bachelor's or master's degree in business or a related field.
Experience: List all experience relevant to the role, such as previous managerial positions, team leadership, problem solving and customer service.
Technical Skills: Highlight any technical skills that you possess, such as proficiency in Microsoft Office, Adobe Creative Suite or other relevant software.
Leadership Abilities: Demonstrate your leadership abilities, such as your ability to motivate and inspire team members, to manage conflict and to develop effective strategies for success.
Analytical Thinking: Showcase your analytical thinking skills, such as your ability to identify areas of improvement and develop action plans to address them.
Communication Skills: Highlight your ability to communicate effectively with team members, customers and other stakeholders.
By including all of these key items on your Area Manager resume, you can demonstrate your qualifications and competence for the role and increase your chances of getting hired.
What is a good summary for a Area Manager resume?
A good summary for an Area Manager resume should highlight the applicant's experience and qualifications in overseeing large teams, developing efficient operations, and managing daily business operations. It should demonstrate their ability to develop and execute strategies, motivate and lead teams, and manage a high level of customer service. The summary should clearly show the applicant's knowledge and skills in budgeting, forecasting, and creating an environment of collaboration and goal alignment. It should also include their success in delivering results and developing successful teams. Ultimately, the summary should demonstrate why the applicant is the ideal candidate for the Area Manager role.
What is a good objective for a Area Manager resume?
Writing a resume can be challenging. You need to make sure that your resume stands out from the crowd and that it showcases your skills and experience in the best way possible. When it comes to the objective section of your resume, it's important to make sure that you write a statement that is clear, concise and to the point.
If you are applying for an area manager position, then you need to make sure that your objective reflects your experience and qualifications in the best way. Here are some tips to help you write a good objective for an area manager resume:
Focus on your expertise: Make sure that your objective focuses on your expertise when it comes to managing an area. Showcase your skills and experience in the relevant field and make sure to highlight your successes.
Be concise: Avoid using too many words and make sure that you keep your statement brief and to the point.
Highlight your qualifications: Make sure that you highlight any qualifications that you have, such as a degree in management or any other relevant qualifications.
Include your goals: Make sure that you include your goals in the objective. Show that you have ambition and that you are driven to succeed in the role.
Showcase your achievements: Showcase any achievements that you have made in the past, such as increasing sales or improving customer service levels. This will demonstrate that you have the skills and experience required for the role.
Following these tips will ensure that you write a good objective for an area manager resume. With a strong and well-written objective, you will be able to stand out from the crowd and show potential employers that you are the perfect candidate for the job.
How do you list Area Manager skills on a resume?
Are you applying for an Area Manager position and feeling overwhelmed by how to present your skills? Writing a resume for this role can be challenging, but with the right information, you can make sure to highlight your skills, experiences, and accomplishments.
The most important part of an Area Manager's resume is the skills section. It should showcase the skills, knowledge, and abilities necessary for success in the role. Here are some key skills to list on your Area Manager resume:
Leadership: Good leadership skills are essential for an Area Manager. You should demonstrate your ability to motivate and manage teams, as well as your ability to effectively communicate with all levels of personnel.
Strategic Planning: Area Managers need to be able to think strategically and develop plans to achieve company objectives. Your resume should include examples of how you have been able to analyze data and develop plans accordingly.
Conflict Resolution: As an Area Manager, you will be likely to encounter conflicts between team members and customers. You should be able to demonstrate your problem-solving skills and how you have been able to successfully handle difficult situations in the past.
Project Management: An Area Manager is often tasked with managing projects to ensure they are completed on time and within budget. You should be able to demonstrate your ability to effectively manage projects and resources to meet business needs.
Organizational Skills: Area Managers must be able to prioritize tasks and manage their time effectively. You should be able to demonstrate your organizational skills and show examples of how you have been able to maximize efficiency and productivity.
By including these skills on your resume, you can make sure you stand out from the other applicants and give yourself the best chance at getting the job. Good luck!
What skills should I put on my resume for Area Manager?
An area manager oversees and coordinates the activities of an assigned geographical area for a company. This position requires a range of skills to ensure tasks are completed efficiently and correctly. When writing your resume, it is important to include the most relevant skills to the position to stand out from other applicants. Here are some key skills to include when applying for an area manager position:
Leadership: Area Managers need to be able to lead teams and ensure they stay on task. It is important to demonstrate the ability to motivate and inspire a team to meet goals.
Organizational: Area Managers need to be highly organized and able to effectively delegate tasks.
Communication: Strong communication skills are essential for Area Managers as they need to effectively convey information to their teams.
Problem-solving: An Area Manager must be able to effectively problem solve in order to anticipate and resolve issues.
Interpersonal: Area Managers need to have strong interpersonal skills in order to build relationships with their teams, customers, and other stakeholders.
Time management: It is important for an Area Manager to be able to manage their time and resources effectively in order to meet goals.
Analytical: Area Managers must have strong analytical skills in order to assess data and make informed decisions.
By including these key skills on your resume, it will demonstrate that you are the ideal candidate for the Area Manager role.
Key takeaways for an Area Manager resume
As an Area Manager, you know that it's important to have a professional resume that accurately reflects your skills, experience, and achievements. Your resume is a key tool in helping you land the job you want, so it's essential to make sure it properly showcases your qualifications. Here are some key takeaways for creating an effective Area Manager resume:
Highlight Your Skills: Make sure your resume emphasizes the skills that are most relevant to the job you're applying for. Include any areas of expertise or specializations that make you stand out, such as project management, budgeting, or personnel management.
Quantify Your Achievements: Whenever possible, add metrics to your accomplishments to demonstrate their impact. For example, state how much money you saved or how much revenue you increased as a result of a project you managed.
Demonstrate Your People Skills: Showcase the interpersonal skills that make you an ideal candidate for the position. Include examples of how you built strong relationships with customers, colleagues, and upper management, as well as how you successfully managed teams and resolved conflicts.
Show Your Organization Ability: Include evidence of how you streamlined processes, improved efficiency, and developed systems that saved time and money. Highlight any awards or recognition you've achieved for your organizational skills.
Share Your Passion: It's important to demonstrate your enthusiasm and commitment to the position. Include any volunteer activities or organizations you're involved in that relate to the job.
By following these tips, you can create an Area Manager resume that will show hiring managers you have the qualifications and experience to excel in the role. Good luck!
Let us help you build
your Resume!
Make your resume more organized and attractive with our Resume Builder