Writing a resume for the role of an area coordinator can be challenging as the job comes with specific requirements. A successful resume should demonstrate your ability to organize events, manage budgets, and oversee staff. It should also provide insight into the types of projects you have worked on, the people you have managed, and the results you have achieved. This guide will provide detailed examples to help you create a strong area coordinator resume.
If you didn't find what you were looking for, be sure to check out our complete library of resume examples.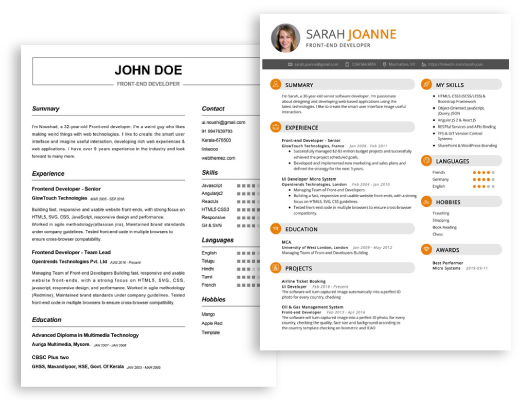 Start building your dream career today!
Create your professional resume in just 5 minutes with our easy-to-use resume builder!
Area Coordinator Resume Examples
John Doe
Area Coordinator
123 Main Street | Anytown, USA 99999 | Phone: (123) 456-7890 | Email: john.doe@email.com
A highly organized and experienced Area Coordinator with six years of experience in the field of education and program management. Skilled in building successful relationships with staff, parents and students while providing exceptional service and support. Strong communication and organizational skills, with a commitment to excellence in all tasks. Effective in managing a variety of tasks and assignments while working under tight deadlines to support an overall positive learning environment.
Core Skills:
Program Management
Event Coordination
Staff Supervision
Budget Preparation
Data Analysis
Problem Solving
Reporting & Presentations
Facilities Management
Professional Experience:
Area Coordinator, ABC Education Group, 2017 – Present

Developed and implemented comprehensive student, faculty, staff and parent programs.
Established and maintained healthy relationships with vendors and suppliers.
Developed and managed budget for the group and allocated funds for operating expenses.
Assisted in the development of effective policies and procedures for the group.
Monitored data to ensure accuracy and compliance with standards and regulations.
Prepared reports and presentations to the board of directors.
Coordinated and supervised activities and projects with other departments.
Education:
Master of Education, ABC University, 2017
Bachelor of Science, XYZ College, 2015
Area Coordinator Resume with No Experience
Recent college graduate seeking to use leadership, organizational, and communication skills as an Area Coordinator. Dedicated to providing quality customer service and maintaining a productive team environment through creative problem- solving.
Skills
Excellent communication and interpersonal skills
Strong leadership capabilities
Proficient in Microsoft Office, Google Suite, and Adobe Creative Cloud
Ability to work under pressure
Strong problem- solving skills
Excellent organizational skills
Responsibilities
Supervise teams of personnel and ensure task completion
Collaborate with staff to troubleshoot and resolve any issues that arise
Research and analyze data to develop new policies and procedures to enhance team performance
Evaluate team performance and provide feedback to motivate and drive improvement
Develop and implement strategies and programs to improve customer service
Manage and track team goals, objectives, and progress
Conduct team meetings to discuss goals and objectives
Ensure compliance with organizational policies, laws, and regulations
Area Coordinator Resume with 2 Years of Experience
Motivated and experienced Area Coordinator with two years of experience in the hospitality and restaurant industry. Proven ability to succeed in dynamic and fast- paced environment while managing multiple projects simultaneously. Experienced in planning and leading events, training and supervising employees, and setting and achieving goals. Proficient in Microsoft Office, Adobe Creative Suite, and various POS systems.
Core Skills:
Customer Service
Team Leadership
Organizational Skills
Problem Solving
Communication
Event Planning
Training
POS Systems
Microsoft Office
Adobe Creative Suite
Responsibilities:
Manage daily operations of food and beverage services in multiple locations.
Train and supervise employees on best practices and customer service.
Plan and lead events in various settings.
Develop and implement efficient strategies to increase customer satisfaction and sales.
Monitor financial performance and adjust plans accordingly.
Ensure compliance with all safety and health regulations.
Conduct regular staff meetings to review goals, progress, and performance.
Maintain accurate records of inventory, sales, and customer feedback.
Provide guidance and support to staff in order to resolve customer disputes.
Area Coordinator Resume with 5 Years of Experience
A highly motivated and organized professional with 5 years of experience in area coordinator roles. Experienced in planning, organizing, and directing operations and activities within an area of responsibility, as well as developing and implementing strategies to achieve departmental goals. Proven ability to manage multiple projects with tight deadlines and to build and lead effective teams. Possesses excellent communication and interpersonal skills, with a positive attitude and an eagerness to help others.
Core Skills:
Area Coordination
Project Management
Team Building
Strategic Planning
Communications and Interpersonal Skills
Time Management
Problem Solving
Budgeting
Responsibilities:
Develop and maintain relationships with internal and external stakeholders.
Oversee the day- to- day operations of assigned area.
Coordinate and monitor activities within an area to ensure compliance with established policies, regulations, and laws.
Develop and implement strategies to achieve departmental goals.
Design and implement systems and procedures for the efficient operation of the area.
Set short and long- term goals and objectives for the area.
Monitor and review progress of ongoing projects to ensure timely completion.
Manage budget and resources to ensure effective utilization.
Lead and motivate teams to achieve desired results.
Ensure compliance with safety regulations and standards.
Develop and implement training programs for staff members.
Provide direction and guidance to staff members.
Respond promptly to customer inquiries and complaints.
Area Coordinator Resume with 7 Years of Experience
I am an experienced Area Coordinator with over 7 years of experience in the field. I excel in providing exceptional customer service, communication and problem solving skills. I am committed to offering quality service and I am highly organized. My experience also includes coordinating activities with other departments and managing a team of staff in multiple locations. I am confident that I could be an asset to any organization.
Core Skills:
Relationship building
Time management
Communication
Problem solving
Interpersonal skills
Supervisory abilities
Planning and coordinating
Project management
Responsibilities:
Establishing and maintaining positive relationships with staff and other stakeholders
Coordinating activities between multiple departments
Managing a team of staff in multiple locations
Scheduling and managing events
Developing and maintaining policies and procedures
Creating and monitoring budgets
Ensuring safety regulations are followed
Assisting with the recruitment and training of new staff
Analyzing data to identify trends and make recommendations
Developing plans to increase productivity and efficiency
Monitoring team performance and providing feedback
Performing administrative functions as required.
Area Coordinator Resume with 10 Years of Experience
Dynamic and experienced Area Coordinator with 10+ years of experience in managing teams, programs, customer service, and customer relations. Adept in assessing customer needs, developing business strategies, and collaborative problem solving. Skilled at leading and supervising team members while also developing relationships with internal and external stakeholders. Experienced in developing and implementing procedures to ensure smooth operations and customer satisfaction.
Core Skills:
Supervision and Team Management
Customer Service
Strategic Planning
Project Management
Problem Solving
Budgeting
Interpersonal Communication
Performance Evaluation
Business Analysis
Responsibilities:
Supervised training and development of team members, ensuring the team was always up- to- date on new products, services, and industry trends
Developed and implemented customer service policies and procedures
Managed customer relations, handling customer inquiries and complaints
Planned and managed budget, resources, and projects
Identified areas for process improvement and monitored progress to meet goals
Developed and implemented strategies to improve customer satisfaction
Analyzed customer feedback and identified areas for improvement
Maintained records of customer interactions and transactions
Assessed customer needs and provided relevant information and solutions
Area Coordinator Resume with 15 Years of Experience
A highly organized and detail- oriented professional with over 15 years of experience as an Area Coordinator. Responsible for working with customers, vendors and other stakeholders to identify and resolve process and performance issues, and to develop policies and procedures that ensure quality service and operations. Possesses strong interpersonal and communication skills that allow for the formation and maintenance of positive working relationships.
Core Skills:
Project Management
Process Improvement
Stakeholder Management
Policy Development
Vendor Relations
Risk Assessment
Organizational Leadership
Data Analysis
Responsibilities:
Develop and implement policies and procedures to ensure the smooth and efficient operation of the area
Coordinate processes and activities between stakeholders to ensure quality service delivery
Monitor and analyze performance metrics to identify areas for improvement
Identify process and performance issues and develop strategies to address them
Liaise with vendors to ensure timely and accurate delivery of services
Provide guidance and training to staff to ensure compliance with policies and procedures
Conduct risk assessment and develop preventive measures
Provide regular reports to upper management and stakeholders on performance and process changes
In addition to this, be sure to check out our resume templates, resume formats, cover letter examples, job description, and career advice pages for more helpful tips and advice.
What should be included in a Area Coordinator resume?
A strong Area Coordinator resume should include the following sections and information:
Contact Information: Include your name, address, phone number, email address, and any other appropriate contact information.
Summary: This section should give a brief overview of your skills, experience, and goals.
Education: List any degrees or certifications you have earned and any relevant coursework.
Work Experience: Detail all relevant past positions and responsibilities. Include the name of the employer, job title, dates of employment, and a brief description of duties.
Areas of Expertise: List any relevant areas of expertise that you possess, such as knowledge of a certain industry or software program.
Leadership and Management Skills: Include any previous roles that required you to lead or manage a team or project.
Community Involvement: Mention any volunteer or extracurricular activities you have been involved in.
Awards and Honors: List any awards, honors, or recognition you have received.
References: Provide the contact information for two or more professional references.
By including all of the above information in a concise, yet comprehensive manner, you can craft an Area Coordinator resume that will stand out from the competition.
What is a good summary for a Area Coordinator resume?
A good summary for an Area Coordinator resume should highlight the candidate's key strengths and abilities, while emphasizing their experience in the field. It should also highlight any unique skill sets or qualifications the candidate may possess. The summary should reflect the candidate's passion for their job, their ability to think critically, their ability to take initiative, their knowledge of the organization, and their problem-solving skills. Furthermore, the summary should briefly detail the candidate's past accomplishments in the field, such as successful campaigns or programs they've initiated and managed. Finally, the summary should also emphasize the candidate's ability to work well with a team of people, and their dedication to delivering results.
What is a good objective for a Area Coordinator resume?
A successful Area Coordinator resume should demonstrate an individual's ability to manage a variety of tasks, maintain strong working relationships with team members, and manage staff in the assigned area. An effective Area Coordinator resume objective should be concise and to the point, outlining the candidate's professional goals, abilities, and qualifications.
Establish an effective rapport with staff and team members in the assigned area
Effectively manage daily operations and processes
Monitor and update staff performance to ensure that all tasks are completed on time
Utilize effective problem solving skills to resolve conflicts and challenges in the assigned area
Implement strategies and procedures to improve productivity and efficiency
Collaborate with other departments to ensure successful completion of projects
Mentor and coach staff to improve engagement, morale, and performance
Remain up-to-date with changes in the industry and developing new strategies to meet the changing needs of the organization
How do you list Area Coordinator skills on a resume?
If you are an Area Coordinator, you should include your skills on your resume so that potential employers can get an idea of your capabilities. To make your resume stand out, you should list your Area Coordinator skills in an organized and concise manner. Here are some tips on how to effectively list your Area Coordinator skills on your resume:
Make sure to include any specialized skills or training you have received in the field. You might have received specialized training in event planning, budgeting, or customer relations. These should all be listed on your resume.
Emphasize any experience you have working with a team. Area Coordinators often have to work in teams to plan events and manage the budget.
Showcase any leadership experience. As an Area Coordinator, you will likely be responsible for managing other staff members, so demonstrate any leadership experience you have.
Mention any experience with software or technology. Many Area Coordinators must be familiar with software programs for budgets and event planning.
Use specific examples. For instance, if you have had success planning an event or managing a budget, use numbers and figures to show the results.
By using these tips, you can effectively showcase your Area Coordinator skills on your resume, and make sure that potential employers know what you are capable of.
What skills should I put on my resume for Area Coordinator?
When crafting your resume for a role as an Area Coordinator, you want to make sure you emphasize the skills you have that will help you excel in the job. The following are some of the skills and qualifications you should include:
Leadership: Area Coordinators need to have strong leadership and organizational skills. You should be able to establish clear goals and objectives, as well as delegate tasks and lead teams to successful completion of projects.
Communication: As an Area Coordinator, you will be responsible for communicating with many different stakeholders. You should be able to communicate clearly and effectively, both verbally and in writing, to ensure that all parties involved are on the same page.
Problem Solving: Area Coordinators also need to be able to think on their feet and solve problems as they arise. You should be able to recognize issues quickly and develop solutions that are both effective and efficient.
Project Management: As an Area Coordinator, you will be responsible for managing multiple projects at the same time. You should have the ability to organize tasks, keep track of deadlines, and ensure that all projects are completed in a timely manner.
Relationship Building: Area Coordinators need to be able to build relationships and foster a team environment. You should have the skills to create a positive environment, motivate and support team members, and resolve conflicts.
By emphasizing these skills on your resume, you will be able to demonstrate to potential employers that you have the qualifications necessary to excel in the role of Area Coordinator.
Key takeaways for an Area Coordinator resume
When it comes to getting a job as an area coordinator, your resume is your most important tool. Your resume should showcase your skills, experience, and accomplishments in the most concise and effective way possible. Here are some key takeaways for crafting an area coordinator resume that will get you noticed.
Highlight your experience. Make sure to include any relevant experience you have as an area coordinator, as well as any other related experience. Be sure to include details like the duration of your job, the duties you performed, and any accomplishments or successes you achieved on the job.
Showcase your communication skills. An area coordinator needs to be able to communicate effectively with both colleagues and clients. Make sure to highlight your communication skills and provide examples of how you've used them in the past.
Focus on your organizational skills. As an area coordinator, your job will involve planning and organizing events, so it's important to make sure that you showcase your organizational skills. Provide examples of how you've managed projects and coordinated teams in the past.
Demonstrate your problem-solving abilities. Area coordinators often have to troubleshoot issues and come up with solutions quickly. Highlight any experiences where you had to solve a problem and how you did it.
Show your leadership skills. Area coordinators often have to motivate and lead teams, so make sure to include any experiences where you have shown leadership.
By following these key takeaways, you can craft a resume that will show potential employers why you're the ideal candidate for the area coordinator position. Showcase your skills, experience, and abilities and you'll be sure to get noticed!
Let us help you build
your Resume!
Make your resume more organized and attractive with our Resume Builder