Having the perfect resume is a key to success in the job search. As an administrator, having your resume stand out from the crowd is even more important. With so many applicants and applicants with similar qualifications, having a well-crafted resume is key to getting your foot in the door. Writing a resume as an administrator can be tricky and time-consuming, but this guide will help you create an effective and professional resume that will land you the job. This guide will cover everything from the basics of resume writing and formatting to tips and tricks for creating a powerful resume. Additionally, this guide will provide some examples of effective resumes that you can use as a guide for your own resume.
If you didn't find what you were looking for, be sure to check out our complete library of resume examples.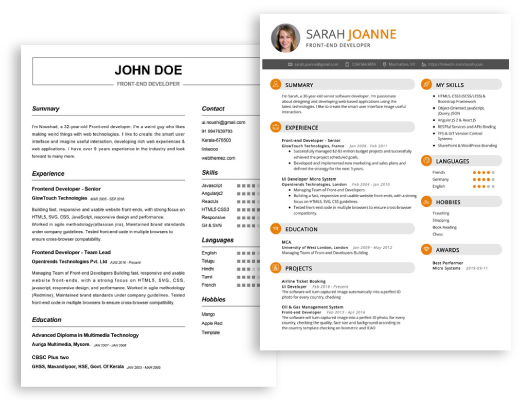 Start building your dream career today!
Create your professional resume in just 5 minutes with our easy-to-use resume builder!
Administrator Resume Examples
John Doe
Administrator
123 Main Street | Anytown, USA 99999 | Phone: (123) 456-7890 | Email: john.doe@email.com
I am an experienced and dedicated IT Administrator, with a proven track record of success in the field of system administration. I have a strong background in a variety of technical areas, such as networking, server configuration, user management, and troubleshooting. I am a highly motivated professional who is committed to delivering the highest quality of service with minimal supervision. My passion for technology and problem solving has enabled me to make a significant contribution to the success of the organizations I have worked for.
Core Skills:
Networking & Server Administration
System Monitoring & Troubleshooting
Software Installation & Maintenance
User Management & Configuration
Technical Documentation & Training
Security Practices & Policies
Capacity Planning & Performance Tuning
Professional Experience:
IT Administrator, ABC Company, 2017- 2020
Developed and maintained a secure and reliable IT infrastructure
Installed, configured and updated software and hardware systems
Monitored and maintained system performance and availability
Performed system backups and restorations
Developed and implemented security policies and procedures
Managed user accounts and access rights
IT Administrator, XYZ Company, 2015- 2017
Developed and implemented system changes and upgrades
Configured and maintained network equipment and services
Installed and configured new software and hardware
Monitored system performance and availability
Troubleshoot system problems and provided solutions
Developed technical documentation and training materials
Education:
MSc in Information Technology, University of Technology, 2012- 2015
BSc in Computer Science, University of Technology, 2008- 2012
Administrator Resume with No Experience
Recent college graduate with strong organizational skills and great attention to detail. Skilled in Microsoft Office, customer service and problem- solving. Seeking to apply abilities in a challenging and rewarding environment.
Skills:
Proficient in Microsoft Office
Strong organizational skills
Excellent customer service
Problem- solving
Excellent communication skills
Responsibilities
Manage administrative tasks, such as filing, data entry, and organizing schedules
Greet and assist visitors in a professional manner
Manage incoming and outgoing telephone calls
Maintain accurate records
Prepare documents and reports
Manage office supplies and equipment
Administrator Resume with 2 Years of Experience
Experienced administrator with two years of experience in providing administrative and clerical support to professionals in various businesses. Focused on delivering high- quality work within tight time constraints, with a demonstrated ability to handle multiple tasks with efficiency and accuracy. Possesses excellent communication and organizational skills, as well as an advanced knowledge of office software applications.
Core Skills:
Excellent communicator
Highly organized
Resourceful
Detail- oriented
Strong attention to detail
Ability to work in a fast- paced environment
Responsibilities:
Provide administrative support to executives and staff
Prepare and edit documents, spreadsheets, and presentations
Handle complex data entry tasks
Manage filing systems and databases
Conduct research and compile reports
Answer phone calls, emails, and other inquiries
Greet visitors and handle their inquiries
Organize meetings, conferences, and travel arrangements
Schedule appointments and manage calendars
Assist with special projects as needed
Administrator Resume with 5 Years of Experience
I am an experienced and organized Administrator with 5 years of professional experience. I am proficient in Microsoft Office, excellent customer service skills, and proven ability to optimize organizational processes. I am detail- oriented, reliable, and have a knack for problem solving. I have a degree in Business Administration and am committed to providing the highest quality of service to my clients.
Core Skills:
Proficient in Microsoft Office Suite
Strong customer service skills
Excellent communication and interpersonal skills
Experience with organizational and process optimization
Detail- oriented and organized
Ability to work independently and as part of a team
Ability to manage multiple tasks efficiently
Responsibilities:
Providing administrative support to departments and management
Answering and routing incoming calls
Assisting and managing office supplies, equipment and facilities
Maintaining records and databases
Scheduling meetings, appointments and travel arrangements
Preparing and organizing documents, emails and other correspondence
Assisting with research projects and reports
Coordinating events, conferences and meetings
Administrator Resume with 7 Years of Experience
An experienced and results- driven administrator with 7 years of experience in the education and non- profit sectors. Proven track record in providing efficient administrative support to management teams to ensure the smooth running of operations and achieving organizational objectives. Possesses strong communication, problem- solving and organizational skills as well as excellent ability to multitask and prioritize tasks efficiently.
Core Skills:
Administrative Support
Communication
Project Management
Time Management
MS Office
Teamwork
Problem Solving
Event Planning
Responsibilities:
Providing comprehensive administrative support to management staff
Developing and managing project plans and timelines
Monitoring and coordinating activities between departments
Prioritizing tasks and ensuring deadlines are met
Preparing reports, presentations and other documents
Tracking expenses and managing budgets
Maintaining electronic filing systems
Supporting the organization in organizing events and meetings
Answering and directing phone calls
Handling customer inquiries and complaints
Administrator Resume with 10 Years of Experience
Highly organized and efficient IT Administrator with 10 years of experience in providing technical support and troubleshooting to a wide range of computer hardware, software and other IT related equipment. Possess excellent problem solving and customer service skills as well as the ability to effectively communicate with customers and co- workers. Certified in Windows Server and multiple Microsoft Office programs.
Core Skills:
Strong technical and customer service skills
Certified in Windows Server and multiple Microsoft Office programs
Experienced in troubleshooting and providing support for computer hardware, software and other IT related equipment
Knowledgeable in setting up and maintaining computer systems
Ability to effectively communicate with customers and co- workers
Proven ability to work in a fast- paced environment
Responsibilities:
Installing, configuring, and maintaining operating systems and applications
Diagnosing and troubleshooting hardware and software related problems
Ensuring system security and network availability
Monitoring and optimizing system performance
Creating and maintaining user accounts
Providing technical support to users and co- workers
Implementing and managing system backup and recovery
Implementing system policies and procedures
Administrator Resume with 15 Years of Experience
A highly experienced and knowledgeable Administrator with 15 years of experience in providing administrative support, ensuring efficient operations, and optimizing internal processes. Highly organized and detail- oriented with excellent problem- solving skills and a demonstrated ability to effectively manage multiple tasks. Committed to maintaining confidentiality while developing positive relationships with staff and management.
Core Skills:
Administrative Support
Records Management
Process Improvement
Team Collaboration
Data Entry
Document Preparation
Organizational Planning
Customer Service
Problem Solving
MS Office
Responsibilities:
Managed office operations, including preparing and reviewing documents, developing administrative procedures, and ensuring proper filing systems.
Implemented procedures to improve efficiency, reduce costs, and streamline processes.
Measured and reported on performance metrics to ensure staff compliance with organizational objectives.
Assisted in managing customer inquiries by providing detailed information and support.
Ensured accuracy and adherence to established policies and procedures.
Developed and maintained positive relationships with staff and management.
Responded to internal and external inquiries in a timely and professional manner.
Completed data entry tasks accurately and efficiently.
Maintained confidential documents and records in a secure environment.
Developed and implemented operational policies and procedures.
Coordinated with other departments to ensure successful completion of projects.
In addition to this, be sure to check out our resume templates, resume formats, cover letter examples, job description, and career advice pages for more helpful tips and advice.
What should be included in a Administrator resume?
When creating a resume for an administrator position, it's important to include the core skills and qualities that hiring managers look for. Here are some of the key components you should consider including:
Past Experience: Include any relevant past experience that demonstrates your skills as an administrator. This could include any administrative jobs you've held, as well as volunteer or freelance work you've done that showcases your competence in an administrative role.
Education and Training: Highlight any specialized training or degrees you have in administrative work. Include the name and dates of any certifications or other applicable degrees you hold.
Technical Skills: Demonstrate your proficiency in the technology and software commonly used in administrative roles. Include programs such as Microsoft Office, customer relationship management, scheduling software, and more.
Communication Skills: Being able to communicate effectively is vital in an administrative role. Highlight your communication skills, such as your ability to write reports, give presentations, and interact with members of the public.
Organizational Skills: Showcase your organizational skills by listing any processes or systems you have implemented to streamline administrative processes.
Leadership Skills: Describe any leadership positions you've held, or any team projects you've worked on, to demonstrate your ability to lead and manage people.
By including all of these components in your resume, you'll be well on your way to securing a successful role as an administrator.
What is a good summary for a Administrator resume?
A good summary for an Administrator resume should highlight your most relevant qualifications and experience, as well as your professional strengths. It should also provide a brief overview of your career path and a few words about your professional goals. The summary should show employers that you are organized, detail-oriented and able to take on multiple tasks and responsibilities. It should also include any specialized training or certifications you have obtained, and any awards or accolades you have received. Most importantly, the summary should demonstrate how your qualifications contribute to the success of the organization you are applying to. Your summary should be written in a concise, engaging manner that entices the reader to review your resume in more detail.
What is a good objective for a Administrator resume?
The role of an administrator is to provide organizational, administrative, and technical support in a variety of areas. Therefore, when constructing a resume for an administrative position, it's important to have an objective that effectively communicates your skills and experience. Here are a few tips for crafting an effective objective for an administrator resume:
Show a commitment to the role: Your objective should demonstrate that you understand the role and are committed to doing the job.
Highlight your experience: Your objective should emphasize any relevant experience you have in the administrative field, such as managing records, processing paperwork, or coordinating events.
Focus on your strengths: Showcase any special skills you possess that may be of benefit to the position, such as proficiency in computer programs or knowledge of a foreign language.
Demonstrate your commitment to excellence: Your objective should demonstrate your desire to go above and beyond in order to provide the best possible service.
Express appreciation for the opportunity: Your objective should show that you are grateful for the chance to contribute to the organization.
How do you list Administrator skills on a resume?
When writing a resume, it is important to include any skills you have as an administrator. This will not only demonstrate to potential employers the range of your abilities, but also show that you are a well-rounded candidate. When listing administrator skills on a resume, it is important to focus on the specific qualities that are most relevant to the job. Here are some administrator skills that you may want to consider including on your resume:
Organization: Administrators need to be able to effectively manage their time and juggle multiple tasks. Highlight your organizational skills, such as the ability to prioritize tasks and delegate responsibilities.
Communication: Effective communication is essential for any administrator, as they need to be able to interact with colleagues, clients, and other stakeholders. Include your ability to communicate clearly and concisely in both verbal and written form.
Problem-solving: Administrators must be able to quickly identify and resolve any issues that arise. Showcase how you can effectively troubleshoot and resolve problems, even under high-pressure situations.
Leadership: Administrators should be capable of leading teams of people and delegating tasks in order to keep operations running smoothly. Demonstrate your ability to motivate, inspire, and manage others.
Attention to detail: Accuracy and precision are key when it comes to being an administrator. Showcase your attention to detail and ability to stay organized and focused.
By showcasing the relevant skills you possess as an administrator, you can be sure that you are presenting yourself as a strong candidate for the job.
What skills should I put on my resume for Administrator?
Administrators are one of the most important roles in any organization and having the right skills and experience is essential to success in this role. A well-crafted resume is key to landing the job and making sure yours stands out is important. Here are the top skills to include on your administrator resume:
Organizational Skills: Administrators need to be able to manage multiple tasks and prioritize them accordingly. Make sure to highlight your experience in task management and organization.
Communication Skills: Communication is a major part of any administrative job and effective communication is essential. Showcase your experience in both written and verbal communication as well as your ability to effectively communicate with a variety of stakeholders.
Problem-Solving: Administrators need to be able to think on their feet and be able to solve any problems that may arise. Showcase your experience in problem-solving and highlight any creative solutions you developed.
Time Management: Administrators need to be able to manage their time efficiently and effectively. Make sure to highlight any experience you have in managing multiple schedules, deadlines and projects.
Attention to Detail: Administrators need to pay attention to the details in order to ensure accuracy and quality in their work. Make sure to showcase your experience in pay close attention to detail and accuracy.
Technical Skills: Depending on the job you are applying for, you may need to include technical skills on your resume. Highlight any experience or qualifications you have with computer software, databases, and other technical tools.
By including these skill sets, you can increase your chances of landing the job you are interested in. Make sure to tailor your resume to highlight the skills that are most relevant to the job you are applying for. Good luck on your job search!
Key takeaways for an Administrator resume
One of the most important parts of any resume is the key takeaways section. As an administrator, it's important to make sure that your key takeaways are clear and concise. Here are some of the key takeaways that you should include on your resume to highlight your skills and experience as an administrator:
Communication: Being an effective communicator is essential for a successful administrator. Demonstrate that you have excellent written and verbal communication skills and be sure to mention any awards or recognitions you may have received for your communication abilities.
Leadership: As an administrator, you will be expected to lead teams and projects. Showcase your leadership skills by including specific examples of successful projects you've managed or initiatives you've taken to improve processes.
Problem Solving: The ability to quickly identify solutions and create plans of action is essential for any administrator. Highlight any problem-solving skills or successes that you have had in your current or past roles.
Time Management: An administrator must be able to effectively manage their time and prioritize tasks. Include any awards or recognitions you may have received for your ability to manage your time and get things done.
Technical Skills: Being an administrator means that you often need to be familiar with a variety of technology and software platforms. Highlight any technical skills you have, such as experience with Excel, Salesforce, or other programs.
By including these key takeaways on your resume, you will demonstrate to potential employers that you have the necessary skills and experience for an administrator position. Make sure to tailor your key takeaways to the job you are applying for and highlight the most important skills and qualifications that make you a great candidate.
Let us help you build
your Resume!
Make your resume more organized and attractive with our Resume Builder