A resume is a critical part of the job search process. It is the one document that stands between you and the job of your dreams. For an administration officer, your resume is even more critical. It needs to clearly communicate your skills and experience in a way that is tailored to the specific job you are applying for. This guide will provide you with tips and examples on how to write an effective and compelling resume for an administration officer. Through this guide, you will learn how to structure your resume, highlight key skills and experiences, and other important strategies to make your resume stand out in a pile of applications. With a great resume, you will be well on your way to securing the job of your dreams.
If you didn't find what you were looking for, be sure to check out our complete library of resume examples.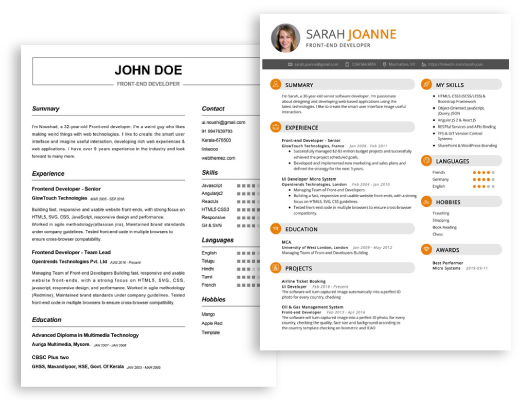 Start building your dream career today!
Create your professional resume in just 5 minutes with our easy-to-use resume builder!
Administration Officer Resume Examples
John Doe
Administration Officer
123 Main Street | Anytown, USA 99999 | Phone: (123) 456-7890 | Email: john.doe@email.com
I am an experienced Administration Officer with over 9 years of experience in the industry. I am highly organized and efficient, able to prioritize tasks and complete them on time and to the highest level of quality. I am also able to communicate effectively with both colleagues and customers and ensure that all administrative tasks are performed accurately. My skills include excellent customer service, data entry, problem- solving, and attention to detail.
Core Skills:
Excellent customer service
Data entry
Problem- solving
Attention to detail
Ability to prioritize tasks
Time management
Communication
Organization
Professional Experience:
Administration Officer, XYZ Company (March 2013- Present)
Manage the day- to- day administrative operations of the organization.
Organize and coordinate office operations and procedures.
Monitor and maintain office supplies and equipment.
Respond to customer inquiries and complaints in a timely manner.
Prepare reports, presentations, and other documents as needed.
Develop and implement filing systems and records management procedures.
Education:
Bachelor's Degree in Business Administration, ABC University (2009- 2013)
Administration Officer Resume with No Experience
Hardworking and motivated recent graduate with excellent communication and organizational skills. Looking to gain experience as an Administration Officer to further develop my skills.
Skills
Excellent organizational and communication skills
Highly proficient in Microsoft Office Suite
Ability to multitask and prioritize tasks
Ability to work autonomously and in a team
Strong research and problem- solving abilities
Excellent written and verbal communication
Proficient in customer service
Responsibilities
Managing office supplies inventory and placing orders
Greeting visitors, clients, and customers
Answering telephone calls and emails
Processing incoming and outgoing mail
Scheduling appointments and maintaining records
Updating databases and filing documents
Assisting with marketing and social media campaigns
Providing customer service support
Administration Officer Resume with 2 Years of Experience
A highly organized and detail- oriented professional with 2 years of experience as an Administration Officer. Possesses advanced knowledge of office management and proficient in the use of various computer applications. Skilled in coordinating and managing internal and external resources, maintaining office systems and processes, and providing administrative support. Demonstrates strong problem solving and communication skills, with the ability to work independently or as part of a team.
Core Skills:
Excellent organizational and time management skills
Knowledge of office management procedures
Proficient in the use of computers and related applications
Excellent communication and interpersonal skills
Ability to work independently and as part of a team
Ability to effectively multi- task
Strong problem solving and decision making skills
Responsibilities:
Managing office resources and maintaining office systems and procedures
Coordinating with internal and external resources
Providing administrative support for office personnel
Assisting in the preparation of documents, reports, and presentations
Maintaining records and filing systems
Handling incoming and outgoing correspondence
Assisting with special projects and other assigned tasks
Ensuring accuracy and timeliness of reports and other documents
Organizing meetings and other events
Administration Officer Resume with 5 Years of Experience
Dynamic and results- oriented professional with five years of experience in providing administrative support and services. Experienced in data entry, records management, and customer service. Excellent computer skills using MS Office Suite and other software applications. Possesses strong organizational skills, attention to detail, and the ability to prioritize tasks and meet deadlines. Works well independently or as part of a team.
Core Skills:
Records Management
Data Entry
Scheduling
Customer Service
Microsoft Office Suite
Office Administration
Problem Solving
Time Management
Responsibilities:
Gathered, documented and maintained confidential information and records
Answered phones and responded to inquiries in a timely manner
Scheduled and coordinated meetings and events
Coordinated travel arrangements and processed expense reports
Assisted in the preparation of documents, presentations, and reports
Processed incoming and outgoing mail, packages, and courier services
Managed office supplies inventory and ordered items when needed
Performed general office duties such as filing, photocopying, scanning, and faxing
Assisted with special projects and provided administrative support to staff members
Administration Officer Resume with 7 Years of Experience
A highly organized and motivated professional with 7+ years of experience working as an Administrative Officer. Experienced in handling day- to- day administrative tasks, providing customer service and assisting in office operations smoothly. Proven abilities in multitasking and managing multiple projects simultaneously and efficiently. Possesses excellent communication and interpersonal skills which help in building strong and productive relationships with coworkers and clients.
Core Skills:
Client Relations
Office Management
Problem Solving
Time Management
Data Entry
Multi- tasking
Organizational Skills
Complex Scheduling
Responsibilities:
Managed a team of administrative assistants and other clerical staff.
Provided excellent customer service and handled customer inquiries.
Handled data entry and created reports from the database.
Organized office supplies and maintained a proper inventory.
Coordinated meetings, conferences and travel arrangements.
Assisted in the recruitment and training of new staff.
Created and managed complex schedules, meetings, and special events.
Provided administrative support, such as preparing and filing documents, handling phone calls and emails, and completing other administrative tasks.
Organized and communicated with executive and other departments.
Developed and maintained filing systems to ensure efficient document retrieval.
Administration Officer Resume with 10 Years of Experience
A highly performance- driven and detail- oriented Administration Officer with 10 years of expertise in managing administrative functions and operations. Demonstrated ability to manage the day- to- day activities and administration related tasks with a proven track record of providing operational support. Experienced in providing administrative support in a fast- paced environment, whilst adhering to deadlines and maintaining the organizational goals.
Core Skills:
Data entry
Record management
Budget management
Problem solving
Scheduling
Time management
Documentation
Attention to detail
MS Office proficiency
Responsibilities:
Manage office equipment and supplies
Handle incoming and outgoing mail
Organize and maintain filing systems
Provide administrative support to managers and other departments as required
Answer phone calls, take messages and respond to emails
Prepare reports, presentations and documents
Monitor and review daily operations
Assist with the preparation of budgets, financial statements, and other reports
Coordinate and organize meetings, events and other activities
Administration Officer Resume with 15 Years of Experience
Highly- motivated Administration Officer with 15 years of experience in a wide range of administrative tasks and responsibilities. Experienced in managing and organizing office operations, managing calendars and schedules, processing invoices and documents, and providing support to staff in the performance of their duties. Possesses a deep knowledge of administrative procedures and protocol, and an outstanding commitment to exceptional customer service.
Core Skills:
Administrative Support
Data Entry
Calendar Management
Documentation
Processing Invoices
Customer Service
Time Management
Organizational Skills
Responsibilities:
Manage office operations and ensure its smooth functioning
Handle data entry, filing, and other administrative tasks
Maintain calendars and schedule meetings, appointments and other events
Process invoices and documents to ensure accuracy and completeness
Provide support to staff in their duties and ensure deadlines are met
Ensure compliance with administrative protocols and procedures
Handle all incoming and outgoing correspondences
Provide exceptional customer service and respond to inquiries in a timely manner
Maintain accurate records and perform data entry as required
Assist with special projects as needed
In addition to this, be sure to check out our resume templates, resume formats, cover letter examples, job description, and career advice pages for more helpful tips and advice.
What should be included in a Administration Officer resume?
The role of an Administration Officer requires a wide range of skills, including attention to detail, time management, and problem solving. When creating your resume, make sure to include the following information to demonstrate your capabilities to potential employers:
Work experience: Include all relevant positions and duties held in the past. Showcase your administrative skills, such as data entry, filing, and scheduling.
Education: Include any educational background or certifications related to administration, such as a degree in business administration or a certificate in office management.
Skills: Highlight any skills that are related to administration, such as proficiency in Microsoft Office, bookkeeping, or customer service.
Tasks: Outline any tasks you are responsible for or have previously worked on. This can include document preparation, data analysis, or financial management.
Achievements: Showcase any awards or recognition received for your administrative tasks, such as a "Most Valuable Player" award or completing a project ahead of deadline.
Leadership: Illustrate any leadership roles you've held in the past, such as leading a team or managing a budget.
By showcasing your experience, education, skills, tasks, achievements and leadership, you can create a comprehensive and compelling resume that will help you stand out amongst the competition. By highlighting your abilities and outlining your experience, you can demonstrate to potential employers that you are the right person for the job.
What is a good summary for a Administration Officer resume?
A good summary for an Administration Officer resume should include a brief overview of the candidate's professional experience and qualifications. This should include any relevant administrative and organizational skills and competencies that the candidate has acquired throughout their career. It should also provide a brief description of their ability to effectively manage and coordinate office operations, handle customer inquiries, and maintain a high level of professionalism in the workplace. Furthermore, it should demonstrate the candidate's proficiency in the use of various computer programs and software applications. Most importantly, the summary should showcase the candidate's dedication and commitment to providing excellent service and customer satisfaction.
What is a good objective for a Administration Officer resume?
When crafting a resume for an Administrative Officer position, it's important to focus on your relevant work experience and areas of expertise. Your resume objective should showcase your ability to efficiently and accurately complete a wide range of administrative tasks while highlighting your interpersonal communication skills.
Below are a few examples of objectives you can use to help set you apart from other candidates:
Seeking an Administrative Officer role to utilize my proficiency in office management and organizational strategies, as well as my strong communication and computer skills.
Motivated and highly organized individual seeking an Administrative Officer role to leverage my 7 years of experience in administrative support and customer service.
Reliable and detail-oriented individual with 10 years of experience in office administration and data entry, looking to secure an Administrative Officer role.
Results-driven professional with expertise in project management and customer service, seeking to utilize my skills as an Administrative Officer.
Proven track record of success in problem solving and multitasking, seeking an Administrative Officer role to further develop my skills in data analysis and document management.
By focusing on your strengths and areas of expertise, you can craft an effective objective that will help you stand out from the competition and increase your chances of getting hired.
How do you list Administration Officer skills on a resume?
Administration Officers are responsible for keeping an office running smoothly by performing a variety of tasks. To showcase your skills on a resume, it is essential to list the essential skills that demonstrate your ability to perform in this role. Here are some key skills to consider adding to your resume if you are applying for a role as an Administration Officer.
Knowledge of Office Administration Procedures: You should possess a strong understanding of office administration processes such as filing systems, data entry, and document management.
Time Management: Timeliness is crucial in this role, as is the ability to multitask and prioritize tasks.
Communication: As an Admin Officer, you must be able to effectively communicate with colleagues, clients, and vendors.
Attention to Detail: An Admin Officer must have a keen eye for detail to be successful in this role.
Problem Solving: Effective problem-solving skills are essential for quickly and efficiently resolving any issues.
Organizational Skills: You must be able to stay organized and maintain clean, efficient work systems.
Computer Proficiency: As an Admin Officer, you must be comfortable using computers and office technology such as printers and fax machines.
By demonstrating these skills on your resume, you can show potential employers that you have the necessary skills and qualifications to succeed as an Administration Officer.
Good luck in your job search!
What skills should I put on my resume for Administration Officer?
No matter what industry or role you may be applying for, having a well-crafted resume is key to landing an interview. After all, a resume is a document that offers a snapshot of your education, work experience, and skills that showcase your capabilities in the role you're applying for.
When applying for an administrative officer role, there are certain skills that employers look for on a resume. Here are some of the skills that should be included in your resume for an administrative officer position:
Strong organizational skills: As an administrative officer, you will be responsible for keeping track of important documents, scheduling appointments, and ensuring that tasks are completed in a timely manner. It's important to highlight any experience you have in managing, organizing, and completing tasks.
Superior communication skills: You will be interacting with people on a daily basis, so it's important to demonstrate in your resume that you have excellent verbal and written communication skills.
Proficiency in computer software: As an administrative officer, you will be responsible for using computer programs to create reports and presentations, manage databases, and store information. It's important to highlight your knowledge of common computer programs in your resume.
Ability to multitask: Juggling multiple tasks is an important part of the job and employers want to know that you have the ability to manage multiple projects.
Attention to detail: Employers are looking for someone who is detail-oriented and can pay close attention to accuracy.
By highlighting these key skills in your resume, you can demonstrate to potential employers that you have the skills and qualifications to be a successful administrative officer.
Key takeaways for an Administration Officer resume
Administrative Officers are the backbone of any company, responsible for providing the highest level of administrative services. To secure the job of your dreams, you need to create a resume that demonstrates your skills and experience to potential employers. Here are some key takeaways to ensure your resume stands out from the rest.
Focus on your accomplishments: When listing your past experiences, take the opportunity to showcase your successes and accomplishments. This will help employers understand how you are able to help their organization.
Highlight key skills: As an Administrative Officer, employers will be looking for you to have certain skills such as problem solving, communication, organization and prioritization. Make sure to list these skills in your resume and describe how you have demonstrated them in the past.
Make use of keywords: Keywords are an important part of any resume. Utilize industry-specific keywords that employers may use to search for potential Administrative Officers. This will help make sure your resume is seen amongst the crowd.
Include professional references: When writing your resume, it is important to include your professional references. This will give potential employers an extra insight into your abilities and the value you can bring to their organization.
Make use of a summary: A resume summary is a great way to give potential employers a quick overview of your skills, qualifications and experiences. Make sure to include relevant keywords and keywords that will help employers understand why you're the perfect fit for the job.
By following these key takeaways, you can ensure that your resume stands out from the crowd and that your application has the best chance of being successful.
Let us help you build
your Resume!
Make your resume more organized and attractive with our Resume Builder