Writing an effective resume is critical when looking for a job as an Admin Executive. Your resume should have the key components that employers expect to see, as well as compelling language and formatting that will make you stand out from the competition. It should be tailored to the job you are applying for and be able to demonstrate the skills, knowledge and experience that the employer is looking for. This guide will provide you with tips on how to write an effective Admin Executive resume that will help you get noticed and land an interview. With examples of successful Admin Executive resumes, you will be able to make yours stand out and get the job you want.
If you didn't find what you were looking for, be sure to check out our complete library of resume examples.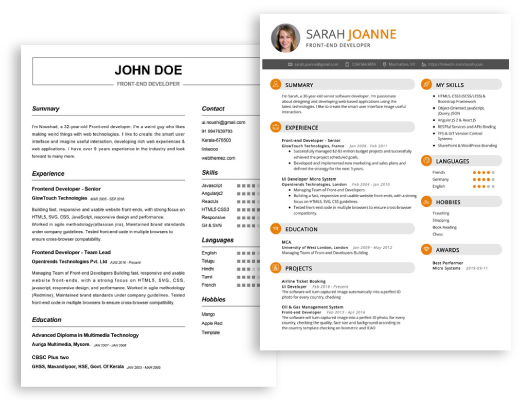 Start building your dream career today!
Create your professional resume in just 5 minutes with our easy-to-use resume builder!
Admin Executive Resume Examples
John Doe
Admin Executive
123 Main Street | Anytown, USA 99999 | Phone: (123) 456-7890 | Email: john.doe@email.com
I am a highly motivated and organized professional with 5+ years of experience in administration and executive roles. I am proficient in customer service, financial management, project management, and data entry. I have a strong record of success in leading teams to exceed organizational objectives and take pride in providing excellent customer service. My ability to think strategically and prioritize tasks has enabled me to manage numerous projects at once and stay focused on the bigger picture. I am an organized, detail- oriented individual with the ability to work independently and as part of a team.
Core Skills:
Strategic Planning
Financial Management
Customer Service
Project Management
Team Leadership
Data Entry
Professional Experience:
Administrative Executive, ABC Company (2018 – Present)
Manage the day- to- day operations of the office and ensure that all tasks are completed accurately and within deadlines
Develop, implement, and maintain office systems and procedures
Establish and monitor budgets and financial management systems
Create reports and presentations for executive review
Lead and coordinate team projects and act as a point of contact for internal and external stakeholders
Executive Assistant, XYZ Company (2015 – 2018)
Supported the manager in daily operations and provided assistance with workflow management
Designed and implemented project plans, timelines and budgets
Developed and maintained filing systems, databases and spreadsheets
Coordinated meetings and travel arrangements
Conducted research and gathered data as needed
Education:
Bachelor's Degree in Business Administration, University of XYZ (2012 – 2015)
Admin Executive Resume with No Experience
Dependable and organized Administrative Executive with no experience looking to join a company in a supportive role. Possess the ability to utilize excellent organizational, time management, and customer service skills to support the goals of a business.
SKILLS
Strong organizational skills
Able to work independently
Ability to work under pressure
Strong verbal and written communication skills
Competent in Microsoft Office applications
Proficient in data entry
Responsibilities
Provide administrative support to office staff
Maintain filing system and organize documents
Answer and direct phone calls
Greet visitors and provide customer service
Assist in data entry and other clerical tasks
Assist in the preparation of reports and presentations
Respond to emails and other correspondence
Admin Executive Resume with 2 Years of Experience
I have two years of experience as an Executive Admin working in the corporate environment. I have strong organizational and analytical skills which allow me to manage multiple tasks and projects. Additionally, I possess excellent communication skills which assist me in collaborating with other departments. I have an excellent track record of providing consistent, quality administrative support and providing creative solutions to complex problems.
Core Skills:
Excellent organizational and analytical skills
Proficient in communication and collaboration
Excellent problem solving skills
High attention to detail
Ability to handle multiple tasks and projects
Proficient in all Microsoft Office applications
Responsibilities:
Creating and managing complex filing systems
Handling incoming and outgoing communications
Planning and coordinating all business travel
Ensuring accuracy of all documents before submission
Scheduling and organizing meetings and events
Arranging business lunches and dinners
Performing data entry and database management
Maintaining office supplies and equipment
Admin Executive Resume with 5 Years of Experience
I am an experienced admin executive with 5 years of experience in the administrative field. I have an eye for detail and am adept at managing projects, streamlining processes, and providing excellent customer service. My core strengths include data entry and analysis, documentation, and organizing logistics. I am highly organized, proactive, and I take initiative to ensure tasks are completed on time. I am a reliable and efficient team player, capable of working autonomously as well as collaboratively with colleagues and stakeholders.
Core Skills:
Data entry and analysis
Documentation
Organizing logistics
Project management
Customer service
Communication and interpersonal skills
Responsibilities:
Manage and coordinate administrative projects
Perform data entry and analysis
Create and maintain documentation
Develop and manage project timelines
Organize logistics for meetings and events
Provide excellent customer service
Interact with colleagues and stakeholders
Handle incoming and outgoing correspondence
Admin Executive Resume with 7 Years of Experience
A highly motivated, detail- oriented and organized professional with 7 years of experience in administrative management. Proven capability in managing a wide range of complex projects, providing excellent customer service to clients and visitors, and working with diverse staff and departments. Possesses a strong sense of accountability, an extraordinary attention to detail, and excellent problem- solving skills.
Core Skills:
Strong organizational and project management skills
Superior communication and interpersonal skills
Proficient in MS Office applications
Highly skilled in managing administrative processes and procedures
Ability to multitask and handle a demanding workload
Excellent customer service skills
Ability to remain calm and professional in high- stress situations
Responsibilities:
Provided administrative support to management staff
Managed incoming phone calls, scheduled appointments and managed calendars
Organized and maintained filing systems for documents, reports, memos and other material
Responsible for ordering office supplies and equipment
Prepared and monitored employee attendance records
Assisted in the preparation of presentations and reports
Developed and maintained effective administrative systems
Assisted in the organization of special events
Developed and maintained positive relationships with vendors
Provided excellent customer service to clients and visitors
Performed general administrative duties, such as copying and scanning documents
Admin Executive Resume with 10 Years of Experience
Highly motivated and organized professional with 10 years of experience as an Administrative Executive. Experienced in office management, customer service, and problem- solving. Skilled in communication and building relationships with customers, colleagues, and stakeholders. Proven success in meeting client satisfaction and delivering results.
Core Skills:
Strong administrative and organizational skills
Excellent customer service and interpersonal skills
Proficient in Microsoft Office, Adobe Acrobat, and QuickBooks
Familiar with data analysis and report creation
Able to multitask and manage several tasks simultaneously
Highly organized and detail- oriented
Responsibilities:
Maintain office operations and supplies, ensuring that all operations run smoothly
Assist with bookkeeping and accounts receivable
Provide administrative support to the management team
Review and process customer orders and invoices
Manage communications with customers and vendors
Provide customer service support and respond to inquiries
Maintain and update customer database records
Generate reports and perform data analysis
Develop and implement organizational processes to improve efficiency
Assist with promotional activities to develop customer engagement and loyalty
Assist with the onboarding of new employees
Facilitate team meetings, taking detailed notes and minutes
Admin Executive Resume with 15 Years of Experience
Dynamic and detail- oriented Executive Admin with 15+ years of experience in providing exceptional administrative support to executives. Skilled in anticipating needs, organizing and scheduling meetings, and handling phone calls professionally. Committed to developing streamlined office processes to improve efficiency. Possesses strong time management, problem solving, and communication skills.
Core Skills:
Excellent written and verbal communication skills
Proficient in Microsoft Office
Strong organizational and multitasking skills
Ability to work independently and in a team environment
Exceptional interpersonal skills
Responsibilities:
Provide executive- level administrative assistance to C- level executives and department heads
Prepare agendas and arrange meeting logistics
Develop and manage filing systems, databases, and other records
Create documents and presentations using MS Office applications
Handle confidential information with discretion and diplomacy
Manage calendars, arrange travel and prepare expense reports
Greet guests, answer and respond to incoming calls
Process payables and receivables, maintain accurate financial records
Monitor and order office supplies, equipment, and furniture
Assist with special projects, research, and other duties as assigned
In addition to this, be sure to check out our resume templates, resume formats, cover letter examples, job description, and career advice pages for more helpful tips and advice.
What should be included in a Admin Executive resume?
An administrative executive plays an important role in the smooth running of a business. An effective resume will clearly show your skills, experiences, and accomplishments to make you stand out to potential employers. Here are some key elements to consider when creating your resume:
Objective statement: A concise statement of your career goals and the kinds of positions you are interested in.
Education: List any relevant degrees, certifications, or courses related to the position.
Experience: Highlight any administrative experiences you have, such as managing calendars, creating presentations, or supervising projects.
Skills: Demonstrate your ability to use computer software, such as Microsoft Office, as well as any special skills you have, such as project management or budgeting.
Accomplishments: Showcase any special projects you have completed or awards you have won.
References: Include the contact information for at least two professional references who can vouch for your qualifications.
What is a good summary for a Admin Executive resume?
A good summary for an Administrative Executive resume should provide an overview of your professional background, such as your experience in office management, organizational skills, and problem solving abilities. Additionally, it should highlight any specialized knowledge or qualifications that you possess. Your summary should also include any awards and recognition that you have received, as well as any certifications or professional development that you have gone through. Finally, your summary should emphasize the unique skills you have that make you a valuable asset to any company. A well-crafted summary can be the difference between landing interviews or not, so make sure to take the time to create a summary that accurately reflects your qualifications.
What is a good objective for a Admin Executive resume?
Admin Executives are responsible for providing administrative and organizational support to an organization. They play an important role in ensuring the smooth running of day-to-day operations and providing assistance to management and other staff. As such, a good objective for an Admin Executive resume should reflect a candidate's commitment to providing efficient and effective administrative support.
A well-crafted objective for an Admin Executive resume should include the following:-
Demonstrate proficiency in all aspects of administrative functions
Utilize excellent organizational and communication skills
Provide superior customer service to both internal and external clients
Create and maintain efficient filing systems
Ensure accuracy and timely completion of all assigned duties
Remain flexible and adaptable working in a fast-paced environment
Research, analyze and assess data to make informed decisions
Manage time effectively and prioritize tasks efficiently
Work collaboratively with other departments to ensure organizational goals are met
How do you list Admin Executive skills on a resume?
Admin Executives are essential for any successful business. They are responsible for managing the administrative aspects of an organization, including handling finances, managing staff, and more. When applying for a job as an Admin Executive, it is important to highlight your skills and experiences on your resume. Here are some tips on how to list your Admin Executive skills on a resume.
Provide a summary of your abilities and experience. This should include your qualifications, certifications, and any relevant experience you have.
Highlight your administrative skills. Describe your experience in dealing with office management, finances, staff management, and other business related tasks.
Include any technical skills or software you are proficient in. This could include computer programs like Excel, Word, and Photoshop.
Mention any organizational skills you have. This could include time management, multitasking, and problem solving.
Demonstrate your communication and interpersonal skills. Show that you have the ability to work with different people, both inside and outside the organization.
List any awards, honors, or professional memberships you have. This can help demonstrate your commitment to the profession.
By including these details, you will be able to demonstrate your skills as an Admin Executive. It is important to tailor your resume to the job you are applying for, and to highlight your strengths and experiences.
What skills should I put on my resume for Admin Executive?
A successful admin executive will have an extensive skill set that makes them ideal for the position. When creating a resume for an admin executive role, it is important to include all of the skills that make you the best candidate for the job. Here are some of the skills to consider including in your resume for an admin executive position:
Organizational Skills: An admin executive needs to be an organized person, able to keep track of multiple tasks and prioritize them accordingly. This includes being able to plan, coordinate, and manage multiple tasks, as well as being able to anticipate potential issues.
Communication Skills: An admin executive will need to have excellent communication and interpersonal skills in order to effectively interact with colleagues and clients. This includes being able to listen, understand, and respond appropriately to inquiries.
Problem-solving Skills: An admin executive needs to have the ability to think on their feet and come up with creative solutions to any problem that may arise. This includes being able to identify problems quickly and effectively, as well as finding solutions that are practical and cost-effective.
Leadership Skills: An admin executive must be able to provide effective leadership and direction within the team. This includes the ability to delegate tasks and motivate the team to reach their goals.
Computer Skills: An admin executive needs to be comfortable using computers and technology. This includes the ability to use office software, such as word processing and spreadsheet applications.
By including these skills on your resume for an admin executive position, you will make yourself stand out as a qualified candidate for the job. Make sure to highlight your experience and qualifications in each of these areas to demonstrate that you have what it takes to be successful in this role.
Key takeaways for an Admin Executive resume
Admin executive resumes are an important tool for executives who are looking to make the most of their qualifications and skills when it comes to securing the ideal job. Crafting an effective admin executive resume can be a daunting challenge, but it is critical to the success of the job search. Here are some key takeaways for creating an admin executive resume that will help you get noticed:
Highlight your achievements – An admin executive resume should showcase your achievements and successes from your past roles. Focus on any areas where you excelled or went above and beyond expectations, and don't be shy about listing any awards or recognition you may have received.
Showcase your technical skills – Many admin executive positions require a strong understanding of technology and software, so be sure to highlight any relevant technical skills in your resume. Include specific programs and platforms you are familiar with and any certifications you may have.
Be concise – Avoid lengthy, overly wordy descriptions in your resume. Instead, be sure to include only the most relevant information and keep everything brief and to the point.
Focus on the job requirements – Read through the job description carefully and make sure that your resume addresses the requirements of the position. Include any keywords or phrases from the job listing to ensure that your resume is tailored to the specific job.
By following these tips, you can create an admin executive resume that is sure to stand out and get you noticed. Good luck!
Let us help you build
your Resume!
Make your resume more organized and attractive with our Resume Builder