If you are interested in becoming a trust accountant, then you need to have a strong resume. Writing a resume for this type of job can be challenging, because trust accounts require an extensive knowledge of legal and financial regulations. You will also need to demonstrate a track record of managing large sums of money in a responsible manner. In this guide, we will go over all the essential components of a trust accountant resume, and provide examples of successful resumes to help you get started.
If you didn't find what you were looking for, be sure to check out our complete library of resume examples.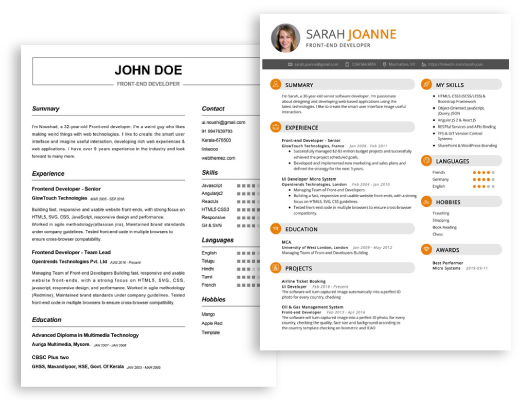 Start building your dream career today!
Create your professional resume in just 5 minutes with our easy-to-use resume builder!
Trust Accountant Resume Examples
John Doe
Trust Accountant
123 Main Street | Anytown, USA 99999 | Phone: (123) 456-7890 | Email: john.doe@email.com
A highly motivated and organized Trust Accountant with 5+ years of professional experience in the financial services industry. Adept in working with complex financial instruments and providing clients with financial advice and guidance. Proven ability to develop and manage trust accounts for major institutions and high net- worth individuals. Possesses strong problem- solving, organizational and communication skills.
Core Skills:
Trust Account Management
Investment Analysis
Financial Reporting
Compliance
Tax Planning
Risk Management
Portfolio Management
Account Reconciliation
Financial Modeling
Data Analysis
Professional Experience:
Trust Accountant, ABC Financial Institute, Chicago, IL
Developed trust accounts for various clients including high net- worth individuals, corporations and other institutions
Conducted thorough due diligence to ensure compliance with relevant laws and regulations
Prepared financial statements and reports for clients, highlighting the performance of their portfolios
Performed detailed financial analysis and modeling for investment decisions
Advised clients on tax issues and strategies to maximize returns
Maintained accurate records of all transactions and client accounts
Education:
Bachelor of Science in Accounting, ABC University, Chicago, IL
Trust Accountant Resume with No Experience
Recent accounting graduate with experience in budgeting, financial analysis, and accounting practices seeking to leverage knowledge and skills to become a successful Trust Accountant. Possess strong communication, organizational and problem solving skills, coupled with an aptitude for numbers and accounting software.
Skills
Familiar with Generally Accepted Accounting Principles (GAAP)
Proficient in QuickBooks, Excel and other accounting software
Highly organized and detailed- oriented
Excellent written and verbal communication
Ability to work independently and collaboratively
Responsibilities
Verify and reconcile trust accounts
Maintain records of cash transactions and investments
Prepare financial statements and reports
Ensure compliance with laws and regulations
Analyze financial data and trends
Provide financial advice to clients
Trust Accountant Resume with 2 Years of Experience
Trust Accountant with over 2 years of experience managing trust accounts for clients. Proven ability to monitor and record transactions, maintain financial records, and provide financial advice. Possesses excellent organizational, problem- solving, and communication skills; experienced with major accounting software programs.
Core Skills:
Trust Accounting
Financial Statement Preparation
Account Reconciliation
Budgeting
Auditing
Tax Planning
Bookkeeping
Client Service
Responsibilities:
Established and maintained trust accounts for clients, ensuring accurate financial records
Developed budgets, monitored expenses, and prepared financial statements
Reconciled accounts monthly to ensure accuracy of data
Managed and maintained trust files, ensuring client information was up to date
Provided financial advice to clients regarding trust account transactions
Assisted with tax plans and filing requirements
Researched and resolved discrepancies and discrepancies related to trust accounts
Trust Accountant Resume with 5 Years of Experience
Dynamic and analytical Trust Accountant with 5 years of experience in accounting, budgeting, and financial reporting. Proven ability to manage multiple tasks within tight deadlines, work independently and collaborate closely with team members. Expert in general ledger analysis, financial statement preparation, and management for trust accounts. Highly skilled in using accounting software, Microsoft Office Suite, and QuickBooks.
Core Skills:
Trust Accounting
Accounting Principles
Financial Reporting
Financial Analysis
Team Collaboration
QuickBooks
Microsoft Office Suite
Accounting Software
Responsibilities:
Managed trust accounts, including monitoring transfers and maintaining accurate records.
Prepared monthly and yearly financial statements in accordance with GAAP principles.
Analyzed trust accounts to ensure accurate records and identify discrepancies or inconsistencies.
Identified trends and variances in financial statements, reports, and financial statements.
Collaborated with team members to develop and implement accounting processes and procedures.
Ensured compliance with all applicable laws and regulations.
Provided customer service to clients when necessary.
Utilized QuickBooks and other accounting software for accurate and timely financial reporting.
Trust Accountant Resume with 7 Years of Experience
I am a highly experienced Trust Accountant with 7 years of progressive experience in a variety of accounting roles. I am adept at providing accurate financial statements, preparing and managing budgets, developing financial models, leading financial audits, and managing complex transactions. Additionally, I possess exceptional communication and collaboration skills and an ability to prioritize and multitask under tight deadlines. I am committed to providing top- notch accounting services to clients by implementing best practices and compliance to regulatory standards.
Core Skills:
Strong accounting knowledge, including GAAP and IFRS compliance
Excellent problem- solving skills and attention to detail
Ability to manage complex transactions and financial audits
Proficient in using accounting software
Excellent communication and collaboration skills
Strong organizational and multitasking skills
Ability to work independently and under tight deadlines
Responsibilities:
Prepare and record financial statements according to GAAP and IFRS guidelines
Develop and manage budgets, analyze spending, and forecast cash flow
Lead financial audits and ensure compliance with regulatory standards
Create financial models to analyze complex business situations
Manage and reconcile trust accounts, including income and investments
Coordinate with external auditors and provide audited financial statements
Collaborate with other departments and provide support on accounting activities
Trust Accountant Resume with 10 Years of Experience
I am a trust accountant with 10 years of experience in the finance industry. I have a strong background in accounting principles and have experience in preparing and analyzing financial statements. I have also worked in trust accounting and am familiar with the various regulations and laws that govern trust accounts. I am an organized and detail oriented individual, who takes initiative and is able to multi- task.
Core Skills:
Accounting principles
Financial statement preparation
Financial statement analysis
Trust accounting
Knowledge of legal and regulatory requirements
Organizational skills
Attention to detail
Multi- tasking
Responsibilities:
Preparing financial statements
Analyzing financial statements
Preparing and recording trust transactions
Maintaining trust records
Complying with legal and regulatory requirements
Managing multiple trust accounts
Ensuring accuracy of trust information
Investigating any discrepancies in trust accounts
Providing information to trust beneficiaries
Performing trust account audits and reconciling accounts
Trust Accountant Resume with 15 Years of Experience
I am a trust accountant with 15 years of experience managing trust accounts, administering estates and handling fiduciary duties. I am adept in both manual and computerized record keeping, financial analysis and reporting, and IRS regulations. My experience also includes client counsel and support, making me well- suited to any trust accounting job.
Core Skills:
Trust Account Management
Estate Administration
Fiduciary Duties
Financial Analysis & Reporting
IRS Regulations
Client Counsel & Support
Manual & Computerized Record Keeping
Responsibilities:
Preparing and maintaining trust accountings for clients
Performing trust and estate income tax reporting
Administering trust accounts, investments and distributions
Ensuring compliance with state and federal regulations
Performing financial analyses and preparing related reports
Advising clients on trust and estate planning matters
Assisting in the preparation of trust reports and documents
Representing estate and trust matters in court proceedings
In addition to this, be sure to check out our resume templates, resume formats, cover letter examples, job description, and career advice pages for more helpful tips and advice.
What should be included in a Trust Accountant resume?
A Trust Accountant resume should include a summary of the applicant's current skills and experience.
It should also list any relevant certifications or qualifications, such as CPA or CFA.
A Trust Accountant must also be familiar with accounting principles, regulations, and requirements, so prior experience in the field should be highlighted.
In addition, a Trust Accountant resume should include any relevant experience with financial analysis, tax and estate planning, or trust administration.
A Trust Accountant should also have experience in auditing, compliance, and risk management.
Finally, the resume should highlight any related knowledge of software programs, such as QuickBooks or Microsoft Excel.
What is a good summary for a Trust Accountant resume?
A trust accountant resume should contain a summary that summarizes the applicant's experience, education, and skills in managing trust funds. The summary should clearly explain the applicant's knowledge of the trust accounting system, their ability to analyze and report financial data, and their familiarity with applicable laws and regulations. It should also demonstrate the applicant's commitment to accuracy and integrity in the handling of trust funds. A trust accountant resume summary should also highlight any achievements or honors the applicant has received in the trust accounting field. Finally, the summary should mention any volunteer or community service activities the applicant has participated in in order to demonstrate their commitment to the profession.
What is a good objective for a Trust Accountant resume?
A trust accountant is responsible for overseeing and administering accounts related to a trust fund or trust account. This type of accountant typically works for a trust company, financial services institution, or a law firm.
A good objective for a trust accountant resume should focus on the applicant's experience in trust accounting, their ability to manage trust accounts, and their knowledge of applicable laws and regulations. Here are some examples:
Experienced trust accountant with 10 years of experience in trust accounting, administration, and management in financial services and trust companies.
Proven ability to manage trust accounts, including monitoring, tracking, and reconciling activities.
Detail-oriented and organized, with a comprehensive understanding of relevant laws and regulations.
Skilled at problem-solving and resolving complex trust account issues.
Committed to delivering exceptional customer service and building strong relationships with clients.
Proficient in the use of various accounting software to manage trust accounts.
By including these objectives in a trust accountant resume, the applicant will be able to demonstrate their knowledge and experience in the trust accounting field.
How do you list Trust Accountant skills on a resume?
When it comes to listing your trust accountant skills on a resume, there are certain skills that you should emphasize in order to make sure your resume stands out. Trust accountants are responsible for safeguarding and managing funds, so it's important to highlight your ability to manage money, both in the public and private sector.
When listing your trust accountant skills on a resume, you should include abilities such as:
• Knowledge of relevant regulations and laws: Trust accountants are required to have a deep knowledge of banking regulations, accounting principles and laws that govern trust accounts. Be sure to emphasize your understanding of these regulations and laws.
• Ability to identify potential fraud and risks: Trust accountants must be able to recognize any potential fraud and other risks associated with managing trust accounts. Highlight your ability to identify potential risks and develop strategies to mitigate them.
• Strong organizational skills: Trust accountants must be well organized in order to manage their accounts and ensure that financial records are accurate and up-to-date. Showcase your ability to prioritize tasks, manage your time, and stay organized.
• Attention to detail: Trust accountants must be precise when it comes to managing accounts. Showcase your attention to detail by noting any past successes in detecting discrepancies in financial records.
• Excellent communication skills: Trust accountants must be able to communicate their findings effectively with clients and other financial advisors. Highlight your ability to provide clients with clear and concise reports, as well as your ability to answer their questions in a timely manner.
By highlighting your relevant trust accountant skills on a resume, you can make sure that your resume stands out from the competition and proves to potential employers that you have the skills and knowledge required for the job.
What skills should I put on my resume for Trust Accountant?
Trust accountants are responsible for overseeing the management of financial assets, securities, and cash that are held in trust for another individual or entity. A trust accountant must demonstrate a high level of financial knowledge, accuracy, and attention to detail in order to properly manage trust accounts. When compiling a resume for a trust accountant position, there are a number of skills that should be highlighted to demonstrate the candidate's competency in this field.
Financial Knowledge: A trust accountant must demonstrate a thorough understanding of financial principles, accounting practices, and legal regulations regarding trust accounts.
Accounting: Trust accountants should have strong accounting skills, including the ability to create and maintain financial records, prepare reports, and use accounting software.
Attention to Detail: Trust accountants must be able to accurately analyze financial data to ensure the accuracy of records and the proper management of funds.
Organizational Skills: Trust accountants must be able to efficiently manage multiple accounts, balance competing priorities, and keep accurate records of all transactions.
Problem-Solving: Trust accountants must be able to identify and resolve any discrepancies or issues that arise with trust accounts.
Communication: Trust accountants must be able to effectively communicate with clients, legal professionals, and other stakeholders to address any questions or concerns.
These skills should be included on a trust accountant's resume in order to demonstrate their ability to perform the duties of the job. Additionally, including any relevant certifications, such as a Certified Trust and Financial Advisor (CTFA) designation, can further increase the strength of a trust accountant's resume.
Key takeaways for an Trust Accountant resume
One of the most important elements of a Trust Accountant resume is making sure you highlight your experience and skills in the specialized area of trust accounting. These professionals are responsible for managing the financial assets of trusts and other fiduciary accounts. It is vital that they are skilled in auditing, investment analysis, and taxation. Here are some key takeaways to keep in mind when crafting your trust accountant resume:
Highlight Your Accounting Experience: Make sure to include your accounting experience in the resume, as this will be a key factor in your trust accountant role. Clearly specify the type of accounts that you have managed, such as trusts, estates, and fiduciary accounts. Detail any audit and financial analysis experiences that you have had.
Include Relevant Skills: Emphasize skills related to trust accounting, such as tax preparation, trust administration, and estate planning. List the software or systems you have used and any certifications you may have earned.
Showcase Your Professionalism: Trust accountants must be extremely organized, detail-oriented, and have excellent communication skills. Showcase examples of when you have demonstrated these qualities, such as delivering accurate and timely reports or giving presentations to clients.
Detail Your Education: While education isn't necessarily a requirement, it's still important to include any degrees or certificates you have earned related to accounting and trust accounting.
By utilizing these key takeaways, you can ensure that your trust accountant resume stands out from the competition and shows the potential employer why you are the best choice for the role.
Let us help you build
your Resume!
Make your resume more organized and attractive with our Resume Builder