Are you looking for a new job as a revenue accountant? Writing a resume that stands out from the competition is key to getting noticed and increasing the chances of getting an interview. This guide will provide tips and tricks on how to write a resume for the role of revenue accountant. This guide will also include examples of revenue accountant resumes that you can use to get an idea of how to structure and format your resume. By following the advice in this guide, you can create a revenue accountant resume that will get you noticed and one step closer to your new job.
If you didn't find what you were looking for, be sure to check out our complete library of resume examples.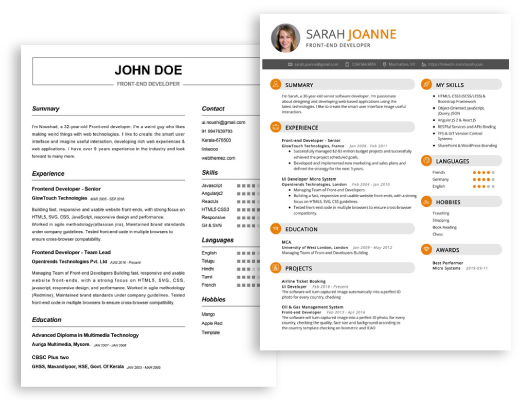 Start building your dream career today!
Create your professional resume in just 5 minutes with our easy-to-use resume builder!
Revenue Accountant Resume Examples
John Doe
Revenue Accountant
123 Main Street | Anytown, USA 99999 | Phone: (123) 456-7890 | Email: john.doe@email.com
Highly motivated and experienced Revenue Accountant with a strong background in financial analysis and reporting, auditing, and financial modeling. Skilled in analyzing complex financial information and creating financial reports, budgeting, and forecasting. Exceptional ability to understand changes in financial regulations and use that knowledge to improve accuracy and compliance.
Core Skills:
Financial modeling
Financial analysis
Auditing
Financial reporting
Budgeting
Forecasting
Financial regulations
Professional Experience:
Maintained and tracked the company's revenue accounts to ensure they are accurate and up- to- date
Performed financial analysis to identify and resolve discrepancies in revenue accounts
Developed and maintained financial models to analyze the impact of potential changes in regulations on the company's profits
Assisted in the preparation of financial reports for various departments including management, finance, and investors
Conducted internal audits of the company's financial statements to ensure accuracy and compliance with regulations
Developed budgets and forecasts to ensure the company's long- term financial stability
Collaborated with internal and external stakeholders to ensure financial regulations are met
Education:
Bachelor of Science in Accounting, University of Nebraska, Omaha, NE
Revenue Accountant Resume with No Experience
Recent college graduate with a Bachelor's degree in Accounting, eager to use my knowledge and skills in a Revenue Accountant role.
Strong knowledge of accounting and finance principles, as well as professional experience in the field.
Proficient in Microsoft Office and other accounting software, with a strong focus on accuracy and detail- oriented.
Excellent interpersonal and communication skills, with a strong understanding of accounting principles and practices.
Skills
Analytical Thinking
Financial Analysis
Problem Solving
Accounting Principles
Microsoft Office
Data Entry
Time Management
Critical Thinking
Responsibilities
Maintain accurate and up to date internal reports and financial statements.
Monitor and analyze revenue accounts for accuracy and discrepancies.
Analyze and review financial data to ensure accuracy, completeness and compliance with applicable regulations.
Prepare monthly and quarterly reports for senior management.
Reconcile accounts and prepare financial statements.
Maintain and update records and ensure accuracy of information.
Assist in the preparation and review of budgets and forecasts.
Revenue Accountant Resume with 2 Years of Experience
Highly qualified, technically proficient and results- oriented Revenue Accountant with 2 years of experience in financial accounting and analysis, internal and external audits, and general ledger. Proven ability to analyze financial data, streamline systems and procedures, develop financial models and provide accurate forecasts, and present complex financial information in an understandable format. Adept at managing relationships with external auditors, ensuring compliance with all regulations and providing financial information to internal customers.
Core Skills:
Auditing
Financial Modeling
Internal & External Customer Relations
Financial Reporting
Complex Data Analysis
Compliance
System Streamlining
General Ledger
Budgeting
Responsibilities:
Prepared and analyzed monthly financial statements in accordance with Generally Accepted Accounting Principles (GAAP).
Developed monthly financial models to forecast revenue and expenses.
Led external audit teams in preparing and reviewing financial statements.
Ensured compliance with all applicable laws and regulations.
Coordinated with external auditors to ensure accuracy and completeness of financial information.
Streamlined accounting systems to improve efficiency and accuracy.
Developed and implemented financial controls to prevent fraud and inaccuracy.
Assisted in the preparation of the annual budget.
Provided financial information to internal customers.
Revenue Accountant Resume with 5 Years of Experience
Results- driven Revenue Accountant with 5+ years of experience in accounting. Possess strong analytical and problem solving skills with a proven track record of accurately completing financial reports, analysis and reconciliations. Possess excellent written and verbal communication skills and have the ability to work collaboratively with all levels of staff.
Core Skills:
Financial Analysis
Financial Reporting
Revenue Management
Account Reconciliations
Auditing
Data Analysis
General Ledger Accounting
GAAP Compliance
Responsibilities:
Performed financial analysis to ensure accuracy of financial reporting
Prepared journal entries, account reconciliations and financial statements
Maintained revenue management for all business activity
Analyzed and monitored financial performance to identify areas for improvement
Prepared audit packages and responded to audit requests accurately and efficiently
Performed data analysis and made recommendations based on the results
Maintained the accuracy and integrity of general ledger accounts
Ensured all financial transactions are in compliance with GAAP guidelines.
Revenue Accountant Resume with 7 Years of Experience
Accountant with 7 years of professional expertise in financial statement preparation, cost accounting, budgeting, and internal control development. A self- motivated and highly organized individual with a record of excellence in financial reporting, accounts receivables and payables, tax compliance and assets management. Experienced in developing and implementing cost savings strategies while adhering to all relevant accounting rules and regulations.
Core Skills:
Financial statement preparation
Accounts receivables and payables
Cost accounting
Budgeting
Internal control development
Tax compliance
Assets management
Financial reporting
Cost savings strategies
Responsibilities:
Prepared financial statements and reports to analyze trends and project future revenues and expenses
Managed accounts receivables and payables, including invoicing, bank reconciliations, payment processing, and accounts receivables collections
Developed and implemented cost savings strategies
Ensured timely and accurate tax filing and compliance
Created and managed budgets
Provided analysis and support for internal control development
Monitored assets and investments, and prepared related financial statements
Identified areas for cost reduction and potential revenue opportunities
Revenue Accountant Resume with 10 Years of Experience
Experienced Revenue Accountant with 10 years of diverse experience in the field. Extensive knowledge in accounting principles and practices, GAAP, financial reporting, and auditing. Experience in preparing financial statements, analyzing data, and managing accounts receivable and accounts payable. Excellent problem- solver and communicator skilled in working with all levels of personnel.
Core Skills:
Financial reporting
Auditing
Accounts receivable
Accounts payable
Budgeting
Data analysis
Risk management
Problem- solving
Communication
Tax accounting
Responsibilities:
Prepared and presented financial statements to management
Analyzed financial data and prepared reports
Managed accounts receivable and accounts payable
Reviewed and analyzed monthly budget and expenditure variances
Investigated and resolved discrepancies in financial reports
Developed and implemented effective risk management strategies
Ensured compliance with GAAP and other applicable laws and regulations
Implemented tax strategies to optimize financial performance
Assisted in auditing financial records and preparing necessary audit reports
Revenue Accountant Resume with 15 Years of Experience
An experienced and highly motivated Revenue Accountant with over 15+ years of financial accounting and reporting experience in the public and private sectors. Adept at leading audits and managing financial operations. Possesses advanced knowledge of Generally Accepted Accounting Principles (GAAP) and experience in preparing detailed financial statements and reports. Able to maintain accurate financial records, analyze financial data, and develop solutions to improve financial performance.
Core Skills:
Financial Reporting
Auditing
Budgets and Forecasting
GAAP Compliance
Accounts Payable/Receivable
Internal Controls
Risk Management
Financial Analysis
Taxation
Responsibilities:
Develop and maintain revenue accounting processes and procedures
Perform revenue and deferred revenue recognition calculations
Work with various teams to ensure revenue is accurately reported
Prepare and provide revenue and expense analysis
Perform detailed analytics and reconciliations to ensure accuracy of financial statements
Assist with the monthly close process and assist with the internal and external audit process
Review and recommend process improvements to ensure compliance with GAAP and SOX requirements
Ensure all revenue transactions are properly documented and accurately recorded
Provide analysis and support for budgeting and forecasting activities
In addition to this, be sure to check out our resume templates, resume formats, cover letter examples, job description, and career advice pages for more helpful tips and advice.
What should be included in a Revenue Accountant resume?
A Revenue Accountant should include a resume that is tailored to the specific position advertised, with a professional and concise look.
It should include a brief summary of the applicant's experience and qualifications, as well as any relevant certifications or awards.
The resume should also feature a list of skills related to the job, such as financial and accounting knowledge, problem-solving skills, and data analysis abilities.
The resume should also list any software or accounting-specific programs the applicant has experience with.
Any relevant continuing education courses, seminars, or conferences should be listed as well.
The resume should provide details of any relevant job experience, such as the responsibilities and accomplishments of each position.
Any internships or volunteer projects should also be included.
The applicant should also include a list of references along with the resume, as well as contact information.
What is a good summary for a Revenue Accountant resume?
A Revenue Accountant resume should be a concise summary of the job seeker's qualifications and accomplishments in the accounting field, highlighting their key strengths and skills in this specialized area. The summary should showcase the candidate's most relevant experience and qualifications, such as their ability to accurately create and manage financial records, prepare financial statements, generate reports, and analyze data to identify and resolve discrepancies. It should also include any additional skills, such as proficiency in accounting software, problem-solving abilities, and excellent communication skills. The goal of the summary is to grab the employer's attention and encourage them to read the full resume and consider the applicant for the position.
What is a good objective for a Revenue Accountant resume?
Having a well-written objective on a resume is essential in order to make a good impression and show potential employers what you can bring to their business. When applying for a revenue accountant position, there are certain objectives that can make a resume stand out. Here are a few objectives to consider when writing a resume for a revenue accountant position:
Utilize my expertise in accounting and finance to ensure accurate and timely financial reporting
Excel at analyzing financial statements, conducting financial analysis and troubleshooting discrepancies
Demonstrate strong communication, organizational and problem-solving skills in order to effectively process revenue transactions
Develop and manage relationships with clients to ensure proper implementation of revenue processes
Collaborate with other departments to ensure accurate and timely financial reporting
Maintain a professional attitude in order to provide the best customer service possible
How do you list Revenue Accountant skills on a resume?
When it comes to listing the skills of a Revenue Accountant on a resume, it is important to highlight the specific abilities and knowledge that are necessary for success in the field. Revenue Accountants are responsible for maintaining financial records and preparing reports to help organizations understand their financial position and performance. They must have exceptional communication, analytical, problem-solving, and organizational skills.
Some of the skills that should be listed on a resume for a Revenue Accountant include:
• Experience in financial reporting, budgeting, and forecasting.
• Strong understanding of Generally Accepted Accounting Principles (GAAP).
• Proficiency with financial software programs, such as Microsoft Excel and QuickBooks.
• Ability to identify and resolve discrepancies in financial records.
• Excellent communication skills for preparing reports and presenting to management.
• Highly organized and detail-oriented, with the ability to prioritize tasks.
• Professionalism and reliability for accurate and timely completion of projects.
• Ability to work well independently and as part of a team.
By listing the skills of a Revenue Accountant on a resume, employers can better identify qualified candidates and assess their potential as a good fit for their organization. Showcasing relevant skills and knowledge is the first step to success in the field.
What skills should I put on my resume for Revenue Accountant?
As a revenue accountant, you are responsible for overseeing a company's financial records and revenue streams. You will be expected to have a deep knowledge of financial accounting and be able to accurately record and analyze revenue data. To be successful in this role, you should demonstrate the following skills on your resume:
Knowledge of Generally Accepted Accounting Principles (GAAP)– Revenue accountants must understand the principles and procedures of accounting as outlined by GAAP.
Attention to Detail– Accuracy and precision are essential to a revenue accountant's daily tasks. Your attention to detail will help ensure that all financial records are accurate and up to date.
Analytical Thinking– Revenue accountants need to be able to analyze financial data, identify patterns and trends, and create reports for management.
Communication– As a revenue accountant, you will need to communicate effectively with colleagues and management to ensure that financial records are properly understood and interpreted.
Time Management– As a revenue accountant, you will be responsible for meeting deadlines and completing tasks within a given timeframe. Your time management skills are essential for success in this role.
Computer Skills– Revenue accountants must be proficient in using various accounting and financial software programs. Your resume should include any computer programs with which you have experience.
Key takeaways for an Revenue Accountant resume
When you are searching for a job as a Revenue Accountant, your resume should reflect the specialized skills, knowledge, and experience required for the position. A successful resume should be able to show employers that you understand and can apply the fundamentals of revenue accounting. Here are some key takeaways for a successful Revenue Accountant resume:
• Highlight your technical skills: Your resume should showcase your expertise in accounting software, such as QuickBooks and Microsoft Office Suite, as well as your ability to work with spreadsheets and financial databases. It should also emphasize your aptitude in financial analysis and forecasting.
• Demonstrate your knowledge of accounting principles: Be sure to include any courses you have taken in accounting, budgeting, or auditing. Show that you understand the principles of revenue recognition, accounts receivable, and inventory accounting.
• Mention your experience with data analysis: Your resume should emphasize your ability to analyze and interpret financial data. Show that you understand all aspects of the revenue accounting cycle and can use data to make decisions.
• Focus on problem-solving: Employers want to know that you can identify and resolve issues in the revenue accounting process. Make sure your resume includes examples of how you have solved problems in the past.
• Show your communication skills: Revenue Accountants need to be able to effectively convey information to management and other stakeholders. Be sure to include examples of presentations or reports you have created.
These are just some of the essential takeaways for creating a successful resume as a Revenue Accountant. By highlighting your relevant skills and experience, you can make a great impression to employers and improves your chances of securing the job.
Let us help you build
your Resume!
Make your resume more organized and attractive with our Resume Builder