A great resume is essential for any job search, and the same is especially true for the project accountant position. A project accountant is responsible for a variety of responsibilities related to financial management, and the resume should demonstrate an applicant's experience, skills, and aptitude for the role. This guide will provide an overview of what employers are looking for in a project accountant resume, as well as some tips on how to write an effective resume. Additionally, there will be several examples of project accountant resumes that you can use as a starting point when crafting your own.
If you didn't find what you were looking for, be sure to check out our complete library of resume examples.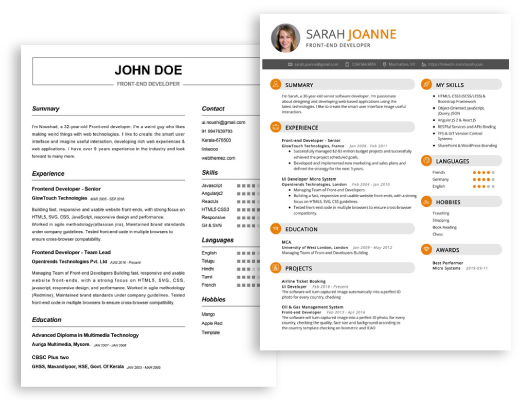 Start building your dream career today!
Create your professional resume in just 5 minutes with our easy-to-use resume builder!
Project Accountant Resume Examples
John Doe
Project Accountant
123 Main Street | Anytown, USA 99999 | Phone: (123) 456-7890 | Email: john.doe@email.com
Highly organized and detail-oriented Project Accountant with 9 years of experience overseeing all financial activities for multiple high-value construction projects. Demonstrated ability to manage complex budgets and accurately report to stakeholders. Excellent communicator skilled in training staff and cultivating strong relationships with vendors and clients alike.
Core Skills:
Cost Estimation
Financial Reporting
Budget Management
Accounts Payable & Receivable
Variance Analysis
Forecasting & Analysis
Contract Negotiation
Auditing & Tax Preparation
Project Planning & Scheduling
Software Proficiency (E.g. Quickbooks, Sage, SAP)
Professional Experience:
Project Accountant, ABC Construction Company, Seattle, WA
2013 – Present
Manage accounts payable and receivable, and create detailed monthly income and expenditure reports.
Oversee the budget and planning of projects, as well as monitor progress and evaluate outcomes.
Prepare financial forecasts and track actual performance against them.
Negotiate contracts with vendors and ensure compliance with internal policies and procedures.
Analyze variances between actual and budgeted data, identify discrepancies, and troubleshoot issues.
Train accounting staff and provide technical support for day-to-day operations.
Education:
Bachelor of Science in Accounting, University of Washington, Seattle, WA
2010 – 2013
Project Accountant Resume with No Experience
Recent college graduate with excellent accounting and problem solving skills, looking for a position as a Project Accountant. Possess a Bachelor of Science in Accounting, with a focus in Corporate Finance and Accounting. Experienced in using various accounting software and highly proficient in Microsoft Office Suite. Ready to use my skills to further the success of the organization.
Skills
Accounting Principles – GAAP, IFRS
Financial Statement Preparation
Budgeting & Forecasting
Advanced Excel
QuickBooks
Access
Financial Analysis
Problem Solving
Time Management
Communication & Interpersonal Skills
Responsibilities
Maintain financial records and analyze financial data
Prepare financial statements and reports
Monitor project costs and expenditures
Reconcile accounts and investigate discrepancies
Analyze and report financial performance in a timely manner
Assist in the preparation of budgets and forecast
Prepare journal entries and assist in the month-end close process
Assist in audits and reconciliations
Assist in the development of internal controls and procedures
Ensure compliance with local, state and federal regulations
Project Accountant Resume with 2 Years of Experience
Accomplished project accountant with over two years of experience in financial management and project accounting. Skilled in developing and monitoring budgets and reviewing financial statements to ensure accuracy. Adept at planning and organizing projects, streamlining processes, and working with high degree of accuracy. Excellent problem-solving, analytical, and communication skills.
Core Skills:
Accounting Management
Financial Analysis
Project Management
Budgeting
Cost Control
Risk Management
Variance Analysis
Financial Reporting
Auditing
Data Analysis
Responsibilities:
Developed and monitored project budgets, and conducted cost analysis to identify potential cost overruns.
Developed and maintained accurate and up-to-date project-related financial records.
Performed financial analysis of actual and budgeted data, and prepared financial reports for project management.
Monitored project performance and provided financial advice to project team.
Assisted in the preparation of project cost estimates, and monitored cash flow and costs.
Developed and maintained project accounting policies and procedures.
Identified and reported on project-related financial risks and opportunities.
Monitored project-related contracts and ensured compliance with terms and conditions.
Developed and implemented audit plans to ensure compliance with internal and external regulations.
Project Accountant Resume with 5 Years of Experience
Highly-skilled Project Accountant with 5+ years of experience in financial planning and analysis, budgeting, reporting, and analysis of financial and operational data. Experienced in developing and implementing effective accounting and project management processes to ensure accuracy and integrity of financial data. Proven ability to work with senior management, identify opportunities for process and cost improvement, and ensure compliance with internal policies.
Core Skills:
Financial Analysis
Financial Modeling
Risk Assessment
Budgeting & Forecasting
Internal Controls
Operational Audit
Project Management
Cash Management
Data Analysis
Variance Analysis
Account Reconciliation
Compliance Management
Responsibilities:
Create and maintain accurate project budget estimates, forecasts and track actual, budget and forecasted variances.
Analyze and review project financial performance and provide insight to appropriate personnel.
Develop detailed financial models to analyze project performance and assess potential risks and opportunities.
Analyze cost and performance data, and make recommendations for improving operations and reducing costs.
Assist in the development and implementation of controls and internal procedures to ensure compliance with corporate policies and procedures.
Monitor cash flow and prepare cash flow analyses.
Develop and implement accounting systems to ensure accuracy and integrity of financial data.
Prepare and analyze financial statements and reports.
Participate in operational and financial audits.
Reconcile discrepancies between general ledger accounts and ensure accuracy of financial records.
Project Accountant Resume with 7 Years of Experience
Highly experienced Project Accountant with over 7 years of experience managing and executing critical financial functions in the field of construction and engineering. Proven track record in driving financial and operational efficiency, with a deep understanding of A/P, A/R, budgeting, accounting, auditing and general financial operations. Adept in leveraging technology to create and maintain effective financial records and reporting systems. Excellent leader and communicator with a sharp eye for detail and accuracy.
Core Skills:
Financial Reporting
Accounts Receivable/Payable
Budgeting/Forecasting
Auditing/Analysis
Tax Planning/Preparation
Bookkeeping
Database Management
Cash Management
Compliance
Risk Management
Responsibilities:
Managed and recorded all accounts receivable and accounts payable for multiple projects, ensuring accuracy and timeliness of all payments.
Created and maintained accurate financial records, developed monthly and quarterly financial reports, analyzed results and provided timely feedback to executive management.
Analyzed financial data and prepared financial statements, including balance sheets, income statements and account reconciliations.
Developed and monitored complex budgets for projects, tracked expenditures and maintained accurate records.
Ensured compliance with all accounting, financial and audit requirements.
Analyzed financial risks and identified areas of cost reduction and efficiency improvements.
Identified and resolved complex accounting issues, discrepancies and discrepancies in financial reports.
Communicated and liaised with external auditors regarding financial statements, taxation and other related matters.
Project Accountant Resume with 10 Years of Experience
Highly experienced project accountant with over 10 years of experience in financial analysis, budgeting and general accounting. Skilled in creating and analyzing financial reports, implementing internal controls, and providing support for project teams. Strong organizational and problem-solving skills combined with the ability to communicate effectively with all levels of the organization.
Core Skills:
Financial Analysis
Budgeting
Cost Management
Financial Reporting
Internal Controls
Project Accounting
Microsoft Office Suite
Accounting Software
ERP Systems
Excellent Communication
Responsibilities:
Monitored project financials, budgeting, forecasting and cost control.
Prepared and evaluated financial statements, reports, and analyses.
Managed accounts payable and receivable.
Reconciled general ledger transactions.
Developed and maintained internal controls.
Assisted in the implementation of new accounting systems.
Tracked and reviewed monthly project budgeting and spending.
Prepared and reviewed documents for external auditors.
Ensured compliance with GAAP standards.
Analyzed and resolved financial discrepancies.
Supervised accounting staff and provided guidance.
Project Accountant Resume with 15 Years of Experience
Highly organized and detail-oriented professional with 15+ years of experience in finance, accounting and project management. Adept at analyzing complex financial data, preparing financial statements and reports, creating budget plans and developing budget models. Possess expertise in developing, presenting and interpreting financial statements in accordance with generally accepted accounting principles (GAAP).
Core Skills:
General Accounting
Financial Modeling
Financial Reporting
Budget Preparation
Cash Flow Analysis
Cost Accounting
Project Management
Reconciliations
GAAP Compliance
Auditing
Problem Solving
Responsibilities:
Established and implemented accounting procedures and internal controls to ensure compliance with GAAP
Managed and reconciled all general ledger accounts
Prepared monthly financial and operational reports
Developed detailed financial models for budgeting and forecasting
Analyzed financial data and prepared detailed cash flow and expense reports
Monitored and reported on project costs, budgets and timelines
Ensured accuracy and integrity of financial information
Audited and prepared financial statements in accordance with GAAP
Participated in the preparation of year-end audit reports
Collaborated with other departments to ensure accurate and timely data entry and reporting
In addition to this, be sure to check out our resume templates, resume formats, cover letter examples, job description, and career advice pages for more helpful tips and advice.
What should be included in a Project Accountant resume?
A project accountant resume should include a comprehensive overview of your qualifications, relevant experience, and professional background. Your resume should provide potential employers with a clear understanding of your ability to manage budgets, oversee financial operations, and track project progress.
First, include a summary of your qualifications, such as your accounting certifications, years of experience, and prior positions. Also, list any relevant professional development you've undertaken, such as financial planning courses or seminars.
Next, detail your experience in the project accountant domain. Describe any project successes, accomplishments, or awards you have earned. Additionally, provide examples of your financial analysis and reporting skills.
Finally, list the most relevant technical skills you have. These should include competence in specialized accounting software and software related to project planning. Having in-depth knowledge of accounting regulations and practices is also essential.
By providing a comprehensive picture of your qualifications, experience, and skills, you can demonstrate your ability to excel as a project accountant. This will help you stand out from the competition and secure the position you seek.
What is a good summary for a Project Accountant resume?
A good summary for a Project Accountant resume should demonstrate a range of accounting and project management skills and highlight the many successes and achievements that the candidate has earned. It should showcase the candidate's financial expertise, their ability to manage complex projects, and their expertise in ensuring accurate financial records and budgets. The summary should also emphasize the candidate's organizational skills and their ability to work effectively in a team environment. By succinctly summarizing the candidate's qualifications and experience, a strong summary statement can help an employer to quickly recognize the value that the candidate will bring to the organization.
What is a good objective for a Project Accountant resume?
A project accountant resume should have an objective that focuses on a candidate's qualifications and what makes them stand out from other applicants. The objective should be relevant to the job and reflect the candidate's experience and knowledge.
For example, a project accountant resume objective might read, "Experienced and detail-oriented project accountant with knowledge of QuickBooks and GAAP seeking to utilize my skills in managing finances, controlling costs, and maintaining records for a company."
The objective should also show the candidate's accomplishments, such as "Successfully managed finances for a major project, resulting in a 20% cost reduction and increased efficiency."
Including specific skills and experiences relevant to the job will give the employer an idea of how the candidate could benefit the organization. It should also demonstrate that the candidate is aware of the company's goals and objectives.
Overall, a good objective for a project accountant resume should demonstrate the candidate's qualifications, experience, and knowledge while showing their enthusiasm for the job.
How do you list Project Accountant skills on a resume?
When writing a resume, it's important to show employers that you have the skills and experience needed to be a successful Project Accountant. To do this, you should include a section that lists your relevant Project Accountant skills. This section should be placed near the top of your resume, so employers can easily spot it, and it should include a list of the core skills that employers expect a Project Accountant to have.
When listing your Project Accountant skills on your resume, be sure to include skills related to financial management, budgeting, and forecasting. You should also highlight your accounting knowledge and experience with financial software, as well as your problem-solving and analytical skills. If you have experience with auditing, taxation, and legal requirements, this should also be included.
You can also include any relevant certifications or qualifications in this section. This could include Chartered Accountant status, Certified Management Accountant certification, or a qualification in bookkeeping or accounting.
Finally, you should include soft skills that make you well-suited to working as a Project Accountant. This could include strong communication and interpersonal skills, as well as the ability to work independently and meet tight deadlines.
By including all of the skills listed above, you'll demonstrate to employers that you have the expertise and potential needed to be a successful Project Accountant.
What skills should I put on my resume for Project Accountant?
When crafting your resume for a position as a project accountant, there are certain skills you should include to help set yourself apart as the ideal candidate.
First, demonstrate your expertise in accounting fundamentals. You should be able to demonstrate proficiency in financial statement analysis, auditing, and taxation. Financial modeling, budgeting, and forecasting are highly desirable skills to have, as is the ability to perform complex calculations with speed and accuracy.
You should also include your ability with the relevant accounting software. Demonstrate your knowledge of popular programs such as QuickBooks, MYOB, and Sage Accounting, as well as other excel programs such as Microsoft Excel and Google Sheets.
Finally, include any project management experience you have. Project managers are often tasked with tracking and monitoring a project's budget, so any experience you have in this area will set you apart from other candidates. Showcase your ability to plan and manage complex projects, as well as any expertise you have in scheduling, risk management, and communications.
By demonstrating these skills on your resume, you will show potential employers that you have the qualifications required to successfully fill the position of project accountant.
Key takeaways for an Project Accountant resume
The job of a project accountant is a critical role in any organization. It is important for an applicant to understand the job duties and the expectations for a project accountant in order to create an effective resume. The following are key takeaways for creating a project accountant resume:
Highlight relevant experience: A project accountant resume should showcase the applicant's experience and knowledge in accounting, especially in relation to project accounting. Be sure to note any expertise in budgeting, tracking costs, and analyzing financial data.
Showcase problem-solving skills: As a project accountant, you will be expected to be able to identify and solve issues quickly and efficiently. Be sure to highlight any problem-solving skills or successes in this area.
Showcase ability to multitask: A project accountant is often expected to juggle multiple tasks and projects simultaneously. Be sure to emphasize any experience or skills in multitasking, such as working under tight deadlines or completing various tasks simultaneously.
Demonstrate knowledge of accounting principles: It is important to show that you understand the basics of accounting principles, especially when it comes to project accounting. Make sure to showcase any education or certification in this area.
Include computer skills: In addition to accounting skills, a project accountant will need to have strong computer skills. Be sure to note any proficiency in spreadsheet software, database management, and other software used in project accounting.
These are just a few of the key takeaways that should be included in a project accountant resume. By highlighting the right experience and skills, applicants can ensure that their resumes stand out from the competition.
Let us help you build
your Resume!
Make your resume more organized and attractive with our Resume Builder