Writing an effective accountant resume can be a daunting task. Whether you are just starting out in the profession or you've been working in the field for years, the importance of an eye-catching, effective resume shouldn't be overlooked. A professional-looking resume is essential to the success of your job search and your career. This guide will provide you with the insider tips and valuable information you need to write a standout accountant resume that will help you stand out from the competition and secure the job you desire. We'll discuss the basics of resume writing, cover the must-haves for every accountant resume, and provide you with examples of accountant resumes that stand out from the rest.
If you didn't find what you were looking for, be sure to check out our complete library of resume examples.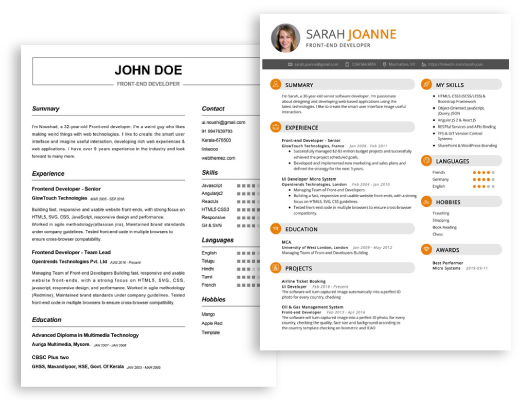 Start building your dream career today!
Create your professional resume in just 5 minutes with our easy-to-use resume builder!
Professional Accountant Resume Examples
John Doe
Professional Accountant
123 Main Street | Anytown, USA 99999 | Phone: (123) 456-7890 | Email: john.doe@email.com
Highly organized and professional Accountant with extensive experience developing and implementing accounting practices and procedures. Proven record in streamlining processes and improving accuracy in accounting functions. Skilled in preparing and interpreting financial statements, managing accounts receivable and accounts payable, and developing budget plans.
Core Skills:
Advanced knowledge of accounting principles, procedures, and reporting
Detail-oriented and highly organized
Expertise in QuickBooks, Excel, and other financial software
Analytical and problem-solving abilities
Excellent written and verbal communication
Knowledge of Generally Accepted Accounting Principles (GAAP)
Professional Experience:
Accountant, ABC Company, 2020 – Present
Prepared financial statements, reports, and records by collecting, analyzing, and summarizing data
Monitored financial transactions by reconciling and verifying accounts
Analyzed financial information to recommend or develop efficient use of resources and procedures
Managed accounts receivable and accounts payable
Developed and monitored budgets
Accountant, XYZ Company, 2016 – 2020
Generated accurate financial reports and analyzed financial trends
Developed and maintained accounting systems and internal controls
Supervised accounts payable and accounts receivable
Tracked and reported financial information
Ensured compliance with tax laws and regulations
Education:
Bachelor of Science in Accounting, ABC University, 2015
Professional Accountant Resume with No Experience
Recent accounting graduate with a strong knowledge of accounting principles and concepts. Possesses excellent problem solving and analytical abilities, as well as great attention to detail. Eager to develop and use my accounting skills in a professional environment.
Skills
Fundamental accounting principles and concepts
Accounts payable/receivable
Financial reporting
Recordkeeping
Bank reconciliation
Spreadsheet software
Analytical skills
Problem-solving skills
Attention to detail
Time management
Responsibilities
Input financial data into accounting software
Prepare and examine financial records and reports
Prepare balance sheets and income statements
Reconcile bank accounts
Monitor and analyze budget variances
Develop and maintain accounting systems
Assist with audits and other accounting projects
Assist in preparing client invoices
Monitor accounts receivable and payable
Professional Accountant Resume with 2 Years of Experience
Highly organized and detail-oriented Professional Accountant with two years of experience in accounting and finance. Knowledgeable of GAAP practices and regulations, with an ability to analyze financial data to make informed and accurate decisions. Proven record of meeting deadlines and managing multiple tasks simultaneously.
Core Skills:
Financial Reporting and Budgeting
Variance Analysis
Account Reconciliation
Tax Preparation
Internal and External Auditing
Cost Accounting
General Ledger Maintenance
Financial Analysis and Modeling
Responsibilities:
Prepared monthly, quarterly and annual financial statements, reports, analyses and forecasts.
Performed variance analysis between actual and budget figures and determined reasons for discrepancies.
Developed and monitored financial controls, internal policies and procedures.
Ensured compliance with federal, state and local tax regulations.
Collaborated with auditors to develop audit plans, provide all required documents and resolve discrepancies.
Analyzed financial statements for trends and inconsistencies.
Established budgeting policies and procedures and monitored cost containment.
Assisted in the preparation of month end, quarter end and year end closing activities.
Generated reports of cash flow, balance sheets and income statements.
Professional Accountant Resume with 5 Years of Experience
Highly motivated and experienced Accountant with 5+ years of experience in financial reporting, analysis, and budgeting. Detail-oriented with excellent problem-solving and interpersonal skills. Known for providing effective financial solutions to complex business problems.
Core Skills:
Financial Reporting
Financial Analysis
Budgeting
Tax Preparation
Cost Accounting
Accounts Payable/Receivable
General Ledger
Internal Controls
Auditing
Financial Forecasting
Microsoft Excel
Responsibilities:
Prepared and analyzed financial statements to ensure accuracy, completeness, and timeliness.
Developed budget plans, conducted budget reviews and tracked budget performance.
Conducted cost analysis and determined cost-reduction strategies.
Reviewed and verified accuracy of journal entries and account reconciliations.
Developed and maintained internal financial controls.
Reviewed and verified accuracy of accounts payable and receivable.
Monitored general ledger accounts for accuracy and compliance with GAAP.
Prepared and filed corporate tax returns in a timely manner.
Researched and resolved technical accounting issues.
Prepared financial forecasts to assist in developing business plans.
Participated in month-end and year-end closing processes.
Professional Accountant Resume with 7 Years of Experience
Resourceful and meticulous accountant with 7+ years of experience providing a high level of financial support to organizations within the private and public sectors. Skilled in bookkeeping, budgeting, and financial report preparation. Highly organized and efficient while maintaining the highest degree of accuracy.
Core Skills:
Bookkeeping
Financial reporting
Budgeting
Variance analysis
Cost control
Cash flow management
Regulatory compliance
Internal audit
Financial forecasting
Auditing
Project management
Responsibilities:
Compiled and analyzed financial reports, including income statements, balance sheets, and cash flow statements
Developed and implemented internal audit procedures and processes
Monitored and inspected budget, cost control, and variance analysis
Ensured compliance with relevant regulations and internal policies
Prepared and implemented annual operating budget
Implemented financial forecasting models
Generated monthly and quarterly financial reports for management
Prepared and reviewed financial statements for management
Managed and coordinated with external auditors
Reviewed and analyzed financial statements to identify areas of improvement
Professional Accountant Resume with 10 Years of Experience
Highly experienced and knowledgeable professional accountant with 10 years of experience in the field. Proven track record of success with financial analysis, budgeting, and financial modeling. Results-oriented and detail-oriented individual with excellent problem-solving and communication skills.
Core Skills:
Financial Analysis
Budgeting
Financial Modeling
Tax Compliance
Audit Preparation
Strategic Planning
Accounting Processes
Financial Reporting
Risk Analysis
Cost Analysis
Responsibilities:
Prepared financial statements and reports for executive management.
Developed financial models and provided financial analysis to identify areas of improvement and cost savings.
Prepared budgets and maintained detailed records of transactions.
Monitored accounts to ensure compliance with regulations, corporate policies and procedures, and accepted accounting principles.
Ensured accuracy and completeness of all accounting functions.
Developed and maintained policies, procedures and systems for efficient and cost effective management of financial resources.
Performed audit preparation and risk analysis.
Developed and implemented strategic plans for long-term growth and financial stability.
Analyzed cash flow and provided financial projections.
Professional Accountant Resume with 15 Years of Experience
Highly experienced and results-driven Certified Public Accountant with 15 years of successful experience in financial analysis, auditing, financial reporting and taxation. Proven ability to design and implement effective processes and procedures that promote efficient operations and improved financial performance. Adept at identifying and resolving discrepancies in financial reporting and developing effective strategies to maximize profitability.
Core Skills:
Financial Analysis
Auditing
Financial Reporting
Taxation
Process Improvement
Budget Management
Risk Management
Strategic Planning
Cash Flow Management
Problem Solving
Data Analysis
Attention to Detail
Team Leadership
Organizational Skills
Responsibilities:
Developed, managed and maintained financial records for multiple companies in accordance with GAAP accounting principles.
Assisted in the preparation of financial statements, budgeting, forecasting and cash flow management.
Analyzed financial data to identify and resolve discrepancies and recommend improvements in accounting procedures.
Prepared tax returns for individual and business clients, including corporate, partnership and trust filing requirements.
Assessed the accuracy of financial records and reconciled accounts to ensure accuracy.
Developed and implemented process improvement initiatives to increase accuracy, efficiency and cost savings.
Built and maintained strong relationships with clients, providing financial advice to ensure client success.
Mentored and trained junior accounting staff, leading to improved profitability and efficiency.
In addition to this, be sure to check out our resume templates, resume formats, cover letter examples, job description, and career advice pages for more helpful tips and advice.
What should be included in a Professional Accountant resume?
When it comes to creating a professional accountant resume, there are certain key elements that should be included. Whether you are an entry-level or experienced accountant, the following information will help you craft an effective and successful resume.
First, be sure to list your contact information prominently at the top of the resume. This should include your name, address, phone number, and email address. You should also include an objective statement that outlines your career goals and aspirations as an accountant.
Next, add a section that details your educational background. Here, you should include the name and location of the school or educational institution where you studied accounting, any degrees or certifications you have earned in the field, and any specialized training you have received.
Your professional experience should be the next section on your resume. List your current and previous accounting-related positions and your responsibilities for each. Describe any relevant projects you have completed, any software or technology you have expertise in, and any awards or recognition you have received in the field.
Finally, you should list any professional affiliations you have. This could include memberships in accounting-related professional organizations or volunteer work for local or national accounting organizations.
By including these essential elements on your resume, you can ensure that your accounting experience and qualifications will be presented in the best light possible.
What is a good summary for a Professional Accountant resume?
A professional accountant resume should provide a summary of the accountant's relevant experience and skills. The summary should include any certifications, education, and training the accountant has received. It should also include the accountant's relevant work experience, including a list of key accomplishments. A professional accountant resume should also list any additional computer skills, software, and accounting tools the accountant is familiar with. Finally, the summary should highlight the accountant's strong communication and customer service skills. This section should be concise and to the point, while also providing a good overview of the accountant's abilities and experience.
What is a good objective for a Professional Accountant resume?
If you are a professional accountant, crafting a well-written resume can be an important part of landing a great job. When it comes to writing a resume, the objective should be a concise statement that clearly outlines your professional goals. An effective objective can help employers determine whether your skills and experience are a good fit for their job opening. Here are some tips for crafting a great objective for a professional accountant resume:
Highlight your accounting skills and experience. Use your objective to demonstrate to employers that you have the accounting knowledge, proficiency, and expertise to excel in the role.
Focus on your career goals. Explain how your experience and skills can help you contribute to the employer's success.
Showcase your achievements. Use your objective to list any awards, certifications, or other accomplishments that make you stand out as an accountant.
Show enthusiasm. Employers want to know that you are passionate about the job and will be a positive addition to their team.
Including a clear and concise objective on your professional accountant resume can help employers identify you as a top candidate for the job. Make sure to include the above elements to ensure your objective is compelling and stands out from the competition.
How do you list Professional Accountant skills on a resume?
Your resume should be a powerful tool to showcase your professional accountant skills. As an accountant, it is important to highlight your experience in accounting, financial and bookkeeping skills, as well as other related areas, to make your resume stand out.
When creating a professional resume, it is important to include a list of key skills to showcase your abilities and qualifications. To ensure that you highlight your skills correctly, be sure to select keywords from job postings that match the type of accounting position you are applying for.
To help you create an effective resume, consider including the following professional accountant skills:
Financial Reporting: Demonstrate your ability to create and interpret financial statements for internal and external use.
Budget Analysis: Showcase your experience in budgeting, forecasting and working with financial models.
Cost Accounting: Highlight your skills in analyzing costs and developing cost-saving strategies.
Tax Preparation: Demonstrate your experience in preparing taxes and advising clients on their tax obligations.
Auditing: Prove your ability to detect and investigate errors, omissions and other irregularities.
Risk Management: Showcase your experience in assessing and managing risks in financial and investments.
Cash Management: Highlight your skills in managing and monitoring cash flow.
Compliance:Show your experience in ensuring compliance with federal and state laws and regulations.
Financial Analysis: Demonstrate your ability to interpret and analyze financial statements.
By including these professional accountant skills on your resume, you can effectively show employers that you are a qualified candidate for the position. Be sure to tailor your resume to the job you are applying for, including only skills that are relevant to that specific position. Doing so will increase your chances of getting hired.
What skills should I put on my resume for Professional Accountant?
When it comes to advancing your career as a professional accountant, your resume is one of the most important documents you will ever create. It is important to make sure that your resume accurately showcases your skills and highlights the qualifications that make you the ideal candidate for the job.
For a professional accountant, the skills that should be included on your resume will vary depending on the role you are applying for and the industry in which you work. Here are some key skills that may be useful to include:
Accounting: Every accountant should have a strong understanding of basic accounting principles and be able to accurately prepare financial statements and other financial reports.
Financial Analysis: Accountants should have the ability to analyze financial data and draw meaningful conclusions from it.
Tax Preparation: Professional accountants should have an in-depth understanding of tax laws and regulations and be able to prepare accurate tax returns.
Software Proficiency: The majority of accounting today is done via computer, so it is important to have a strong proficiency with the most commonly used accounting software packages.
Problem Solving: A good accountant should be able to identify and solve problems quickly and efficiently.
Interpersonal Skills: Accountants must work with a variety of people, so it is important to have excellent communication and interpersonal skills.
Attention to Detail: Being detail-oriented is key to being a successful accountant, as mistakes can have serious financial repercussions.
Having these skills on your resume will help you stand out from the competition and make you an attractive candidate for any accounting position.
Key takeaways for an Professional Accountant resume
When it comes to writing a professional accountant resume, there are a few key takeaways that you should keep in mind.
First and foremost, you will want to include a concise summary at the top of your resume. This should quickly and effectively summarize your qualifications and experience as an accountant. It should also be tailored to the specific job you are applying for.
Secondly, it is important to include any certifications or qualifications that you may have as an accountant. This could include a CPA, CMA, or other certifications that are relevant to the job you are seeking.
Third, make sure to include any professional experience or projects that you have worked on in the past. This could include any special projects that you have completed, or any accounting software you have worked with.
Finally, make sure to include any education that you have received related to accounting. This includes any accounting degrees or certifications you may have, as well as any courses you may have taken.
By keeping these key takeaways in mind when writing your accountant resume, you should be able to create a resume that stands out from the competition.
Let us help you build
your Resume!
Make your resume more organized and attractive with our Resume Builder