Freelance accountants play a vital role in the financial health of businesses and individuals. They are responsible for maintaining accurate financial records, preparing financial statements, and providing tax planning and preparation services. A strong resume is essential for a freelance accountant to showcase their skills and experience to potential clients. In this blog post, we will provide examples of how to effectively write a freelance accountant resume that will help you stand out in a competitive job market.
If you didn't find what you were looking for, be sure to check out our complete library of resume examples.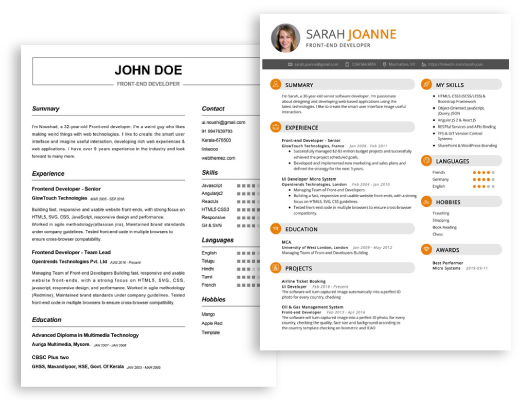 Start building your dream career today!
Create your professional resume in just 5 minutes with our easy-to-use resume builder!
Freelance Accountant Resume Examples
John Doe
Freelance Accountant
123 Main Street | Anytown, USA 99999 | Phone: (123) 456-7890 | Email: john.doe@email.com
Highly motivated and experienced freelance accountant with a strong financial background and excellent communication skills. Adept at analyzing financial records, increasing operational efficiency, optimizing accurate budgeting and forecasting, and creating financial reports. Proficient in using accounting software, preparing tax returns, and developing financial systems.
Core Skills:
Financial Analysis
Accounting Software Proficiency
Budgeting and Forecasting
Tax Preparation
Risk Management
Financial Reporting
Auditing
Microsoft Office Suite
Problem-Solving
Attention to Detail
Professional Experience:
Freelance Accountant, 2015-present
Analyze financial records, track cash flows, and maintain accurate and up-to-date records of financial transactions.
Prepare and submit accurate taxes, including quarterly estimates and annual returns.
Develop and implement financial systems and procedures for effective cash flow management and budgeting.
Utilize accounting software to manage accounts, reconcile statements, and generate financial reports.
Provide financial advice and guidance to clients to ensure sound financial management.
Assist in auditing processes to ensure accuracy and completeness of financial information.
Education:
Bachelor of Science in Accounting, 2012
University of California, Los Angeles
Freelance Accountant Resume with No Experience
Recent accounting graduate with an eagerness to learn and excel in the field of accounting. Possessing an understanding of the principles of accounting and knowledge of related software. Proven interpersonal skills and a passion for the field.
Skills
Bookkeeping Skills
Computer Skills
Analytical Skills
Financial Reporting
Budgeting
Tax Preparation
Microsoft Office Suite
Time Management
Responsibilities
Preparation of financial documents and reports for clients.
Reviewing invoices and ensuring accurate billing to clients.
Reconciling accounts, ensuring accuracy with financial documents.
Developing and implementing systems for tracking financial information.
Establishing systems for proper documentation of accounting activities.
Monitoring accounting processes, identifying areas of improvement.
Assisting in the preparation of tax returns and other financial documents.
Collaborating with team members and clients to ensure accuracy of financial information.
Freelance Accountant Resume with 2 Years of Experience
Motivated and detail-oriented Freelance Accountant with 2 years of experience in handling complex financial and accounting activities. Proven ability to develop financial models, reconcile accounts, and conduct audits. Adept at using QuickBooks, Sage, and other accounting software.
Core Skills:
Financial Modeling
Account Reconciliation
Auditing
Tax Preparation
Budgeting
Financial Analysis
Risk Management
General Ledger Maintenance
QuickBooks and Sage Experience
Excellent Mathematical Skills
Responsibilities:
Prepared financial models for clients to obtain accurate financial projections.
Reconciled accounts on a regular basis and reviewed documents for accuracy.
Conducted audits of client accounts and submitted reports with findings.
Assisted clients with tax preparation and filing of tax returns.
Developed budgets to ensure efficient use of resources.
Analyzed financial data and prepared reports for management review.
Monitored and assessed risk management strategies to minimize losses.
Prepared month-end closing activities and posted general ledger entries.
Trained staff and clients on the use of QuickBooks and Sage software.
Freelance Accountant Resume with 5 Years of Experience
Resume
Highly motivated and results-oriented freelance Accountant with 5 years of experience. Possessing expert knowledge of financial reports and records, accounting principles, practices and standards, and developing strategies to improve overall financial performance. Excels in development, communication, and implementation of financial strategies and policies.
Core Skills:
Financial Analysis and Reporting
Business Planning and Forecasting
Budget Management and Control
Financial Modeling and Analysis
Internal Controls and Compliance
Financial Systems Development
Risk Management
Accounts Receivable/Payable
General Ledger Reconciliation
Responsibilities:
Prepared and maintained accurate financial reports and records to meet deadlines.
Developed and implemented financial strategies and policies.
Analyzed and interpreted financial data to support decision-making.
Monitored internal controls to ensure compliance with corporate rules and regulations.
Evaluated current financial systems and proposed improvements.
Performed account reconciliations and analyzed account variances.
Conducted monthly, quarterly, and yearly financial reviews.
Managed accounts receivable/payable and general ledger.
Developed financial models and used them to make sound financial decisions.
Managed and controlled budgets to ensure financial efficiency.
Freelance Accountant Resume with 7 Years of Experience
John Doe
Freelance Accountant
I am a freelance accountant with 7 years of experience working with a variety of clients and businesses. I am detail-oriented and excel at maintaining accurate and up to date accounting records. My experience includes monthly financial reporting, budgeting, and analysis. I am also highly proficient in QuickBooks and Excel.
Core Skills:
QuickBooks – Financial Analysis – General Ledger – Monthly Financial Reporting – Budgeting – Cost Accounting – Regulatory Compliance – Risk Management – Auditing
Responsibilities:
Prepare and review month-end close activities, general ledger reconciliations, and financial statements.
Analyze financial data, prepare budgets, and identify cost savings opportunities.
Prepare and analyze financial reports to ensure accuracy and compliance with GAAP.
Perform general ledger account reconciliations.
Monitor and analyze changes in the financial landscape and respond accordingly.
Collaborate with auditors and other departments to ensure accuracy and compliance with regulatory requirements.
Develop and maintain strong internal controls to reduce financial risk.
Ensure compliance with internal policies and procedures.
Research and resolve financial discrepancies.
Freelance Accountant Resume with 10 Years of Experience
Talented and experienced Freelance Accountant with 10 years of professional experience in managing and reviewing financial records, contracts, and investments. Adept at developing and implementing accounting procedures to ensure accuracy and efficiency. Professional and highly organized with an eye for detail and a commitment to providing excellent customer service.
Core Skills:
Financial Management
Investment Analysis
Tax Preparation
Budgeting
Develop and Implement Accounting Procedures
Financial Reporting
Risk Management
Auditing
Financial Forecasting
Accounts Payable/Receivable
Regulatory Compliance
Responsibilities:
Prepared financial statements and maintained records of all financial transactions.
Developed and implemented accounting procedures to ensure accuracy and efficiency.
Audited and verified financial documents and records.
Analyzed and assessed financial risks.
Developed and maintained financial budget and forecast.
Evaluated and managed investments.
Ensured compliance with applicable laws and regulations.
Assisted with the preparation of tax returns and documents.
Generated and provided reports to management regarding financial performance.
Resolved accounting discrepancies and solved complex accounting issues.
Freelance Accountant Resume with 15 Years of Experience
Seasoned Freelance Accountant with 15 years of experience offering comprehensive bookkeeping, financial reporting and budgeting services to clients. Demonstrates hands-on expertise in financial analysis, cash flow management, accounts receivable and payable, taxes, and financial analysis. Proven record of increasing profitability and reducing costs through strategic decision-making.
Core Skills:
Accounting/Bookkeeping
Financial Analysis
Cash Flow Management
Accounts Receivable/Payable
Tax Preparation
Financial Reporting
Budgeting
Strategic Planning
Problem-Solving
Microsoft Office
QuickBooks
Responsibilities:
Managed accounts receivable and payable for clients
Prepared financial statements and reports for clients
Developed and maintained budgets for clients
Monitored cash flow for clients and made adjustments as necessary
Prepared and filed taxes for clients
Reconciled general ledger accounts for clients
Analyzed financial data and produced reports for clients
Assisted with strategic planning for clients
Developed and implemented internal control procedures
Developed and maintained accounting software for clients
In addition to this, be sure to check out our resume templates, resume formats, cover letter examples, job description, and career advice pages for more helpful tips and advice.
What should be included in a Freelance Accountant resume?
When applying for a freelance accounting position, it's important to create a resume that stands out from the competition. Your resume should highlight your experience and qualifications in the field of accounting, and provide employers with an overview of the comprehensive services you can provide.
When crafting your freelance accountant resume, it's essential to include the following:
Education: Include a comprehensive list of educational background and qualifications that are relevant to the position. This should include any degrees, certifications, and other related training that you have received.
Work Experience: Give an overview of the accounting and finance positions you have held in the past. This should include experience with various types of accounting software and any special projects you have worked on.
Skills: Highlight the skills you have that are specific to the accounting field. This may include experience with bookkeeping, tax preparation, financial forecasting, and payroll.
Certifications: Include any relevant certifications you may have, such as Certified Public Accountant (CPA) or Certified Management Accountant (CMA).
References: List any references you may have who can provide additional details about your work in the field.
By including all of this information in your resume, you can create a comprehensive and impressive profile that will help you stand out from the competition.
What is a good summary for a Freelance Accountant resume?
A freelance accountant resume should include a summary that highlights the accountant's experience and skills related to accounting, such as bookkeeping, financial analysis, and tax preparation. It should also include any certifications or qualifications the accountant has, as well as any experience in specialized areas like auditing or consulting. This summary should be concise and should emphasize the applicant's strengths in order to make a positive impression on potential clients. Additionally, it should include relevant soft skills, such as communication, problem-solving, and organizational abilities, which can be essential for success in the role.
What is a good objective for a Freelance Accountant resume?
A freelancer accountant is a professional with expertise in financial transactions and analysis. A good objective for a freelance accountant resume should highlight the individual's core competencies and experience in the field.
An effective objective should focus on the areas of expertise that the accountant can bring to the position. This could include their years of experience in record keeping, financial analysis, tax preparation, and audit experience. Additionally, the objective should include the skills that the accountant possesses, such as knowledge of accounting software, problem-solving and organizational skills.
A successful objective should also mention any relevant certifications or qualifications that the accountant has, such as a CPA, CMA or CFA designation. This will help to demonstrate the accountant's expertise and commitment to the profession.
Finally, a good objective should include a statement of the accountant's goal in seeking the freelance position. This could include the accountant's desire to work with clients to improve their financial health, to offer sound advice, or to work under tight timelines.
By crafting an effective objective for a freelance accountant resume, the individual can demonstrate their knowledge, qualifications and commitment to the profession. This can help the accountant to stand out from the competition and increase their chances of securing the job.
How do you list Freelance Accountant skills on a resume?
When it comes to listing Freelance Accountant skills on a resume, it is important to emphasize your unique competencies and qualifications that are relevant to the job you are applying for. A resume should be tailored to the job you're applying for, and should list the qualifications that demonstrate your expertise in the field of accounting.
When listing your Freelance Accountant skills, be sure to include experience with financial software, such as Quickbooks, Microsoft Excel, Sage, or similar. Additionally, include any certifications or licenses that you have obtained that are relevant to the position, such as a Certified Public Accountant (CPA) license. It is also important to show your knowledge of the accounting cycle, including accounts receivable and payable, tax filing, and financial reporting.
To further demonstrate your expertise, be sure to list experience with complex accounting tasks such as budget preparation and analysis, financial statement preparation, and bookkeeping. Demonstrating your ability to work with clients and colleagues to build meaningful relationships is also highly valued.
Finally, be sure to emphasize your communication and problem-solving skills. Accounting is a field that requires you to work collaboratively and efficiently with others in order to achieve success. Showing your ability to collaborate with teams, mentor and train new employees, and effectively manage projects are all valuable skills in the accounting field.
By emphasizing the right Freelance Accountant skills on your resume, you can increase your chances of getting the job. Be sure to tailor your resume to the position and highlight the qualifications that make you the best candidate.
What skills should I put on my resume for Freelance Accountant?
If you are a freelance accountant, your resume should highlight key accounting skills that you have that are relevant to the jobs and projects you are pursuing. This will enable you to show potential employers and clients that you possess the necessary qualifications and experience they are looking for when hiring a professional accountant.
When writing your resume, make sure you include the most important accounting skills that are necessary to excel in the freelance accounting industry. Some of the most important skills to include are:
Experience with financial software programs, such as QuickBooks, Peachtree and Microsoft Excel.
Excellent knowledge of accounting theory and principles.
Proficiency in creating financial reports and statements.
Ability to manage and organize financial records.
Proven ability to analyze financial data.
Excellent communication and problem-solving skills.
Experience preparing taxes for individuals and businesses.
Knowledge of accounting regulations and standards.
Additionally, you should also highlight any other relevant skills that you have such as customer service, project management and technical writing. These skills can be beneficial when you are working on a variety of projects and can display your versatility as a freelancer.
By highlighting your key accounting skills on your resume, you will show potential employers and clients that you possess the qualifications and experience they are looking for when hiring a freelance accountant. This will help set you apart from other applicants and give you a greater opportunity to be considered for the job or project.
Key takeaways for an Freelance Accountant resume
When creating a resume as a freelance accountant, there are several key takeaways to keep in mind. These takeaways can help ensure that the resume stands out from the competition and highlights the skills and experience most relevant to the position.
First, consider what type of freelance accountant position you are applying for. Depending on the role, experience in various accounting software and systems may be necessary, so include these prominently on the resume. Also include experience with financial analysis and reporting, as well as any certifications as a professional accountant. Being able to demonstrate an understanding of financial structures and regulations is also important for the role.
In terms of format, the resume should be organized and visually appealing. That means utilizing headers, bullet points and white space to make it easier to read. The most important information should be placed at the top of the resume, so that it is immediately visible to recruiters.
Finally, don't forget to include relevant contact information. This includes a professional email address, and a phone number where you can be reached. Additionally, include a link to an online portfolio, if applicable, as well as any social media profiles which are related to your professional career.
By keeping these key takeaways in mind, freelance accountants can create resumes that stand out and demonstrate their unique experience and qualifications.
Let us help you build
your Resume!
Make your resume more organized and attractive with our Resume Builder