Writing a good resume for an entry level accountant position can be a challenge, especially if you are new to the field. While the job requirements may be limited, you still need to make sure that your application stands out among the competition. To ensure your success, this guide provides a comprehensive overview of what an entry level accountant resume should include, and how to optimize it for maximum impact. Additionally, this guide provides examples of resumes you can use as a reference when creating your own. With the right resume, you can confidently declare your candidacy and secure your desired entry level position.
If you didn't find what you were looking for, be sure to check out our complete library of resume examples.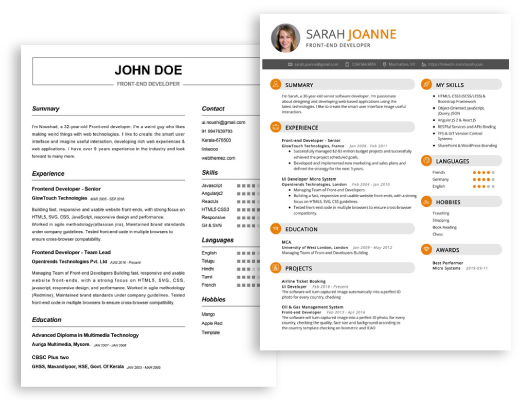 Start building your dream career today!
Create your professional resume in just 5 minutes with our easy-to-use resume builder!
Entry Level Accountant Resume Examples
John Doe
Entry Level Accountant
123 Main Street | Anytown, USA 99999 | Phone: (123) 456-7890 | Email: john.doe@email.com
Entry Level Accountant with 1+ year of experience in bookkeeping and accounting processes. Demonstrated ability to analyze financial statements, identify discrepancies, and apply data entry techniques. Focused on customer service and providing accurate financial data to management. Seeking to leverage organizational and communication skills to add value to a new role.
Core Skills:
Bookkeeping – Financial Reporting – Budgeting & Analysis – Tax Preparation – Data Entry – Problem Solving – Process Improvement – General Ledger Reconciliations – Accounts Payable/Receivable
Professional Experience:
Accounting Associate, ABC Company, June 2019-Present
Analyze financial statements and identify discrepancies.
Record and process journal entries, bank reconciliations, and financial statements.
Prepare and submit monthly and quarterly financial reports.
Reconcile accounts payable/receivable and maintain general ledger.
Develop and implement procedures to improve accuracy and efficiency.
Education:
Bachelor of Science in Accounting, ABC University, May 2019
Entry-level Accountant with a strong desire to learn and use my analytical and organizational skills to help an organization grow. Possess excellent problem-solving, communication, and time-management skills. Self-motivated, ambitious, and eager to learn new concepts and processes.
Skills:
Attention to detail
Analytical skills
Excellent organizational skills
Proficient in Microsoft Office Suite (Excel, Word, PowerPoint)
Knowledge of basic accounting principles
Data entry and bookkeeping
Strong communication skills
Time management
Responsibilities:
Assist with the preparation of financial statements and reports
Enter data into accounting software programs
Reconcile bank statements
Assist with the accounts receivable and accounts payable processes
Prepare and process invoices, payments, and deposits
Assist with budgeting and forecasting
Perform audits and identify discrepancies
Maintain up-to-date records of financial transactions
Provide support to the accounting team
Motivated and organized Entry Level Accountant with 2 years of experience in managing financial accounts and operations. Adept in the use of accounting software, financial reporting, data analysis, and problem-solving. Strong communicator with excellent customer service skills.
Core Skills:
Accounting
Financial Reporting
Data Analysis
Problem-Solving
Software Applications
Customer Service
Responsibilities:
Reconciled accounts and generated monthly financial statements
Analyzed financial data and generated reports for senior management
Identified areas for improvement and implemented corrective actions
Developed and maintained financial systems and procedures
Assisted with budget preparation, tracking, and forecasting
Monitored and analyzed financial trends
Researched and resolved discrepancies in accounts
Processed invoices and payments
Collaborated with internal and external departments to ensure accuracy of financial records
Highly motivated and organized Entry Level Accountant with 5 years of professional experience in accounting and financial management. Adept at developing and maintaining accurate accounting records, preparing financial statements, and analyzing trends and variances. Skilled in utilizing financial software and creating comprehensive reports to ensure compliance with relevant regulations. Experienced in preparing budgets, forecasting, and cost analysis.
Core Skills:
Financial Statements
Budgeting
Cost Estimating
Variance Analysis
General Ledger
Reconciliations
Bookkeeping
Auditing
Accounts Payable
Accounts Receivable
Tax Preparation
Financial Software
Responsibilities:
Prepared, analyzed, and maintained accounting records and financial statements.
Produced detailed budgets, forecasts, and cost estimates.
Monitored and documented variances in operating costs, overhead, and capital expenditures.
Reconciled and maintained post-closing general ledgers.
Developed and implemented internal controls to protect assets and ensure accuracy of financial statements.
Managed accounts payables and receivables.
Processed payroll and other employee benefits.
Assisted in the preparation of tax returns.
Created and distributed financial reports and analysis.
Developed and maintained financial software systems.
Audited financial data, records, and documents.
Highly experienced and organized Accountant with 7 years of experience in finance and accounting. Proven ability to review, analyze, and adjust financial data, create reports, and develop accurate financial statements. Skilled in multiple accounting software applications and spreadsheets. Committed to working as a team player and meeting all deadlines.
Core Skills
Financial reporting and analysis
Budgeting and forecasting
Accounts receivable/payable
Bank reconciliations
Auditing
Tax filing
Cost accounting
Bookkeeping
GAAP and IFRS compliance
General ledger management
Credit analysis
Responsibilities
Prepared and updated financial statements, reports, and records
Monitored and analyzed financial performance on an ongoing basis
Performed accounts payable and receivable functions
Completed bank reconciliations and general ledger entries
Prepared and submitted quarterly and annual tax returns
Managed the financial and accounting systems for accuracy and efficiency
Analyzed and reported on working capital, cash flow, and profitability
Developed and implemented effective internal controls
Provided support to the audit team on relevant projects
In addition to this, be sure to check out our resume templates, resume formats, cover letter examples, job description, and career advice pages for more helpful tips and advice.
What should be included in a Entry Level Accountant resume?
When writing a resume for an entry level accountant position, it is important to include the relevant skills and experiences that make you the ideal candidate for the role.
First, start by detailing your educational background and any certifications or degrees you may have achieved. This is especially important for entry level accountant positions, as employers will want to see proof of your knowledge in the field.
Next, list any relevant work experience you have. This might include internships, part-time jobs, freelance projects, or volunteer work. Be sure to include the responsibilities and accomplishments from each of these roles to show the employer how you can be a valuable asset to their team.
It is also important to include any specialized skills or training you have received in accounting. This could include software proficiency, working knowledge of accounting theories, or any other specialized knowledge or training that could be beneficial in the role.
Finally, include any awards or recognitions you have earned throughout your career. This could include professional awards, scholarships, or contests you have been part of. This is a great way to show employers that you are an ambitious and driven individual, and it can help set you apart from other applicants.
By including these elements in your resume, you can be sure to make a good impression on your potential employers. With the right combination of education, experience, skills, and awards, you can be sure to land a rewarding entry level accountant job.
What is a good summary for a Entry Level Accountant resume?
A great summary for an Entry Level Accountant resume should emphasize the candidate's accounting experience and skill set, such as proficiency in financial reporting, budgeting, auditing, taxation, and financial statement analysis. Other key attributes to include in the summary are excellent problem-solving and analytical skills, ability to meet deadlines and handle multiple tasks efficiently, and knowledge of accounting systems and software. The summary should also showcase the candidate's technical expertise and ability to communicate effectively with colleagues and clients. Finally, the summary should demonstrate the candidate's commitment to staying current on changes in the accounting field. By conveying these skills and attributes in a concise manner, the candidate will attract a hiring manager's attention and stand out in a highly competitive job market.
What is a good objective for a Entry Level Accountant resume?
When crafting an entry level accountant resume, it is important to have a clear objective that demonstrates your ability to add value to the organization and increase your knowledge of the accounting industry. A good objective for an entry level accountant should showcase your education, experience, and relevant skills.
Your objective should focus on your strengths and highlight the skills you possess that will allow you to quickly learn and become an asset to the company. Demonstrate that you are organized and detail-oriented, have the ability to work with numbers and data accurately, and have excellent communication and problem-solving skills.
Include information about your education, such as a degree or certification in accounting or finance, and list any relevant experience that you have in the accounting field. This could include internships, volunteer experience, or any other type of related position.
Highlight any software you are familiar with, such as QuickBooks or Excel, and mention any certifications or awards that you have received. Show that you are organized and have the ability to stay on top of deadlines and adhere to budgets.
A good objective for an entry level accountant should demonstrate your qualifications, highlight your strengths, and emphasize your enthusiasm for the field of accounting. With this information, you can position yourself as an ideal candidate for the role and have an effective resume that stands out from the competition.
How do you list Entry Level Accountant skills on a resume?
When applying for entry level Accountant positions, it is important to highlight the skills that you possess that would make you an ideal candidate. Your resume should demonstrate your knowledge of accounting principles, your ability to work with financial data, and your proficiency in using accounting software.
To list your Accountant skills on your resume, include a section titled "Accounting Skills". Here, you can include the core competencies that employers in the accounting field would look for in a candidate. Some of these may include:
Financial Analysis: The ability to analyze financial data and compile reports.
Accounts Payable: The ability to manage invoices, accounts, and payments.
Accounts Receivable: The ability to create and manage customer invoices.
Payroll: The ability to process employee salaries and taxes accurately.
Bookkeeping: The ability to track and maintain financial records.
Income Tax Preparation: The ability to prepare and file income tax returns for companies and individuals.
Auditing: The ability to accurately review financial statements and reports.
Financial Reporting: The ability to compile and present financial data in a clear and concise manner.
These are just some of the skills that employers may look for in an entry level Accountant. It is also important to highlight any relevant software knowledge you have, such as experience with QuickBooks or Excel. Finally, include any certifications or qualifications you have obtained, such as CPA or CMA certification, or an accounting degree.
By listing these skills on your resume, you will demonstrate to potential employers that you have the necessary qualifications to succeed as
What skills should I put on my resume for Entry Level Accountant?
When it comes to an entry-level accountant, it is important to highlight the right skills on your resume to make sure you are competitive in the job market. Accounting entry-level positions typically require strong organizational, communication, and technical skills. Additionally, having an understanding of accounting principles and financial practices is essential.
Organizational Skills
Accounting jobs are often quite detail-oriented, so having strong organizational skills is essential for success. Be sure to emphasize your ability to use technology to organize, schedule, and manage data.
Communication Skills
Accounting duties also involve a lot of communication with clients, coworkers, and management. Be sure to highlight your ability to effectively communicate through written and verbal communication. Your communication skills should also demonstrate your ability to evaluate problems and explain solutions.
Technical Skills
Having strong technical skills is essential for accounting jobs. Be sure to include any software or systems you are skilled in using, such as Microsoft Office, Excel, QuickBooks, or other financial software.
Accounting Principles and Practices
Your experience and understanding of accounting principles and practices should also be highlighted on your resume. This could include your knowledge of GAAP (Generally Accepted Accounting Principles) and financial reporting and analysis.
By emphasizing these skills on your resume, you can make sure you stand out to employers and have the best chance of landing an entry-level accounting position.
Key takeaways for an Entry Level Accountant resume
As an entry-level accountant, writing a resume can be a daunting task. After all, you want to make sure you stand out from the competition and demonstrate that you possess the skills and qualifications to be an effective and successful accountant. To help you create an effective resume, here are some key takeaways to keep in mind:
Be Specific: As an entry-level accountant, you may not yet have a wealth of experience to draw on. To make up for this, be sure to include specific details and accomplishments on your resume to demonstrate your skill set. This could include anything from a high GPA to any accounting courses you completed.
Detail Your Strengths: Make sure you highlight your accounting and financial aptitude by detailing your skills, such as accounting software proficiency, understanding of Generally Accepted Accounting Principles (GAAP), and financial analysis ability.
Quantify Your Achievements: Include any relevant numbers you can such as budget sizes you've worked with, departments or teams you've been a part of, or any awards you've received. This will help to give the employer an idea of your capabilities and level of experience.
Make It Visually Appealing: To make sure your resume stands out, use a simple and professional template. Include plenty of white space and keep your resume to one page in length.
By following these key takeaways, you can create an effective and attention-grabbing entry-level accountant resume. Good luck!
Let us help you build
your Resume!
Make your resume more organized and attractive with our Resume Builder