The task of writing a cover letter as a webmaster can be an exciting opportunity to showcase your skills and professional qualifications. It can also be a challenge to demonstrate your potential to potential employers, especially if you are unfamiliar with what is expected in the field. However, with the right guidance and a few key tips, you can create a compelling cover letter that reflects your qualifications and fits the job description. This guide will provide an overview of what is needed to write a successful webmaster cover letter, including a sample cover letter for reference.
If you didn't find what you were looking for, be sure to check out our complete library of cover letter examples.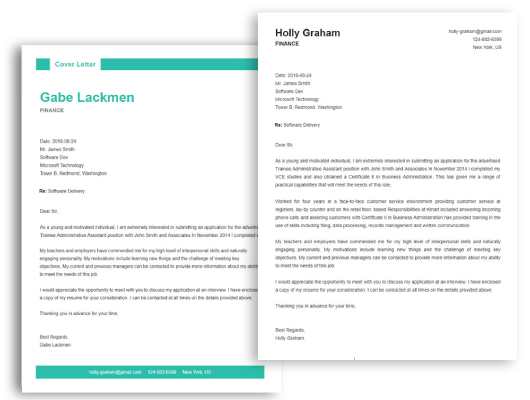 Start building your dream career today!
Create your professional cover letter in just 5 minutes with our easy-to-use cover letter builder!
Webmaster Cover Letter Sample
Dear [Name],
I am writing to apply for the position of Webmaster at [Company]. With my proven expertise in website management and maintenance, I am confident I can be a great asset to your organization.
For the past [Number] years, I have been employed as a Webmaster for [Company], where I have managed the daily operations of their website. During this time, I have gained extensive experience in web design, coding, content production and website optimization. I have also written HTML and CSS for websites, as well as developed and maintained various webpages.
In order to ensure the success of a website, I believe it is essential to stay up- to- date with the latest web trends and technologies. I am also well- versed in areas such as search engine optimization, web analytics, and security. I am also very familiar with the use of various web development tools and content management systems, such as WordPress.
The skills and experience I have acquired in my current position make me an ideal candidate for your Webmaster position. I am a fast learner and a team player with strong interpersonal and communication skills. Please review my attached resume for further details about my qualifications. I am confident I can contribute to the success of your company.
Thank you for your time and consideration. I look forward to the opportunity to discuss this position with you in more detail.
Sincerely,
[Name]
Looking to improve your resume? Our resume examples with writing guide and tips offers extensive assistance.
What should a Webmaster cover letter include?
A webmaster cover letter should include the following:
A clear and compelling introduction: Start your cover letter by introducing yourself and briefly explaining why you are writing.
A statement of your webmaster skills: Outline the skills you possess that make you the ideal candidate for the role.
Examples of your work: Show examples of webpages, or other webmaster experience and accomplishments that are relevant to the position.
Your contact information: Provide your contact information so the employer can reach you.
A call to action: End your letter by asking the employer to contact you to discuss the position further.
By following these tips, you can create a professional and effective webmaster cover letter that will help you stand out to employers and get you one step closer to landing your ideal job.
Webmaster Cover Letter Writing Tips
A webmaster cover letter is essential when applying for a webmaster position. It is often the first impression that a potential employer has of you, so it's important to make sure it's well written. Here are some tips to help you write an effective webmaster cover letter:
Start by introducing yourself and expressing your interest in the position. Make sure you include the job title in your introduction so that the employer knows what position you are applying for.
Research the company you're applying to and include relevant information in your letter. This shows the employer that you've done your homework and take the job seriously.
Describe the skills and qualifications that make you the best candidate for the job. Include specific examples of your webmaster experience and any relevant certifications or awards you've received.
Explain why you're the best choice for the job. Show the employer that you're confident in your ability to perform the duties and responsibilities of the position.
Use a professional and polite tone throughout the letter. Make sure you avoid any slang or casual language.
End your letter on a positive note by thanking the employer for considering you for the position.
By following these tips, you can ensure that your webmaster cover letter is professional and eye- catching. With the right approach, you can make an excellent first impression and increase your chances of being hired.
Common mistakes to avoid when writing Webmaster Cover letter
Making mistakes while writing your webmaster cover letter can be detrimental to your job application. To ensure that your application materials are up to date and give your best first impression to employers, here are common mistakes to avoid when crafting a webmaster cover letter:
Not including a cover letter: A cover letter is an important part of a webmaster's job application. It allows you to expand on your experience and qualifications and demonstrate your knowledge of the company and its products or services.
Being too generic: A generic cover letter is a huge red flag to employers. Make sure to tailor your cover letter to each job you apply for, highlighting relevant skills and experience.
Not proofreading: Errors in your cover letter can be very off- putting to employers. Make sure to proofread your cover letter multiple times before submitting it and get a friend or family member to review it as well.
Focusing on yourself: It is important to focus on your experience and skills, but your cover letter should also focus on how you can benefit the company. Make sure to address the employer's needs and what you could bring to the table.
Not researching the company: Researching the company you are applying to shows employers that you are serious about the role. Make sure to mention something about the company or its services in your letter and demonstrate your knowledge.
Being overly long: Keep your cover letter to one page and make sure it is concise and to the point. Employers do not have the time to read a long letter, so make sure to get your key points across in a few paragraphs.
Failing to follow instructions: Make sure to read the job description and application instructions carefully. If the employer has specified a certain format or length for the cover letter, make sure to follow it.
By avoiding these common mistakes, you can ensure that your webmaster cover letter is up to date and professional.
Key takeaways
A webmaster cover letter is an important tool for helping you to stand out from the competition and to land your desired job. The letter should include key information about your qualifications, experience, and skills that make you an ideal candidate for the position. Here are some key takeaways for writing an impressive webmaster cover letter:
Clearly demonstrate your qualifications for the job: When writing your cover letter, highlight your qualifications and experience that make you an ideal candidate for the position. Provide examples of your work and successes that demonstrate why you're the best fit for the job.
Make sure the letter is tailored to the specific role: Your cover letter should be tailored to the specific webmaster position you're applying for. Make sure to reference the job posting and highlight the skills and experiences that you have that will make you successful in the role.
Highlight your technical skills: As a webmaster, your technical skills are a key part of your qualifications. Make sure to highlight your experience and knowledge of web development, coding, HTML, JavaScript, and other technical aspects of web design.
Demonstrate your creative abilities: A key part of being a webmaster is having the creative skills to develop new ideas and concepts. Showcase your creative abilities in your cover letter and provide examples of your work that demonstrate your innovative thinking.
Focus on your communication and problem- solving skills: As a webmaster, you must be able to effectively communicate with teammates, managers, and other stakeholders. Highlight your communication and problem- solving skills in your cover letter and provide examples of how you have resolved issues in the past.
Show your passion for web development: Demonstrate your passion for web development and your enthusiasm for the position in your cover letter. Show your prospective employer that you are excited about the opportunity and that you're the ideal candidate for the job.
Frequently Asked Questions
1.How do I write a cover letter for an Webmaster job with no experience?
Writing a cover letter for an Webmaster job with no experience can be a challenge. However, it is still possible to present yourself in a positive light that will help you stand out from other applicants. Start by focusing on the skills and knowledge you have rather than your lack of experience. Explain how your education and any other relevant experience have prepared you for the role. Show that you understand what webmastering is, and emphasize your eagerness to learn more. Highlight your technical, problem- solving and organizational skills and draw on your research about the company and their webmaster needs. Finally, express your eagerness to put your skills to work and demonstrate your enthusiasm for the job.
2.How do I write a cover letter for an Webmaster job experience?
Writing a cover letter for an Webmaster job with experience can be easier than writing one with no experience. Start by highlighting your previous experience as an Webmaster, including any successes you've had or projects you completed. Talk about your technical skills and any experience you have in managing websites, coding, and troubleshooting. Show that you understand the job requirements and explain why you are a good fit for the position. Focus on the value you can bring to the organization, such as your webmastering skills and knowledge of the latest technologies. Finally, conclude by expressing your enthusiasm and eagerness to use your expertise to benefit the company.
3.How can I highlight my accomplishments in Webmaster cover letter?
Highlighting your accomplishments in a Webmaster cover letter is a great way to stand out from other applicants. Start by explaining the results you have achieved in your previous roles that relate to webmastering. For example, you could talk about any websites or web applications you have developed and any improvements you have made to existing websites. You could also highlight any awards you have won or any projects you have completed that demonstrate your technical and problem- solving skills. Describe how these accomplishments helped the company achieve their goals, and how this experience can help you in the role you are applying for.
4.What is a good cover letter for an Webmaster job?
A good cover letter for an Webmaster job should demonstrate your interest in the job and present your relevant skills and experience. Start by expressing your enthusiasm for the role and explain how your experience and education have prepared you for it. Highlight your technical skills, problem- solving abilities, and any experience you have in webmastering. Show that you understand the job requirements and explain why you are a good fit for the position. Finally, conclude by expressing your eagerness to use your skills and knowledge to benefit the company.
In addition to this, be sure to check out our cover letter templates, cover letter formats, cover letter examples, job description, and career advice pages for more helpful tips and advice.
Let us help you build
your Cover Letter!
Make your cover letter more organized and attractive with our Cover Letter Builder