Writing a cover letter for your next Drupal Developer role can be an exciting yet challenging task. It gives you the opportunity to showcase your development and communication skills while highlighting your enthusiasm for the position. Crafting an effective cover letter is essential to make a good impression on your potential employer and increase your chances of being selected for an interview. This guide will provide you with helpful tips and a sample cover letter to guide you in the right direction.
If you didn't find what you were looking for, be sure to check out our complete library of cover letter examples.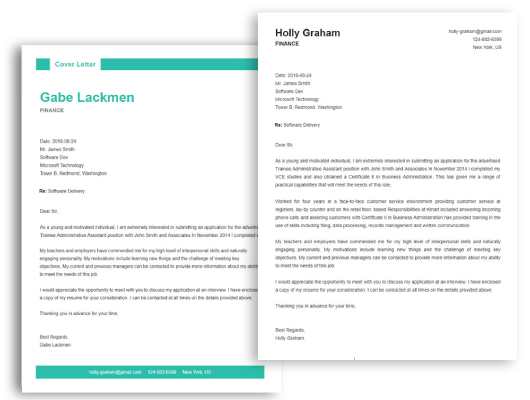 Start building your dream career today!
Create your professional cover letter in just 5 minutes with our easy-to-use cover letter builder!
Drupal Developer Cover Letter Sample
Dear [Hiring Manager],
I am writing to express my strong interest in the Drupal Developer role at [Company]. With a strong understanding of design, front end development, and CMS frameworks, I am confident I can make a meaningful contribution to your organization.
My experience and expertise as a Drupal developer is extensive. Over the past four years, I have had the opportunity to develop and implement several mission- critical projects for a variety of clients. I have also improved existing Drupal websites by adding custom elements, optimizing performance, and troubleshooting user- experience issues. In addition, I have developed custom modules and have implemented multiple third- party integrations.
I am skilled in creating custom themes, developing complex modules and components, and creating custom features. I am also an expert in deploying and managing Drupal servers, including Apache and Nginx. Furthermore, I have a deep understanding of HTML, CSS, SASS, JavaScript, and other front- end technologies.
I am very enthusiastic about the position and believe I am well- suited for the role. I am confident that I can contribute to the success of [Company] as a Drupal Developer. I look forward to discussing my qualifications in further detail.
Thank you for your time and consideration.
Sincerely,
[Your Name]
Looking to improve your resume? Our resume examples with writing guide and tips offers extensive assistance.
What should a Drupal Developer cover letter include?
A Drupal Developer cover letter should include a brief and engaging introduction of yourself, your qualifications, and why you are a perfect fit for the position. It should also highlight your experience and any relevant skills and accomplishments that are related to the job. Additionally, it is important to include a demonstration of your knowledge of Drupal and the technologies that power it.
You should also express your enthusiasm and commitment to the job, as well as provide examples of any previous work you have done with Drupal that are applicable to the position. Finally, be sure to mention how you plan to continue to stay up to date with the latest technologies related to Drupal. By providing a comprehensive overview of your experience and reasons for wanting the job, your cover letter can give you a competitive edge when applying for a Drupal Developer job.
Drupal Developer Cover Letter Writing Tips
Writing a cover letter for a Drupal developer job can be a daunting task. In order for your letter to stand out from the competition, there are a few tips to keep in mind.
Start strong: Make sure your opening paragraph is compelling enough for the reader to continue reading. Try to create an inviting tone that will make the reader interested in learning more about your skills and experiences.
Explain your Drupal expertise: Provide clear examples of your experience with Drupal and other related technologies. Explain the projects you've been involved in, the challenges you've faced, and the successes you've achieved.
Highlight your skills: Focus on the skills that make you stand out from the competition. Don't just list your technical abilities, but also explain how they will benefit the company.
Show your enthusiasm: Demonstrate your passion for Drupal and your interest in the company. Show that you are eager to use your skills to help the company succeed.
Proofread: Make sure your cover letter is free of any spelling or grammar errors. A well- written letter is key to making a good impression.
By following these tips, you can create an effective cover letter for a Drupal developer position. Good luck!
Common mistakes to avoid when writing Drupal Developer Cover letter
Cover letters often go overlooked in the job search process, yet they remain an essential part of how a job applicant makes their first impression on a potential employer. For Drupal developers, crafting a successful cover letter that outlines their experience and qualifications is essential for getting a foot in the door. To help you make a great first impression, here are some common mistakes to avoid when writing a Drupal developer cover letter:
Not Tailoring Your Letter to the Job: A common mistake many job seekers make is to send a generic cover letter for each job they apply for. It's important to tailor each letter to the specific job you're applying for, highlighting the relevant experience and skills that make you a great fit for the position.
Not Showing Your Enthusiasm: A cover letter should be more than a formal introduction of yourself and a laundry list of your skills. Showing your enthusiasm and excitement for the job is important in expressing your interest and convincing the employer that you're the ideal person to hire.
Not Following Directions: Employers often provide instructions for applying to a position. If the instructions say to include certain information in your cover letter, make sure to include it. Not following instructions can be a major red flag for an employer.
Not Proofreading: Make sure to read over your cover letter and correct any errors. Typos, grammar mistakes, and spelling errors can make you look unprofessional and show the employer that you don't take the job seriously.
By following these tips and avoiding the common mistakes above, you'll be able to write a great cover letter that will help you stand out from the competition.
Key takeaways
A Drupal Developer cover letter is an essential part of a successful job application. It gives hiring managers an insight into who you are and why you're the ideal candidate for the job you're applying for. Here are some key takeaways for writing an impressive Drupal Developer cover letter:
Demonstrate your knowledge and enthusiasm for Drupal development: Highlight your experience and knowledge with Drupal in your cover letter. Talk about why you're passionate about Drupal development and why you think it's the best platform for building websites and apps.
Showcase your technical skills: Talk about your technical skills, such as coding languages you're familiar with, and how you've used them in the past. Showcase your accomplishments and any awards you've won related to Drupal development.
Make sure your cover letter is tailored to the position: Take the time to customize your cover letter to the job you're applying for. Read through the job ad and highlight the key skills and requirements in your cover letter.
Be succinct and to the point: Your cover letter should be concise and to the point. Don't try to cram in too much information, as this will just make it difficult to read.
Focus on accomplishments, not responsibilities: Instead of outlining your day- to- day responsibilities, focus on the accomplishments you've achieved in your career. Highlighting your successes will help make you stand out from the crowd.
Use keywords and industry terminology: Make sure to sprinkle in some of the industry terminology and keywords related to Drupal development. This will help you show that you understand the industry and give you an edge over other candidates.
Proofread and edit: Don't forget to proofread and edit your cover letter before submitting it. Make sure there are no typos or grammatical errors, as this can make you look unprofessional
Frequently Asked Questions
1. How do I write a cover letter for an Drupal Developer job with no experience?
Writing a cover letter for a Drupal Developer job with no experience can be a daunting task. However, you can still create an effective cover letter by keeping a few key elements in mind. Start by emphasizing your technical skills, such as your knowledge of HTML, CSS, JavaScript and MySql. Additionally, be sure to highlight any soft skills you possess, such as problem- solving and communication. Demonstrating your enthusiasm and passion for technology will also help make your cover letter stand out. Finally, be sure to include relevant coursework, volunteer experience or extracurricular activities that demonstrate your commitment to technology and development.
2. How do I write a cover letter for an Drupal Developer job experience?
Writing a cover letter for a Drupal Developer job with experience requires you to highlight your professional qualifications and experience. Start by discussing your educational background, such as any degrees or certifications you may have earned. Additionally, discuss your professional experience, showcasing your knowledge and understanding of Drupal development and the development process. Be sure to include any relevant projects you have completed, emphasizing problem- solving and team work. Finally, be sure to mention any awards or recognition you may have received in the field.
3. How can I highlight my accomplishments in Drupal Developer cover letter?
Highlighting your accomplishments in a Drupal Developer cover letter can help separate you from the competition. Start by discussing awards, recognition and certifications you have earned in the field. Additionally, emphasize any major projects you have successfully completed, showcasing your understanding of the development process and problem- solving skills. Discuss any coursework or volunteer experience you may have in the field, demonstrating your commitment to technology and development. Finally, be sure to include any extracurricular activities you have participated in that have helped expand your knowledge of Drupal development.
4. What is a good cover letter for an Drupal Developer job?
A good cover letter for a Drupal Developer job should be tailored to the specific position. Start by discussing your educational background, highlighting any degrees or certifications you may have earned. Additionally, emphasize your professional experience, discussing any projects you have completed and any awards or recognition you may have received in the field. Be sure to highlight your technical skills, such as your knowledge of HTML, CSS, JavaScript and MySql. Additionally, showcase your soft skills, such as problem- solving, team work, and communication. Finally, be sure to discuss any relevant coursework, volunteer experience or extracurricular activities that demonstrate your commitment to technology and development.
In addition to this, be sure to check out our cover letter templates, cover letter formats, cover letter examples, job description, and career advice pages for more helpful tips and advice.
Let us help you build
your Cover Letter!
Make your cover letter more organized and attractive with our Cover Letter Builder