Writing a cover letter for a training consultant position can be an intimidating task. However, by utilizing the right resources and following some key guidelines, you can put together a strong and effective cover letter that is sure to get the attention of hiring managers. In this guide, we will provide an example of a training consultant cover letter along with valuable tips and advice on how to properly compose your own. With this guidance, you can be sure that your cover letter stands out among the rest.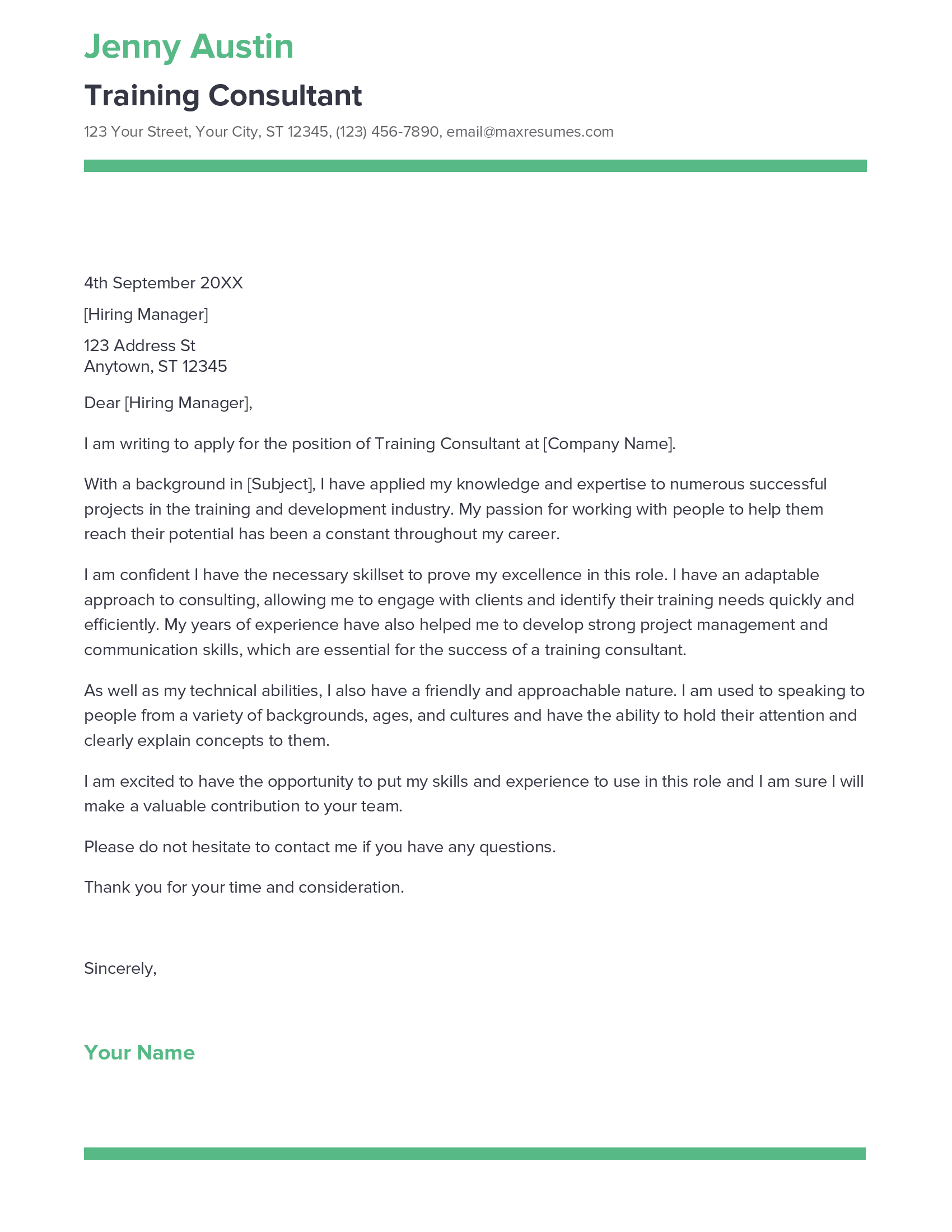 Download the Cover Letter Sample in Word Document – Click Below
If you didn't find what you were looking for, be sure to check out our complete library of cover letter examples.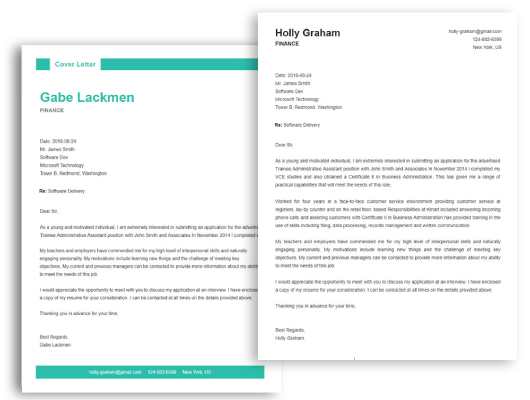 Start building your dream career today!
Create your professional cover letter in just 5 minutes with our easy-to-use cover letter builder!
Training Consultant Cover Letter Sample
Dear Hiring Manager,
I am writing to apply for the position of Training Consultant at [Company Name].
With a background in [Subject], I have applied my knowledge and expertise to numerous successful projects in the training and development industry. My passion for working with people to help them reach their potential has been a constant throughout my career.
I am confident I have the necessary skillset to prove my excellence in this role. I have an adaptable approach to consulting, allowing me to engage with clients and identify their training needs quickly and efficiently. My years of experience have also helped me to develop strong project management and communication skills, which are essential for the success of a training consultant.
As well as my technical abilities, I also have a friendly and approachable nature. I am used to speaking to people from a variety of backgrounds, ages, and cultures and have the ability to hold their attention and clearly explain concepts to them.
I am excited to have the opportunity to put my skills and experience to use in this role and I am sure I will make a valuable contribution to your team.
Please do not hesitate to contact me if you have any questions.
Thank you for your time and consideration.
Sincerely,
[Your Name]
Looking to improve your resume? Our resume examples with writing guide and tips offers extensive assistance.
What should a Training Consultant cover letter include?
A Training Consultant cover letter should be tailored to the specific role and company to which you are applying and should provide an introduction to your qualifications, skills, experience, and accomplishments. The cover letter should showcase why you are the best person for the job, and why the company should hire you.
Your cover letter should include the following components:
An attention- grabbing introduction that briefly outlines why you are the perfect candidate for the job
A list of relevant qualifications and experience that set you apart from other candidates
Examples of how your past experience can be an asset to the company
An explanation of why you are passionate about training and consulting
A closing statement thanking the hiring manager for their time and consideration
In addition, the cover letter should be professional, well- formatted, and error- free. Taking the time to edit and proofread your cover letter is an important step that should not be overlooked. A great training consultant cover letter should leave the hiring manager confident that you are the ideal candidate for the job and eager to learn more about you.
Training Consultant Cover Letter Writing Tips
Every job seeker needs to stand out from the crowd in order to get their foot in the door. The cover letter is one of the first ways to do this, so it's important to make sure yours is perfect. Here are some tips for writing a great training consultant cover letter:
Start by introducing yourself and stating why you're interested in the position. Make sure to include key skills that relate to the job description.
Be sure to emphasize your experience in training and consulting, and highlight any successes you've had in this field.
Include details that demonstrate your knowledge of the industry and your ability to adapt to different environments.
Showcase your problem- solving and communication skills, and provide examples of how you've used them to positively impact organizations.
Demonstrate your ability to work with groups of people and your ability to provide tailored solutions.
Explain what sets you apart from other candidates, such as a unique approach or ability to work with limited resources.
Finish your letter with a call to action, such as asking for an interview or requesting a meeting to discuss the job further.
These tips will help you craft a compelling cover letter that will grab the attention of employers. With a little bit of extra effort, you can ensure your application stands out from the rest. Good luck!
Common mistakes to avoid when writing Training Consultant Cover letter
Writing a cover letter to apply for a role as a training consultant is an important step in the job search process. A cover letter should be crafted with thought and care. It should be tailored to the role, demonstrate knowledge of the organization, and show enthusiasm for the job. To ensure that your cover letter is effective, there are a few common mistakes to avoid.
Not researching the organization: Before you start writing your cover letter, take some time to research the organization. Make sure you understand the organization's mission and values, and that you can identify the skills and qualities they are looking for in a training consultant.
Not customizing your letter: A generic cover letter won't make the best impression. It's important to customize your letter to the organization and role. You should reference specific skills and experience you possess that make you a good fit for the job.
Not emphasizing the right skills: It's important to choose the right skills to emphasize in your cover letter. Think about the unique qualities and experience that you possess that would be of value to the organization as a training consultant. Make sure to emphasize those qualities.
Not including relevant examples: Demonstrate your skills and expertise by providing concrete examples of your work. Give details about projects you have taken on, successes you have achieved, and lessons you have learned.
Not avoiding errors: Grammar, spelling, and punctuation errors give the impression that you are careless and sloppy. Make sure to proofread your cover letter carefully and have someone else take a look as well.
By avoiding these common mistakes, you can create a cover letter that is compelling, professional, and memorable.
Key takeaways
Writing an effective Training Consultant cover letter is key to getting your resume noticed and winning the job. Here are the key takeaways for writing a winning Training Consultant cover letter:
Start with a strong opening statement that quickly captures the reader's attention and showcases your enthusiasm for the position.
Outline your core skills and qualifications, emphasizing your most relevant experience and background.
Highlight your ability to design, develop and deliver innovative and engaging training programs.
Demonstrate your knowledge of the training industry and the specific needs of the company.
Showcase your communication, organizational, and problem- solving skills.
Demonstrate your ability to work with a team and independently.
Include examples of successful programs and initiatives you have managed or delivered.
End your cover letter with a call to action to prompt the reader to review your resume and consider you for the position.
By employing these key takeaways in your cover letter, you will be sure to make a lasting impression on the hiring manager and increase your chances of getting the job.
Frequently Asked Questions
1.How do I write a cover letter for an Training Consultant job with no experience?
Writing a cover letter for a Training Consultant job with no experience can be a challenge. However, there are several strategies you can use to make a strong impression. Firstly, focus on your transferrable skills and knowledge. Even if you don't have experience in the specific field you are applying for, you may have experience in other fields or have knowledge that you can use to your advantage. Secondly, highlight any work or volunteer experiences that show your interpersonal skills, such as working in customer service or in a team environment. Finally, make sure to emphasize your enthusiasm and eagerness to learn, which will show the employer that you are interested in the position and eager to learn more.
2.How do I write a cover letter for an Training Consultant job experience?
When writing a cover letter for a Training Consultant job with experience, you should emphasize your accomplishments in the role. Start your letter by discussing the skills you have developed in the role, and then provide examples of how you have used those skills in the past. Talk about any awards or recognitions that you have received for your performance, and any challenges you have successfully overcome. Additionally, you can provide examples of successes you have achieved in your role, such as a project that you have managed from start to finish. Finally, demonstrate your enthusiasm for continuing to work as a Training Consultant.
3.How can I highlight my accomplishments in Training Consultant cover letter?
Highlighting your accomplishments in a Training Consultant cover letter is all about showing how you have made a difference in the roles you have held. Detail any awards or recognition you have received for your performance. Additionally, provide examples of projects you have managed successfully or challenges you have addressed. Describe the results achieved, such as increased efficiency or cost savings. Showcase any creative or innovative approaches you have taken in your work. Finally, highlight any special knowledge or skills you have that you can bring to the job.
4.What is a good cover letter for an Training Consultant job?
A good cover letter for a Training Consultant job should emphasize your knowledge and expertise in the field. Focus on the skills and experiences that make you an ideal candidate for the position. Additionally, show why you are passionate about the job and what you can bring to the role. Explain how your past experiences have prepared you for this position, and provide concrete examples of accomplishments. Finally, demonstrate your enthusiasm for the position and show that you are eager to learn more about the role and the organization.
In addition to this, be sure to check out our cover letter templates, cover letter formats, cover letter examples, job description, and career advice pages for more helpful tips and advice.
Let us help you build
your Cover Letter!
Make your cover letter more organized and attractive with our Cover Letter Builder