Writing a teacher cover letter is an important step to securing the position you desire, and is an opportunity to highlight your credentials. It is important to create an engaging and thoughtful cover letter that accurately portrays your capabilities for the new position. This guide outlines the key points to include in your teacher cover letter, as well as an example to help you gain a better understanding of how to create a strong cover letter. With this guide, you can feel confident that your cover letter will accurately display your qualifications and make a positive impression.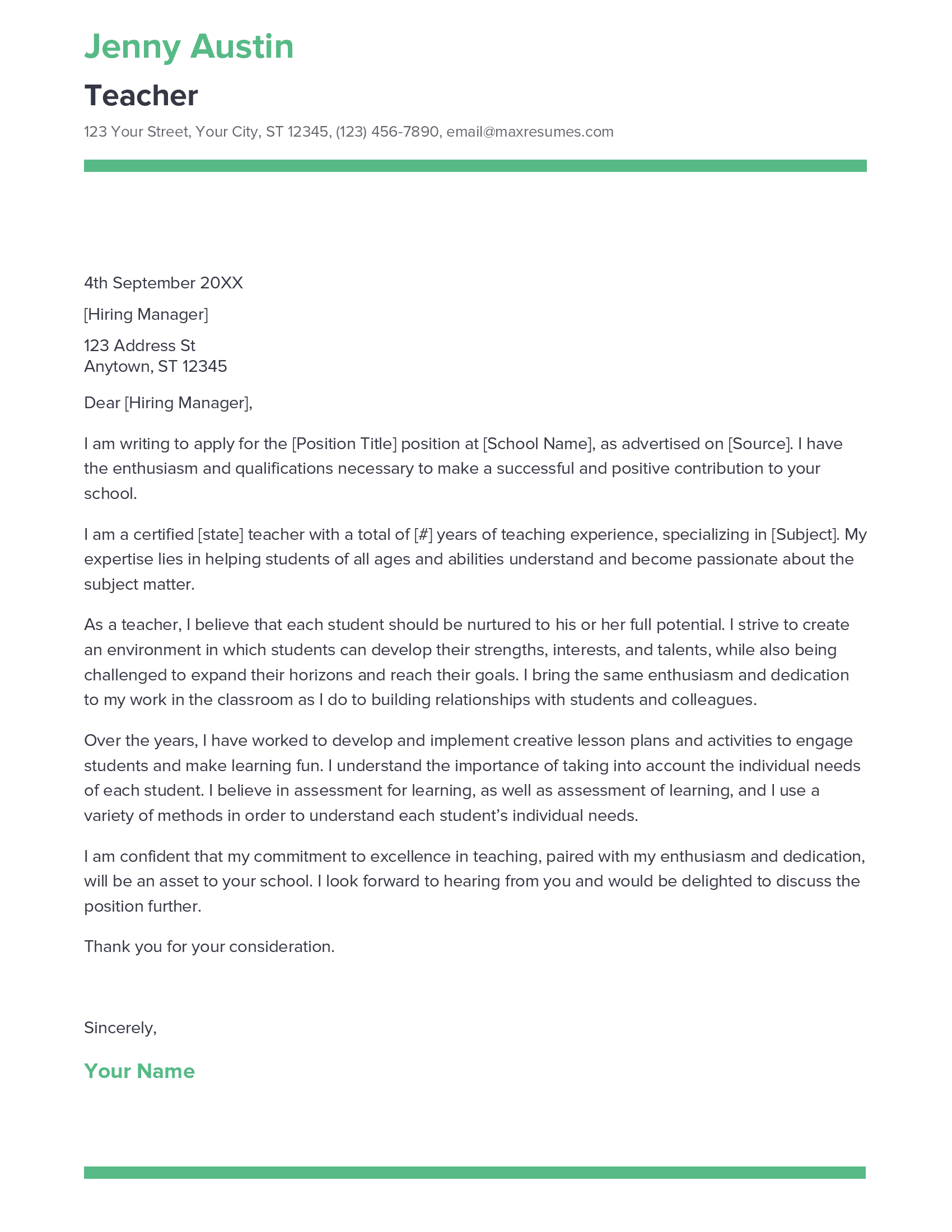 Download the Cover Letter Sample in Word Document – Click Below
If you didn't find what you were looking for, be sure to check out our complete library of cover letter examples.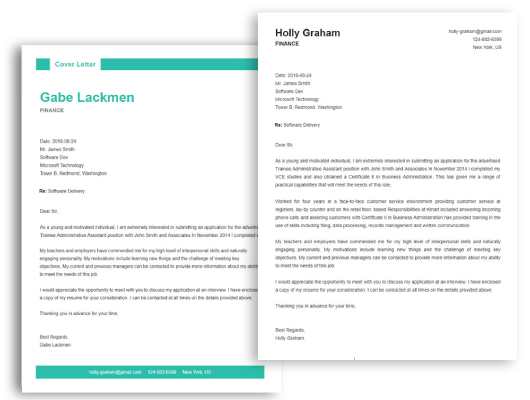 Start building your dream career today!
Create your professional cover letter in just 5 minutes with our easy-to-use cover letter builder!
Teacher Cover Letter Sample
Dear [Hiring Manager],
I am writing to apply for the [Position Title] position at [School Name], as advertised on [Source]. I have the enthusiasm and qualifications necessary to make a successful and positive contribution to your school.
I am a certified [state] teacher with a total of [#] years of teaching experience, specializing in [Subject]. My expertise lies in helping students of all ages and abilities understand and become passionate about the subject matter.
As a teacher, I believe that each student should be nurtured to his or her full potential. I strive to create an environment in which students can develop their strengths, interests, and talents, while also being challenged to expand their horizons and reach their goals. I bring the same enthusiasm and dedication to my work in the classroom as I do to building relationships with students and colleagues.
Over the years, I have worked to develop and implement creative lesson plans and activities to engage students and make learning fun. I understand the importance of taking into account the individual needs of each student. I believe in assessment for learning, as well as assessment of learning, and I use a variety of methods in order to understand each student's individual needs.
I am confident that my commitment to excellence in teaching, paired with my enthusiasm and dedication, will be an asset to your school. I look forward to hearing from you and would be delighted to discuss the position further.
Thank you for your consideration.
Sincerely,
[Your Name]
Looking to improve your resume? Our resume examples with writing guide and tips offers extensive assistance.
What should a Teacher cover letter include?
A teacher cover letter should include the following information:
A statement of your interest in the position and a brief description of why you are a good fit for the job.
Relevant experience, education, and skills that make you a qualified candidate.
Examples of how your previous teaching experience has prepared you for the position.
An understanding of how your skills and qualifications match the position's requirements.
An understanding of the school's mission and values and how you can contribute to achieving them.
Acknowledgement of the school's achievements and how you can help them improve.
An appreciation for how the position fits into the greater school community.
A brief summary of how you plan to use your experience, education, and skills to benefit the students, faculty, and school.
A professional closing statement or a request for an interview.
Teacher Cover Letter Writing Tips
Writing a cover letter for a teaching position can be tricky, but it helps to have an idea of what should be included in the letter.
It's important to include the right details to ensure your letter stands out. Here are some tips to help you get started:
Research the school and its history. Familiarize yourself with their values and mission statement. This will help you tailor your letter to their needs.
Focus on the qualifications listed in the job posting. Make sure to highlight any relevant qualifications that you possess.
Make sure to include any special skills or certifications that you have that are not listed in the job description.
Use a professional tone in your letter. Avoid using overly casual language or slang.
Structure your letter properly. Make sure to include an introductory paragraph, body paragraphs, and a conclusion.
Make sure to proofread your letter. Check for any spelling or grammar errors.
Make sure to address your letter to the correct person. If possible, include the person's name in the salutation.
These tips will help you craft a strong cover letter that will help you stand out to potential employers. Good luck!
Common mistakes to avoid when writing Teacher Cover letter
Cover letter is an important part of any job application, and teachers are no exception. An effective teacher cover letter can help a teacher stand out from the crowd and secure a dream job. However, there are some common mistakes job seekers make when writing their teacher cover letter that could mean the difference between landing the job and missing out.
In this blog post, we will discuss some of the most common mistakes to avoid when writing a teacher cover letter.
Not Tailoring Your Letter: Avoid making the mistake of sending out a generic teacher cover letter to multiple employers. Make sure to tailor your letter by researching the school, highlighting the skills and experiences that match the job requirements, and emphasizing why you would be a great fit for the position.
Not Using Keywords: When applying for a teaching job, it is important to use keywords from the job description. Employers use applicant tracking systems (ATS) to scan cover letters for keywords related to the job description. Therefore, make sure to use relevant keywords from the job description in your cover letter and customize it for each job.
Not Including a Call to Action: Don't forget to include a call to action in your cover letter. End your letter by thanking the employer for their time and including a clear call to action, such as asking for an interview or providing your contact information.
Making Grammar and Spelling Mistakes: You want your teacher cover letter to be professional and well- written, so pay attention to the little things. Make sure to double check your cover letter for grammar, spelling, and punctuation errors before you hit send.
Not Showcasing Your Personality: Lastly, don't forget to showcase your personality in your cover letter. A teacher cover letter should be more than just a list of your qualifications— it should also convey your enthusiasm for teaching and your passion for the subject you plan to teach.
Key takeaways
Writing an impressive teacher cover letter can be overwhelming. With so much to include and keep in mind, it's easy to get lost in the details of writing a successful letter. Here are some key takeaways to keep in mind when writing a teacher cover letter:
Stand out from the crowd- Your cover letter should provide a unique insight into your skills, experience and qualifications. Be sure to highlight any relevant experiences and qualifications, as well as provide examples of how your teaching methods can benefit the school.
Show passion and enthusiasm- Be sure to showcase your passion for teaching and your enthusiasm for the role. This can be done through vivid descriptions, anecdotes and examples of success in your teaching career.
Tailor it to the job- Your cover letter should be tailored specifically to the job you are applying for. Research the school, its mission and its goals to ensure that your letter is in line with the school's expectations.
Keep it concise and organized- Your cover letter should be no more than one page. Keep it organized and make sure that all important points are highlighted succinctly.
Proofread- Although it may seem obvious, proofreading your letter is essential. Make sure that there are no spelling or grammatical errors, and that your letter is clear and concise.
Following these key takeaways will help ensure that your teacher cover letter is as impressive as possible. By taking the time to craft a thoughtful and well- written letter, you can make a lasting impression on the school and increase the chances of getting an interview.
Frequently Asked Questions
1 How do I write a cover letter for an Teacher job with no experience?
Writing a .cover letter for a teaching job with no experience can be a challenging task. However, there are certain things you can do to make your cover letter stand out. First, make sure to introduce yourself and explain why you are interested in the position. Then, provide examples of your skills and qualifications that make you the ideal candidate for the job. Additionally, mention any volunteer or internship experiences you have had that may be related to teaching. Finally, demonstrate your enthusiasm for the job and showcase your commitment to the teaching profession.
2. How do I write a cover letter for an Teacher job experience?
Writing a cover letter for a teaching job with experience should include a few key elements. Start by introducing yourself and clearly stating which position you are applying for. Then, highlight any relevant experience you have acquired, such as from previous teaching jobs or volunteering opportunities. Provide specific examples of your accomplishments, such as designing new curriculums or developing innovative teaching strategies. Be sure to explain why you are well- suited for the position and provide contact information so the reader can easily follow up with you.
3. How can I highlight my accomplishments in Teacher cover letter?
When highlighting your accomplishments in a teacher cover letter, it is important to focus on specific successes. Highlight any awards you have won or recognition you have received for your teaching performance. Additionally, provide examples of how you have gone above and beyond in your role, such as successfully implementing new policies or developing creative lesson plans. By providing concrete details of your accomplishments, you can demonstrate to the reader why you are an excellent candidate for the job.
4. What is a good cover letter for an Teacher job?
A good cover letter for a teaching job should demonstrate your enthusiasm and ability to meet the position's requirements. Start by introducing yourself and clearly stating which position you are applying for. Then, discuss your qualifications, highlighting your relevant experience, such as previous teaching positions or volunteering opportunities. Additionally, provide specific examples of your accomplishments, such as designing curriculums or developing innovative strategies. Finally, express your enthusiasm for the position and show your commitment to the teaching profession.
In addition to this, be sure to check out our cover letter templates, cover letter formats, cover letter examples, job description, and career advice pages for more helpful tips and advice.
Let us help you build
your Cover Letter!
Make your cover letter more organized and attractive with our Cover Letter Builder