Writing a cover letter as a Wellsite Geologist can be a challenging task, especially if you are a recent graduate or have limited experience. However, following a few simple guidelines can help you craft an effective letter that will get you noticed. In this guide, we'll provide you with tips on how to write a successful Wellsite Geologist cover letter and provide you with an example to use as a template. With this handy guide, you'll be well on your way to creating the perfect cover letter and getting your dream job.
If you didn't find what you were looking for, be sure to check out our complete library of cover letter examples.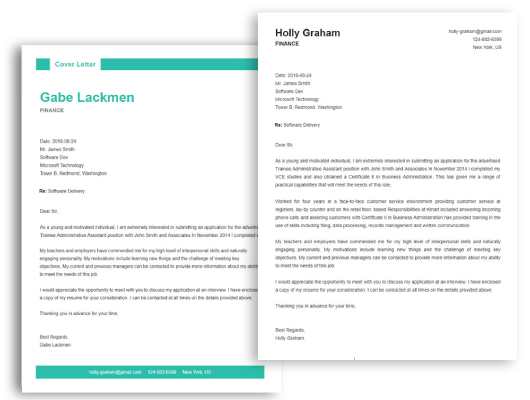 Start building your dream career today!
Create your professional cover letter in just 5 minutes with our easy-to-use cover letter builder!
Wellsite Geologist Cover Letter Sample
Dear [Hiring Manager],
I am writing to express my interest in the position of Wellsite Geologist that your company has recently advertised.
I am a highly motivated and certified Professional Geologist with over 8 years of experience in the field. I have a Bachelor's degree in Geology and have recently completed my Master's degree in Petroleum Geology. During my studies, I gained extensive knowledge and hands- on experience in research and field work in many different geological scenarios.
I possess extensive knowledge of geological principles and have an outstanding range of experience in geological surveying, geological mapping, geological sampling and analysis, geophysical surveying and seismic interpretation.
I have worked on different projects as a Wellsite Geologist and have a very good working knowledge of the drilling process, geology and well log interpretation, subsurface mapping, and formation evaluation. I have good experience of conducting onsite operations, monitoring, and evaluating drilling activities, cutting and core samples, and well site operations. I also have experience of preparing final logs and reports for the projects.
I am an organized and hardworking professional with excellent communication and interpersonal skills. I am confident that I would make an excellent addition to your team.
Please find enclosed my resume for your review. I look forward to hearing from you and discussing this opportunity further.
Sincerely,
[Your Name]
Looking to improve your resume? Our resume examples with writing guide and tips offers extensive assistance.
What should a Wellsite Geologist cover letter include?
A wellsite geologist cover letter should provide a clear and concise introduction to a prospective employer. It should highlight your qualifications and experience in the field of geology, as well as your enthusiasm and passion for the work.
In addition to outlining your relevant skills, the cover letter should emphasize your ability to collect, analyze, and interpret geological data and to report results in a clear and accurate manner. It is also important to emphasize any experience you have in working with teams of other geologists, as well as any experience you have in preparing detailed reports.
The cover letter should also include a brief summary of the specific skills and experience that make you an ideal candidate for the position. This should include your knowledge of geological software packages and laboratory techniques, as well as any experience you have in the field.
Finally, the cover letter should end with an expression of your enthusiasm for the position and a brief statement of why you believe you would be an excellent fit for the role, based on your qualifications, experience, and knowledge.
Wellsite Geologist Cover Letter Writing Tips
Writing a wellsite geologist cover letter can be a daunting task. This letter is an opportunity for you to introduce yourself and explain to an employer why you are the right fit for their company. Here are some tips to help you write the perfect cover letter:
Start by researching the company and the position you're applying for. By understanding the position and the company, you can tailor your cover letter to show your knowledge and interest in the organization.
Make sure to include your qualifications and experience relevant to the position. Be sure to highlight any certifications or awards that you have received that make you qualified for the job.
Use a professional and concise tone throughout the letter. Employers want to know that you are serious about the job and that you have the qualifications and experience necessary for the job.
Address any specific requirements for the position. If the job requires specific technical skills, be sure to highlight them in your cover letter.
Proofread your cover letter for grammar and spelling errors. This is important to ensure that the letter is professional and error- free.
End the letter with a call to action that encourages the employer to review your resume and consider you for the position.
Common mistakes to avoid when writing Wellsite Geologist Cover letter
Writing a wellsite geologist cover letter can be a daunting task. After all, you are trying to stand out from the crowd in order to get your foot in the door. Here are some common mistakes to avoid while writing your cover letter that could be the difference between getting an interview and your letter being overlooked:
Not tailoring your cover letter to the job description: Your cover letter should be tailored to the job you are applying for. Make sure to highlight any skills you have that the job description calls for. Show that you've taken the time to read and understand the job, and that you are a good fit for the position.
Not mentioning your achievements: You may be tempted to focus on the technical skills and systems you are familiar with, but don't forget to talk about your achievements as well! Showcase any successes or awards you have earned that make you stand out as a wellsite geologist.
Being too generic: Generic is not exciting. Make sure your cover letter is engaging and specific. Show that you understand the company culture and what sets you apart from the competition.
Using too much industry jargon: While it is important to use the right terminology, it is also important to avoid using too much industry jargon. Make sure to explain the terms you use and why they are important to the position.
Not having a clear call to action: Make sure to finish your cover letter with a clear call to action. Explain why you are interested in the job and why you think you are the best person for the position.
Key takeaways
Writing an effective cover letter for a Wellsite Geologist position requires specific knowledge of the industry and its demands. As such, it is important to understand the key takeaways for writing an impressive Wellsite Geologist cover letter. Here are some of the key points to consider when crafting your cover letter:
Highlight Your Expertise: Your cover letter should emphasize your expertise and qualifications as a Wellsite Geologist. This could include your experience in the industry, relevant training or certifications, and any technical knowledge or skills you possess.
Explain Your Professional Goals: Demonstrate your understanding of the industry and the role you are applying for by explaining your professional goals and how they align with the company's objectives.
Show Enthusiasm and Passion: Show the hiring manager that you are passionate about the work by expressing your enthusiasm for the job.
Use Professional Language: Make sure to avoid casual language and slang and use professional language when possible.
Proofread and Edit: This is an important key takeaway for any cover letter. Make sure to proofread and edit your letter for grammar, spelling and punctuation errors.
By following these key takeaways, you can ensure your cover letter is well- written and impressive to the hiring manager. By emphasizing your expertise and expressing your enthusiasm and professionalism, you can stand out from other job applicants and increase your chances of securing your dream job.
Frequently Asked Questions
1. How do I write a cover letter for an Wellsite Geologist job with no experience?
Writing a cover letter for a Wellsite Geologist job without any experience can be a daunting task. However, it is important to make sure you include all the necessary information and provide a professional tone. Start your letter by introducing yourself and your interest in the job. Be sure to provide a detailed explanation of your education and any relevant volunteer or internship experience. Mention any skills or knowledge you possess that you believe would be beneficial to the position. Most importantly, make sure to make a connection between your interests, abilities, and the position.
2. How do I write a cover letter for an Wellsite Geologist job experience?
When writing a cover letter for a Wellsite Geologist job with experience, start by reiterating your interest in the position. Be sure to highlight relevant experience and qualifications that make you a great candidate. Provide details about your past work and explain how your experience could benefit the role. Discuss the skills and knowledge you have acquired during your professional career and how you can use them in the job. Show the employer how passionate you are about the position and how you can use your past experience to the benefit of the organization.
3. How can I highlight my accomplishments in Wellsite Geologist cover letter?
Highlighting your accomplishments in a Wellsite Geologist cover letter is important for demonstrating your suitability for the job. Begin by mentioning any awards, certifications, or qualifications you have obtained. Describe any projects you have completed that relate to the job and include any successes you have experienced. Discuss the accomplishments you have achieved and how they have contributed to the organization. Finally, provide evidence of the skills and knowledge you have acquired and how they can be used to benefit the position.
4. What is a good cover letter for an Wellsite Geologist job?
A good cover letter for a Wellsite Geologist job should be concise, professional, and informative. Start with a brief introduction to your qualifications and experience. Then, explain why you are interested in the position and how your abilities and experience can benefit the organization. Provide evidence of any achievements or qualifications you have acquired and explain how they can be applied to the job. Finally, close with a confident and enthusiastic statement expressing your desire to be a part of the team. Make sure to thank the employer for their time and consideration.
In addition to this, be sure to check out our cover letter templates, cover letter formats, cover letter examples, job description, and career advice pages for more helpful tips and advice.
Let us help you build
your Cover Letter!
Make your cover letter more organized and attractive with our Cover Letter Builder