Writing a cover letter to accompany your application for an embroidery machine operator position can seem like a challenging task. However, when following the right steps, it can be a straightforward process. This guide will provide tips for writing a successful cover letter, along with an example of a cover letter for an embroidery machine operator. By understanding how to craft an effective letter, you will be able to present yourself as the ideal candidate for the job.
If you didn't find what you were looking for, be sure to check out our complete library of cover letter examples.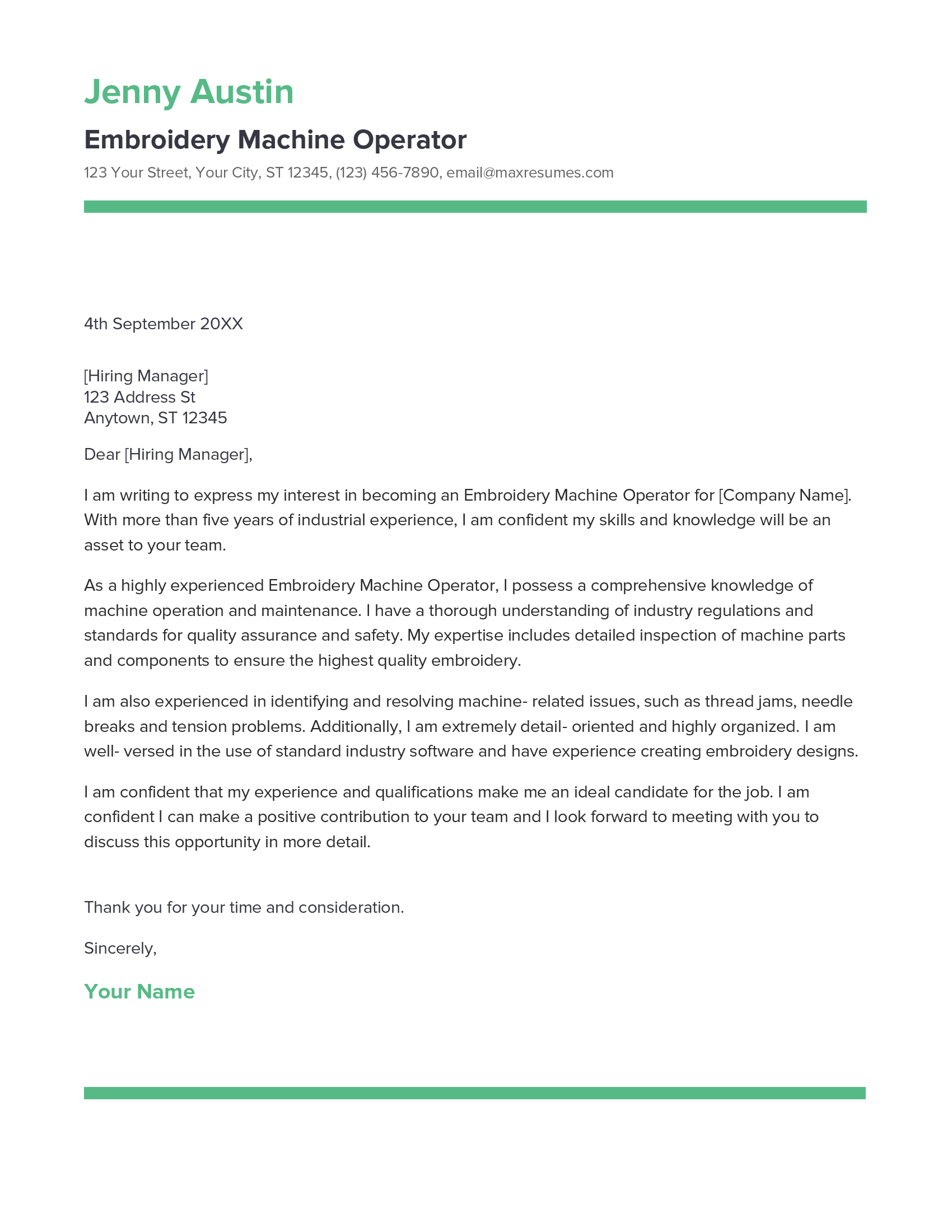 Download the Cover Letter Sample in Word Document – Click Below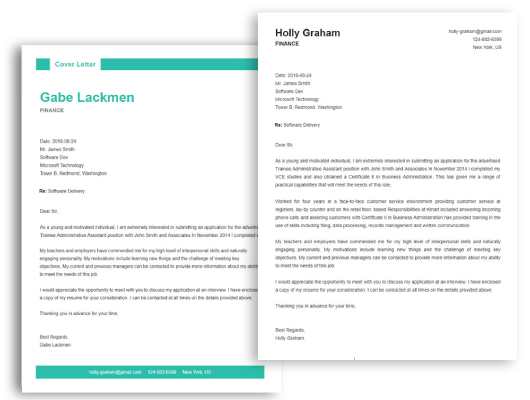 Start building your dream career today!
Create your professional cover letter in just 5 minutes with our easy-to-use cover letter builder!
Embroidery Machine Operator Cover Letter Sample
Dear [Employer],
I am writing to express my interest in becoming an Embroidery Machine Operator for [Company Name]. With more than five years of industrial experience, I am confident my skills and knowledge will be an asset to your team.
As a highly experienced Embroidery Machine Operator, I possess a comprehensive knowledge of machine operation and maintenance. I have a thorough understanding of industry regulations and standards for quality assurance and safety. My expertise includes detailed inspection of machine parts and components to ensure the highest quality embroidery.
I am also experienced in identifying and resolving machine- related issues, such as thread jams, needle breaks and tension problems. Additionally, I am extremely detail- oriented and highly organized. I am well- versed in the use of standard industry software and have experience creating embroidery designs.
I am confident that my experience and qualifications make me an ideal candidate for the job. I am confident I can make a positive contribution to your team and I look forward to meeting with you to discuss this opportunity in more detail.
Thank you for your time and consideration.
Sincerely,
[Your Name]
Looking to improve your resume? Our resume examples with writing guide and tips offers extensive assistance.
What should a Embroidery Machine Operator cover letter include?
A cover letter for an Embroidery Machine Operator should include a few key points to help you stand out from other candidates. Firstly, it should demonstrate your knowledge and understanding of the role, and how you can leverage your skills to make a positive impact. Additionally, it should highlight your past experience working with embroidery machines, to show your familiarity with the industry. Finally, your cover letter should provide examples of your ability to pay attention to detail, and accurately follow instructions, to ensure the quality of the end product. By including these pieces of information, you can effectively demonstrate your qualifications, and provide a solid argument for why you'd be the ideal candidate for the job.
Embroidery Machine Operator Cover Letter Writing Tips
A cover letter is an important part of any job application, and as an embroidery machine operator, you'll need to make sure your cover letter is up to scratch. Here are some tips to help you craft a successful cover letter:
Outline Your Skills: Make sure your cover letter clearly outlines your skills and experience as an embroidery machine operator. Highlight any relevant training or certifications you have and emphasize any experience you have in the industry, such as working with a variety of different fabrics and materials.
Demonstrate Your Understanding of the Industry: Show the employer that you understand the industry and the specific job requirements. Demonstrate your knowledge of the embroidery process, from threading the machine to the finishing touches.
Emphasize Your Expertise: Stress the fact that you are an expert in the field of embroidery and demonstrate that you would be an asset to the company.
Showcase Your Creativity: As an embroidery machine operator, you need to be creative and imaginative in your work. Showcase this in your cover letter by detailing how you come up with unique designs and patterns.
Provide Examples of Your Work: Attach examples of your work to your cover letter to demonstrate your capabilities to the employer.
Demonstrate Your Attention to Detail: Stress the importance of paying close attention to detail in your work as an embroidery machine operator. This could be in terms of accuracy and precision or in terms of following instructions exactly.
Create an Effective Introduction: Make sure your cover letter stands out with an effective introduction. Introduce yourself and your qualifications, and explain why you are interested in the position.
Following these tips should help you craft an effective cover letter that will make you stand out from the competition and increase your chances of success.
Common mistakes to avoid when writing Embroidery Machine Operator Cover letter
Writing an effective cover letter for an Embroidery Machine Operator position can be the difference between getting an interview and having your application ignored. While there is no single right way to write a cover letter, there are some common mistakes to avoid in order to make a good first impression.
Not Customizing the Cover Letter: Crafting a generic cover letter and sending it to multiple employers can be a big mistake. Each employer is looking for specific qualities and experiences, so it is important to tailor the letter to the job for which you are applying.
Incorrectly Addressing the Recipient: You should make sure you properly address the cover letter to the specific employer and use the correct name, title, and company name.
Starting off with "To Whom It May Concern": This isn't the most effective way to start a cover letter. Try to find out the name of the hiring manager or recruiter in charge of the position and address them by name.
Not Including Your Contact Information: Make sure that your contact information is clearly visible in your cover letter. This includes your name, address, phone number, and email address.
Not Demonstrating Your Knowledge of the Company: Show that you have done your research and have a good understanding of the company by mentioning key aspects of their operations.
Repeating Your Resume: Your cover letter should not be a repeat of your resume. Instead, you should use it to fill in the gaps in your resume and provide more detailed information about your skills, experience and qualifications.
Not Proofreading: Before you submit your cover letter, make sure to thoroughly proofread it to catch any typos and errors.
Key takeaways
When you're applying for a role as an Embroidery Machine Operator, crafting a well- written cover letter is key for landing an interview. A cover letter can be a make or break opportunity to show the employer why you're the right candidate for the job. Here are some key takeaways for ensuring your Embroidery Machine Operator cover letter is impressive:
Focus on your qualifications: Make sure to highlight your qualifications that are relevant to the role you're applying for. Explain how your previous experience with embroidery machines and other related skills make you an ideal candidate for this position.
Connect the dots: Show the employer how your qualifications are related to the job. Demonstrate how your experience will help the company achieve its goals.
Be specific: When explaining your qualifications, focus on specific examples to make your letter more persuasive.
Highlight achievements: Use your cover letter to showcase any awards or accomplishments that you have achieved in your previous roles.
Use keywords: Incorporate keywords from the job description into your cover letter. This will help show the employer that you understand the job requirements.
Proofread your letter: Make sure you proofread your cover letter for any errors. A poorly written letter may cost you the opportunity, so don't forget to double- check your content.
Frequently Asked Questions
Writing a cover letter for an Embroidery Machine Operator job can be daunting, especially if you have no experience. Whether you have experience or not, the most important thing is to highlight your strengths and how you can add value to the position.
1.How do I write a cover letter for an Embroidery Machine Operator job with no experience?
If you don't have any experience as an Embroidery Machine Operator, you can still create an effective cover letter. Start by introducing yourself, detailing the qualities that make you a great candidate for the position. For example, you can mention your natural ability to work with machines, your strong attention to detail, your reliable work ethic and any other relevant qualities. Additionally, you can focus on the transferable skills that you have acquired in previous positions that can be relevant to this job.
Finally, explain why you have a genuine interest in the position, and close the letter by expressing your enthusiasm for the opportunity.
2.How do I write a cover letter for an Embroidery Machine Operator job experience?
If you have experience as an Embroidery Machine Operator, you can use your cover letter to demonstrate your technical proficiency. Provide examples that illustrate your expertise with different types of machinery, your ability to troubleshoot problems, and your experience with programming, machine repair, and fabric selection. Be sure to also mention any accomplishments or awards you have received in your previous positions.
Additionally, you can highlight your experience working with a team and explain how you can help the organization maintain efficient production processes. Finally, express your enthusiasm for the opportunity and how you can use your skills and experience to be an asset to the team.
3.How can I highlight my accomplishments in Embroidery Machine Operator cover letter?
When highlighting your accomplishments in an Embroidery Machine Operator cover letter, focus on any awards or recognition you have received, as well as any additional training or certifications that you have acquired. Additionally, provide examples of any successful projects you have completed, or any new methods or processes you have implemented that helped to improve production and efficiency. Be sure to emphasize any leadership roles you have taken on and how you have successfully managed both the machine and the team. Finally, showcase your strong work ethic and commitment to quality, as well as your ability to take initiative and work independently.
In addition to this, be sure to check out our cover letter templates, cover letter formats, cover letter examples, job description, and career advice pages for more helpful tips and advice.
Let us help you build
your Cover Letter!
Make your cover letter more organized and attractive with our Cover Letter Builder