Writing a cover letter as a negotiator can be a very important step in the job search process. It is an opportunity to show potential employers your skills and talents in the field and to demonstrate that you are the ideal person for the job. This guide will provide you with practical tips on how to craft a compelling negotiator cover letter that puts forth your best self. It will also provide an example of a well-crafted cover letter that you can use as a reference when writing your own. With this guide, you'll be able to take the next step in your job search with confidence.
If you didn't find what you were looking for, be sure to check out our complete library of cover letter examples.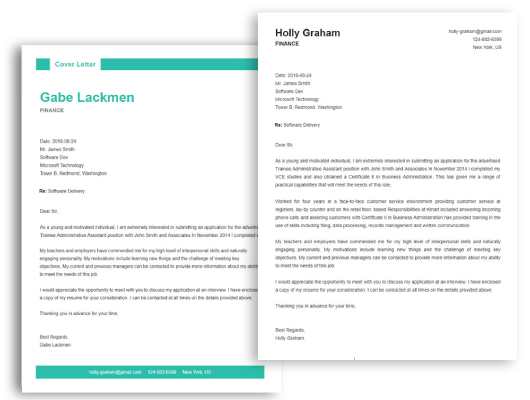 Start building your dream career today!
Create your professional cover letter in just 5 minutes with our easy-to-use cover letter builder!
Negotiator Cover Letter Sample
Dear [Hiring Manager],
I am writing to apply for the position of Negotiator with XYZ Corporation. With my degree in Business Law and four years of experience negotiating deals, I am confident I have the skills and qualifications to be a successful negotiator for your organization.
In my current role as a Business Negotiator for ABC Solutions, I have successfully negotiated deals with a variety of clients. My duties include analyzing each negotiation and understanding the needs of each party, as well as creating cohesive agreements that are beneficial to both parties. I am experienced in developing effective strategies to arrive at mutually beneficial solutions.
I also have excellent interpersonal and communication skills, which help me to create strong relationships with clients. I am adept at resolving disputes and finding common ground between parties. I am confident that I can quickly develop a thorough understanding of the company's needs and work to achieve the desired results.
My past experiences negotiating deals in a variety of fields have provided me with a broad understanding of the negotiation process. I am organized, detail- oriented and analytical, and I believe I can bring a unique perspective to your organization.
Thank you for your consideration. I am eager to discuss my qualifications and experience further.
Sincerely,
[Your Name]
Looking to improve your resume? Our resume examples with writing guide and tips offers extensive assistance.
What should a Negotiator cover letter include?
A Negotiator cover letter should include several key elements in order to make an effective impression on potential employers.
First, the letter should provide an explanation of why the applicant is interested in the position and the qualifications they possess that would make them an ideal fit. This should include examples of relevant skills, experience, and achievements.
Second, the cover letter should also detail the applicant's experience in negotiation. This should include specific examples of successful negotiations, such as closed deals or successful settlements, as well as any specialized training in negotiation.
Third, the cover letter should explain the applicant's understanding of the nature of the negotiation process and how they intend to use their skillset to the benefit of the employer. Comparing past results and successes to what the employer would expect is a great way to demonstrate the applicant's value.
Finally, the cover letter should provide a clear call- to- action. This should include contact information, such as a phone number or email address, as well as a request for an interview.
By including each of these elements, a Negotiator cover letter can effectively demonstrate the applicant's unique skillset, experience, and knowledge. This will help set them apart from other applicants and give the employer a better understanding of the applicant's capabilities.
Negotiator Cover Letter Writing Tips
Writing an effective cover letter is the first step to landing a job as a negotiator. A successful negotiator relies heavily on their ability to develop relationships, understand the needs of both sides, create a win- win situation, and close the deal. Applying these skills to your cover letter can help you stand out from the competition and get your foot in the door. Here are some tips to help you write an effective negotiator cover letter:
Highlight your negotiation experience: Outline your experience in successful negotiation, including any notable deals you have negotiated. Emphasize the strategies and tactics you used to close deals and the successful outcomes that resulted from your efforts.
Demonstrate your problem- solving skills: Negotiators often must think on their feet and come up with creative solutions to complex problems. Use your cover letter to illustrate your problem- solving skills and how you've used them to reach successful outcomes in negotiation.
Showcase your communication skills: Negotiators must be able to communicate effectively and persuasively. Use your cover letter to illustrate how you use your communication skills to present ideas and negotiate deals.
Stress your interpersonal skills: Negotiators must be able to build relationships with people and develop a sense of trust. Showcase your interpersonal skills, such as empathy and active listening, and how you've used them to develop rapport with your clients.
Explain why you're a great fit for the role: Negotiators must be well- suited for the role of a negotiator. Show how your skills, qualifications, and experience make you a great fit for the job.
By following these tips, you can create a winning negotiator cover letter that will get you noticed and help you land the job. Good luck!
Common mistakes to avoid when writing Negotiator Cover letter
A negotiator cover letter is an important tool when it comes to applying for jobs as a negotiator. It should be tailored to the specific position and demonstrate your experience, skills, and qualifications. To ensure your letter is effective, avoid the following common mistakes.
Not Personalizing Your Letter: It is essential to tailor your negotiator cover letter to the specific job and company you are applying to. Not doing so will make your letter appear generic and uninteresting.
Not including Your Negotiating Skills: Your cover letter should highlight your negotiation skills, such as the ability to make deals, evaluate risks, and close agreements. Be sure to include examples of successful negotiations you have conducted in the past.
Not Proofreading: Before sending your cover letter, proofread it multiple times. Make sure there are no spelling or grammar mistakes, and that all the information is accurate.
Not Showing Your Enthusiasm: Negotiators should be passionate about their work. Your cover letter should show your enthusiasm for the job and the company.
Being Too Long: Your negotiator cover letter should be succinct and to the point. Aim to keep it to one page.
Following these tips will help you create a successful negotiator cover letter. By avoiding these common mistakes, you can make sure that your letter stands out and impresses potential employers.
Key takeaways
Writing an impressive cover letter for a Negotiator position requires you to demonstrate your ability to negotiate successfully. The cover letter should highlight the skills and accomplishments that make you a strong negotiator and the reasons why you are a great fit for the role. Here are some key takeaways for writing an impressive Negotiator cover letter:
Personalize your cover letter: make sure to include the specific job title, company name, and other details about the job. This will show the hiring manager that you have done your research and are serious about the position.
Highlight your negotiation skills: demonstrate your experience and success at negotiating by featuring examples from your previous positions. Detail how you were able to resolve conflicts or how you successfully negotiated deals.
Mention relevant qualifications: emphasize qualifications that are relevant to the position, such as knowledge of legal contracts, financial analysis, and market trends.
Focus on the company: outline how your skills and experience can benefit the company, such as helping them to achieve their goals.
Use a professional tone: make sure your cover letter is written in a formal and professional tone. Avoid overly- informal language or slang.
Follow application instructions: read the job posting carefully and make sure to follow any specific instructions regarding the application process.
By following these key takeaways, you will be able to write an impressive cover letter and secure an interview for the Negotiator position.
Frequently Asked Questions
1. How do I write a cover letter for an Negotiator job with no experience?
Writing a cover letter when you don't have any experience as a negotiator can be challenging. However, it's important to demonstrate to an employer that you have the necessary skills and qualities to become an effective negotiator. Highlight your interpersonal and communication skills, as these are important traits required of a successful negotiator. Talk about how you've handled challenging situations in the past, or describe how you've effectively mediated disputes. Your cover letter should also showcase your ability to be organized and detail- oriented, as well as your capacity to stay level- headed and remain focused on the task at hand.
2. How do I write a cover letter for an Negotiator job experience?
If you have experience as a negotiator, be sure to prominently highlight this in your cover letter. Reference specific examples of successful negotiations you have been involved in and detail the positive outcomes that resulted from those negotiations. Showcase your problem solving and critical thinking skills, and highlight any awards or recognitions you have received for your work. Share stories about how you have mediated disputes, brokered deals, and helped to bridge potential conflicts. Your cover letter should emphasize the positive impact you have had in your previous roles, and why you are the ideal candidate for this job.
3. How can I highlight my accomplishments in Negotiator cover letter?
When highlighting your accomplishments in your cover letter, be sure to emphasize what tangible impact you have had. Talk about the financial or operational improvements you have implemented, the contracts you have successfully negotiated, and the goals you have achieved. Include statistics and figures if you can to make your accomplishments stand out. Showcase your ability to connect with people and build relationships with clients. Highlight any successful cross- cultural negotiations or collaborations you have been involved in.
4. What is a good cover letter for an Negotiator job?
A good cover letter for a negotiator job should demonstrate the skills and qualities required of an effective negotiator. Highlight your ability to remain calm under pressure and your knack for problem solving. Reference specific examples of successful negotiations you've been involved in and detail the positive results that came about because of your work. Be sure to showcase your interpersonal and communication skills and emphasize how you've helped to bridge conflicts and build relationships. Showcase your attention to detail and your capacity to stay organized. A good cover letter should also illustrate your ability to stay focused on the task at hand.
In addition to this, be sure to check out our cover letter templates, cover letter formats, cover letter examples, job description, and career advice pages for more helpful tips and advice.
Let us help you build
your Cover Letter!
Make your cover letter more organized and attractive with our Cover Letter Builder