Writing a cover letter for a job as a litigation paralegal may seem daunting, but it can also be an opportunity to highlight your skills and experience that make you a great fit for the role. In this guide, you'll learn how to write a compelling litigation paralegal cover letter, along with a sample to get you started. With the right tips and strategies, you can make a strong and lasting impression on potential employers.
If you didn't find what you were looking for, be sure to check out our complete library of cover letter examples.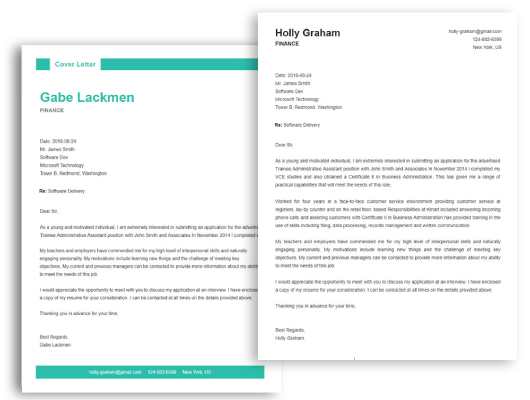 Start building your dream career today!
Create your professional cover letter in just 5 minutes with our easy-to-use cover letter builder!
Litigation Paralegal Cover Letter Sample
Dear [Recipient's Name],
I am writing to apply for the position of Litigation Paralegal. With my extensive experience in providing paralegal support and expertise, I am confident that I am an ideal candidate for this role.
I have over four years' experience in a legal setting, including two years as a Litigation Paralegal for a prominent law firm. During that time, I have developed a deep understanding of the legal process and a range of litigation- specific duties, such as document management, witness preparation, legal research, and preparing legal briefs.
In addition to my experience, I have strong interpersonal and communication skills, and I am able to establish and maintain positive working relationships with clients, attorneys, and other legal professionals. I am also highly organized, with a strong ability to prioritize and multitask in a fast- paced environment. I am passionate about providing quality legal support and meticulous attention to detail, and I believe my experience and skill set make me an ideal candidate for the position.
I am eager to bring my knowledge and experience to your firm and am confident that I can make a positive contribution. Thank you for your time and consideration, and I look forward to hearing from you.
Sincerely,
[Your Name]
Looking to improve your resume? Our resume examples with writing guide and tips offers extensive assistance.
What should a Litigation Paralegal cover letter include?
A successful Paralegal with a background in litigation should make sure their cover letter includes the following information:
1) A brief introduction that outlines your experience and qualifications within the field of litigation.
2) Your specific interest in the role and how your skills and expertise could benefit the organization.
3) A few examples of your experience in litigation and the results achieved, such as successful case outcomes or admirations from clients.
4) A clear summary of your communication and organizational skills, which are essential for a successful litigation paralegal.
5) Details of your knowledge of the latest litigation- related laws and regulations.
6) A few references that can confirm your level of experience and success as a litigation paralegal.
7) A closing statement reaffirming your enthusiasm and desire to contribute to the organization.
By including this information in your cover letter, you will demonstrate your skills and commitment to the role and help you stand out against other applicants.
Litigation Paralegal Cover Letter Writing Tips
Writing an effective cover letter for a Litigation Paralegal role is a critical step in the job- search process. Use these tips to help you craft a compelling cover letter that will stand out from the competition:
Highlight your experience: The cover letter should include your qualifications and experience, including any relevant internships, certifications, and volunteer work. Focus on qualities that make you a desirable candidate for the position, such as your attention to detail, problem solving skills, and familiarity with legal procedures.
Show your enthusiasm: Express your enthusiasm for the position and the organization in the cover letter. Relay your understanding of the company's mission and goals, and how you are the right person to help them achieve them.
Tailor your letter: Take the time to read the job posting carefully and tailor your cover letter to the position. Mention the specific keywords and skills that the job requires.
Be concise: Keep your letter succinct and to the point. Aim for a one- page document that is clear and concise.
Proofread: Make sure you double- check your letter for errors. Have a trusted friend or family member review it for typos and grammatical mistakes.
By following these tips, you will be able to write an effective cover letter that will help you stand out to employers and increase your chances of landing an interview for a litigation paralegal position.
Common mistakes to avoid when writing Litigation Paralegal Cover letter
Writing a cover letter for a litigation paralegal position can be daunting. A cover letter can be a make- or- break factor in determining whether your resume is read by a recruiter. Your cover letter should demonstrate your qualifications and set you apart from other candidates. To ensure your cover letter stands out, here are some common mistakes to avoid:
Failing to tailor the cover letter: Make sure that you customize your cover letter for each job you apply for. Use the job description and requirements to tailor your cover letter, emphasizing what qualifications you have that are related to the job.
Using a generic, cookie- cutter cover letter: A generic cover letter will make it clear that you didn't put any effort into the application. Take your time to craft a unique, personal, and engaging cover letter that tells the hiring manager why you are the right candidate for the job.
Making grammatical and spelling errors: Carefully proofread your cover letter to ensure that it is free of any errors. A cover letter with mistakes can be a major red flag to the hiring manager and could mean the difference between getting an interview and being overlooked.
Not including enough information: Make sure to provide the hiring manager with enough information about yourself and your qualifications. Include any relevant work experience, projects, or certifications in your cover letter that showcase why you are a standout candidate.
Not including contact information: Make sure to include your contact information in your cover letter. Include your name, address, phone number, and email address at the top of the cover letter. It's also important to include your LinkedIn profile link if you have one.
By following these tips and avoiding these common mistakes, you can ensure that your cover letter for a litigation paralegal position stands out from the rest.
Key takeaways
Writing an impressive cover letter for a Litigation Paralegal position is no easy feat. It requires showcasing your knowledge and expertise in the field, as well as your enthusiasm for the job and the company. Here are some key takeaways for writing an effective Litigation Paralegal cover letter.
Highlight Your Qualifications: Your cover letter should highlight your qualifications and any relevant experience you have in the legal field. Mention your academic qualifications, any certification or training, and any previous positions that demonstrate your legal knowledge and skills.
Address the Specific Job: Be sure to highlight why you are applying for this specific position and company. Demonstrate your knowledge of the company and the role by referring to specific job requirements and responsibilities.
Showcase Your Personality: Paralegals work closely with their team, so it's important to showcase your personality in your cover letter. Include a few sentences that demonstrate your enthusiasm for the job and how you will be an asset to the team.
Make it Unique: Your cover letter should be tailored to the specific job and company you are applying to. Avoid generic phrases and instead, include specific details that demonstrate your understanding of the role and company.
Proofread: One of the most important aspects of writing an effective cover letter is proofreading. Be sure to take the time to carefully review your letter for any spelling or grammar mistakes.
These are some key takeaways for writing an impressive Litigation Paralegal cover letter. By following these tips, you can showcase your knowledge and expertise in the field, as well as your enthusiasm for the job and company. Good luck!
Frequently Asked Questions
Writing a cover letter for a Litigation Paralegal job can be daunting, especially if you don't have any experience. However, with the right strategies, you can still make a great impression and get the job you're looking for.
1. How do I write a cover letter for an Litigation Paralegal job with no experience?
If you're applying for a Litigation Paralegal job with no experience, it's important to focus on your transferable skills. Highlight any skills you acquired from previous jobs that are relevant to the Litigation Paralegal role, such as organizational and communication skills. Also, make sure to include any relevant coursework or training that you've completed. Additionally, emphasize any volunteer or community work that you've done. By showcasing the skills, education, and experience you do have, you can demonstrate your potential to excel in the position.
2. How do I write a cover letter for an Litigation Paralegal job experience?
If you have experience as a Litigation Paralegal, you can use your cover letter to show off what you've achieved. Highlight any successful projects you've worked on and the impact they had on the firm. Describe how you used your skills to solve problems and complete tasks efficiently and effectively. And, detail how you saved the firm time and money by streamlining processes or taking other cost- saving measures. This will demonstrate to the employer that you would be an invaluable asset to their team.
3. How can I highlight my accomplishments in Litigation Paralegal cover letter?
When highlighting your accomplishments in your cover letter, make sure you provide specific examples. Describe the project or task you completed, what your role was, and the impact it had. If you can quantify the results you achieved, even better. For example, you might say something like, "While working on XYZ project, I reduced the time it took to complete tasks by 25%, saving the firm $XX." This will show the employer that you're organized, efficient, and able to make an impact.
4. What is a good cover letter for an Litigation Paralegal job?
A good cover letter for a Litigation Paralegal job should be concise and well- written. Showcase the skills and experience you have that are relevant to the position. Provide specific examples of the successes you've had in previous roles, and explain how you would use your skills and experience to benefit the firm. Be sure to also highlight any volunteer or community work you've done, as this will demonstrate your commitment to the role.
In addition to this, be sure to check out our cover letter templates, cover letter formats, cover letter examples, job description, and career advice pages for more helpful tips and advice.
Let us help you build
your Cover Letter!
Make your cover letter more organized and attractive with our Cover Letter Builder