Writing a cover letter for a jailer position can be a challenging task as you must showcase your professional experience, as well as demonstrate your ability to build relationships with inmates and staff while maintaining a safe and secure environment. Fortunately, with the right guidance, it is possible to craft an effective and persuasive cover letter that will get you noticed by potential employers. This guide will provide tips on how to write a jailer cover letter, as well as an example of a successful jailer cover letter.
If you didn't find what you were looking for, be sure to check out our complete library of cover letter examples.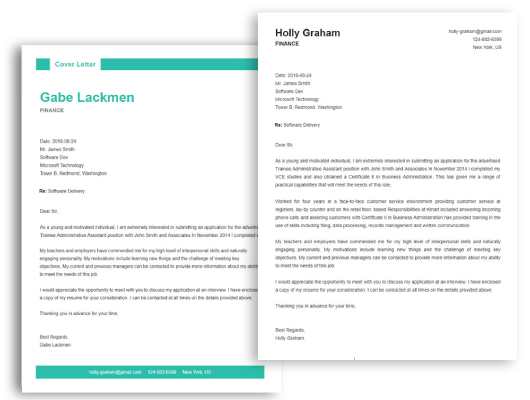 Start building your dream career today!
Create your professional cover letter in just 5 minutes with our easy-to-use cover letter builder!
Jailer Cover Letter Sample
Dear [Hiring Manager],
I am writing to apply for the Jailer position at [Company Name]. With my two years of experience working in law enforcement, I am confident that I am the right fit for the role.
I am passionate about providing the highest level of security for the people in the jail and for the community. I understand that this is a critical role and I am committed to keeping the jail secure and safe for all.
My experience as a Jailer has given me a deep understanding of the needs of a jail environment. I have the knowledge and skill to carry out the duties of a Jailer in a professional and efficient manner. I am a problem solver and a team player. I have the ability to work effectively with colleagues and superiors to ensure the highest level of security for the jail.
I am a highly organized individual with excellent communication and interpersonal skills. I am also skilled in using computers and other technology. I am hardworking and dependable and I take pride in my work.
I am confident that I can bring a professional and knowledgeable presence to the position of Jailer. I would welcome the opportunity to meet with you and discuss my qualifications further. Thank you for your consideration.
Sincerely,
[Your Name]
Looking to improve your resume? Our resume examples with writing guide and tips offers extensive assistance.
What should a Jailer cover letter include?
A jailer cover letter should include the following information:
Introduction: Include a brief overview of your experience and qualifications, as well as why you are applying for the position.
Professional Experience: Describe any relevant professional experience you have.
Knowledge and Skills: List any particular knowledge or skills you possess that make you a great fit for this specific role.
Dedication: Demonstrate your dedication to the job and how your past experience has prepared you for this particular role.
Professional References: Include a list of professional references who can attest to your qualifications for the job.
Closing: Provide a strong closing statement that expresses your enthusiasm and commitment to the role.
By following these steps, you can create an effective jailer cover letter that will help convince potential employers of your suitability for the position.
Jailer Cover Letter Writing Tips
Writing a jailer cover letter is an essential part of any successful job application. When applying for a jailer position you will need to be sure to craft an effective cover letter that immediately grabs the attention of the hiring manager. To help you with this task, here are some tips for writing a great jailer cover letter.
Start your cover letter with a strong introduction. This should include a brief description of your experience and qualifications, as well as why you are interested in the jailer position.
Focus on your qualifications for the job. This is your chance to demonstrate why you are the right fit for the job, so make sure to highlight any past experience or education you have that aligns with the job.
Keep your cover letter concise and to the point. Avoid going into too much detail, as the hiring manager will likely only take a few minutes to look over your letter.
Avoid using generic phrases such as, "I am confident I would be a great asset to the team." Instead, provide concrete examples of how your experience and skills could be used to benefit the company.
Make sure to proofread your letter multiple times. Check for any spelling or grammatical errors, as these can be off- putting to hiring managers.
Conclude your cover letter by expressing your enthusiasm for the job and expressing your willingness to answer any questions the hiring manager may have.
By following these tips, you can make sure your jailer cover letter stands out from the crowd and gets you one step closer to winning the job. Good luck with your job search!
Common mistakes to avoid when writing Jailer Cover letter
Writing a jailer cover letter might seem like a daunting task, but there are a few simple things to keep in mind that will help you create a strong, effective letter. Here are some of the most common mistakes to avoid when writing a jailer cover letter:
Not following instructions: Make sure you read the job listing thoroughly and follow any instructions provided, such as using a specific format or including any required information.
Focusing too much on yourself: While you do want to highlight your skills and experience, an effective letter should also demonstrate how you can help the organization.
Not tailoring your letter: Don't send a generic letter to every job. Research the organization and tailor your letter to their specific needs and the job requirements.
Making spelling and grammar mistakes: A cover letter should be error- free. Take the time to proofread and edit your letter for typos and mistakes.
Not including enough details: Your letter should provide more information than your resume, including details about your qualifications and experience that are relevant to the job.
Not using a professional tone: Your letter should be professional and respectful. Use formal language and avoid slang or casual language.
By avoiding these common mistakes and taking the time to craft a strong, effective cover letter, you will be one step closer to landing your dream job as a jailer.
Key takeaways
Writing an impressive cover letter for a jailer position is vital for getting your foot in the door for an interview. It can be difficult to know what to include in your cover letter, but if you keep the following key takeaways in mind, you can easily create an impressive letter that will help you stand out from other applicants.
Highlight your qualifications: Make sure you include the qualifications that are required by the position, such as experience in law enforcement and correctional oversight. Also, be sure to include any special training or certifications you have received.
Showcase your skills: Demonstrate to the employer that you have the specific skills and qualities required for the job by highlighting experiences from your past that demonstrate your skills. This can include past roles in law enforcement, customer service, and organizational skills.
Show enthusiasm: It is important that you show your enthusiasm for the job and the organization you are applying to. Show the employer that you understand what the job entails and that you are eager to be part of their team.
Keep it concise: Make sure you keep your cover letter to one page. In one page, make sure you include why you are interested in the job and why you are the best candidate for the position.
By following these key takeaways, you can make sure that your cover letter is impressive and stands out from the crowd. With an impressive cover letter, you will give yourself the best chance of getting the job.
Frequently Asked Questions
1. How do I write a cover letter for an Jailer job with no experience?
If you have no experience in the jailer field, don't let that stop you from applying for a job. You may be surprised to find out that there are plenty of positions out there for those with little to no experience. When writing your cover letter, focus on the skills and qualities you possess that would be beneficial in the role. Talk about what you can offer the employer and why you are the perfect candidate for the job. Demonstrate your enthusiasm for learning and willingness to work hard to acquire the necessary experience.
2. How do I write a cover letter for an Jailer job experience?
If you have previous experience as a jailer, be sure to include it in your cover letter. Detail your work history and responsibilities, highlighting any accomplishments that demonstrate your capability in the role. Explain how your skills and knowledge have evolved over time, and how they currently make you a great candidate. Showcase any awards or recognition you have received, and explain how your experience qualifies you for the job.
3. How can I highlight my accomplishments in Jailer cover letter?
If you have achieved success in your current or past roles as a jailer, include this in your cover letter to highlight your accomplishments. Talk about any special projects or initiatives you have been involved in and the results that you achieved. Explain any challenges that you faced and overcame, and show how you have gone the extra mile to make a difference. This will give employers a sense of your value and show them that you are an asset to the organization.
4. What is a good cover letter for an Jailer job?
A good cover letter for a jailer job should highlight your relevant skills and experience and demonstrate your enthusiasm for the role.
In addition to this, be sure to check out our cover letter templates, cover letter formats, cover letter examples, job description, and career advice pages for more helpful tips and advice.
Let us help you build
your Cover Letter!
Make your cover letter more organized and attractive with our Cover Letter Builder