Writing a cover letter for a programming position can be a tricky task. After all, it's a highly competitive field, and you will need to stand out from the crowd to land your dream job. However, with the right guidance, it can be a straightforward process. In this blog post, we'll provide you with a step-by-step guide on how to put together an effective cover letter for a programming position, as well as an example to help you get started.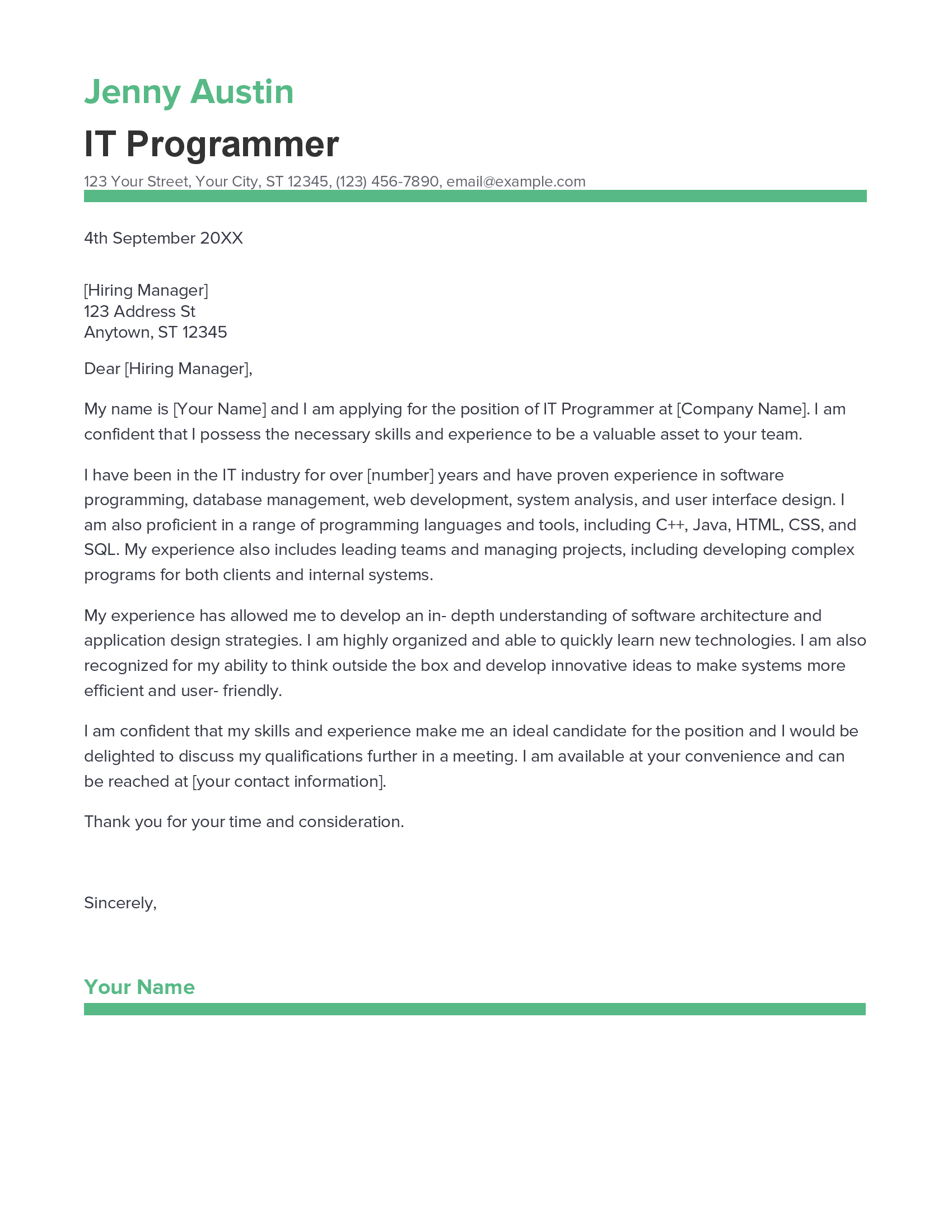 Download the Cover Letter Sample in Word Document – Click Below
If you didn't find what you were looking for, be sure to check out our complete library of cover letter examples.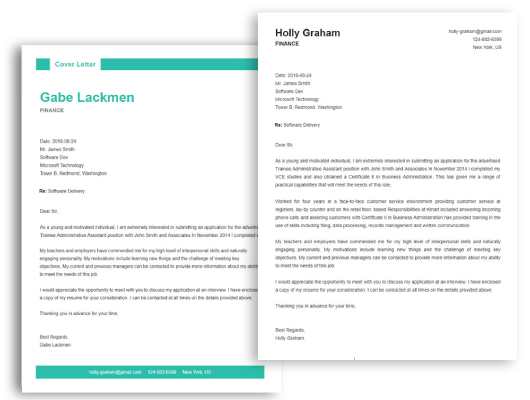 Start building your dream career today!
Create your professional cover letter in just 5 minutes with our easy-to-use cover letter builder!
IT Programmer Cover Letter Sample
Dear [Hiring Manager],
My name is [Your Name] and I am applying for the position of IT Programmer at [Company Name]. I am confident that I possess the necessary skills and experience to be a valuable asset to your team.
I have been in the IT industry for over [number] years and have proven experience in software programming, database management, web development, system analysis, and user interface design. I am also proficient in a range of programming languages and tools, including C++, Java, HTML, CSS, and SQL. My experience also includes leading teams and managing projects, including developing complex programs for both clients and internal systems.
My experience has allowed me to develop an in- depth understanding of software architecture and application design strategies. I am highly organized and able to quickly learn new technologies. I am also recognized for my ability to think outside the box and develop innovative ideas to make systems more efficient and user- friendly.
I am confident that my skills and experience make me an ideal candidate for the position and I would be delighted to discuss my qualifications further in a meeting. I am available at your convenience and can be reached at [your contact information].
Thank you for your time and consideration.
Sincerely,
[Your Name]
Looking to improve your resume? Our resume examples with writing guide and tips offers extensive assistance.
What should a IT Programmer cover letter include?
A cover letter for an IT Programmer should provide a clear, concise summary of the candidate's qualifications and experience. It should also include a few specific examples of the candidate's work to demonstrate their level of technical knowledge. The cover letter should also include a statement that highlights their motivation for applying for the position.
The cover letter should firstly focus on the candidate's relevant qualifications and/or experience, with emphasis on any IT- related qualifications. This can include qualifications such as a computer science degree, certification in programming languages (e.g. Java, C#, or Python) and any other technical qualifications or certifications.
The candidate should also provide a few examples of their technical work to show the employer how their skills and knowledge can be applied. These examples can include any web applications they have built, projects they have contributed to, or any other programming related tasks they have completed.
Finally, the candidate should include a brief statement that outlines their motivation for applying for the position and their enthusiasm for the role. This should demonstrate their understanding of the role and why they are the best candidate for the job.
IT Programmer Cover Letter Writing Tips
Writing a great IT Programmer cover letter can be a daunting task. A good cover letter can be the difference between getting the job and being overlooked. Here are some tips to help you stand out from the competition:
Start with an attention- grabbing introduction that highlights your qualifications. Show the hiring manager why you're the ideal fit for the job.
Explain how your experience and unique skillsets make you the perfect match for the position. Give examples of past successes to demonstrate your value.
Make sure to include any certifications or special qualifications you have in the programming field. This will help you stand out from the crowd.
Demonstrate your problem- solving abilities and technical knowledge. Prove that you know how to troubleshoot issues and develop efficient solutions.
Show your passion for programming. Let the hiring manager know that you are dedicated to learning and growing within the field.
Highlight your interpersonal skills. The ability to work well with a team is a crucial asset for any IT programmer.
Keep your cover letter concise and to the point. The hiring manager should be able to understand your qualifications and skills quickly.
By following these tips, you can craft an impressive IT programmer cover letter that will help you stand out from the competition and land that dream job. Good luck!
Common mistakes to avoid when writing IT Programmer Cover letter
Writing a cover letter can be a tricky process, especially when you're applying for a job in the IT programming field. There are so many components to put together and you want everything to be perfect. To make sure you don't make any mistakes that could keep you from getting the job, here are some common mistakes to avoid when writing an IT programmer cover letter:
Not Tailoring Your Letter: A generic, one- size- fits- all cover letter won't impress potential employers. Take the time to research the company and tailor your letter to the specific job you're applying for. Show them that you can provide what they're looking for and tell them why you would be the perfect fit.
Focusing Too Much on Your Resume: While it's important to touch on your skills and experience, a cover letter is not a rehash of your resume. Use it as an opportunity to give more detail about yourself and explain why you're the ideal candidate for the job.
Not Using Action Words: Action words, such as "created", "developed", and "managed", help to keep your cover letter lively and interesting. Avoiding them can make your letter seem dull and lifeless.
Being Too Formal: While you do need to keep things professional, being too formal can sound stiff and impersonal. Try to show some personality in your letter while still maintaining a level of professionalism.
Not Proofreading: Typos and grammatical errors can be very off- putting. Always go over your letter thoroughly and have someone else read it before submitting it.
By avoiding these common mistakes, you can make sure your IT programmer cover letter stands out and gives potential employers the right impression of you.
Key takeaways
Writing an impressive cover letter is an essential part of the job application process. For IT Programmers, it is important to provide an employer with information that demonstrates your skills, knowledge, and passion for the position. Here are some key takeaways for IT Programmers on how to craft an impressive cover letter:
Highlight your programming skills: Demonstrate your knowledge of coding languages, databases, and software development by focusing on your experiences working with them. Make sure to provide specific examples of how you have used these skills to successfully complete projects.
Demonstrate your technical knowledge: Show the employer that you have a broad understanding of the IT field. Include information about your education and certifications, as well as any professional development courses that you have taken in the field.
Showcase your problem- solving skills: Provide examples of times that you have been able to identify and solve technical issues. This will show employers that you are capable of handling difficult situations and coming up with creative solutions.
Show enthusiasm for the position: Let the employer know that you are genuinely excited and eager to work with their organization. Demonstrate that you have done your research on the company and industry, and explain why you would be a great fit for the position.
Keep it concise: While it is important to provide information that demonstrates your skills and experience, make sure to keep your letter to one page. Use active language and focus on accomplishments and results rather than responsibilities.
Following these tips can help you create an impressive cover letter that will grab the attention of potential employers. Make sure to include all the key points and showcase your skills to demonstrate why you are the perfect candidate for the role.
Frequently Asked Questions
1. How do I write a cover letter for an IT Programmer job with no experience?
Writing a cover letter for an IT Programmer job without experience can be intimidating, but with a few tips and some practice you can create a professional, compelling letter that will help you stand out from the competition. Start by highlighting your skills, qualifications, and any relevant education or certifications you have. Focus on the applicable transferable skills you've gained from other areas of your life, such as problem- solving, coding, or software development. Be sure to demonstrate your enthusiasm for the role and explain why you're the perfect fit for the job. Finish your letter by thanking the employer for their time and consideration.
2. How do I write a cover letter for an IT Programmer job experience?
Writing a cover letter for an IT Programmer job with experience requires a different approach than if you had no experience. Your cover letter should focus on the specific experience, skills, and certifications you possess that make you the ideal candidate for the job. Highlight your accomplishments, such as successful projects you've worked on, technical challenges you've solved, and any awards or recognition you've earned. Showcase your ability to work as part of a team and your commitment to ongoing professional development. End your letter by expressing gratitude for the opportunity to apply and your eagerness to learn more about the position.
3. How can I highlight my accomplishments in IT Programmer cover letter?
Highlighting your accomplishments in an IT Programmer cover letter is a great way to stand out from other applicants and demonstrate your value to the employer. Be specific about your accomplishments and give concrete examples of your success. Talk about the problems you solved, challenges you faced, and projects you completed. If possible, provide evidence of your accomplishments, such as screenshots of successful code or links to websites you've worked on.
In addition to this, be sure to check out our cover letter templates, cover letter formats, cover letter examples, job description, and career advice pages for more helpful tips and advice.
Let us help you build
your Cover Letter!
Make your cover letter more organized and attractive with our Cover Letter Builder