Cover letters can be an intimidating prospect for some job seekers, but they are essential in making a good first impression on any potential employer. Creating an interactive producer cover letter can be an effective way to showcase your qualifications and experience for a role. This guide will provide helpful tips on how to create an effective cover letter, as well as a sample interactive producer cover letter for your reference.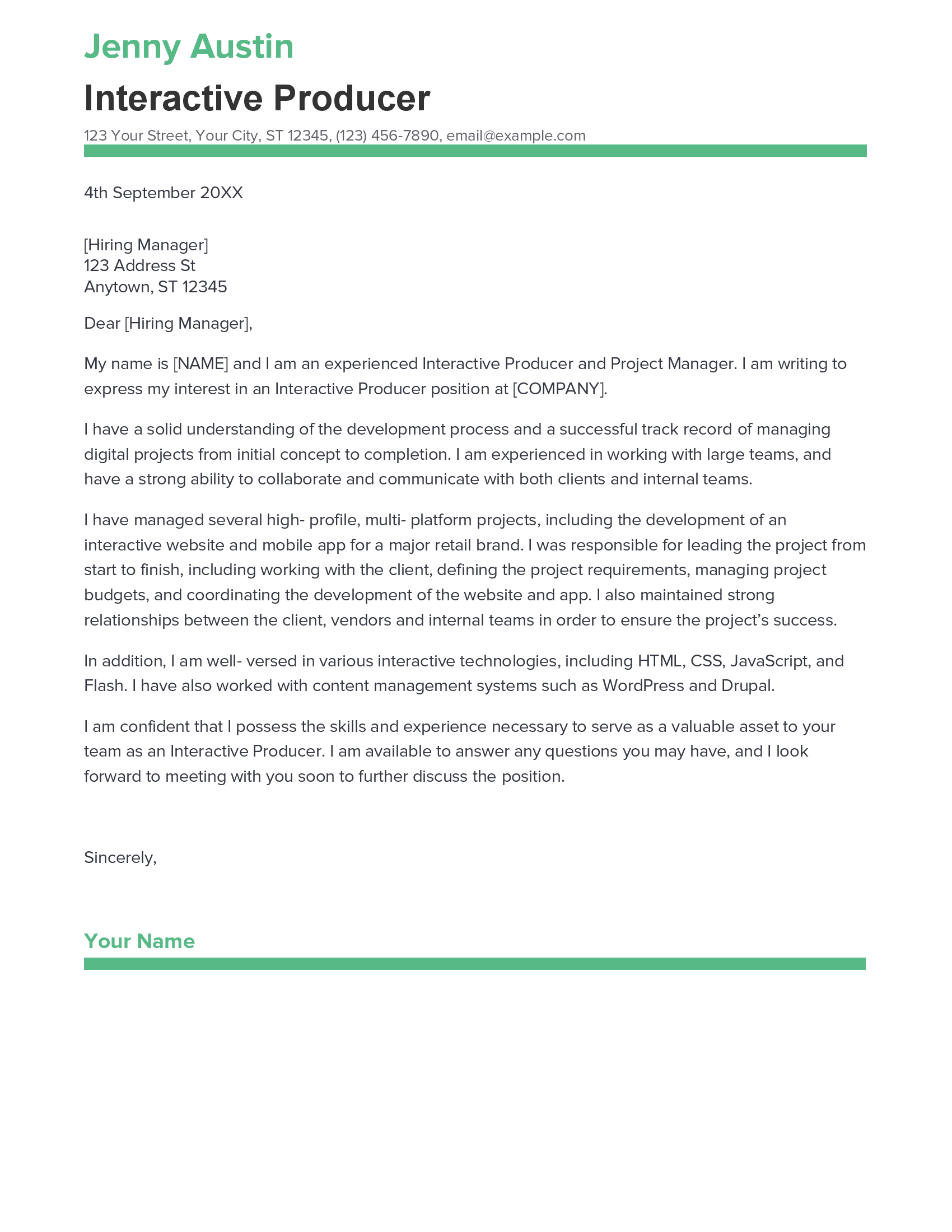 Download the Cover Letter Sample in Word Document – Click Below
If you didn't find what you were looking for, be sure to check out our complete library of cover letter examples.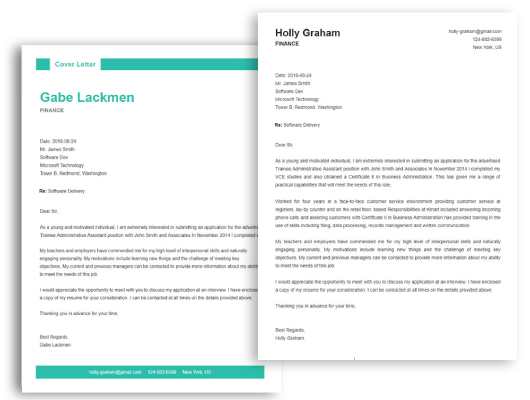 Start building your dream career today!
Create your professional cover letter in just 5 minutes with our easy-to-use cover letter builder!
Interactive Producer Cover Letter Sample
To whom it may concern,
My name is [NAME] and I am an experienced Interactive Producer and Project Manager. I am writing to express my interest in an Interactive Producer position at [COMPANY].
I have a solid understanding of the development process and a successful track record of managing digital projects from initial concept to completion. I am experienced in working with large teams, and have a strong ability to collaborate and communicate with both clients and internal teams.
I have managed several high- profile, multi- platform projects, including the development of an interactive website and mobile app for a major retail brand. I was responsible for leading the project from start to finish, including working with the client, defining the project requirements, managing project budgets, and coordinating the development of the website and app. I also maintained strong relationships between the client, vendors and internal teams in order to ensure the project's success.
In addition, I am well- versed in various interactive technologies, including HTML, CSS, JavaScript, and Flash. I have also worked with content management systems such as WordPress and Drupal.
I am confident that I possess the skills and experience necessary to serve as a valuable asset to your team as an Interactive Producer. I am available to answer any questions you may have, and I look forward to meeting with you soon to further discuss the position.
Sincerely,
[NAME]
Looking to improve your resume? Our resume examples with writing guide and tips offers extensive assistance.
What should a Interactive Producer cover letter include?
A strong interactive producer cover letter should be concise and well- written, highlighting the most relevant qualifications and accomplishments for the position. It should also include an introductory paragraph that expresses your enthusiasm for the role and your eagerness to learn more about the company and its opportunities.
In order to demonstrate your skills and qualifications for the role, the cover letter should provide examples of your creative potential, technical abilities, and experience producing interactive projects. Additionally, the letter should include detail about your experience in project management, strategic planning, and working in a team.
In addition, the cover letter should cover your strengths and how they can be used to benefit the company. Showcase how you are a go- getter and problem solver, and how you can work effectively with other team members to achieve success. Finally, the letter should express your appreciation for the opportunity and close with a call to action.
Interactive Producer Cover Letter Writing Tips
When writing a cover letter for an interactive producer position, be sure to focus on your qualifications and the skills that make you the perfect candidate for the role.
Make sure to highlight any experience you have in web design, video production, and other multimedia projects.
Showcase any awards or recognition you have received for your work in the interactive media field.
Include specific examples of projects you have completed or been involved in, and explain how your involvement impacted the success of the project.
Demonstrate your knowledge of industry trends and technologies, and explain why you are a leader in the field.
Highlight your ability to work with teams, collaborate to develop ideas, and lead projects with a successful outcome.
Be sure to provide details of your experience with project management software, video editing tools, and other relevant tools.
Showcase your organizational, communication, and problem- solving skills, and explain how you bring innovative solutions to projects.
Keep the cover letter concise and to the point, and make sure to proofread for grammar and spelling.
Common mistakes to avoid when writing Interactive Producer Cover letter
Cover letters are an important part of the job search process, as they offer a unique chance to make a good impression on a hiring manager and show off your skills and qualifications. Yet, many jobseekers make the same mistakes when crafting their Interactive Producer cover letters. Here are a few common errors to avoid when writing your Interactive Producer cover letter:
Not Customizing the letter: Don't simply copy and paste a generic cover letter for your Interactive Producer position. Show the hiring manager you've put effort into the letter by addressing it to the specific individual and including details from the job listing.
Using too much jargon or technical terms: Avoid using technical jargon or industry terminology that the hiring manager may not understand. Try to keep your language as simple and clear as possible.
Not including quantifiable data: Hiring managers want to see tangible evidence that you can do the job. Include specific examples of success, such as how you successfully planned and produced a special event, or how you managed a budget.
Not Proofreading: It's easy to overlook a typo, but grammar and spelling mistakes can reflect poorly on you and make you look sloppy and unprofessional. Take the time to proofread your letter several times and have someone else review it as well.
By avoiding these common mistakes, you'll be sure to craft an effective and professional Interactive Producer cover letter that gets the attention of the hiring manager. Good luck!
Key takeaways
Writing a successful cover letter for the role of an Interactive Producer is key to standing out from other candidates and getting an interview. Here are the key takeaways for writing an impressive Interactive Producer cover letter:
Highlight your experience in producing interactive projects, including websites, applications, videos, and social media campaigns
Showcase your skills in video editing, content production, and web development
Demonstrate your understanding of the project lifecycle, from concept to launch
Demonstrate your knowledge of user experience design principles and the ability to integrate them into projects
Demonstrate your ability to work cross- functionally with departments such as marketing, sales, and customer service
Discuss your successes in leading teams, working with stakeholders, and launching projects on time and within budget
Showcase your ability to communicate effectively with stakeholders, customers, and other teams
Demonstrate your knowledge of data- driven approaches to track and measure user engagement
Showcase your understanding of the latest technology and trends in the interactive production space
Showcase your creativity and ability to think outside the box when it comes to developing interactive projects
Discuss how you stay up- to- date with industry trends
Tailor your cover letter to each job you apply for, emphasizing your skills and experiences that are most applicable to the role
End your cover letter with a strong conclusion that emphasizes your enthusiasm for the role and your qualifications.
Frequently Asked Questions
1. How do I write a cover letter for an Interactive Producer job with no experience?
Writing a cover letter for an Interactive Producer job with no experience may seem daunting, but it doesn't have to be! Start by introducing yourself, which can include a brief description of your educational background, any relevant extracurricular activities, and any skills or knowledge you have that may be useful for the job. Then, explain why you're interested in the position and why you think you'd be a great fit. You can also discuss any research you've done into the company and the position. Finally, be sure to thank the employer for their time and express your enthusiasm for the role.
2. How do I write a cover letter for an Interactive Producer job experience?
When writing a cover letter for an Interactive Producer job with relevant experience, the most important thing to include is a description of your experience. This should include a brief overview of the projects you've worked on, including any successes or challenges you faced. Additionally, you should discuss the skills and knowledge you have that are applicable to the role. You can also explain why you're interested in the position and why you think you'd be a great fit. Finally, be sure to thank the employer for their time and express your enthusiasm for the role.
3. How can I highlight my accomplishments in Interactive Producer cover letter?
When highlighting your accomplishments in your Interactive Producer cover letter, be sure to include any successes or challenges you faced in your previous jobs, as well as any awards or accolades you've received. You can also discuss any innovative solutions or strategies you developed or implemented, as well as how your work contributed to the success of the projects you've been involved in. If you have any relevant qualifications, certifications, or training, you can also mention them.
In addition to this, be sure to check out our cover letter templates, cover letter formats, cover letter examples, job description, and career advice pages for more helpful tips and advice.
Let us help you build
your Cover Letter!
Make your cover letter more organized and attractive with our Cover Letter Builder