Writing a cover letter for a Chief Technology Officer (CTO) role can be a challenging process. It is an important document in your job search as it should clearly reflect your qualifications and demonstrate your technical prowess and potential. Although it may seem like a daunting task, this guide will provide you with the advice, knowledge, and resources you need to write an effective CTO cover letter. From understanding the role and researching the company to crafting the perfect introduction and showcasing your skills, this guide will help ensure your CTO cover letter is as impressive as it can be.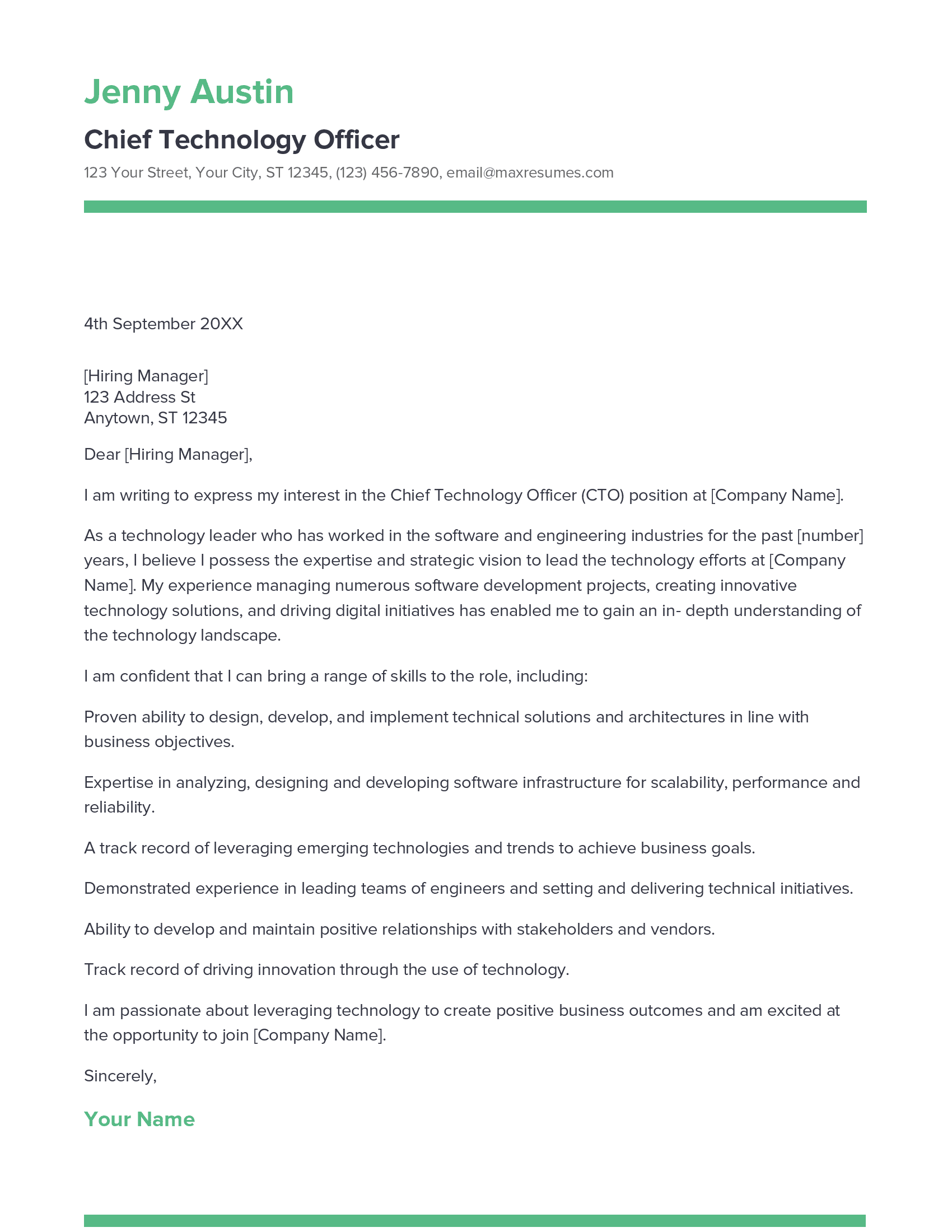 Download the Cover Letter Sample in Word Document – Click Below
If you didn't find what you were looking for, be sure to check out our complete library of cover letter examples.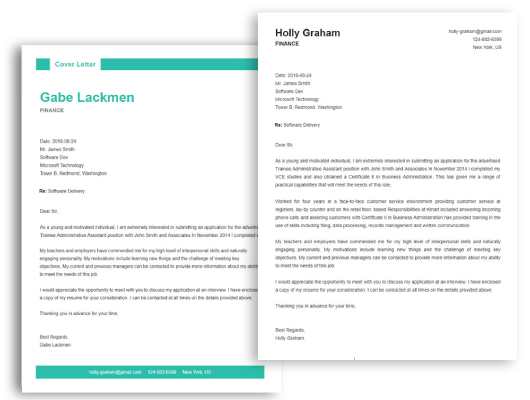 Start building your dream career today!
Create your professional cover letter in just 5 minutes with our easy-to-use cover letter builder!
Chief Technology Officer Cover Letter Sample
Dear [Hiring Manager],
I am writing to express my interest in the Chief Technology Officer (CTO) position at [Company Name].
As a technology leader who has worked in the software and engineering industries for the past [number] years, I believe I possess the expertise and strategic vision to lead the technology efforts at [Company Name]. My experience managing numerous software development projects, creating innovative technology solutions, and driving digital initiatives has enabled me to gain an in- depth understanding of the technology landscape.
I am confident that I can bring a range of skills to the role, including:
Proven ability to design, develop, and implement technical solutions and architectures in line with business objectives.
Expertise in analyzing, designing and developing software infrastructure for scalability, performance and reliability.
A track record of leveraging emerging technologies and trends to achieve business goals.
Demonstrated experience in leading teams of engineers and setting and delivering technical initiatives.
Ability to develop and maintain positive relationships with stakeholders and vendors.
Track record of driving innovation through the use of technology.
I am passionate about leveraging technology to create positive business outcomes and am excited at the opportunity to join [Company Name]. I am eager to further discuss this position and the value that I can add to [Company Name] during an interview. Thank you for your consideration.
Sincerely,
[Your Name]
Looking to improve your resume? Our resume examples with writing guide and tips offers extensive assistance.
What should a Chief Technology Officer cover letter include?
A Chief Technology Officer (CTO) cover letter should include more than just a summary of your qualifications; it should also explain why you are the best candidate for the position.
Your CTO cover letter should demonstrate the technological and managerial experience that you possess, as well as how you can use this expertise to benefit the company. It should make clear the ways that you can develop and maintain the technology strategy and architecture of the organization, as well as manage the technical staff to ensure that deadlines are met and objectives are achieved.
Your cover letter should also highlight your leadership experience and communication skills, as well as your ability to work as a team member. You should provide examples of how you have managed complex projects and implemented successful technological solutions. It is important to demonstrate that you understand the current trends in technology and can use them to the company's advantage.
Finally, your CTO cover letter should show that you have a strong understanding of the company's business objectives and how you can use your expertise to achieve them. It should also express your enthusiasm for the role and your commitment to the organization.
Chief Technology Officer Cover Letter Writing Tips
Writing a great cover letter for a Chief Technology Officer (CTO) role is an important step in your job search journey. A CTO cover letter should highlight your technical and leadership capabilities, as well as your experience in the technology industry. It should also demonstrate your enthusiasm and passion for the role. Here are some tips to help you write a standout CTO cover letter:
Outline your technical expertise: Show the hiring manager that you know your stuff and can hit the ground running. Include a list of the software and hardware skills you have, as well as any relevant certifications or awards you've earned.
Demonstrate your leadership skills: A successful CTO should be able to lead a team and manage complex projects. Talk about how you've solved difficult technical problems or implemented innovative solutions in the past.
Highlight your knowledge of the industry: Show the hiring manager that you understand the technology landscape and can make strategic decisions. Detail any industry trends you're familiar with and discuss how you've stayed up- to- date on the latest trends.
Explain why you want the role: Let the hiring manager know why you're excited about this position and why you'd be an ideal fit. Show that you understand the challenges of the role and outline how you plan to tackle them.
Use the right language: Be sure to use language that's appropriate for the technology industry. Avoid vague phrases or clichés and write in a clear and concise manner.
By following these tips, you'll be able to craft a standout CTO cover letter that will help you stand out from the competition and land the job of your dreams.
Common mistakes to avoid when writing Chief Technology Officer Cover letter
Writing a Chief Technology Officer (CTO) cover letter is not easy. You need to make sure that you include all the relevant details to stand out from the competition. However, there are a few common mistakes that you should avoid, such as:
Not Personalizing the Content: When writing a cover letter, make sure that you personalize the content to the company you are applying to. This way, the hiring manager will be able to see that you have taken the time to research their company and understand the position you are applying for.
Not Showcasing Your Skills: Your cover letter should showcase your skills and experiences that make you the ideal candidate for the role. Show the hiring manager how you are an expert in the field, and how you can add value to the company.
Not Providing Enough Details: Make sure that your cover letter is detailed and that you provide enough details about your skill set and accomplishments. This will help the hiring manager get a better understanding of who you are and why you are a great fit for the position.
Not Following the Format: Make sure that you are following the standard cover letter format. This means that you should start with a professional greeting, followed by a brief introduction, the body of the letter, a conclusion, and a formal closing.
Not Proofreading: Before you submit your cover letter, make sure that you proofread it to ensure that there are no typos or grammatical errors. This will make you appear more professional and organized.
By avoiding these common mistakes, you can make sure that you have the best chance of landing the job. Taking the time to create a well- crafted cover letter can help you stand out from the competition and have a better shot at getting hired.
Key takeaways
Writing a Chief Technology Officer cover letter can be daunting, but with the right approach, you can ensure that your cover letter stands out. Here are some key takeaways for writing an impressive CTO cover letter:
Tailor your cover letter to the position and the company. Think about what makes the company unique and how your skills and experience can help them progress their technology goals.
Showcase your technical expertise. Use your cover letter to highlight your technical capabilities, such as programming languages you know, software you are proficient in, and any other technical skills you have.
Demonstrate your leadership experience. As a Chief Technology Officer, you will be responsible for a team of IT professionals. Showcase any past experience you have in leading a team.
Highlight your problem- solving skills. As a CTO, you will be expected to be able to quickly and effectively diagnose and solve any IT- related problems that arise.
Showcase your capacity for innovation. Explain how you have been able to come up with innovative solutions to technological issues in the past.
Demonstrate your passion for technology. Be sure to showcase your enthusiasm for technology and explain how you are constantly looking for new ways to use technology to solve challenges.
By following these tips, you can ensure that your Chief Technology Officer cover letter is impactful and stands out from the rest.
Frequently Asked Questions
1.How do I write a cover letter for an Chief Technology Officer job with no experience?
Writing a cover letter for a Chief Technology Officer job with no experience can be daunting, but it's still possible to create a strong and effective letter. Begin by introducing yourself and explaining why you're interested in the role. Use examples of skills, knowledge, and industry experience to demonstrate your potential to the employer. Showcase any projects you have worked on (even if it's an individual project or hobby) to give the employer an idea of your capabilities. Lastly, explain why you think you would be a great fit for the job.
2.How do I write a cover letter for an Chief Technology Officer job experience?
A cover letter for a Chief Technology Officer job with experience should begin by highlighting your relevant professional experience and qualifications. Focus on the most important qualifications for this role, such as technical expertise, problem solving skills, and strong communication ability. Showcase any successful projects you have worked on, and explain how you were able to use your technical knowledge to implement solutions. Include any experience you have in leading a team and managing technology projects. Finally, end the letter by expressing your enthusiasm for the opportunity.
3.How can I highlight my accomplishments in Chief Technology Officer cover letter?
Your cover letter is a great opportunity to highlight your most impressive accomplishments in the role of Chief Technology Officer. Use concrete examples to show how you have achieved success in the past. Include any awards, certifications, or other professional recognitions you have earned. If you have managed a successful project, explain how you noticed and addressed potential issues. Demonstrate your problem solving skills, successes in team leadership, and ability to work in a fast- paced environment.
In addition to this, be sure to check out our cover letter templates, cover letter formats, cover letter examples, job description, and career advice pages for more helpful tips and advice.
Let us help you build
your Cover Letter!
Make your cover letter more organized and attractive with our Cover Letter Builder