The job search process can be a time-consuming and challenging endeavor. Writing an effective cover letter that stands out from the competition is an important part of this process, but it doesn't have to be a daunting task. Whether you are a graphic artist or a professional in another field, this guide will provide you with essential tips, advice, and an example of a well-crafted cover letter to help you create your own.
If you didn't find what you were looking for, be sure to check out our complete library of cover letter examples.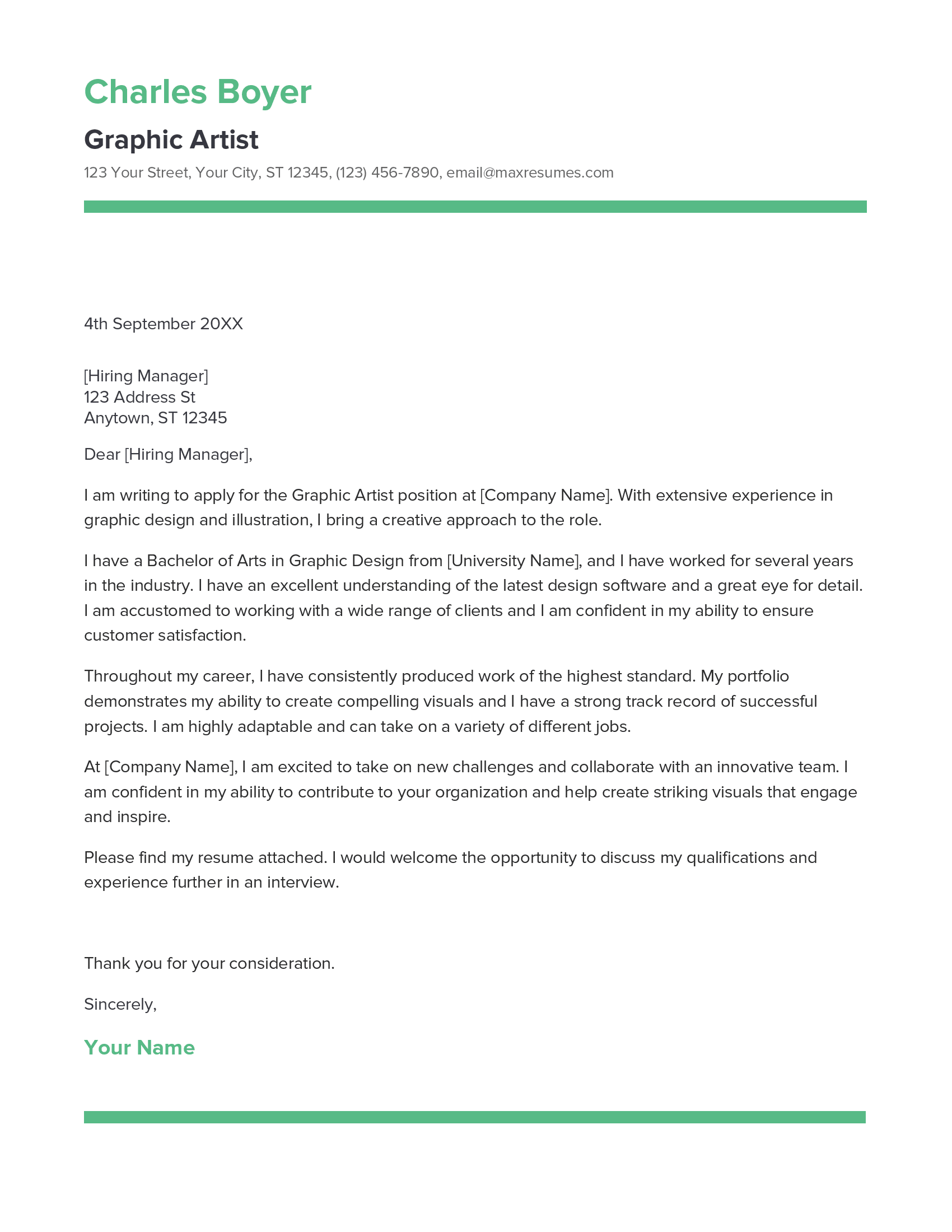 Download the Cover Letter Sample in Word Document – Click Below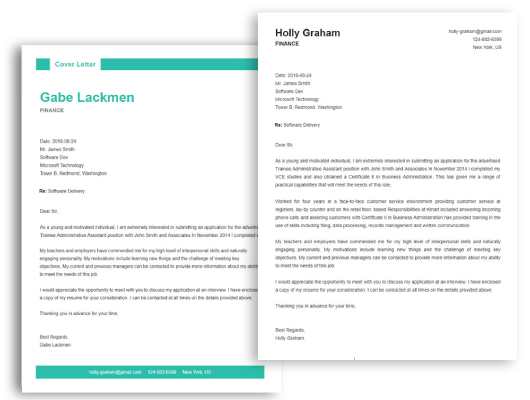 Start building your dream career today!
Create your professional cover letter in just 5 minutes with our easy-to-use cover letter builder!
Graphic Artist Cover Letter Sample
Dear [Hiring Manager],
I am writing to apply for the Graphic Artist position at [Company Name]. With extensive experience in graphic design and illustration, I bring a creative approach to the role.
I have a Bachelor of Arts in Graphic Design from [University Name], and I have worked for several years in the industry. I have an excellent understanding of the latest design software and a great eye for detail. I am accustomed to working with a wide range of clients and I am confident in my ability to ensure customer satisfaction.
Throughout my career, I have consistently produced work of the highest standard. My portfolio demonstrates my ability to create compelling visuals and I have a strong track record of successful projects. I am highly adaptable and can take on a variety of different jobs.
At [Company Name], I am excited to take on new challenges and collaborate with an innovative team. I am confident in my ability to contribute to your organization and help create striking visuals that engage and inspire.
Please find my resume attached. I would welcome the opportunity to discuss my qualifications and experience further in an interview.
Thank you for your consideration.
Sincerely,
[Your Name]
Looking to improve your resume? Our resume examples with writing guide and tips offers extensive assistance.
What should a Graphic Artist cover letter include?
A graphic artist cover letter should be an effective way to demonstrate your qualifications and enthusiasm for the role. A graphic artist cover letter should:
Introduce yourself and explain why you are applying for the position
Demonstrate your knowledge and understanding of the company and the role
Highlight any relevant skills, experience and qualifications you have
List any projects, publications or previous roles that are relevant to the position
Explain why you believe you are the best fit for the role
Provide a way for the employer to contact you
Provide any additional information that may influence their decision
Include appropriate closing remarks
Thank the employer for their time and consideration.
Graphic Artist Cover Letter Writing Tips
Writing the perfect cover letter for a graphic artist role can be challenging, especially if you're new to the industry and don't have much experience. Here are some tips to help you create a great cover letter:
Research the Company: Before writing your cover letter, it's important to research the company you're applying to. Find out who the company is, what they do, and what kind of work they produce. This will help you tailor your letter to the company's specific needs and demonstrate your interest.
Focus on Your Qualifications: Even if you don't have any work experience in a graphic design role, you can still highlight your qualifications and skills in your cover letter. Mention any relevant qualifications and skills that you have, such as your ability to work with different types of software, knowledge of design trends, and any past related work experience you may have.
Include Examples of Your Work: Including examples of your work in your cover letter is a great way to show potential employers what you're capable of. If you have any graphic design projects or portfolio pieces you can include, that's ideal. You can also provide online links to your work or attach digital files to your email.
Show Your Passion: Employers want to know that you're passionate about the position and the company. Show them this by writing in detail about why you're interested in the role and what attracts you to the company.
Proofread and Edit: Before sending off your cover letter, it's important to proofread and edit it carefully. Check for errors in grammar, spelling, or punctuation and make sure the tone and style of the letter is consistent.
Common mistakes to avoid when writing Graphic Artist Cover letter
Writing a cover letter for a graphic artist position can be tricky. A great cover letter will grab the attention of the hiring manager and make them interested in your skills and experience. However, it's important to avoid common mistakes in order to make the most of your cover letter. Here are a few of the most common mistakes to avoid when writing a graphic artist cover letter.
Not Including a It's important to include a brief summary of your qualifications and experience at the beginning of the letter. This will give the hiring manager an overview of your credentials and help them quickly determine if you're a good fit for the position.
Not Showcasing Your Skills: A great cover letter should be more than just a recitation of your resume. It should highlight the specific graphic design skills and experience you have that make you a great candidate for the position. Be sure to include examples of your work to illustrate your skills.
Not Customizing the Letter: A personalized cover letter tailored to the specific position you're applying for is essential. Don't simply copy and paste a generic cover letter. Take the time to customize the letter to the position and make sure it reflects your qualifications and experience.
Not Following Instructions: Many companies will have specific instructions for how they want applicants to submit their cover letters. Be sure to read any instructions carefully and follow them to the letter. Not following instructions could mean that your application is overlooked.
Not Proofreading: A well- written cover letter is essential to making a great first impression. Don't forget to proofread your cover letter for typos and errors before you submit it.
By avoiding these common mistakes, you can make sure your cover letter for a graphic artist position is up to par and stands out from the crowd.
Key takeaways
A Graphic Artist cover letter is your chance to make a good first impression on a potential employer. It's important to make sure that your letter is impressive and stands out from the crowd, so that you have the best chance of securing the role. Here are some key takeaways for writing an impressive Graphic Artist cover letter:
Highlight the relevant skills and qualifications that you have that make you an ideal candidate for the role.
Make sure to mention relevant projects and achievements that demonstrate your proficiency in the field.
Use clear and concise language when describing your abilities and experience.
Demonstrate enthusiasm and passion for the opportunity and the industry.
Include a portfolio of your past and present projects, as well as any awards or recognition you have received.
Proofread your cover letter carefully before sending it to ensure there are no spelling or grammatical errors.
Be confident, but not arrogant, in expressing your interest in the position.
Frequently Asked Questions
1.How do I write a cover letter for an Graphic Artist job with no experience?
Writing a cover letter for a Graphic Artist job with no experience can seem daunting. However, it's important to remember that even with no experience, you can still showcase your skills and enthusiasm for the role. Focus on your core qualifications, such as a computer design software proficiency, attention to detail, and artistic eye. Highlight your education, such as coursework or training related to the job. Also, mention any internships, volunteer work, or personal projects that demonstrate your graphic design skills. Finally, emphasize your passion for the job, and your eagerness to learn and grow in the Graphic Artist position.
2.How do I write a cover letter for an Graphic Artist job experience?
Writing a cover letter for a Graphic Artist job with experience can be easier than writing one with no experience. Start your cover letter by introducing yourself and your experience. Then, highlight your skills and qualifications that are pertinent to the job. Include any awards or recognition you have received for your work. Demonstrate your industry knowledge and mention any certifications or additional training you have taken. Finally, explain why you are passionate about the role, and why you want to work for the company specifically.
3.How can I highlight my accomplishments in Graphic Artist cover letter?
In your Graphic Artist cover letter, it's important to highlight your achievements. Share any awards you have won for your design work, such as client awards or recognition from industry organizations. If you've been featured in any publications or online galleries, be sure to mention that as well. If you have completed any large or complex projects, explain those in detail. You should also mention any other skills or qualifications that you possess, such as web design, photography, or video editing.
4.What is a good cover letter for an Graphic Artist job?
A good cover letter for a Graphic Artist job should be succinct, yet informative. Begin by introducing yourself, and explain why you're interested in the role. Then, provide a brief overview of your experience and qualifications, including any awards you have earned. Explain why you are passionate about the job, and mention any projects or client work that showcase your design skills. Finally, express your eagerness to learn more about the company and the position.
In addition to this, be sure to check out our cover letter templates, cover letter formats, cover letter examples, job description, and career advice pages for more helpful tips and advice.
Let us help you build
your Cover Letter!
Make your cover letter more organized and attractive with our Cover Letter Builder