Writing a cover letter is an important part of applying for a job, and one that can often be a little intimidating. It is an opportunity to showcase your skills and strengths, and set yourself apart from the competition. To help make the process as straightforward as possible, this guide provides an overview of the key elements of a successful cover letter, plus an example to refer to. With this information, you should have all the information and confidence you need to write a compelling cover letter and maximise your chances of success.
If you didn't find what you were looking for, be sure to check out our complete library of cover letter examples.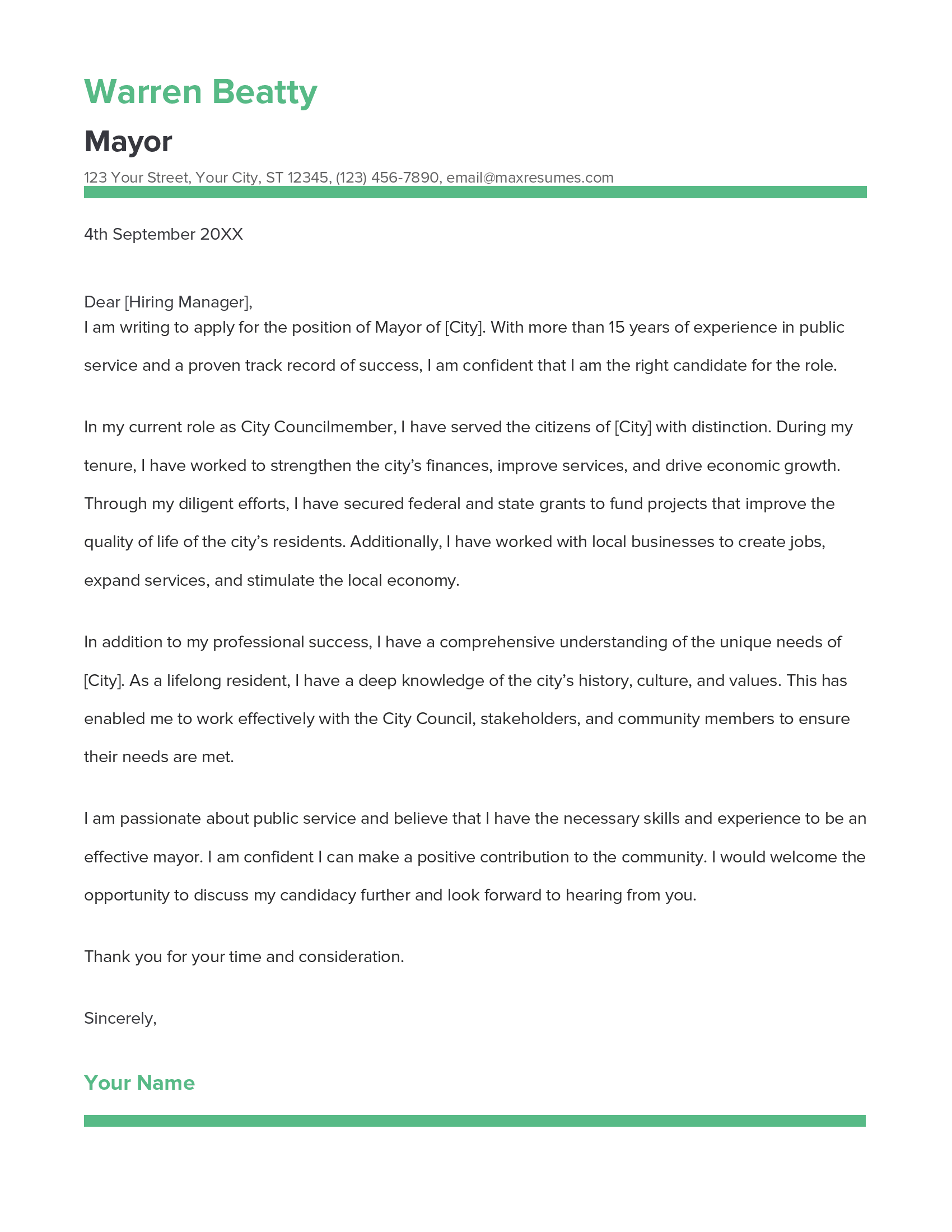 Download the Cover Letter Sample in Word Document – Click Below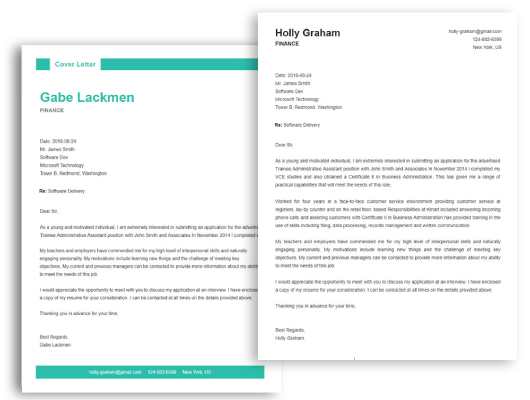 Start building your dream career today!
Create your professional cover letter in just 5 minutes with our easy-to-use cover letter builder!
Mayor Cover Letter Sample
Dear [Hiring Manager],
I am writing to apply for the position of Mayor of [City]. With more than 15 years of experience in public service and a proven track record of success, I am confident that I am the right candidate for the role.
In my current role as City Councilmember, I have served the citizens of [City] with distinction. During my tenure, I have worked to strengthen the city's finances, improve services, and drive economic growth. Through my diligent efforts, I have secured federal and state grants to fund projects that improve the quality of life of the city's residents. Additionally, I have worked with local businesses to create jobs, expand services, and stimulate the local economy.
In addition to my professional success, I have a comprehensive understanding of the unique needs of [City]. As a lifelong resident, I have a deep knowledge of the city's history, culture, and values. This has enabled me to work effectively with the City Council, stakeholders, and community members to ensure their needs are met.
I am passionate about public service and believe that I have the necessary skills and experience to be an effective mayor. I am confident I can make a positive contribution to the community. I would welcome the opportunity to discuss my candidacy further and look forward to hearing from you.
Sincerely,
[Your Signature]
[Your Name]
Looking to improve your resume? Our resume examples with writing guide and tips offers extensive assistance.
What should a Mayor cover letter include?
A Mayor cover letter should include a brief introduction about yourself and your experience in the political arena, as well as your reasons for wanting to become the Mayor of the city or town in question. It should explain your understanding of the duties of a Mayor, and how your skills and experience make you qualified for the position. It should also discuss your commitment to the local community and what goals you have in mind if elected. Your cover letter should also provide evidence of your dedication to the job and how you plan to use your strengths and experience to benefit the municipality. Finally, include a concise conclusion that expresses your enthusiasm for the role and your willingness to interview for it.
Mayor Cover Letter Writing Tips
When applying for a mayor position, you will be required to submit a cover letter to accompany your resume. This document is your chance to make a strong first impression and convince the hiring manager that you are the best candidate for the job. Here are some tips to help you craft an effective mayor cover letter:
Research the position and organization thoroughly. Make sure you understand what the job responsibilities are, and read up on the organization's mission and values. This will help you tailor your cover letter to fit the job and organization.
Focus on your relevant skills and experience. Include specific examples of how your experience and qualifications make you the ideal candidate for the job.
Keep it brief and to the point. Your cover letter should be no longer than one page. Focus on the most relevant information and avoid going into unnecessary detail.
Use a professional tone. Your language should be courteous, professional, and free from slang and jargon.
Proofread and edit carefully. Make sure your cover letter is free of typos and grammatical errors.
By following these tips, you can create a compelling mayor cover letter that will help you stand out from the competition and secure an interview. Good luck!
Common mistakes to avoid when writing Mayor Cover letter
Writing a cover letter for a mayor's position can be tricky. It's important to make sure you communicate your qualifications and experience effectively, while also demonstrating your knowledge of the city and its politics. To help you get started, here are some common mistakes to avoid when writing a mayor cover letter:
Not Tailoring the Letter to the City: While the basics of a cover letter may be the same, it's important to tailor your letter to the city you are applying for. Show that you're familiar with the city's issues, challenges and goals, and explain how you're the right candidate to tackle them.
Not Showcasing Your Qualifications: A cover letter is not just a list of your accomplishments. It's an opportunity to showcase your qualifications and experience that are relevant to the job. Be sure to highlight any successes you've had in politics or public service, and explain why you're the perfect fit for the job.
Focusing Too Much on Yourself: While it's important to highlight your qualifications, it's also important to focus on how you can help the city. Demonstrate how you can make a positive impact on the city and its residents, and explain how your vision for the city aligns with the mayor's office.
Being Too Formal: Don't forget to inject a bit of personality into your letter. Show that you're passionate and engaged with the city, and that you're invested in its future.
Not Proofreading: Finally, it's important to proofread your letter before you send it. Ensure there are no typos or grammar mistakes, and make sure the letter is free of any errors.
Key takeaways
Writing a cover letter for a role as Mayor can be a daunting task. To make sure your letter stands out and is as impressive as possible, here are some key takeaways to keep in mind:
Understand the specific requirements of the job you're applying for. Make sure to demonstrate your knowledge of the job requirements and how your experience meets them.
Highlight your key accomplishments, especially those related to municipal government.
Demonstrate your understanding of the challenges facing the city and offer specific solutions.
Explain why you are the best candidate for the job and how you can bring a unique perspective and skillset to the role.
Use a clear, professional writing style and avoid any errors or typos.
Be sure to include a call to action in your letter, such as requesting an interview to discuss your qualifications further.
With these key takeaways in mind, you should be well on your way to writing an impressive cover letter for a position as Mayor. Good luck!
Frequently Asked Questions
1. How do I write a cover letter for an Mayor job with no experience?
Writing a cover letter for an Mayor job with no experience can be daunting, but it doesn't have to be. To start, focus on your transferable skills and highlight the qualities that make you a great fit for the position. Demonstrate why it's important to hire someone with no experience and emphasize the benefits of learning on the job. Show that you're eager to take on the challenge and that you're willing to do whatever it takes to get the job done.
2. How do I write a cover letter for an Mayor job experience?
When applying for an experienced Mayor job, your cover letter should showcase your qualifications, skills, and accomplishments. In addition to highlighting your relevant experience, list any projects you have worked on that demonstrate your ability to take on higher- level responsibility. Showcase the transferable skills you have and explain how you can apply them to the position. Finally, express your passion for the role, and let the employer know that you are the ideal candidate for the job.
3. How can I highlight my accomplishments in Mayor cover letter?
When writing a cover letter for an Mayor job, it is important to highlight your achievements. Start by listing any awards or recognition you have received in your current or past positions. Showcase any projects you have completed that demonstrate your knowledge and skills. Additionally, include any metrics you have achieved that demonstrate the impact of your work. Showing that you can bring success to the organization is key.
4. What is a good cover letter for an Mayor job?
Writing a good cover letter for an Mayor job should be tailored to the position you are applying for. Start by introducing yourself and your qualifications. Then, explain why you are a great fit for the role and how you can help the organization achieve its goals. Showcase your transferable skills and accomplishments, and explain why you are passionate about the job. Lastly, be sure to express your enthusiasm and thank the employer for their time.
In addition to this, be sure to check out our cover letter templates, cover letter formats, cover letter examples, job description, and career advice pages for more helpful tips and advice.
Let us help you build
your Cover Letter!
Make your cover letter more organized and attractive with our Cover Letter Builder