Writing a cover letter for a position as an election clerk can be an exciting opportunity to demonstrate your interest in the role and discuss your relevant skills and experiences. It's a great way to make sure your application stands out from the crowd and highlights the unique value you can bring to the position. In this guide, we provide tips on how to effectively write a strong cover letter and provide an example to get you started.
If you didn't find what you were looking for, be sure to check out our complete library of cover letter examples.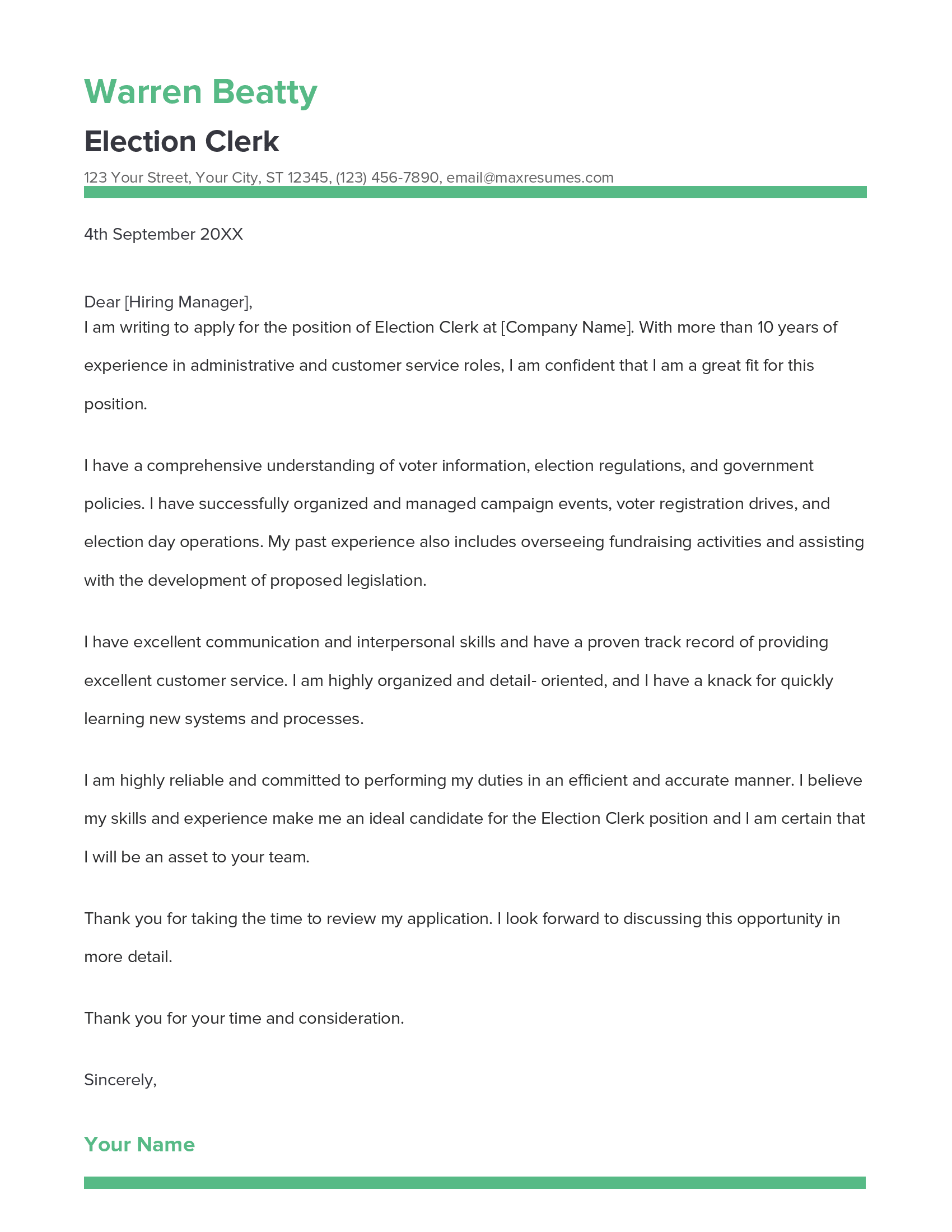 Download the Cover Letter Sample in Word Document – Click Below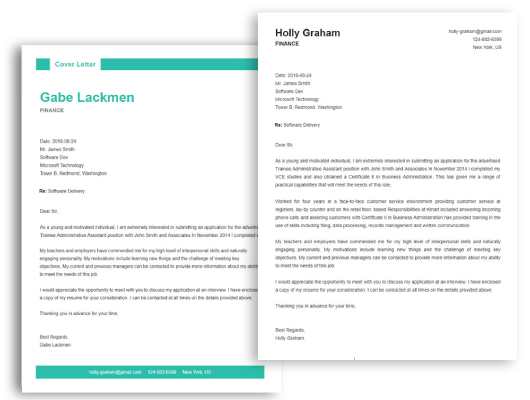 Start building your dream career today!
Create your professional cover letter in just 5 minutes with our easy-to-use cover letter builder!
Election Clerk Cover Letter Sample
Dear [Hiring Manager],
I am writing to apply for the position of Election Clerk at [Company Name]. With more than 10 years of experience in administrative and customer service roles, I am confident that I am a great fit for this position.
I have a comprehensive understanding of voter information, election regulations, and government policies. I have successfully organized and managed campaign events, voter registration drives, and election day operations. My past experience also includes overseeing fundraising activities and assisting with the development of proposed legislation.
I have excellent communication and interpersonal skills and have a proven track record of providing excellent customer service. I am highly organized and detail- oriented, and I have a knack for quickly learning new systems and processes.
I am highly reliable and committed to performing my duties in an efficient and accurate manner. I believe my skills and experience make me an ideal candidate for the Election Clerk position and I am certain that I will be an asset to your team.
Thank you for taking the time to review my application. I look forward to discussing this opportunity in more detail.
Sincerely,
[Your Name]
Looking to improve your resume? Our resume examples with writing guide and tips offers extensive assistance.
What should a Election Clerk cover letter include?
A strong election clerk cover letter should provide a snapshot of the candidate's qualifications, demonstrate their enthusiasm for the position, and succinctly explain why they are the best fit for the role.
The cover letter should begin with a brief introduction about the candidate's professional background, highlighting any relevant experience and qualifications. This section should also include any professional achievements that demonstrate the candidate's potential to excel in the role, such as successful completion of any election- related certifications or programs.
The body of the letter should then clearly and concisely explain why the candidate believes they are the ideal fit for the position. This section should focus on the candidate's unique skills, abilities, and experiences that make them a superior candidate to others. Examples of these qualifications could include the candidate's ability to work with a variety of people, their knowledge of election laws and procedures, and their experience working in a fast- paced and challenging environment.
Finally, the letter should end on a positive note, thanking the employer for their time and expressing enthusiasm for the opportunity. This should be a brief but sincere statement that leaves a lasting impression on the employer.
By following these guidelines, any candidate can craft an effective election clerk cover letter that stands out from the competition and demonstrates their commitment to being the perfect fit for the position.
Election Clerk Cover Letter Writing Tips
Writing an effective cover letter is essential when applying for a job as an election clerk. A well- crafted cover letter can make an impression on potential employers and increase your chances of securing an interview. Here are some tips on how to write a cover letter for an election clerk position.
Research the employer: Before writing your cover letter, take time to research the company you are applying to. Understanding the company's culture, mission, and values will provide you with valuable insight into the types of candidates they are looking for and how to best convey your skills and qualifications.
Highlight your relevant skills: An election clerk job requires a range of skills such as organization, data entry, customer service, and communication. Your cover letter should emphasize the skills that are most related to the position, such as knowledge of the voting process, familiarity with election laws and regulations, and experience in data entry.
Focus on achievements: To stand out from other applicants, include examples of your achievements in your cover letter. If you have managed or organized successful projects or events before, explain what you did, how you did it, and the impact that it had.
Show enthusiasm: Employers are looking for candidates who are passionate about the job and excited to be there. Show enthusiasm for the position by describing why you're interested in it and highlighting what makes you a great fit.
Use the right language: Election clerks must follow specific laws and regulations when carrying out their duties. Your cover letter should reflect your knowledge of these laws and your ability to adhere to them. Use language that conveys your understanding of the job and emphasizes your commitment to following the rules.
Proofread and edit: After writing your cover letter, take the time to double check your work for any grammar, spelling, or punctuation errors. A typo or mistake in your letter can give employers the impression that you'
Common mistakes to avoid when writing Election Clerk Cover letter
Cover letters are a crucial part of any job application, and as an Election Clerk, you should take extra care to ensure your cover letter is top- notch. Here are some of the most common mistakes to avoid when writing your Election Clerk cover letter.
Not Being Specific Enough: When writing your cover letter, make sure to be as specific and detailed as possible. Don't simply restate the information that is already on your resume. Instead, emphasize the skills and qualifications you possess that make you the ideal candidate for the position.
Not Showing Enthusiasm: Your cover letter should show your enthusiasm for the position and the company. Use active language, highlight your skills and experience, and be sure to express why the job is of interest to you.
Not Proofreading: Before sending your cover letter, double- check it for any typos, grammar mistakes, or missing information. A sloppy cover letter could significantly damage your chances of being hired.
Not Customizing: Make sure to tailor your cover letter to the specific job you are applying for. A generic cover letter will not stand out, and it may be assumed that you are not taking the time to learn about the company or the position.
Not Including Contact Information: Finally, make sure to include your contact information, such as your email address and phone number, at the bottom of your cover letter. Without this information, hiring managers will not be able to easily contact you.
By avoiding these common mistakes, you will be well on your way to creating an effective and professional Election Clerk cover letter.
Key takeaways
Writing an impressive cover letter for an Election Clerk role can be daunting. Candidates often feel pressured to make sure their cover letter is perfect since it is a crucial document for job seekers. However, by following a few basic guidelines, candidates can increase their chances of creating an effective cover letter.
Here are some key takeaways for writing an impressive Election Clerk cover letter:
Research the company: Make sure you understand the company you are applying to and the role you are applying for. Research the company's website, press releases, and other online resources to learn more about their culture, mission, and goals.
Customize your cover letter: Make sure your cover letter is tailored to the specific role. Use relevant keywords from the job description and be sure to address any skills or qualifications mentioned.
Keep it short and sweet: Keep your cover letter concise and to the point. No one wants to read a long, rambling cover letter. Your goal should be to make a succinct case for why you are a great fit for the role.
Highlight your strengths: Make sure to highlight your most relevant qualifications and experiences. Focus on your skills and accomplishments that are most applicable to the role.
Proofread: Last but not least, make sure to proofread your cover letter. Check for typos and grammar mistakes before submitting your application.
By following these simple tips, candidates can create an effective and impressive cover letter for an Election Clerk role. Good luck!
Frequently Asked Questions
1.How do I write a cover letter for an Election Clerk job with no experience?
Writing a cover letter for an Election Clerk job with no experience can be challenging. However, it is possible to create a competitive cover letter that highlights your relevant skills and qualifications. Make sure to emphasize the transferable skills you have gained in other areas such as communication, organization, and customer service. Additionally, include any volunteer experiences or extracurricular activities that show your enthusiasm for politics and voting. Be sure to focus on your passion as well as your ability to handle responsibility, time management, and work independently.
2.How do I write a cover letter for an Election Clerk job experience?
If you already have experience as an Election Clerk, your cover letter should focus on the specific skills and experiences you bring to the job. Include examples of the tasks you completed successfully in your previous roles, such as recruiting and training poll workers, preparing and distributing election materials, administering elections, and working with local and state election officials. Also, highlight any special projects or initiatives you worked on such as developing new voting procedures or implementing new technologies.
3.How can I highlight my accomplishments in Election Clerk cover letter?
When writing a cover letter for an Election Clerk job, you should emphasize your accomplishments by providing concrete examples. Describe any successful initiatives or projects you implemented, as well as any improvements you made to existing processes. Additionally, highlight any awards or recognitions you received for your work, such as an outstanding performance award or commendation from your supervisor.
4.What is a good cover letter for an Election Clerk job?
A good cover letter for an Election Clerk job should be tailored to the role you are applying for and demonstrate your enthusiasm for the position. Start your cover letter by briefly introducing yourself and explaining why you would be a great fit for the job. Then, provide concrete examples of your relevant experience and accomplishments to show the hiring manager why you are the best candidate. Finally, close your letter by reiterating your enthusiasm for the position and expressing your interest in discussing the role further.
In addition to this, be sure to check out our cover letter templates, cover letter formats, cover letter examples, job description, and career advice pages for more helpful tips and advice.
Let us help you build
your Cover Letter!
Make your cover letter more organized and attractive with our Cover Letter Builder