Writing a cover letter for a Recreation Aide position can be an intimidating task. While you may feel lost at first, it doesn't have to be overwhelming. With the right information and tips, you can create a cover letter that will help you impress potential employers and land the job you want. In this guide, we will go over the key elements of a great Recreation Aide cover letter and provide you with an example to use as a template. With this guide, you will be well on your way to crafting a professional and polished cover letter that will get you noticed.
If you didn't find what you were looking for, be sure to check out our complete library of cover letter examples.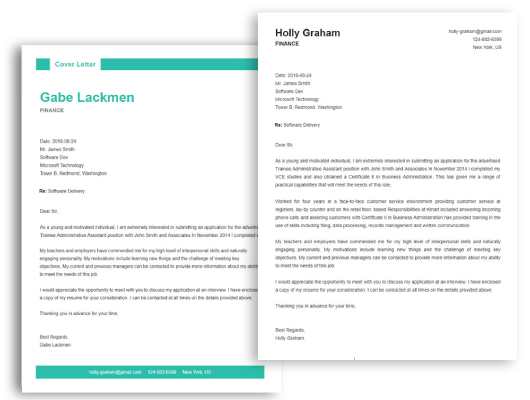 Start building your dream career today!
Create your professional cover letter in just 5 minutes with our easy-to-use cover letter builder!
Recreation Aide Cover Letter Sample
Dear [Hiring Manager],
I am writing to apply for the position of Recreation Aide with [Company Name]. With my experience in recreational activities and enthusiasm for helping others, I am confident I would make an excellent addition to your team.
I am a certified recreation aide with an Associate's degree in Recreation & Parks. I have experience working with children and adults of all ages, from infants to seniors, and have a passion for creating safe, enjoyable and memorable recreational experiences for them. My experience in recreational activities also includes planning, organizing, promoting and implementing games, activities and programs for a variety of ages.
I am also an enthusiastic team- player who works well with others to create an environment that is both fun and safe for those participating in recreational activities. Additionally, I am highly organized, able to multi- task and prioritize tasks to ensure that all activities are completed in a timely manner. I also possess excellent customer service skills, so I am prepared to go above and beyond to ensure that all participants enjoy their recreational experience.
I am confident that my experience, enthusiasm and dedication make me an ideal candidate for the Recreation Aide position and I would be honored to join your team. I am available to discuss my qualifications in greater detail and am eager to learn more about this opportunity. Thank you for your time and consideration.
Sincerely,
[Your Name]
Looking to improve your resume? Our resume examples with writing guide and tips offers extensive assistance.
What should a Recreation Aide cover letter include?
A Recreation Aide cover letter should be tailored to the job for which you are applying and should include some of the following:
A brief introduction that outlines your career goals and how you can help the organization
A description of your qualifications, including relevant experience and any certifications or licenses you may have
A discussion of your enthusiasm and commitment to working with a recreation- focused organization
A statement of your willingness to learn and develop new skills
Details of any awards or recognition you have received for your work
A description of your ability to work well with a team and the public
A mention of your attention to detail and organizational abilities
A closing paragraph that reiterates your interest and enthusiasm for the position.
Recreation Aide Cover Letter Writing Tips
Writing a cover letter for a recreation aide position can be difficult. However, by following these tips, you can make sure your cover letter is professional and stands out from the rest.
Start your letter off by introducing yourself, your qualifications, and why you are interested in the position. This will help the employer get to know you and understand why you are the right fit for the job.
Be sure to mention any relevant experience or qualifications you have that are related to the position. This could include any certifications, degrees, or previous employment in the recreation field.
Keep your cover letter concise and to the point. Make sure to include only relevant information that is necessary for the position.
Proofread your letter carefully to ensure that it has no spelling or grammar mistakes. This will help ensure your letter looks professional and polished.
Show your enthusiasm for the job. Let the employer know how excited you are to be considered for the position and why you think you would be a great addition to the team.
By following these tips, you can create a professional and impactful cover letter for your recreation aide position. Good luck!
Common mistakes to avoid when writing Recreation Aide Cover letter
Writing a cover letter for a Recreation Aide position can be intimidating. Knowing what to include in the letter and how to best present yourself can be a challenge. Here are some common mistakes to avoid when writing a cover letter for a Recreation Aide position:
Not including a tailored cover letter: When applying for any job, it's important to tailor your cover letter to the position you're applying for. A generic cover letter won't be as effective as one that is tailored to the specific job.
Not proofreading the letter: A simple spelling or grammar mistake in your cover letter could be enough to make a potential employer think twice. Always proofread your cover letter multiple times before submitting it.
Overstating your qualifications: Be honest and accurate in your cover letter. Don't make claims that you can't back up, and avoid exaggerating your qualifications.
Not including relevant keywords: Many employers use applicant tracking systems to review job applications. To ensure your cover letter makes it through the initial screening process, make sure to include relevant keywords related to the position.
Not including a call to action: End your cover letter by making a clear call to action. Let the employer know what the next step is, such as to contact you for an interview.
Following these tips can help you write a better cover letter for a Recreation Aide position. By avoiding these common mistakes, you can increase your chances of getting the job.
Key takeaways
Writing a professional and impressive recreation aide cover letter is the key to getting a job in this field. Here are some key takeaways for crafting an effective and impressive cover letter:
Start your cover letter by introducing yourself and giving a brief overview of your professional background and qualifications.
Focus on your experience and highlight any relevant certifications, awards, or successes that demonstrate your skills in the field.
Make sure to highlight the unique qualities that make you a great fit for the job.
Clearly explain why you are a good fit for the job and what you can contribute to the organization.
Keep your cover letter concise and to the point.
Proofread your cover letter for any errors or typos before submitting it.
Always address the cover letter to a specific person and include their name and job title.
Conclude your cover letter by thanking the reader and expressing your enthusiasm for the opportunity.
Frequently Asked Questions
1. How do I write a cover letter for an Recreation Aide job with no experience?
When writing a cover letter for a Recreation Aide job with no experience, it is important to demonstrate your enthusiasm for the role and your commitment to being a successful candidate. Start by introducing yourself and your qualifications for the role. Explain why you feel you would be a great fit for the job and how your skills are relevant. Highlight any transferable skills you possess and provide examples of how you have used them in the past. Finally, express your interest in learning more about the position, and provide contact information so the employer can reach you.
2. How do I write a cover letter for an Recreation Aide job experience?
When writing a cover letter for a Recreation Aide job with experience, it is important to focus on your past successes and how you could help the organization in the future. Begin your letter by introducing yourself and why you are interested in the role. Highlight your professional experience and the skills you have developed over the years that could be beneficial for the position. Provide specific examples of successful projects you have completed and how your knowledge and expertise could help the organization succeed. Finally, demonstrate your enthusiasm for the role and explain why you are the perfect candidate for the job.
3. How can I highlight my accomplishments in Recreation Aide cover letter?
When highlighting your accomplishments in a Recreation Aide cover letter, it is important to focus on results- oriented achievements. Begin by providing an example of a successful project you completed in a previous role where you demonstrated your leadership and problem- solving skills. Provide specific details of the project, and explain how you used your skills to come up with an innovative solution. Additionally, if you have received any awards or recognition for your work, mention these accomplishments to show how the employer will benefit from having you on board.
4. What is a good cover letter for an Recreation Coordinator position?
As a Recreation Coordinator, I have extensive experience working on a variety of projects, from coordinating large events to managing teams of volunteers. I am especially adept at problem solving and finding innovative solutions to difficult challenges.
In my current role, I successfully managed a large-scale volunteer project for a local charity. I was able to motivate a team of over 50 volunteers to ensure the success of the event. Additionally, I was able to come up with creative solutions to budgeting challenges and logistical issues that arose during the event. I also worked closely with the charity's staff to ensure that their goals were met. My experience in organizing and managing events has given me the ability to think outside the box and develop effective strategies to ensure successful outcomes. I am confident in my ability to manage teams of volunteers and ensure the success of any project I am assigned to.
In addition to this, be sure to check out our cover letter templates, cover letter formats, cover letter examples, job description, and career advice pages for more helpful tips and advice.
Let us help you build
your Cover Letter!
Make your cover letter more organized and attractive with our Cover Letter Builder