Writing a cover letter for a TV producer job can be an exciting and rewarding challenge. With the right approach, you can craft a compelling and professional representation of your skills and expertise that can help you stand out from the competition. This guide provides an outline of what to include in your cover letter, alongside an example to provide additional guidance. With this information, you can create an inspiring and informative cover letter that will impress potential employers.
If you didn't find what you were looking for, be sure to check out our complete library of cover letter examples.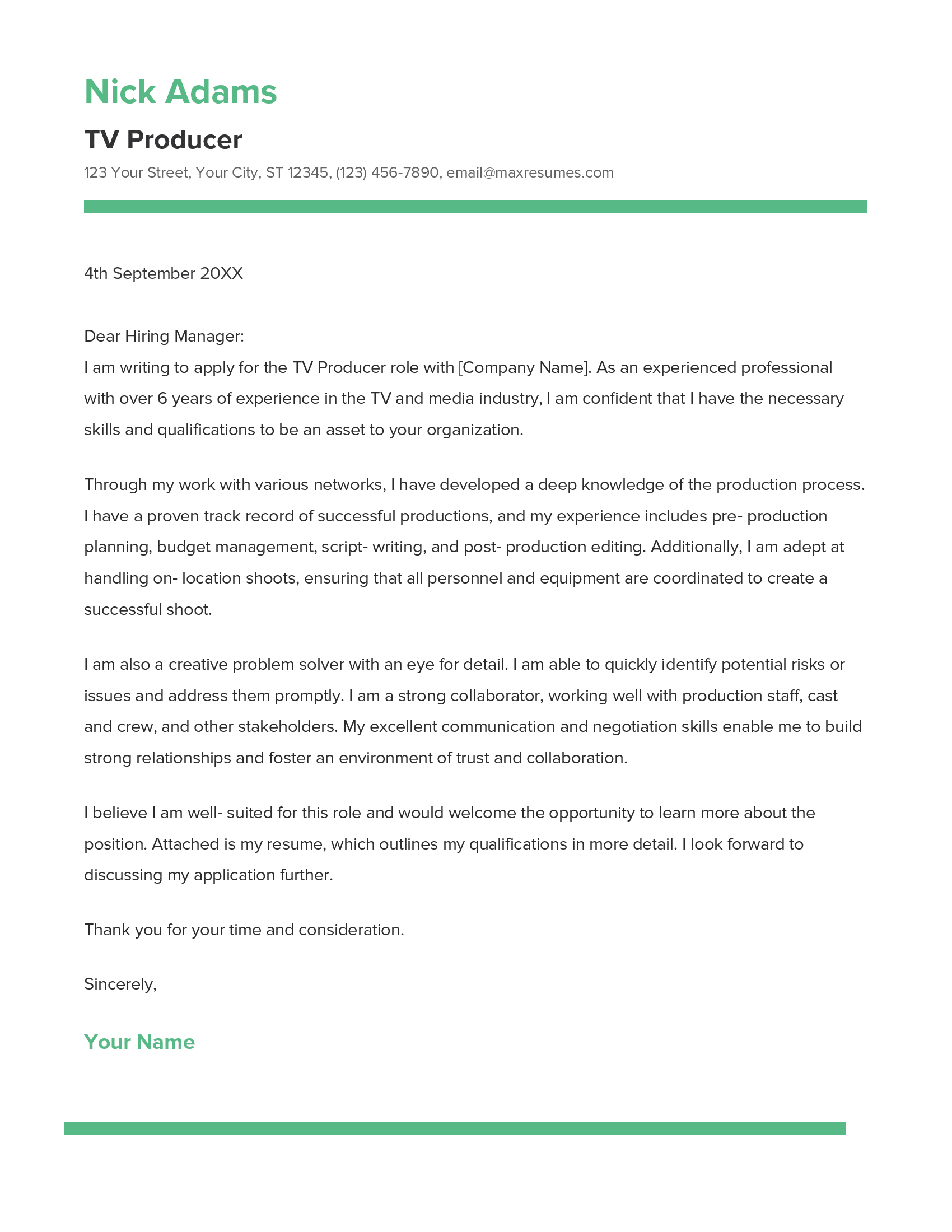 Download the Cover Letter Sample in Word Document – Click Below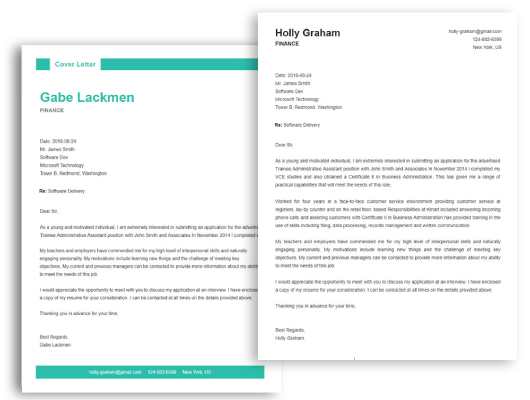 Start building your dream career today!
Create your professional cover letter in just 5 minutes with our easy-to-use cover letter builder!
TV Producer Cover Letter Sample
Dear [Hiring Manager],
I am writing to apply for the TV Producer role with [Company Name]. As an experienced professional with over 6 years of experience in the TV and media industry, I am confident that I have the necessary skills and qualifications to be an asset to your organization.
Through my work with various networks, I have developed a deep knowledge of the production process. I have a proven track record of successful productions, and my experience includes pre- production planning, budget management, script- writing, and post- production editing. Additionally, I am adept at handling on- location shoots, ensuring that all personnel and equipment are coordinated to create a successful shoot.
I am also a creative problem solver with an eye for detail. I am able to quickly identify potential risks or issues and address them promptly. I am a strong collaborator, working well with production staff, cast and crew, and other stakeholders. My excellent communication and negotiation skills enable me to build strong relationships and foster an environment of trust and collaboration.
I believe I am well- suited for this role and would welcome the opportunity to learn more about the position. Attached is my resume, which outlines my qualifications in more detail. I look forward to discussing my application further.
Thank you for your time and consideration.
Sincerely,
[Your Name]
Looking to improve your resume? Our resume examples with writing guide and tips offers extensive assistance.
What should a TV Producer cover letter include?
A TV Producer cover letter should include the following sections:
Introduction: Include a brief introduction of yourself and why you are interested in the position.
Qualifications: List your professional qualifications, such as years of experience, credentials, and awards.
Career Goals: Demonstrate your enthusiasm for the position and show how you plan to build upon your current skills to be a successful TV Producer.
Production Experience: Highlight any past production work, such as TV shows, TV movies, or documentaries, that demonstrate your aptitude for the position.
Communication Skills: Explain how your excellent communication skills can be used to communicate with a range of people during production, from actors to cameramen.
Problem- solving Abilities: Show how you can use creative problem- solving skills to troubleshoot any issues that may arise during production.
Creative Vision: Demonstrate your creative vision for the project and how you can generate innovative ideas to enhance the production.
Closing Statement: Finish by thanking the employer for their time and expressing your enthusiasm for the position.
TV Producer Cover Letter Writing Tips
Writing a strong cover letter is essential when applying for a job as a TV producer. A cover letter allows you to stand out among the competition and makes a great impression on the employer. Here are a few tips to help you write a successful cover letter for a TV producer position:
Research the company: Research the company you're applying to. You should have a good understanding of the company's goals and values, as well as its current projects and initiatives. This will help you tailor your letter to showcase how your skills and experience fit with the company.
Highlight your experience: Use your cover letter to highlight your experience and skills that are relevant to the position. Showcase any awards or achievements you have earned in the TV industry and how you have used your skills and creativity to produce successful projects.
Make it personal: Make sure to personalize your letter to the recipient. Use their name, address the letter to the appropriate person, and include a thank you at the end. Showing that you've taken the time to research the company and the position will help you stand out from other applicants.
Demonstrate enthusiasm: Demonstrate your enthusiasm for the job and the company. Show that you're excited to learn more about the company and the role.
Proofread: Before you submit your letter, make sure to proofread it for any errors. Be sure to double- check all grammar and spelling. You want your letter to be error- free and professional.
Following these tips will help you write an effective cover letter for a TV producer position. Showing that you've done your research and have the necessary skills and experience to fulfill the role will make you an attractive candidate.
Common mistakes to avoid when writing TV Producer Cover letter
Writing a cover letter for a TV Producer position can seem intimidating, but with the right strategies and preparation, you can make sure your letter stands out from the crowd. Here are some common mistakes to avoid when crafting your TV Producer cover letter:
Not Customizing the Letter to the Specific Role: When applying for a TV Producer position, it's important to tailor your cover letter to the specific position. This means researching the company and job description to make sure you're highlighting the right skills and experiences.
Not Highlighting Your Production Experience: As a TV Producer, you'll need to demonstrate that you have experience in production. Make sure your cover letter highlights any producing experience you have, such as developing story ideas, coordinating schedules, and working with a variety of stakeholders.
Failing to Showcase Your Charisma: As a TV Producer, you need to be able to communicate with a wide variety of people, so don't forget to showcase your charisma and communication skills in your cover letter.
Omitting Your Networking Skills: TV Producers need to have a wide network of people in the industry, so make sure to highlight any networking skills you have in your cover letter.
Not Mentioning Your Creative Strengths: TV Producers need to be creative problem solvers, so make sure your cover letter showcases any creative projects you've worked on in the past.
Not Proofreading: Last but not least, make sure to carefully proofread your cover letter before sending it in. Even a small typo can make a big difference in the eyes of a potential employer.
Key takeaways
Writing an impressive cover letter as a TV Producer is one of the most important steps in getting your foot in the door in this competitive industry. Here are some key takeaways for crafting a successful TV Producer cover letter:
Research the company and position you are applying for. Take the time to understand the company's mission, values, and goals and use that information in your letter to show why you are the perfect fit for the job.
Use specific examples. Generic phrases such as "I have excellent communication skills" will not have the same impact as "I have successfully managed a team of 10 people while overseeing the production of a large- scale project with a tight deadline."
Showcase your experience. Make sure that your cover letter highlights the skills, qualifications, and experiences you have that show you are an ideal candidate for the position.
Tailor your letter. Every job you apply for should have a unique cover letter that is tailored to the specific job you are applying for.
Use a professional, yet personal, tone. You want to ensure that your letter is professional and well- written, but also that it has a personal touch so that the reader can connect with you.
Proofread and edit. Always proofread and edit your letter for mistakes and typos before you send it out. Take a few days to give it a final look and make sure all the information is correct.
Frequently Asked Questions
1. How do I write a cover letter for an TV Producer job with no experience?
When applying for a TV Producer job with no experience, it is important to focus on transferable skills and traits that will allow you to succeed in the position. In your cover letter, you should emphasize your creativity, communication abilities, and ability to work within a team. Additionally, describe any relevant experiences you have had, such as involvement in college filmmaking or media projects. Explain why you are passionate about the role and provide specific examples of how you believe you would fit in with the company's culture.
2. How do I write a cover letter for an TV Producer job experience?
When applying for a TV Producer job with experience, it is important to emphasize your qualifications and past successes. Describe any experience you have in the field and explain how it has prepared you for the position. Provide specific examples of projects you have worked on and emphasize your creative problem- solving abilities. Additionally, showcase your ability to work with a team and your communication skills.
3. How can I highlight my accomplishments in a TV Producer cover letter?
When highlighting your accomplishments in a TV Producer cover letter, focus on any examples of successful projects you have worked on and how you contributed to the success. Describe any specific initiatives you have taken that have resulted in positive outcomes. Additionally, discuss any awards you have won or recognition you have received for your work in the field. Lastly, explain why you are passionate about TV production and the role you are applying for.
4. What is a good cover letter for an TV Producer job?
A good cover letter for a TV Producer job should showcase your qualifications, past experiences, and accomplishments. Explain why you are passionate about the position and how your skills and personality will contribute to the success of the company. Describe any specific experiences you have had in the field and highlight any awards or recognition that you have earned. Make sure to emphasize your excellent communication and organizational skills, as well as your ability to work effectively with a wide range of people. Finally, thank the employer for their time and consideration, and express your enthusiasm for the opportunity.
In addition to this, be sure to check out our cover letter templates, cover letter formats, cover letter examples, job description, and career advice pages for more helpful tips and advice.
Let us help you build
your Cover Letter!
Make your cover letter more organized and attractive with our Cover Letter Builder