Writing a cover letter for an applications engineer position can be an important step in your job search. It is the perfect opportunity to introduce yourself and your qualifications to a potential employer. The cover letter is an opportunity to demonstrate your written communication skills and show that you are the right fit for the job. Therefore, it is essential to craft a compelling letter that highlights your abilities and strengths. This guide will provide you with tips and advice on how to write a successful applications engineer cover letter, as well as a sample letter to get you started.
If you didn't find what you were looking for, be sure to check out our complete library of cover letter examples.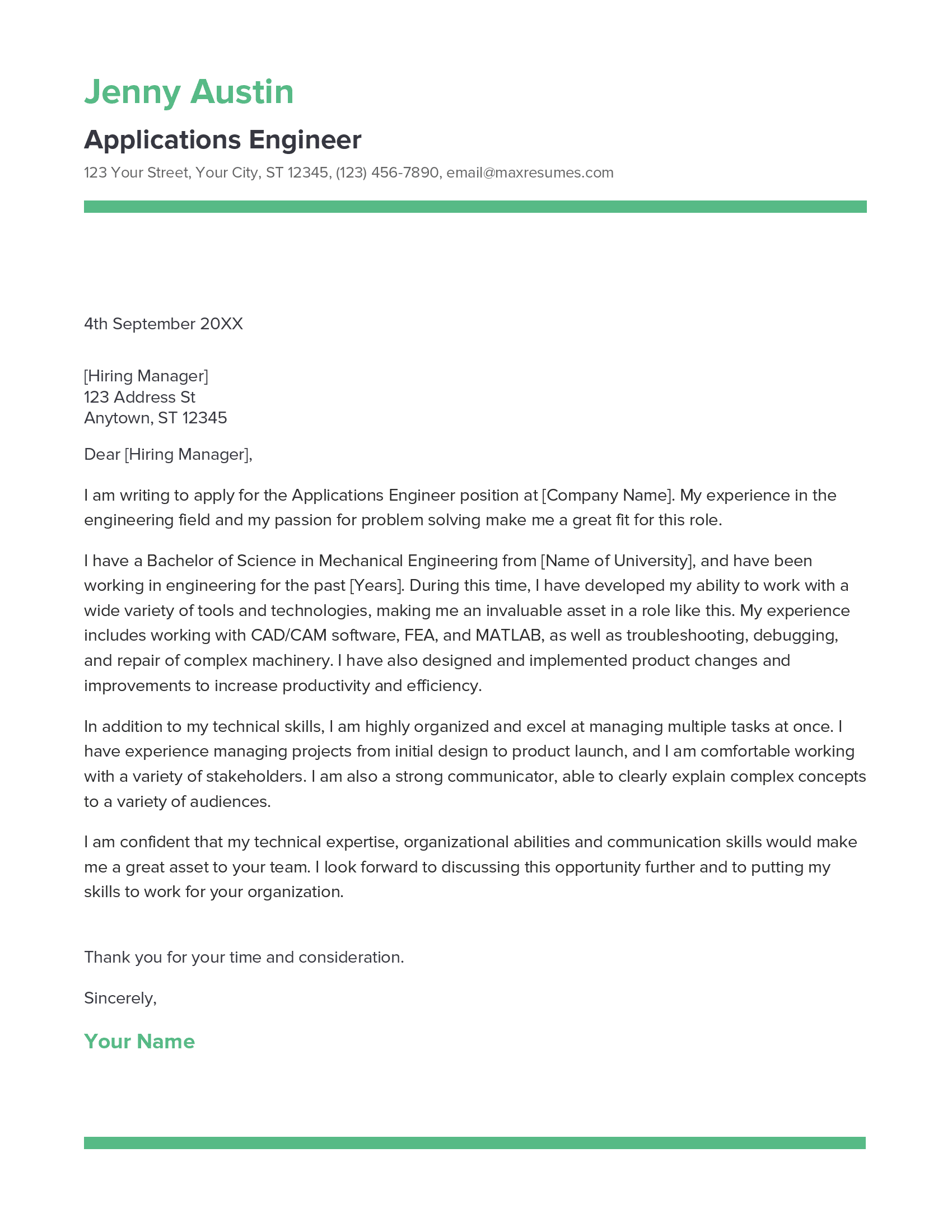 Download the Cover Letter Sample in Word Document – Click Below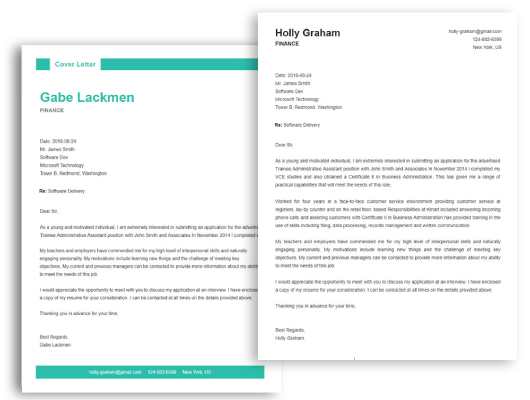 Start building your dream career today!
Create your professional cover letter in just 5 minutes with our easy-to-use cover letter builder!
Applications Engineer Cover Letter Sample
Dear [Hiring Manager],
I am writing to apply for the Applications Engineer position at [Company Name]. My experience in the engineering field and my passion for problem solving make me a great fit for this role.
I have a Bachelor of Science in Mechanical Engineering from [Name of University], and have been working in engineering for the past [Years]. During this time, I have developed my ability to work with a wide variety of tools and technologies, making me an invaluable asset in a role like this. My experience includes working with CAD/CAM software, FEA, and MATLAB, as well as troubleshooting, debugging, and repair of complex machinery. I have also designed and implemented product changes and improvements to increase productivity and efficiency.
In addition to my technical skills, I am highly organized and excel at managing multiple tasks at once. I have experience managing projects from initial design to product launch, and I am comfortable working with a variety of stakeholders. I am also a strong communicator, able to clearly explain complex concepts to a variety of audiences.
I am confident that my technical expertise, organizational abilities and communication skills would make me a great asset to your team. I look forward to discussing this opportunity further and to putting my skills to work for your organization.
Sincerely,
[Your Name]
Looking to improve your resume? Our resume examples with writing guide and tips offers extensive assistance.
What should a Applications Engineer cover letter include?
A great cover letter for an Applications Engineer position should demonstrate your technical qualifications, communication skills, and problem- solving abilities. It should also explain why you are uniquely qualified for the position, and showcase your enthusiasm for the role.
The cover letter should begin by introducing yourself and your interest in the position. Be sure to mention any relevant experience or qualifications that make you a great fit for the role.
Highlight key achievements in your current role, and explain how you used your technical expertise and problem- solving skills to solve challenging issues. Showcase the depth of your knowledge in the engineering field, and describe any additional qualifications that you possess, such as certifications or coursework.
Finally, your Applications Engineer cover letter should explain why you are the ideal candidate for the job. Include any specific reasons why you are passionate about the role, and how you want to use your skills and expertise to contribute to the company's success. Be sure to thank the hiring manager for their time and consideration.
Applications Engineer Cover Letter Writing Tips
Writing a cover letter to accompany your job application as an applications engineer can be a difficult task. To help you make sure your cover letter stands out from the competition, here are some tips.
Use an appropriate greeting. When writing a cover letter, you should always address the hiring manager by name. If you are unable to find the name of the hiring manager, you can use a generic salutation such as 'Dear Hiring Manager'.
Make sure to include your contact information. This includes your name, address, phone number, and email. This will make it easier for the hiring manager to get in touch with you if they are interested in your application.
Demonstrate your knowledge of the company. Doing your research on the company you are applying to is important. Show the hiring manager that you have a genuine interest in the company and the position you are applying for.
Highlight your qualifications and experience. Make sure to outline your education and any relevant experience you have. Include details about your technical skills, such as coding and software engineering.
Demonstrate your communication skills. The hiring manager will be looking for someone who can communicate effectively and work as part of a team. Show them that you have the communication skills necessary to be a successful applications engineer.
Keep it brief and to the point. Your cover letter should be no more than one page in length. Make sure to get your point across in a concise and professional manner.
Proofread and edit your cover letter. Before you send your cover letter, make sure to proofread and edit for any spelling and grammar errors. This will ensure that you present yourself in the best possible light.
Common mistakes to avoid when writing Applications Engineer Cover letter
Writing a Cover Letter for an Applications Engineer position can be a daunting task, especially if you're new to the engineering job market. To make sure you get through the process with the best possible outcome, here are some common mistakes to avoid when crafting your application letter:
Not Tailoring Your Letter: Generic, one- size- fits- all cover letters are easily recognizable and turn off recruiters. Take the time to research the company and tailor your letter to suit their specific needs.
Not Highlighting Your Qualifications: The cover letter should be the place to highlight your qualifications and emphasize why you are the best fit for the position. Don't be afraid to talk up your accomplishments and experience.
Not Including a Call to Action: Don't end your letter without encouraging the reader to take the next step. Ask them to contact you to schedule an interview, include a link to your portfolio or provide further information.
Misspellings and Grammatical Errors: Always double- check your work for errors. Poor spelling and grammar will make you look unprofessional and could damage your chances of getting the job.
Not Including a The cover letter should include a summary of your qualifications and a short description of the value you can bring to the company.
Taking the time to craft a unique, tailored cover letter that avoids these common mistakes will give you the best chance of success in your job search. Good luck!
Key takeaways
Writing a cover letter for an applications engineering job can be daunting, especially if you don't have much experience. However, a well- written cover letter can help you stand out from the competition and show potential employers why you are the best person for the job. Here are some key takeaways for crafting an impressive applications engineer cover letter:
Research the company: Invest time in researching the company and the role you are applying for. This will help you tailor your cover letter to the specific position and demonstrate your interest in the role.
Show your enthusiasm: Your cover letter should show the employer that you are genuinely excited about the role and the opportunity to work for the company.
Highlight your qualifications: Use your cover letter to highlight your relevant qualifications, such as your technical skills and experience. Be sure to also include any special skills or accomplishments that make you stand out from other candidates.
Demonstrate your communication skills: An applications engineer is required to have strong communication skills, so use your cover letter to show off your writing abilities. Keep your language professional, but be sure to inject some personality into your letter.
Include relevant keywords: Incorporating relevant keywords into your cover letter can help you stand out to potential employers. Research the job posting to find out which keywords you should use in your letter.
Proofread and edit: Before sending off your cover letter, read it over carefully to make sure there are no typos or errors. Have someone else read it through as well to ensure it is error- free.
By following these key takeaways, you can create an impressive applications engineer cover letter that will help you stand out from the competition. Good luck with your job search!
Frequently Asked Questions
1. How do I write a cover letter for an Applications Engineer job with no experience?
When writing a cover letter for an Applications Engineer job with no experience, focus on your transferable skills and technical knowledge. Emphasize any formal education, training, or certifications that you have received, as well as any volunteer or unpaid work experience. Highlight any areas of expertise that you may have, such as software development, database management, or systems engineering. Use the cover letter to explain why you are a good fit for the role and how you are eager to learn and contribute. Make sure to tailor the letter to the specific job posting and use examples to showcase your skills and abilities.
2. How do I write a cover letter for an Applications Engineer job experience?
When writing a cover letter for an Applications Engineer job with experience, focus on the specific experiences and accomplishments you have achieved in your career. Showcase any successes you have had in developing or improving applications for various organizations. Explain how your knowledge and skills make you a great fit for the role, and discuss any relevant certifications or qualifications you have earned. Highlight any areas of expertise or technologies that you are particularly proficient in, as well as any awards or recognition you have received.
3. How can I highlight my accomplishments in Applications Engineer cover letter?
When highlighting your accomplishments in an Applications Engineer cover letter, focus on the results of your work. Share examples of how you have helped improve existing applications or developed new ones. Describe any initiatives you have undertaken to help streamline processes or increase efficiency. Outline any successes you have had in working with teams or individual stakeholders, and discuss how you handled any challenges you faced.
4. What is a good cover letter for an Applications Engineer job?
A good cover letter for an Applications Engineer job should demonstrate your knowledge of the role and highlight your relevant skills and accomplishments. Showcase any
In addition to this, be sure to check out our cover letter templates, cover letter formats, cover letter examples, job description, and career advice pages for more helpful tips and advice.
Let us help you build
your Cover Letter!
Make your cover letter more organized and attractive with our Cover Letter Builder