Writing a great cover letter as an energy manager is an important step in getting hired. Creating a well-written cover letter that captures the attention of employers is key to making a great first impression. This guide will provide you with the insight and knowledge you need to create a successful cover letter that will help you stand out from the competition. By following our advice and using the example cover letter provided, you can make sure that your application is the one that employers notice.
If you didn't find what you were looking for, be sure to check out our complete library of cover letter examples.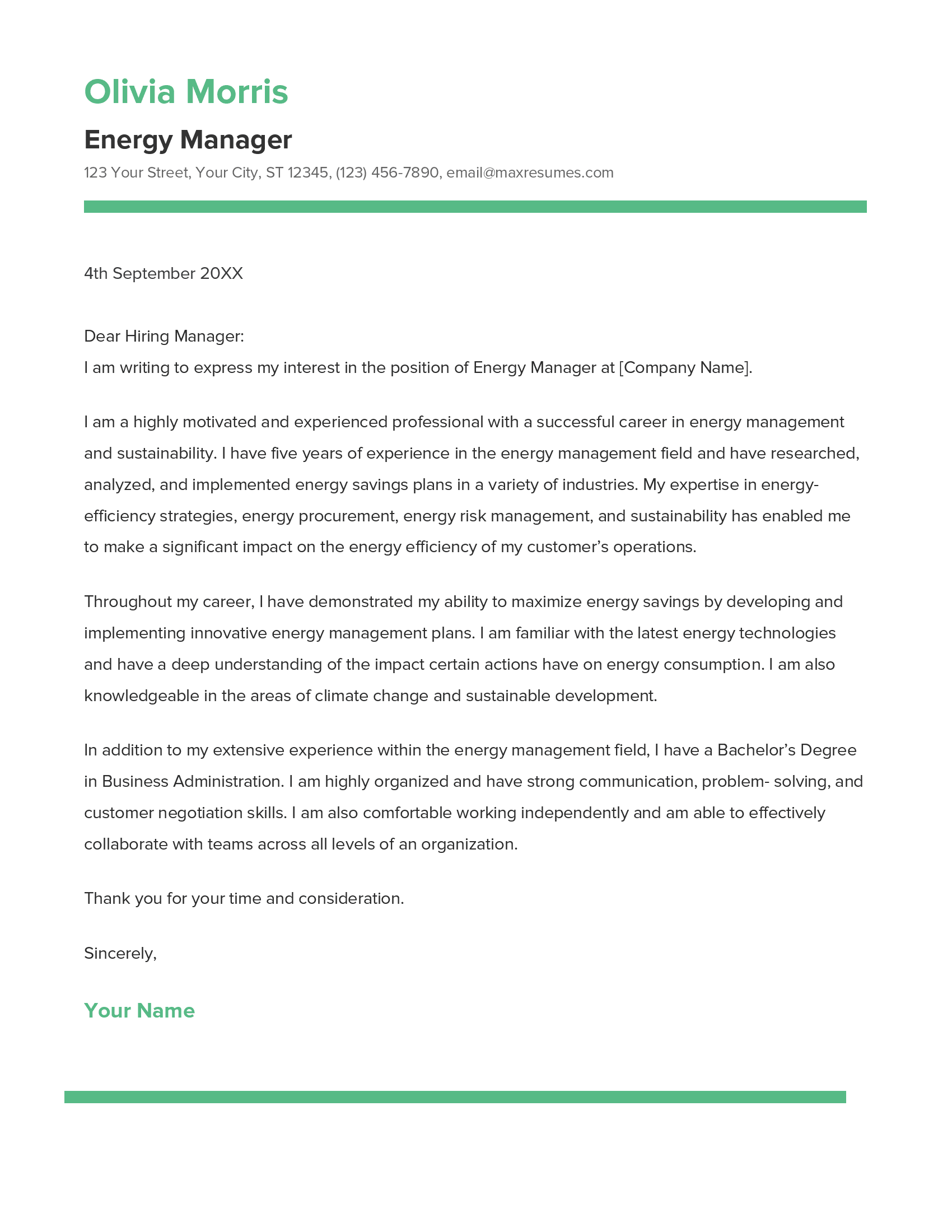 Download the Cover Letter Sample in Word Document – Click Below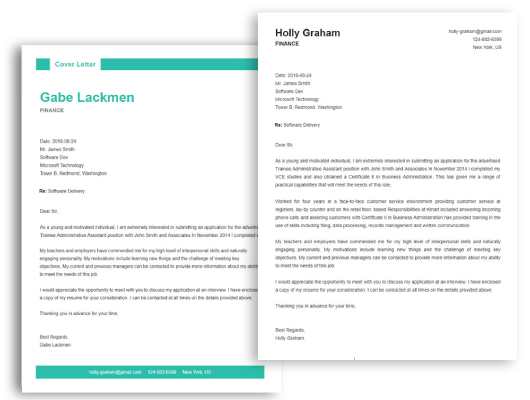 Start building your dream career today!
Create your professional cover letter in just 5 minutes with our easy-to-use cover letter builder!
Energy Manager Cover Letter Sample
Dear [Hiring Manager],
I am writing to express my interest in the position of Energy Manager at [Company Name].
I am a highly motivated and experienced professional with a successful career in energy management and sustainability. I have five years of experience in the energy management field and have researched, analyzed, and implemented energy savings plans in a variety of industries. My expertise in energy- efficiency strategies, energy procurement, energy risk management, and sustainability has enabled me to make a significant impact on the energy efficiency of my customer's operations.
Throughout my career, I have demonstrated my ability to maximize energy savings by developing and implementing innovative energy management plans. I am familiar with the latest energy technologies and have a deep understanding of the impact certain actions have on energy consumption. I am also knowledgeable in the areas of climate change and sustainable development.
In addition to my extensive experience within the energy management field, I have a Bachelor's Degree in Business Administration. I am highly organized and have strong communication, problem- solving, and customer negotiation skills. I am also comfortable working independently and am able to effectively collaborate with teams across all levels of an organization.
I am confident that my skills and experience make me an ideal candidate for the position of Energy Manager at [Company Name]. I would welcome the opportunity to discuss my qualifications with you in more detail. Thank you for your time and consideration.
Sincerely,
[Your Name]
Looking to improve your resume? Our resume examples with writing guide and tips offers extensive assistance.
What should a Energy Manager cover letter include?
A cover letter for an Energy Manager should include the following points:
An introduction to who you are and why you are applying for the position
A brief summary of your expertise and qualifications in energy management
Examples of past successes in the energy management field
Demonstration of your knowledge of relevant energy regulations and standards
A description of your experience working with a variety of energy systems
Discussion of your ability to work collaboratively with teams to achieve energy efficiency goals
An explanation of your commitment to sustainability and environmental stewardship
A closing statement thanking the reader for their time and consideration
Energy Manager Cover Letter Writing Tips
When applying for a position in energy management, it is important to write an effective cover letter that will make you stand out from the competition. Here are some tips to help you craft a successful energy manager cover letter:
Begin with a strong introduction. Start by introducing yourself and why you are the ideal candidate for the job.
Outline your experience. Showcase your relevant experience in energy management, such as identifying and implementing energy efficiency measures.
Explain your qualifications. Highlight your relevant qualifications, such as a degree in engineering or a related field, and any certifications you may have.
Showcase your skills. Demonstrate the technical and interpersonal skills you possess that will make you a successful energy manager.
Demonstrate your enthusiasm. Show your enthusiasm for the position and express your eagerness to contribute to the company's success.
Close with a call to action. End your letter with a polite request for an interview or an invitation to get in touch.
By following these tips, you can ensure that your energy manager cover letter will make you stand out from the competition and give you the best chance of getting the job.
Common mistakes to avoid when writing Energy Manager Cover letter
When writing a cover letter for an energy manager position, it's important to keep certain points in mind to ensure you make the best impression and stand out from the crowd. Below are some of the most common mistakes to avoid when writing an energy manager cover letter.
Not personalizing the letter: A generic cover letter can be easily spotted and will likely be overlooked. Make sure to customize the letter to the specific job you are applying for and emphasize your relevant skills and experience for the position.
Not relating your skills to the position: Make sure to showcase your skills in a way that is relevant to the position. Talk about how your experience or knowledge can benefit the organization and why you are the perfect fit for the job.
Being too general: Without going into too much detail, it's important to give examples of your experience and explain how it can be applied to the position. This will show the employer you understand the job requirements and are confident in your abilities.
Not mentioning the company: Show that you did your research on the company and make sure to include a few details about the organization in your cover letter. This will prove to the employer that you are familiar with their mission and values.
Not proofreading: Before submitting your cover letter, make sure to proofread it for any spelling or grammatical errors. Pay close attention to the details to ensure your letter is professional and error- free.
Key takeaways
Writing an energy manager cover letter can be overwhelming and intimidating, but it doesn't have to be. An effective cover letter can make all the difference in helping you get the job you want. Here are some key takeaways to keep in mind when crafting your own energy manager cover letter:
Focus on highlighting your relevant qualifications and experience. Be sure to include any relevant professional certifications and qualifications you have, as well as any experience you have managing energy in the past.
Showcase your communication and analytical abilities. Energy management is a complex job, and employers will be looking for candidates who can think clearly and communicate effectively. Show that you have the skills to do the job.
Demonstrate that you understand the company and the role. Doing research on the company and the energy manager role will help you tailor your cover letter to the specific needs of the job and the organization.
Show that you are a team player. Employers want to hire energy managers who are willing to work collaboratively with their colleagues. Emphasize any team projects or experiences you have had in the past.
Keep it concise. Your energy manager cover letter should be no longer than two to three paragraphs. Get to the point quickly and make sure all of your qualifications are mentioned.
By following these key takeaways, you'll have a better chance of writing an impressive and effective energy manager cover letter. Good luck!
Frequently Asked Questions
1. How do I write a cover letter for an Energy Manager job with no experience?
Writing a cover letter for an Energy Manager position without any prior experience can seem daunting. However, you can make your letter stand out by emphasizing your transferable skills and relevant knowledge. Focus on the skills and abilities you do have, such as project management experience, strong communication, and the ability to work with people from diverse backgrounds. Demonstrate a clear understanding of the energy industry and showcase your enthusiasm for the role. Lastly, be sure to include contact information to demonstrate that you are interested in learning more about the position.
2. How do I write a cover letter for an Energy Manager job experience?
If you have prior experience in the energy industry, you should focus your cover letter on the projects, successes, and accomplishments you've achieved in your past roles. Highlight the skills and knowledge that make you an ideal candidate for the position. Make sure to explain the context in which you applied your skills and the impact it had on the organization. Additionally, include any certifications and licenses you have that are relevant to the role.
3. How can I highlight my accomplishments in Energy Manager cover letter?
When highlighting your accomplishments in your Energy Manager cover letter, be sure to provide specific examples that demonstrate the impact of your work. If you have managed any energy- related projects, for example, explain the scope and results of the project in detail. Quantify the results when possible, such as reducing energy costs or increasing efficiency. Additionally, if you have achieved any awards or recognition for your work, mention those as well.
4. What is a good cover letter for an Energy Manager position?
A good cover letter for an Energy Manager position should demonstrate your knowledge of the energy industry and your commitment to the role. Be sure to include any accomplishments, certifications.
In addition to this, be sure to check out our cover letter templates, cover letter formats, cover letter examples, job description, and career advice pages for more helpful tips and advice.
Let us help you build
your Cover Letter!
Make your cover letter more organized and attractive with our Cover Letter Builder