in the paragraphWriting a cover letter as a CCTV technician can be a challenging process. It requires careful consideration of the potential employer's needs, as well as a keen understanding of your own skills and abilities. This guide will provide an overview of how to craft an effective cover letter for a CCTV technician position, from the basics of what to include to a sample letter for reference. With the right approach and understanding of the process, you can communicate to potential employers why you are the perfect fit for the role.
If you didn't find what you were looking for, be sure to check out our complete library of cover letter examples.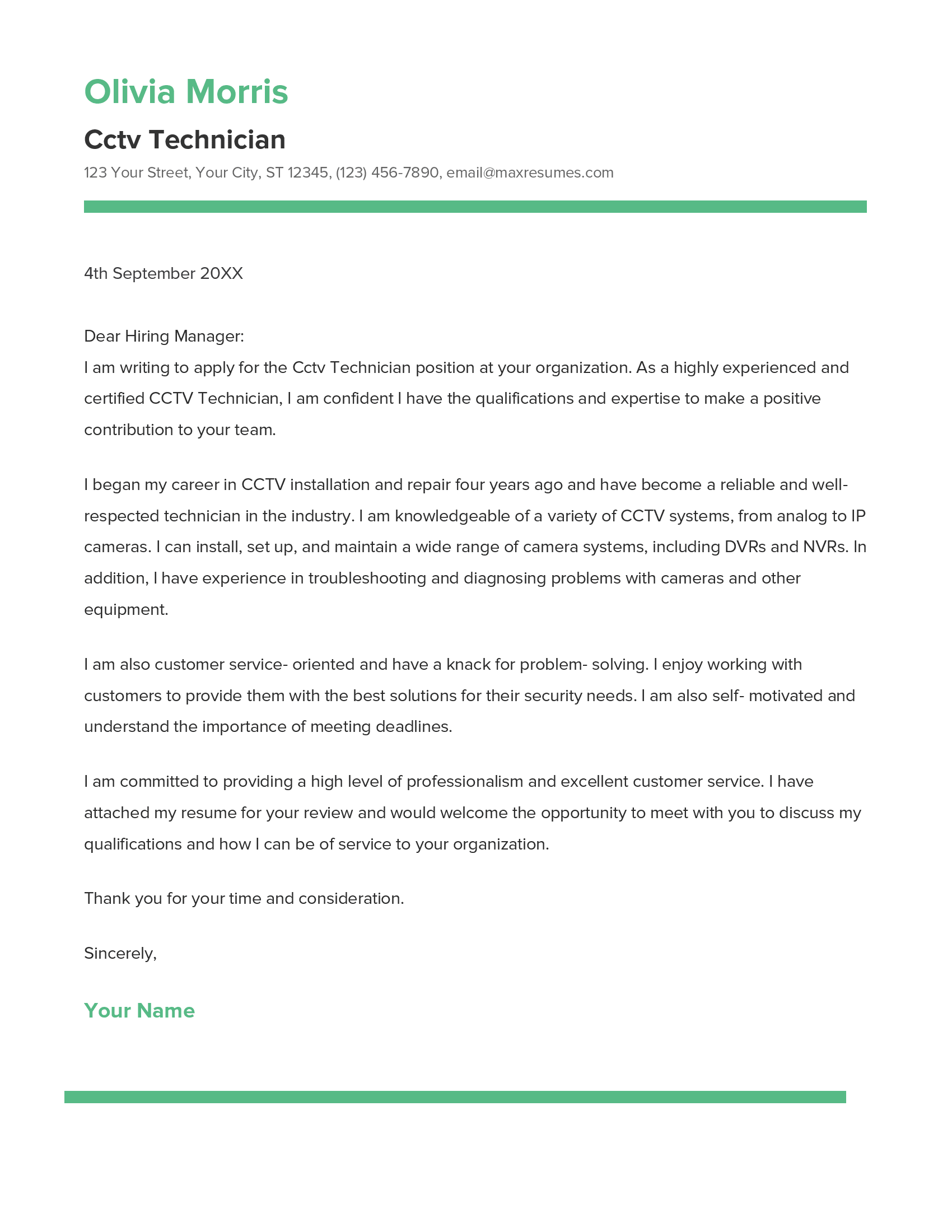 Download the Cover Letter Sample in Word Document – Click Below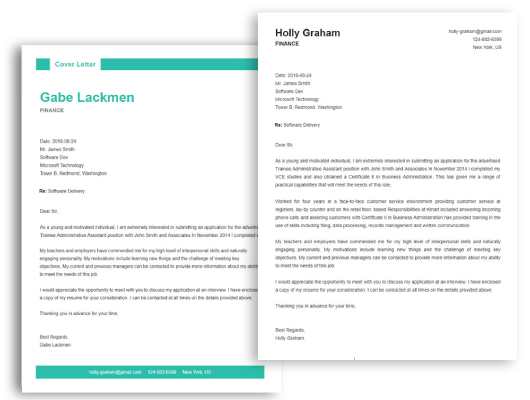 Start building your dream career today!
Create your professional cover letter in just 5 minutes with our easy-to-use cover letter builder!
Cctv Technician Cover Letter Sample
Dear [Hiring Manager's Name],
I am writing to apply for the Cctv Technician position at your organization. As a highly experienced and certified CCTV Technician, I am confident I have the qualifications and expertise to make a positive contribution to your team.
I began my career in CCTV installation and repair four years ago and have become a reliable and well- respected technician in the industry. I am knowledgeable of a variety of CCTV systems, from analog to IP cameras. I can install, set up, and maintain a wide range of camera systems, including DVRs and NVRs. In addition, I have experience in troubleshooting and diagnosing problems with cameras and other equipment.
I am also customer service- oriented and have a knack for problem- solving. I enjoy working with customers to provide them with the best solutions for their security needs. I am also self- motivated and understand the importance of meeting deadlines.
I am committed to providing a high level of professionalism and excellent customer service. I have attached my resume for your review and would welcome the opportunity to meet with you to discuss my qualifications and how I can be of service to your organization.
Thank you for your time and consideration.
Sincerely,
[Your Name]
Looking to improve your resume? Our resume examples with writing guide and tips offers extensive assistance.
What should a Cctv Technician cover letter include?
A CCTV technician cover letter should include a summary of your professional experience and any associated specialties. Additionally, you should highlight your relevant qualifications, such as technical certifications, and any prior military experience or education in engineering, electronics, computer science, or a related field.
It is also important to explain why you are interested in the position and why you think you are the best fit for the job. Be sure to specifically identify areas where your skills and experience can benefit the employer. For example, if you have experience in installing and troubleshooting security systems, indicate that.
Finally, be sure to include your contact information and any related documents such as your resume, references, or portfolio. By demonstrating your enthusiasm for the position, as well as your technical proficiency, you can give employers a strong first impression.
Cctv Technician Cover Letter Writing Tips
Writing a great cover letter is essential to landing the job of your dreams as a CCTV Technician. A strong cover letter helps your resume stand out from the competition and gives you a chance to explain why you are the best candidate for the position. Here are some tips to help you write an effective CCTV Technician cover letter:
Research the company: Before you start writing your cover letter, research the company you are applying to. Find out what their core values and goals are, and mention this in your letter. Showing the company that you have taken the time to learn about them will demonstrate your enthusiasm for the job.
Focus on your strengths: When writing your cover letter, focus on the skills and experience that make you the ideal candidate for the job. Highlight any relevant qualifications or certifications you have, as well as any volunteer or part- time experience you may have in the field.
Show your personality: Your cover letter is your chance to show the company who you are. Include any hobbies or interests that relate to the job and demonstrate why you are the right person for the job.
Proofread: Before you submit your cover letter, make sure to read it over thoroughly. Double check for spelling and grammar mistakes and make sure that everything is relevant.
Following these tips will help you create a strong cover letter and will help you stand out from the crowd. Good luck!
Common mistakes to avoid when writing Cctv Technician Cover letter
No matter how experienced you may be in CCTV technology and installation, writing a cover letter for a CCTV Technician position can be challenging. Cover letters are important because they are the first impression employers have of you and they can make or break your chances of landing the job. To help you write a stellar cover letter, here are some of the most common mistakes to avoid when writing one:
Not Customizing Your Cover Letter: A generic, 'one size fits all' cover letter won't cut it. You must customize your cover letter to match the job description and the company's values. This means not only including relevant information, but also demonstrating your knowledge of the company and its culture.
Not Showcasing Your Skills: Make sure you highlight your relevant skills and experience in your cover letter. Include examples of any experience working with CCTV technology and installation, as well as any additional qualifications or certifications you may have.
Not Giving Detailed Examples: In addition to highlighting your skills, you should also give detailed examples of how you've used your skills in previous positions. This will show employers that you have the experience and knowledge necessary to excel in the role.
Not Proofreading: Before submitting your cover letter, make sure you read through and proofread it for errors. This can be the difference between a great cover letter and one that is not so great.
By avoiding these common mistakes, you will be sure to make a great impression on employers and increase your chances of getting the job. With a well- written and customized cover letter, you will be sure to stand out and get the job of your dreams.
Key takeaways
Writing a good cover letter for a CCTV Technician job is a very important step in your job search process. It is your chance to show the prospective employer why you are the best candidate for the job. The following are some key takeaways that you should consider when writing a strong and impressive cover letter for the job:
Highlight your relevant experience: Your cover letter should demonstrate how your past experience and qualifications make you the ideal candidate for the CCTV Technician position.
Show enthusiasm: Use language that conveys your enthusiasm and excitement for the position and the chance to work with a particular company.
Be concise: Keep your cover letter to one page and make sure to include only the most relevant information.
Be specific: Focus on specific examples of your experience and how it will benefit the company.
Proofread: Make sure to proofread your cover letter for any typos or errors.
Include your contact details: Include your full contact information at the end of the cover letter so that employers can contact you directly.
By following these key takeaways, you can ensure that your cover letter is a strong, effective representation of why you are the perfect candidate for the job. Good luck with your job search!
Frequently Asked Questions
1. How do I write a cover letter for an Cctv Technician job with no experience?
Writing a cover letter for your first Cctv Technician job can seem daunting, especially if you have no direct experience. To effectively demonstrate your qualifications, start your letter by introducing yourself and explain how you learned about the position. Make sure to include any related skills, such as computer and electronics knowledge, that you've acquired outside of the workplace.
Focus on the positive: focus on your enthusiasm and ambition for the job, and describe the personal qualities you bring to the role. If you have done any research about the company, emphasize your commitment to their mission and goals. Finally, express your desire for an interview and provide contact information.
2.How do I write a cover letter for an Cctv Technician job experience?
When writing a cover letter for a Cctv Technician job with experience, start by detailing the relevant skills and knowledge you have acquired in previous positions. Emphasize how you have used these to benefit employers in the past, and explain how you can bring these same skills and techniques to your new role.
You should also explain what it is about the role that appeals to you, and why you are the ideal candidate for it. If you have any special certifications or qualifications, make sure to include these near the end of your letter, as it may help you stand out from the competition.
3. How can I highlight my accomplishments in Cctv Technician cover letter?
When writing a cover letter for a Cctv Technician job, you should include key accomplishments that show off your skills and experience. If you have received any awards or recognition for your work, make sure to mention it. Additionally, if you have worked on any particularly successful projects, include a brief description of your role and the positive outcome.
In addition to this, be sure to check out our cover letter templates, cover letter formats, cover letter examples, job description, and career advice pages for more helpful tips and advice.
Let us help you build
your Cover Letter!
Make your cover letter more organized and attractive with our Cover Letter Builder