Writing a cover letter for an energy analyst role can be a challenging process. Crafting a letter that stands out from the crowd and leaves a lasting impression on the hiring manager is an important step in the job search. However, it does not have to be overwhelming. This guide provides essential tips and an example of a well-written energy analyst cover letter that will help you make a great impression on the hiring manager.
If you didn't find what you were looking for, be sure to check out our complete library of cover letter examples.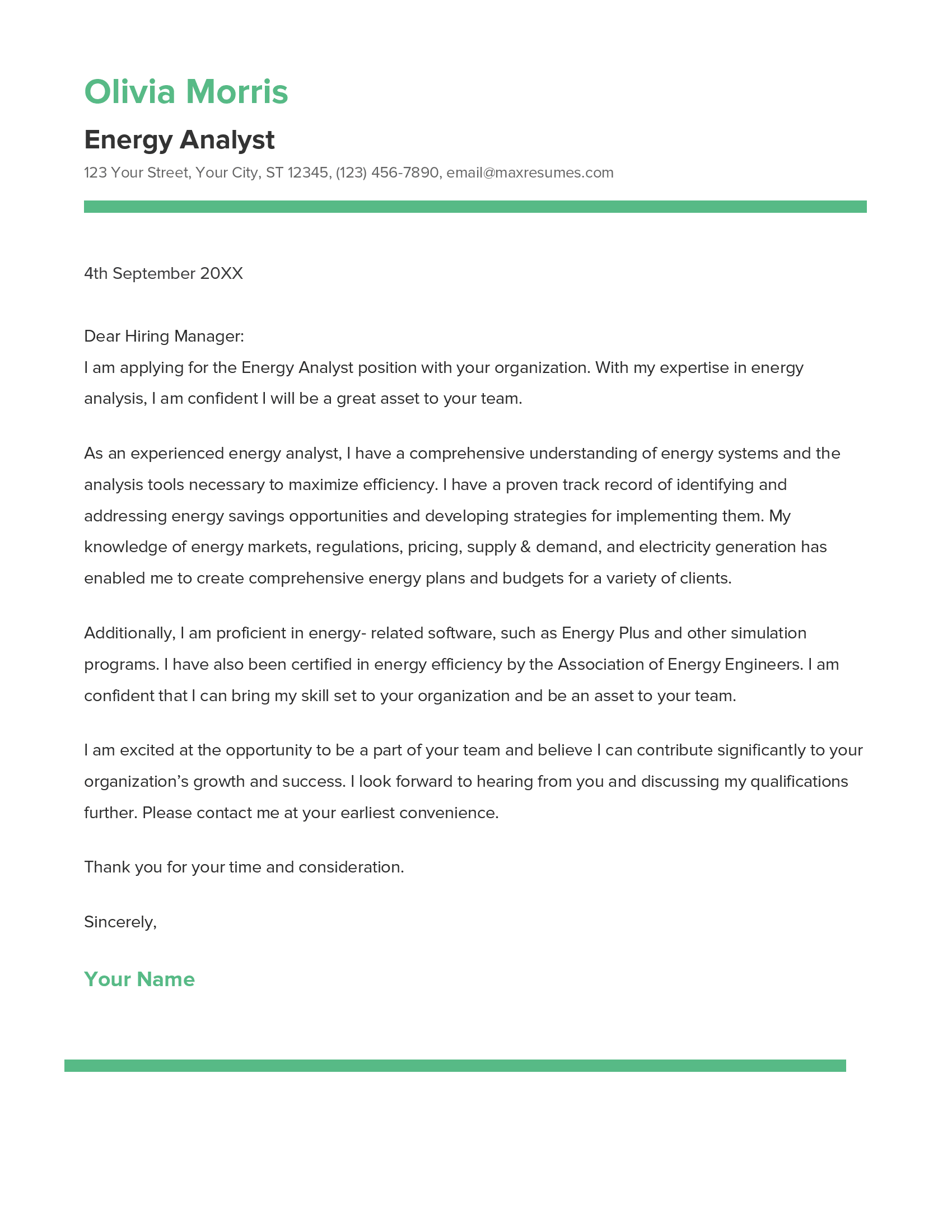 Download the Cover Letter Sample in Word Document – Click Below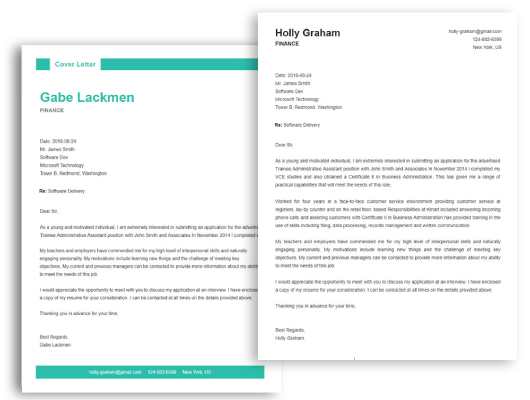 Start building your dream career today!
Create your professional cover letter in just 5 minutes with our easy-to-use cover letter builder!
Energy Analyst Cover Letter Sample
Dear [Recipient Name],
I am applying for the Energy Analyst position with your organization. With my expertise in energy analysis, I am confident I will be a great asset to your team.
As an experienced energy analyst, I have a comprehensive understanding of energy systems and the analysis tools necessary to maximize efficiency. I have a proven track record of identifying and addressing energy savings opportunities and developing strategies for implementing them. My knowledge of energy markets, regulations, pricing, supply & demand, and electricity generation has enabled me to create comprehensive energy plans and budgets for a variety of clients.
Additionally, I am proficient in energy- related software, such as Energy Plus and other simulation programs. I have also been certified in energy efficiency by the Association of Energy Engineers. I am confident that I can bring my skill set to your organization and be an asset to your team.
I am excited at the opportunity to be a part of your team and believe I can contribute significantly to your organization's growth and success. I look forward to hearing from you and discussing my qualifications further. Please contact me at your earliest convenience.
Sincerely,
[Your Name]
Looking to improve your resume? Our resume examples with writing guide and tips offers extensive assistance.
What should a Energy Analyst cover letter include?
A Energy Analyst cover letter should showcase the candidate's qualifications, experience, and enthusiasm for the position. It should provide an overview of their most relevant qualifications and experience in energy analysis and demonstrate an understanding of the role. The letter should also demonstrate the candidate's skills and knowledge in energy analysis, including the ability to interpret data and draw relevant conclusions, as well as the ability to plan and implement energy saving initiatives. Furthermore, the candidate should demonstrate their organizational, multitasking, and communication skills, which are essential for successful energy analysis. Finally, the letter should contain specific examples from the candidate's past experience to illustrate how their qualifications and experience make them the ideal candidate for the role.
Energy Analyst Cover Letter Writing Tips
A strong cover letter is essential when applying for a job as an Energy Analyst. Here are some tips to help you write a successful cover letter:
Highlight Any Relevant Qualifications: Show that you have the relevant qualifications for the position by describing industry certifications or degrees you possess in the field of energy analysis.
Demonstrate Your Analytical Skills: The role of an Energy Analyst requires a great deal of analytical and problem- solving skills. Use your cover letter to demonstrate your excellent analytical skills to the employer.
Showcase Your Communication Skills: Your cover letter should showcase your communication skills, especially when it comes to energy- related topics. Show the employer that you have the ability to explain complex concepts in a simple and understandable way.
Describe Any Relevant Work Experience: Describe any previous work experience you have in the energy industry and how it relates to the role of an Energy Analyst.
Explain What Sets You Apart: Mention any special skills or relevant experiences you possess that set you apart from other applicants. What makes you the right candidate for the job?
By following these tips, you can craft a cover letter that will make you stand out from the crowd and get you closer to landing the job of your dreams.
Common mistakes to avoid when writing Energy Analyst Cover letter
Writing a cover letter is an important part of the job application process. A strong energy analyst cover letter can help you stand out from the competition and land the job you want. However, it's easy to make mistakes when writing a cover letter, so it's important to avoid common errors. Here are some of the most common mistakes to avoid when writing an energy analyst cover letter:
Not customizing the letter: When writing your cover letter, always make sure to customize it for the position you're applying for. Don't use the same generic cover letter for every job application. Take the time to tailor your cover letter to the job and company you're applying for.
Not using keywords: Many companies use applicant tracking systems (ATS) to scan resumes and cover letters for specific keywords. Make sure to incorporate the key skills and qualifications listed in the job posting into your cover letter.
Not doing your research: Before writing your cover letter, take the time to research the company you're applying to and the role you're applying for. This will help you to customize your cover letter for the company and position and provide concrete examples of why you're the best person for the job.
Not proofreading: After writing your cover letter, be sure to proofread it for any spelling and grammar errors. A sloppy letter can make a bad impression, so take the time to read through your letter and make sure everything is correct.
Not following directions: Make sure to follow any directions provided in the job posting. If the job posting states that you should include a specific word count or provide a writing sample, make sure to follow the instructions.
By avoiding these common mistakes, you can ensure that your energy analyst cover letter will make a great impression and help you stand out from the competition.
Key takeaways
Writing a great cover letter is essential for a successful energy analyst job application. Crafting an effective cover letter can help you stand out from the competition and make a great first impression with your potential employer. Here are some key takeaways to help you write an impressive energy analyst cover letter:
Highlight relevant experience: Demonstrate your knowledge of the energy industry and the specific position you are applying for by highlighting any relevant experience or skills in your cover letter.
Show enthusiasm: Showing enthusiasm for the role and the industry is key when writing an effective energy analyst cover letter. Demonstrate your interest and excitement for the position.
Make a connection: Make sure to mention any connections you may have to the company you are applying to. It could be a personal connection, such as a family member or friend who works at the company, or a professional connection, such as a former colleague or mentor.
Don't be afraid to be creative: Showcase your creative writing skills in your cover letter. Use creative language or try to make a unique connection between yourself and the company.
Proofread: Always proofread your cover letter for any typos or grammar errors before sending it out to employers.
Frequently Asked Questions
1. How do I write a cover letter for an Energy Analyst job with no experience?
Writing a cover letter for an Energy Analyst job with no experience can be tricky. It's important to focus on the skills and qualities that make you an ideal candidate for the job and to draw connections between your current qualifications and the job requirements.
When writing your cover letter, emphasize any skills or qualifications you have that may make you suitable for this type of job. This could include your ability to be detail oriented, your analytical skills, your problem- solving skills, or your ability to work with data. Also, make sure to mention any related coursework or volunteer experiences you may have. Additionally, highlight any certifications or licenses that you possess that demonstrate your knowledge of the industry.
End your cover letter by expressing your enthusiasm and interest in the position, and mention that you welcome the opportunity to discuss the job further during an interview.
2. How do I write a cover letter for an Energy Analyst job experience?
If you have experience working in the energy industry, your cover letter should focus on the highlights of your career. Start your letter by outlining your past experience, which should include employers and job titles, as well as any projects you may have worked on.
In addition to providing details of your work experience, focus on any successes you achieved in your previous roles. For example, if you were able to increase efficiency or reduce costs for your previous employer, be sure to mention this in your letter. Additionally, highlight any leadership roles you held, special awards or recognitions you've received, or any additional qualifications you may have obtained, such as certifications or licenses.
In addition to this, be sure to check out our cover letter templates, cover letter formats, cover letter examples, job description, and career advice pages for more helpful tips and advice.
Let us help you build
your Cover Letter!
Make your cover letter more organized and attractive with our Cover Letter Builder