Writing a successful cover letter for a position as a Unix Engineer can be an important step in achieving your career goals. It is an excellent opportunity to introduce yourself to potential employers, highlight your specific skills and qualifications, and explain why you are the best candidate for the job. This guide provides an overview of the key components of a successful Unix Engineer cover letter, as well as an example of a cover letter that you can use as a template when creating your own. With the right approach, you can craft an impactful cover letter that will help you stand out from the competition.
If you didn't find what you were looking for, be sure to check out our complete library of cover letter examples.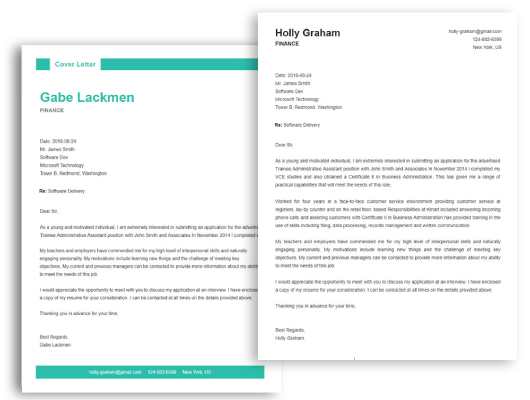 Start building your dream career today!
Create your professional cover letter in just 5 minutes with our easy-to-use cover letter builder!
Unix Engineer Cover Letter Sample
Dear [Hiring Manager],
I am writing to express my interest in the Unix Engineer position at [Company Name]. As a highly skilled Unix Engineer with over 10 years of experience in the IT industry, I am confident that I am the right candidate for the job.
I have extensive experience in a wide range of Unix technologies, including UNIX system administration, systems engineering, and scripting. I have worked with various versions of UNIX, such as Solaris, HP- UX, and Red Hat Enterprise Linux. My in- depth knowledge of UNIX has enabled me to provide excellent system performance, security, and reliability.
I have a proven track record of successfully managing and deploying various software, hardware, and systems, including UNIX- based installations, upgrades, and patching. I have also designed, implemented, and supported numerous UNIX- based network solutions. Additionally, I have managed many virtualized environments, resolving difficult performance and stability issues, and executing complex change management activities.
My interpersonal skills, problem- solving abilities, and dedication to providing excellent customer service have enabled me to work closely with all members of the IT team to ensure that projects are completed on time and on budget. I am an excellent communicator and I enjoy working in a team- oriented environment.
I am confident that my experience and qualifications make me an ideal candidate for the Unix Engineer position at [Company Name]. I am passionate about UNIX and I am eager to contribute to the success of [Company Name]. I thank you for your time and consideration.
Sincerely,
[Your Name]
Looking to improve your resume? Our resume examples with writing guide and tips offers extensive assistance.
What should a Unix Engineer cover letter include?
A Unix Engineer cover letter should include details about a candidate's skills, qualifications, and experience that are relevant to the job they are applying for. It should provide specific examples of a candidate's experience with Unix- based systems, such as scripting, automation, software development, system architecture and integration, system monitoring and troubleshooting, and security. Additionally, the cover letter should make clear why the candidate is the best choice for the job, highlighting a combination of technical, leadership, and interpersonal qualities. Finally, the cover letter should be concise, well- structured, and free of any spelling or grammar errors.
Unix Engineer Cover Letter Writing Tips
Writing an effective cover letter for a Unix Engineer position can be difficult and time consuming. By following these tips, you can make sure that your cover letter stands out from the competition and helps you get the job you want.
Tailor your letter: As with any job application, it is important to tailor your cover letter to the specific role and company. Research the company and the role to get an understanding of the type of person they are looking for. Use language that is relevant to the job and demonstrates your enthusiasm for the position.
Highlight your qualifications: Unix Engineers need to have a range of technical skills. Make sure to highlight your qualifications, experience, and any certifications you may have. Be specific and give concrete examples of how your skills have been beneficial in the past.
Show your interest: Demonstrate your interest in the job by researching the company and getting to know their products and services. Show them that you have a genuine interest in the role and why you would be a great fit.
Utilize keywords: Many companies use automated systems to scan resumes and cover letters for specific keywords. Make sure to include some of the keywords from the job description in your letter, as this will help increase your chances of being selected for an interview.
Keep it professional: Make sure that your letter is professional and free from typos, spelling mistakes, and grammatical errors. Also, avoid including any personal information or details about your private life.
By following these tips, you can make sure that your cover letter stands out and helps you get the job you want. Good luck with your job search!
Common mistakes to avoid when writing Unix Engineer Cover letter
Writing a cover letter for a Unix Engineer position is a critical step in your job search process. Your cover letter is an opportunity to separate yourself from other applicants and showcase your qualifications and expertise. However, making certain mistakes can sabotage your chances of landing the job. Avoid these common mistakes when writing your cover letter for a Unix Engineer job:
Not Customizing Your Content: When applying for a job, it is important to tailor your cover letter and resume to the job you are applying for. Make sure you address the specific qualifications the employer is seeking, and use your own words to tell a story that shows why you are the right fit for the job.
Not Highlighting Your Academic Qualifications: Unix engineering requires a strong academic background. Be sure to include your academic qualifications, such as any courses you have taken related to Unix or any certifications you have earned.
Not Showcasing Your Technical Expertise: As a Unix Engineer, you need to be able to demonstrate your technical expertise. Make sure you include examples of the technical solutions you have implemented and your experience troubleshooting Unix systems.
Not Showing Your Passion for the Job: Employers want to hire candidates who are passionate about the job. Use your cover letter to show your enthusiasm for the position and the company.
Not Proofreading Your Cover Letter: Even the best cover letter can be undermined by a careless spelling or grammar mistake. Take the time to proofread your cover letter to ensure it is error- free.
Key takeaways
Writing a cover letter for a Unix Engineer position can be a daunting task, so it's important to start off on the right foot. Here are some key takeaways to keep in mind when crafting your cover letter:
Make sure to include any relevant qualifications or experience that you have in the field of Unix engineering. Highlight any certifications, training, or other credentials that make you a valuable asset.
Be sure to demonstrate your understanding of the technical aspects of the position, such as systems administration and scripting. Showcase your knowledge of the tools and technologies used in the industry.
Demonstrate your problem- solving skills and ability to troubleshoot complex issues. Show your aptitude for learning quickly and your ability to comprehend complex systems.
Show how you can be a valuable asset to the team and organization. Explain how you can contribute to the team's success and how you can help the company reach its goals.
Make sure to provide your contact information so that the hiring manager can easily reach you.
These are just some of the key takeaways for crafting a compelling Unix Engineer cover letter. Make sure to tailor your letter to the specific position and company to ensure that you stand out from the competition and make a great impression.
Frequently Asked Questions
1. How do I write a cover letter for an Unix Engineer job with no experience?
Writing a cover letter for a Unix Engineer job with no experience can feel daunting. However, there are still ways to make a compelling case for why you are qualified for the job. First, consider the aspects of the job you do have relevant experience in and include these in your cover letter. For instance, if you have experience working with other computer systems, such as Windows or Linux, mention that. Also, draw attention to your transferable skills, such as problem- solving, critical thinking, and communication. Finally, highlight your willingness to learn new things and your enthusiasm for the job.
2. How do I write a cover letter for an Unix Engineer job experience?
When writing a cover letter for an Unix Engineer job that you have experience in, it's important to detail the specifics of your experience and how they relate to the job you're applying for. Start off by mentioning the kind of work you've done in the past, such as system architecture, software development, and network security. Showcase the achievements you've had with these tasks, such as increased performance or increased customer satisfaction. Additionally, explain why you're an ideal fit for the job and what you can bring to the table.
3. How can I highlight my accomplishments in Unix Engineer cover letter?
When highlighting your accomplishments in a Unix Engineer cover letter, start by talking about any awards or accolades you've received for your work. Mention any projects you've completed that demonstrate your skill in the field. Additionally, include details about the successes you've had in your current or past positions, such as increased system performance, increased customer satisfaction, or improved network security. Finally, talk about any challenges you've faced and how you overcame them.
In addition to this, be sure to check out our cover letter templates, cover letter formats, cover letter examples, job description, and career advice pages for more helpful tips and advice.
Let us help you build
your Cover Letter!
Make your cover letter more organized and attractive with our Cover Letter Builder