Writing a cover letter for a Sybase DBA can be an intimidating task. It's important to understand what employers are looking for in a Sybase DBA candidate so you can make sure your cover letter stands out from the competition. This guide will provide you with a comprehensive overview of how to write an effective cover letter for a Sybase DBA position, along with an example to help you get started. With the right information, you can craft a letter that will demonstrate your qualifications and help you land the job you want.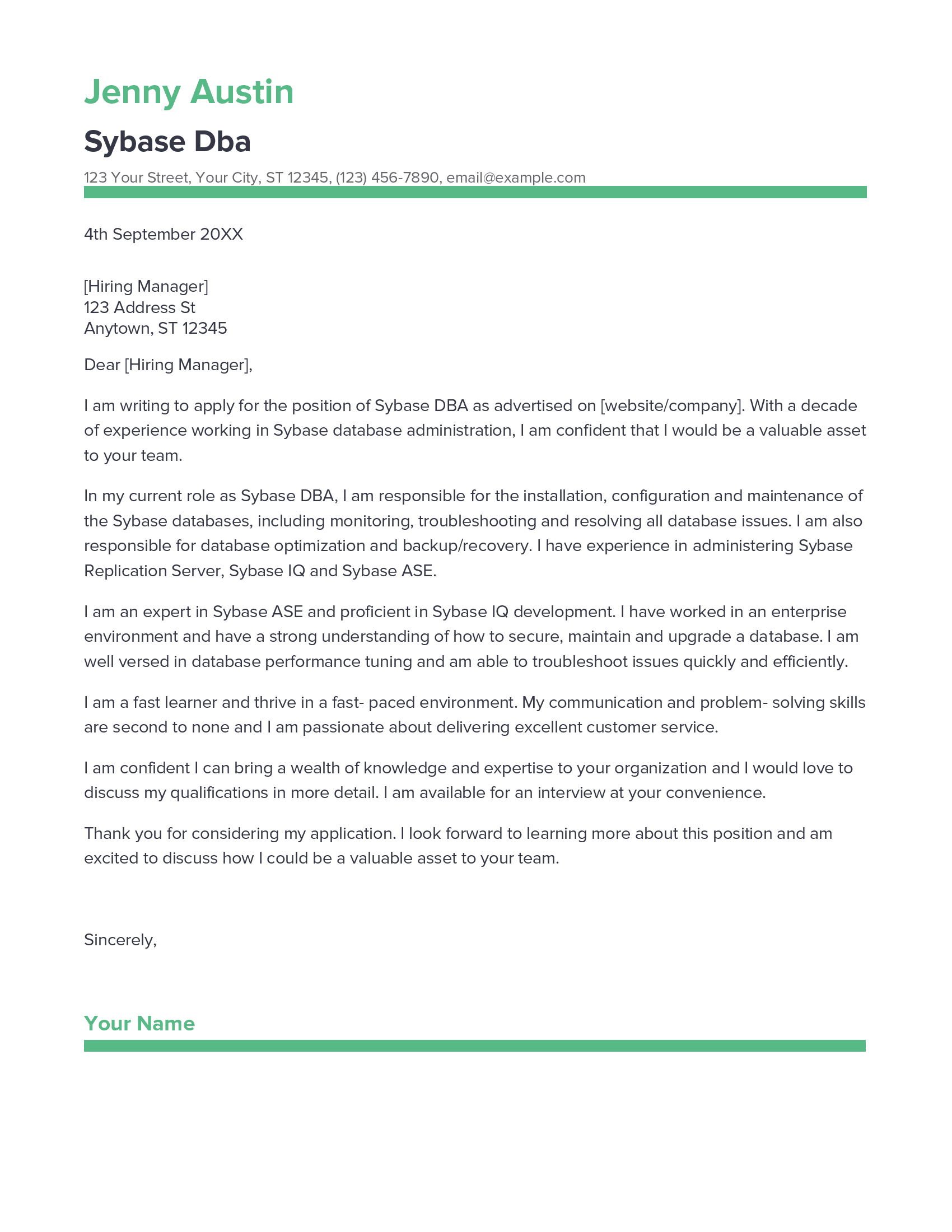 Download the Cover Letter Sample in Word Document – Click Below
If you didn't find what you were looking for, be sure to check out our complete library of cover letter examples.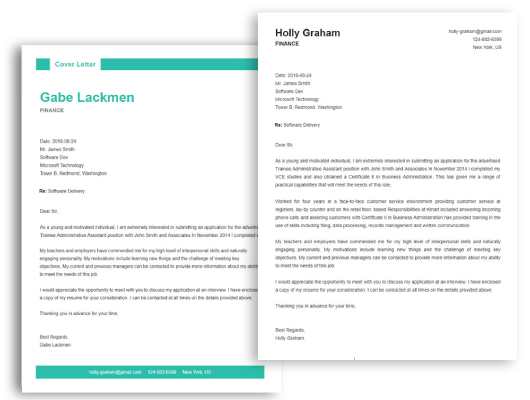 Start building your dream career today!
Create your professional cover letter in just 5 minutes with our easy-to-use cover letter builder!
Sybase Dba Cover Letter Sample
Dear [Hiring Manager],
I am writing to apply for the position of Sybase DBA as advertised on [website/company]. With a decade of experience working in Sybase database administration, I am confident that I would be a valuable asset to your team.
In my current role as Sybase DBA, I am responsible for the installation, configuration and maintenance of the Sybase databases, including monitoring, troubleshooting and resolving all database issues. I am also responsible for database optimization and backup/recovery. I have experience in administering Sybase Replication Server, Sybase IQ and Sybase ASE.
I am an expert in Sybase ASE and proficient in Sybase IQ development. I have worked in an enterprise environment and have a strong understanding of how to secure, maintain and upgrade a database. I am well versed in database performance tuning and am able to troubleshoot issues quickly and efficiently.
I am a fast learner and thrive in a fast- paced environment. My communication and problem- solving skills are second to none and I am passionate about delivering excellent customer service.
I am confident I can bring a wealth of knowledge and expertise to your organization and I would love to discuss my qualifications in more detail. I am available for an interview at your convenience.
Thank you for your time and consideration.
Sincerely,
[Your Name]
Looking to improve your resume? Our resume examples with writing guide and tips offers extensive assistance.
What should a Sybase Dba cover letter include?
A Sybase DBA cover letter should demonstrate your knowledge and experience in the field of database administration and management. It should also demonstrate your ability to take on new challenges and successfully complete projects. In addition, your cover letter should include:
A brief summary of your experience and qualifications as a Sybase DBA
A statement explaining why you are the ideal candidate for the position
A clear and concise explanation of why you are passionate about database administration and management
An overview of your technical skills and abilities related to Sybase
A list of any relevant projects or accomplishments demonstrating your expertise
Examples of skills you have gained while working as a Sybase DBA
Examples of successful Sybase- related projects you have completed
Any noteworthy certifications or awards you have earned
A summary of how you can contribute to the company
An invitation to contact you for more information or an interview.
Sybase Dba Cover Letter Writing Tips
A Sybase DBA (Database Administrator) is a professional who is responsible for the analysis, design, development, maintenance, and administration of computerized databases. To become a successful Sybase DBA, one must possess the necessary technical skills and the right attitude. Writing a Sybase DBA cover letter is an important part of the job application process, as it gives potential employers an opportunity to learn more about you and your qualifications. Here are some tips to help you write an effective Sybase DBA cover letter:
Research the potential employer: It is important to research the potential employer and their needs before you start writing your cover letter. This will help you highlight your qualifications and experience that are relevant to the position and make you stand out from other applicants.
Highlight your qualifications: Your cover letter should highlight your technical skills and qualifications related to Sybase DBA, as well as any other relevant certifications or achievements. Be sure to showcase your ability to troubleshoot problems, install and maintain software, optimize databases, and provide technical support.
Showcase your personality: Your cover letter should also give a glimpse of your personality and what you can bring to the table. Showcase your communication skills, customer service, and organizational abilities.
Proofread your letter: It is important to proofread your Sybase DBA cover letter before submitting it to potential employers. Typos and grammatical errors can make a bad impression and hurt your chances of getting an interview.
By following these tips, you can ensure that your Sybase DBA cover letter is well- written, professional, and communicates the right message to potential employers. Good luck in your job search!
Common mistakes to avoid when writing Sybase Dba Cover letter
Having an A- grade Sybase DBA cover letter is essential in getting a job. However, these cover letters are often subject to mistakes that can detract from the quality of the letter. Here are some of the most common mistakes to avoid while writing a Sybase DBA cover letter:
Not tailoring the cover letter to the specific job. You need to make sure that your cover letter is tailored to the position you are applying for. This means focusing on the skills and experience that are relevant to the job, as well as using the correct terminology and addressing the letter to the correct person.
Failing to provide evidence to back up claims. It's important to provide evidence to back up your claims in the cover letter. This could include past experience, references, or even relevant certifications.
Grammatical and spelling errors. Make sure to proofread your cover letter for any grammatical errors or typos. Even the smallest errors in your cover letter can make it seem unprofessional and sloppy.
Not including contact information. It's important to include your contact information at the end of the cover letter. This includes your name, email address, phone number, and any other relevant contact information.
Not being concise. Your cover letter should be concise and to the point. Try to limit your cover letter to no more than one page, and make sure that you're only including the most relevant information.
By avoiding these common mistakes, you can ensure that your Sybase DBA cover letter will be well- written and effective.
Key takeaways
Cover letters are often overlooked when applying for Sybase DBA roles. However, it is an important opportunity to show off your qualifications and stand out from the competition. Here are some key takeaways for writing an impressive Sybase DBA cover letter:
Address the letter to the specific hiring manager. Do your research to ensure you have the correct name and title.
Outline the skills, qualifications and experience you have that make you a suitable fit for the role. Make sure you emphasise the qualifications that are listed in the job description.
Provide examples to demonstrate your knowledge and experience in Sybase DBA. Show that you are up to date with the latest developments in the field and how you have used this in your existing roles.
Demonstrate your enthusiasm and commitment to the role. Show how you want to grow and develop in the role and what you can bring to the company.
Demonstrate your communication skills by using a professional yet friendly tone.
End the letter on a positive note to leave a good impression.
Frequently Asked Questions
1. How do I write a cover letter for an Sybase Dba job with no experience?
Writing a cover letter for an Sybase Dba job with no experience can be a daunting task. However, as long as you emphasize your enthusiasm, technical aptitude, and ability to learn quickly, you can create a compelling cover letter. Begin by introducing yourself and explaining that you are interested in applying for the Sybase Dba position. Next, explain why you are the ideal candidate – focus on your technical aptitude and eagerness to learn new skills. Finally, provide evidence of your work experience and educational background that is related to the job.
2. How do I write a cover letter for an Sybase Dba job experience?
Writing a cover letter for an Sybase Dba job with experience requires you to demonstrate your expertise in the field. Begin by introducing yourself and explaining that you have experience in the Sybase Dba field. Highlight the most relevant skills and experiences you have, then provide evidence of your accomplishments. Describe the projects you have worked on and the results you have achieved. Finally, explain why you would be the perfect fit for the job.
3. How can I highlight my accomplishments in Sybase Dba cover letter?
Highlighting your accomplishments in your Sybase Dba cover letter is essential to attracting the attention of potential employers. Start by clearly stating what you have accomplished in your past experience working with Sybase Dba. Provide evidence of projects you have completed or results you have achieved. Mention any awards or recognition you have received for your work. Finally, provide examples of how you have applied your skills and experience to solve problems or innovate.
In addition to this, be sure to check out our cover letter templates, cover letter formats, cover letter examples, job description, and career advice pages for more helpful tips and advice.
Let us help you build
your Cover Letter!
Make your cover letter more organized and attractive with our Cover Letter Builder