Writing a cover letter for a job as a server administrator can be a daunting task. However, it can also be an exciting opportunity to showcase your skills and drive for the role. In this guide, we'll provide you with an in-depth look at how to create a compelling cover letter for a server administrator role, plus an example to get you started. With this guide, you'll learn how to structure, format, and customize your cover letter to help you stand out from the competition.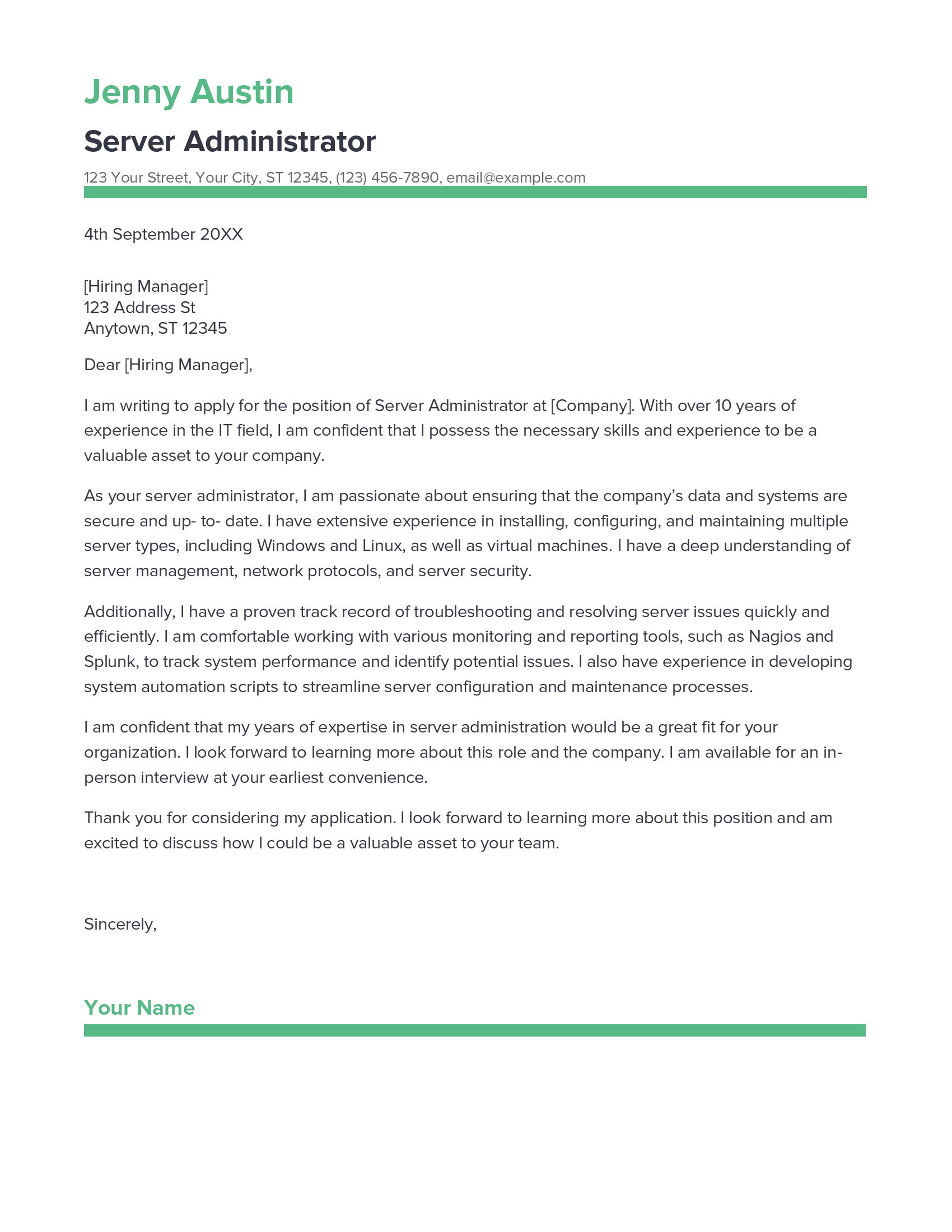 Download the Cover Letter Sample in Word Document – Click Below
If you didn't find what you were looking for, be sure to check out our complete library of cover letter examples.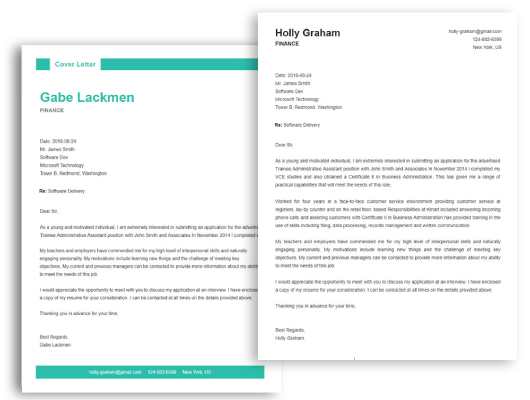 Start building your dream career today!
Create your professional cover letter in just 5 minutes with our easy-to-use cover letter builder!
Server Administrator Cover Letter Sample
Dear [Hiring Manager],
I am writing to apply for the position of Server Administrator at [Company]. With over 10 years of experience in the IT field, I am confident that I possess the necessary skills and experience to be a valuable asset to your company.
As your server administrator, I am passionate about ensuring that the company's data and systems are secure and up- to- date. I have extensive experience in installing, configuring, and maintaining multiple server types, including Windows and Linux, as well as virtual machines. I have a deep understanding of server management, network protocols, and server security.
Additionally, I have a proven track record of troubleshooting and resolving server issues quickly and efficiently. I am comfortable working with various monitoring and reporting tools, such as Nagios and Splunk, to track system performance and identify potential issues. I also have experience in developing system automation scripts to streamline server configuration and maintenance processes.
I am confident that my years of expertise in server administration would be a great fit for your organization. I look forward to learning more about this role and the company. I am available for an in- person interview at your earliest convenience.
Thank you for your time and consideration.
Sincerely,
[Your Name]
Looking to improve your resume? Our resume examples with writing guide and tips offers extensive assistance.
What should a Server Administrator cover letter include?
A Server Administrator cover letter should include:
A brief introduction that highlights your qualifications and experience in server administration.
An overview of your abilities to install, configure, monitor, and optimize servers.
A discussion of any specialized skills you possess, such as scripting or accounts configuration.
A description of your experience in troubleshooting server issues.
A brief summary of your ability to maintain optimal server performance.
A statement of your commitment to organizational standards and best practices.
An expression of enthusiasm for the position and the company.
A conclusion that invites the reader to contact you for an interview.
Server Administrator Cover Letter Writing Tips
Cover letters provide an opportunity for job applicants to introduce themselves and demonstrate why they are qualified for the role. Server Administrators require a specific set of skills and it is important for applicants to highlight their abilities in their cover letter. Here are some tips to help you write a stand- out Server Administrator cover letter.
Highlight your technical abilities: Showcase your experience in system administration, database management, scripting, coding, data analysis, and cloud- based technologies.
Demonstrate problem solving: Describe any complex technical problems you have solved in the past.
Showcase your communication skills: Explain how you effectively use communication to collaborate with coworkers and clients.
Detail your experience: Include any relevant experience you have in network security, database architecture, software development, and other related areas.
Showcase your organizational skills: Share examples of how you are able to manage multiple tasks and prioritize work.
Explain your interest in the role: Share why you are passionate about the role and what you are hoping to achieve in the position.
By following these tips, you can craft a compelling and effective cover letter that will help you stand out from the competition and increase your chances of landing an interview for a Server Administrator position.
Common mistakes to avoid when writing Server Administrator Cover letter
Writing a cover letter for a Server Administrator job can be challenging. To make sure your cover letter stands out from the rest, here are some common mistakes to avoid:
Not tailoring your cover letter to the specific job: Every job listing is unique, so make sure your cover letter is tailored specifically to the job you are applying for. Focus on the job requirements and highlight how your skills and experience meet the needs of the employer.
Not providing enough detail: Your cover letter should be more than just a summary of your resume. Use your cover letter to explain how your experiences have prepared you to be a successful server administrator.
Not highlighting your achievements: Don't forget to include your accomplishments in your cover letter. Highlight the successes you have achieved in previous roles and how you can bring that success to the new job.
Poor grammar and typos: Always proofread your cover letter for grammar and spelling errors. A cover letter with errors will be quickly discarded by an employer.
Being too generic: Avoid using a generic cover letter that could apply to any job. Make sure your cover letter is unique and conveys your enthusiasm for the position.
Not following directions: Make sure you read the job posting closely and follow all the employer's instructions in your cover letter. If a company asks for a specific format or length, follow those guidelines.
By avoiding these common mistakes, you can ensure your cover letter will stand out from the rest and get you one step closer to landing the server administrator job of your dreams.
Key takeaways
Writing an impressive cover letter for a server administrator role requires research and strategy. Below are some key takeaways to consider when crafting your cover letter:
Highlight your technical experience: A server administrator should have a strong technical background, so be sure to emphasize your experience in your cover letter. Include any relevant certifications, education, or training that you have in the field.
Explain the value you can bring: Think about what makes you a unique candidate. What can you bring to the organization that other applicants can't? Explain how your skills, experience, and knowledge can make a positive contribution to the organization.
Demonstrate your leadership skills: Showcase your ability to lead by talking about any experience you have had overseeing projects or teams. Your cover letter should illustrate to employers your capacity for taking on more responsibility.
Showcase your problem- solving skills: Demonstrate your problem- solving skills in your cover letter. Talk about any projects you have been involved in where you had to troubleshoot an issue or resolve any conflicts.
Explain your communication skills: Highlight your communication skills in your cover letter. This is especially important in the server administrator position, where you need to be able to effectively communicate with colleagues and clients.
Point out your organizational skills: Show employers how organized you are by talking about any project management skills or experience you have. Make sure to explain how you plan out tasks and delegate work.
By keeping these key takeaways in mind, you should be able to craft an impressive cover letter that will help you stand out from the competition.
Frequently Asked Questions
1.How do I write a cover letter for an Server Administrator job with no experience?
Writing a cover letter for a Server Administrator job with no experience can be challenging, but it is also an opportunity to highlight your transferable skills and knowledge. Begin your letter by introducing yourself and briefly explaining why you are interested in the job. Then, highlight any relevant skills or knowledge you have acquired that would make you a great fit for the job, such as technical aptitude, problem- solving abilities, or communication skills. Be sure to tie these skills and experiences to the duties of a Server Administrator to make a strong case for yourself. Finally, express your enthusiasm for the job and your willingness to learn.
2.How do I write a cover letter for an Server Administrator job experience?
When writing a cover letter for a Server Administrator job with experience, begin by introducing yourself and highlighting your relevant qualifications. Give specific examples of the accomplishments you are most proud of, such as successfully managing a server system, creating and managing virtual machines, or configuring networked systems. Additionally, emphasize any relevant certifications or training programs you have completed. Finally, explain why you are the best fit for the job and why you are excited about the opportunity.
3. How can I highlight my accomplishments in Server Administrator cover letter?
To highlight your accomplishments in a Server Administrator cover letter, be sure to emphasize any experience you have that is relevant to the job. For example, if you have managed a server system in the past, discuss how you were successful and what your accomplishments were. Additionally, if you have completed any certifications or training programs, be sure to mention those as well. Finally, provide specific examples of the accomplishments you are most proud of and how they will help you succeed in the Server Administrator position.
In addition to this, be sure to check out our cover letter templates, cover letter formats, cover letter examples, job description, and career advice pages for more helpful tips and advice.
Let us help you build
your Cover Letter!
Make your cover letter more organized and attractive with our Cover Letter Builder