Writing a cover letter for a position as a cosmetology instructor can be a rewarding experience and a great way to show potential employers your qualifications and skills. Crafting a well-written cover letter requires careful consideration and thoughtful insight into your professional experience. This guide will provide valuable information about the important elements of a cover letter for a cosmetology instructor, including tips for formatting and helpful examples to help you create a successful document.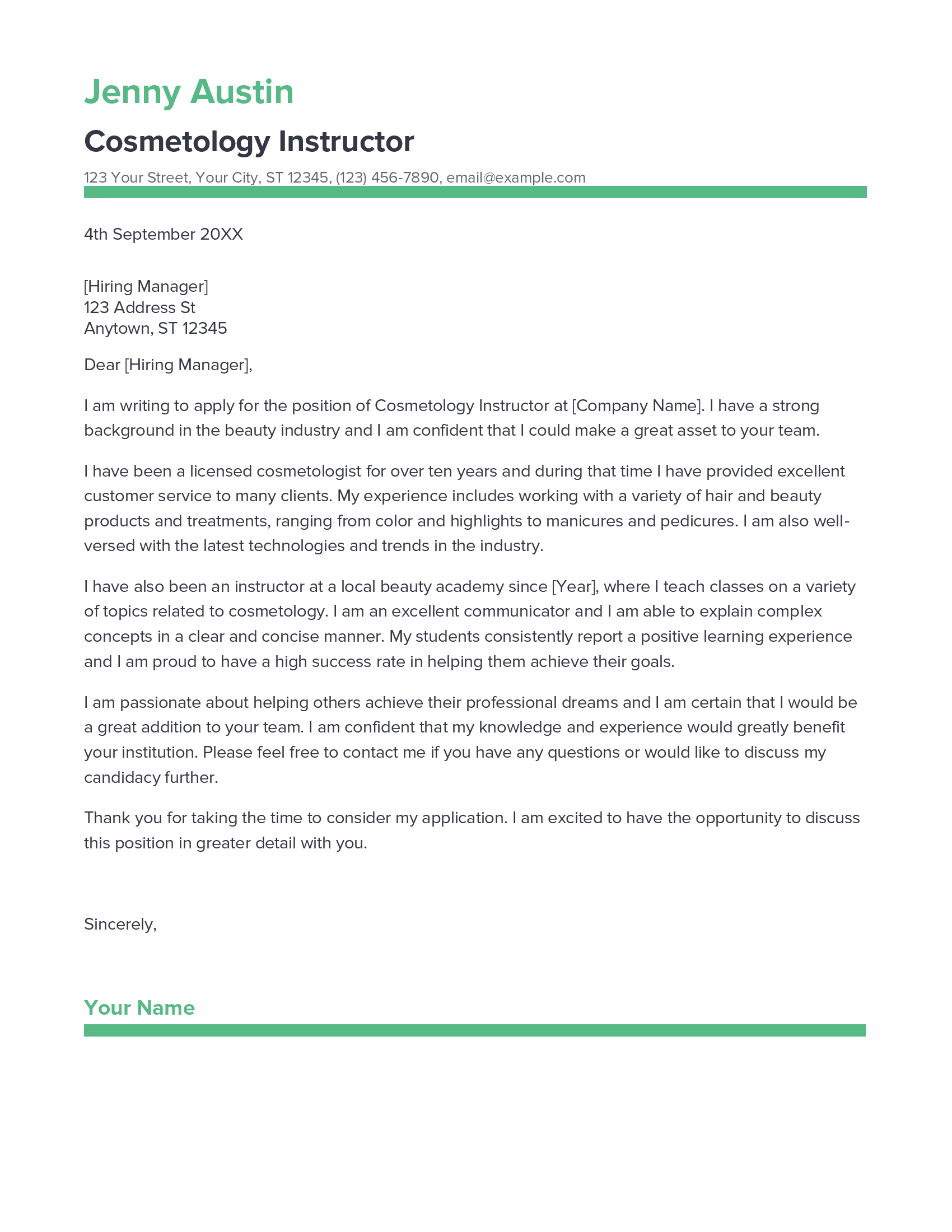 Download the Cover Letter Sample in Word Document – Click Below
If you didn't find what you were looking for, be sure to check out our complete library of cover letter examples.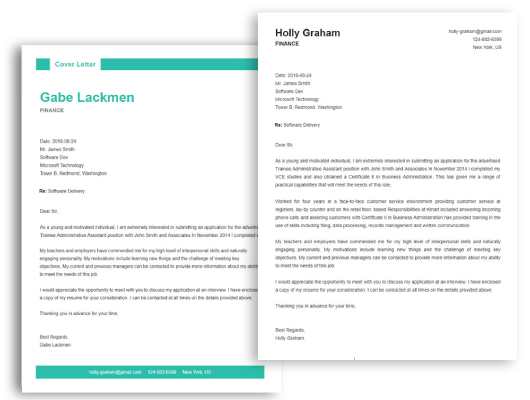 Start building your dream career today!
Create your professional cover letter in just 5 minutes with our easy-to-use cover letter builder!
Cosmetology Instructor Cover Letter Sample
Dear [Recipient],
I am writing to apply for the position of Cosmetology Instructor at [Company Name]. I have a strong background in the beauty industry and I am confident that I could make a great asset to your team.
I have been a licensed cosmetologist for over ten years and during that time I have provided excellent customer service to many clients. My experience includes working with a variety of hair and beauty products and treatments, ranging from color and highlights to manicures and pedicures. I am also well- versed with the latest technologies and trends in the industry.
I have also been an instructor at a local beauty academy since [Year], where I teach classes on a variety of topics related to cosmetology. I am an excellent communicator and I am able to explain complex concepts in a clear and concise manner. My students consistently report a positive learning experience and I am proud to have a high success rate in helping them achieve their goals.
I am passionate about helping others achieve their professional dreams and I am certain that I would be a great addition to your team. I am confident that my knowledge and experience would greatly benefit your institution. Please feel free to contact me if you have any questions or would like to discuss my candidacy further.
Thank you for your time and consideration.
Sincerely,
[Your Name]
Looking to improve your resume? Our resume examples with writing guide and tips offers extensive assistance.
What should a Cosmetology Instructor cover letter include?
A Cosmetology Instructor cover letter should include a number of important points to ensure the applicant stands out from the competition. The letter should begin with a brief introduction that highlights the applicant's relevant qualifications and experience, and how those skills would make them an ideal fit for the position. The letter should also include a few paragraphs that focus on the applicant's background in cosmetology and their passion for teaching. Specific examples of achievements in the field should be included, such as awards or certificates earned, or any other notable successes.
The cover letter should also demonstrate the applicant's ability to work with students, their enthusiasm for teaching, and any special skills or knowledge they have that would make them an asset to the cosmetology program. Finally, the letter should conclude with the applicant expressing their excitement for the opportunity and thanking the reader for their time and consideration.
Cosmetology Instructor Cover Letter Writing Tips
A cosmetology instructor cover letter is one of the best ways to introduce yourself to potential employers. It can set you apart from other applicants, showcase your qualifications, and show your interest in the position. Here are some tips for writing a strong cover letter:
Take the time to research the employer. Knowing the company's culture and mission can help you craft a cover letter that aligns with their values.
Add relevant details. Providing specifics about your experience and qualifications can help show employers why you are the best candidate for the job.
Highlight your accomplishments. Don't just list your experience, use concrete examples to show employers how you have succeeded in the past.
Keep it concise. Make sure to use clear and concise language in your cover letter.
Show enthusiasm. Demonstrate your interest and excitement for the position and why you would be a great fit.
Proofread. Carefully review your cover letter for any typos or grammar errors.
By following these tips, you can create a compelling cover letter that will help you stand out from the other applicants. Good luck!
Common mistakes to avoid when writing Cosmetology Instructor Cover letter
Writing a cosmetology instructor cover letter can be a daunting task, especially if you are not sure what to include or how to format it. To ensure that your cover letter is as effective as possible and stands out from the crowd, there are some common mistakes you should avoid.
Not Tailoring It To The Job: A generic cover letter won't do you any favors. Be sure to tailor your cover letter to the job you are applying for and address specific skills, qualifications, and requirements that are included in the job posting.
Not Showcasing Your Qualifications: Your cover letter should highlight your qualifications and experience that make you the best fit for the job. Focus on the qualifications and experience that meet or exceed the requirements in the job posting and explain why you are the right person for the job.
Not Showing Off Your Personality: While your cover letter should remain professional, it's also important to let your personality show through. Give a bit of insight into who you are and what sets you apart from other candidates.
Not Keeping It to One Page: Your cover letter should be one page or less. You don't want to overwhelm the hiring manager with too much information. Keep it concise, cover the necessary points, and leave out any superfluous information.
Not Proofreading: Take the time to proofread your cover letter. Mistakes, whether spelling, grammar, or punctuation, can be a huge red flag to hiring managers. Make sure you review your cover letter multiple times and consider having someone else review it for you.
By avoiding these common mistakes, you can ensure that your cover letter is as effective as possible and will help you get one step closer to getting the job.
Key takeaways
When it comes to writing a cover letter for a Cosmetology Instructor position, there are certain key takeaways to keep in mind. Here are some tips to help you craft an impressive cover letter:
Start off your letter by introducing yourself and stating why you're interested in the position.
Outline your qualifications and experience in a concise yet impactful way. Focus on the skills and qualities that make you the perfect fit for the job.
Demonstrate your knowledge of the industry and show that you are up- to- date on the latest trends and developments in cosmetology.
Highlight your teaching experience and provide examples of how you've successfully taught others.
Showcase your communication and interpersonal skills, as well as your ability to work with students of all ages and backgrounds.
Discuss your passion for the field and explain why you think you are the best candidate for the job.
Close your letter by expressing your appreciation for the opportunity and stating that you would be thrilled to join the team.
By following these tips, you can create an impressive cover letter that will help you stand out from the competition. Good luck and happy writing!
Frequently Asked Questions
1. How do I write a cover letter for an Cosmetology Instructor job with no experience?
Writing a cover letter for a cosmetology instructor job without experience can seem daunting, but with a little research and practice, you can create an effective document that will help you stand out from the competition. Begin your cover letter by introducing yourself, mentioning the job you're applying for, and indicating why you're the perfect candidate for the role. Showcase your education, training, and certifications related to cosmetology and highlight your teaching skills. Explain how your ability to motivate and lead others will help you succeed in the position. Finally, highlight any special skills or experiences that you have that could be beneficial in a cosmetology instructor role.
2. How do I write a cover letter for an Cosmetology Instructor job experience?
When writing a cover letter for an experienced cosmetology instructor job, focus on your past successes and the impact you have had on students. Highlight your recent experience as a cosmetology instructor, such as your ability to motivate students, employ innovative teaching techniques, and create a safe and encouraging learning environment. Additionally, you can detail any certifications and awards that you have earned throughout your career. Emphasize that you are a dedicated and knowledgeable professional and illustrate why you would be an asset to the company.
3. How can I highlight my accomplishments in Cosmetology Instructor cover letter?
When highlighting your accomplishments in a cosmetology instructor cover letter, focus on any successes that you have achieved in the field. If you have improved student performance or teaching techniques, or helped secure grants or awards, make sure to mention them in your document. Additionally, you can discuss how you have grown as a professional, such as certifications you have obtained or any special skills that you have developed. Illustrate how your accomplishments have prepared you for the role.
In addition to this, be sure to check out our cover letter templates, cover letter formats, cover letter examples, job description, and career advice pages for more helpful tips and advice.
Let us help you build
your Cover Letter!
Make your cover letter more organized and attractive with our Cover Letter Builder