Writing a cover letter can be an intimidating process. With this guide, you will be given step-by-step instructions on how to craft an effective and professional-looking cover letter. Additionally, you will be provided with a sample cover letter for blog writers to help you get started. By the end of this guide, you will have a clear understanding of the structure, content, and formatting of a great cover letter for blog writers.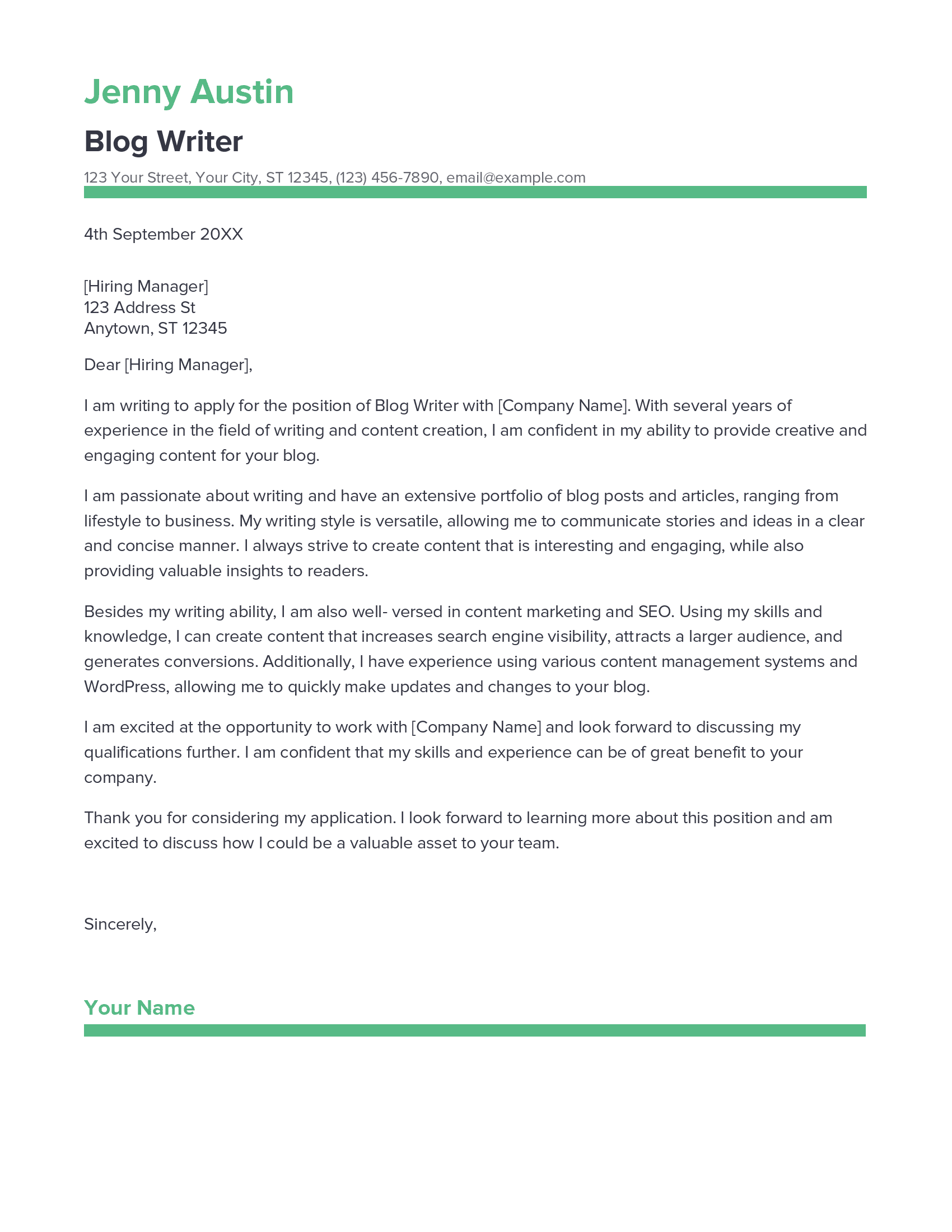 Download the Cover Letter Sample in Word Document – Click Below
If you didn't find what you were looking for, be sure to check out our complete library of cover letter examples.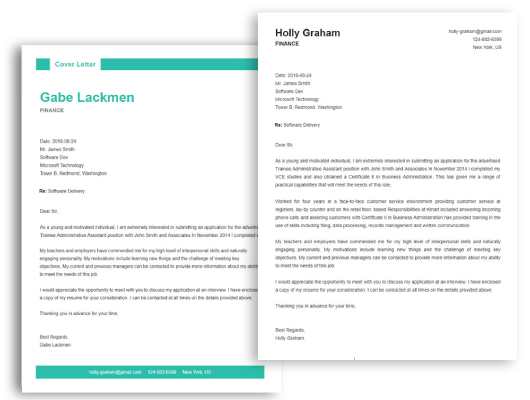 Start building your dream career today!
Create your professional cover letter in just 5 minutes with our easy-to-use cover letter builder!
Blog Writer Cover Letter Sample
Dear [Hiring Manager],
I am writing to apply for the position of Blog Writer with [Company Name]. With several years of experience in the field of writing and content creation, I am confident in my ability to provide creative and engaging content for your blog.
I am passionate about writing and have an extensive portfolio of blog posts and articles, ranging from lifestyle to business. My writing style is versatile, allowing me to communicate stories and ideas in a clear and concise manner. I always strive to create content that is interesting and engaging, while also providing valuable insights to readers.
Besides my writing ability, I am also well- versed in content marketing and SEO. Using my skills and knowledge, I can create content that increases search engine visibility, attracts a larger audience, and generates conversions. Additionally, I have experience using various content management systems and WordPress, allowing me to quickly make updates and changes to your blog.
I am excited at the opportunity to work with [Company Name] and look forward to discussing my qualifications further. I am confident that my skills and experience can be of great benefit to your company.
Thank you for your time and consideration.
Sincerely,
[Your Name]
Looking to improve your resume? Our resume examples with writing guide and tips offers extensive assistance.
What should a Blog Writer cover letter include?
A blog writer cover letter should be an introduction to the writer's experience, skills, and qualifications that are related to the position and the blog. The cover letter should include a brief explanation of the writer's experience writing for blogs, including any awards or recognition the writer has received for their work. It should also include an explanation of the writer's understanding of the blog's content, target audience, and style.
The writer should also include examples of their writing, including links to their blog and any published work, to demonstrate their writing ability. Additionally, the cover letter should provide details on the writer's ability to work with deadlines, meet goals, and collaborate with other professionals.
Finally, the cover letter should include a statement of the writer's enthusiasm, interest, and motivation to work with the blog. This should demonstrate the writer's understanding of the blog's mission and values, as well as the writer's eagerness to contribute to the blog's continued success.
Blog Writer Cover Letter Writing Tips
A cover letter is a critical part of any job application, and it's an important tool for any blog writer in the process of finding work. A great cover letter will help you make a positive first impression and can make you stand out from the crowd. Here are some tips to help you write a great cover letter that catches the attention of potential employers:
Research the Company: Before you start writing your cover letter, take the time to research the company you're applying to. Find out what kind of blog writing they need, and learn as much as you can about their culture and values. This will help you tailor your cover letter to the company and make it more relevant.
Be Specific: Don't just include general statements in your cover letter. Show the employer that you've done your research by specifically referencing their company and their needs. This makes it clear that you're a good fit for the job and not just sending out generic cover letters.
Highlight Your Skills: Make sure to highlight the skills that you have that make you a great blog writer. This could include any special skills or knowledge you have related to the topic, as well as your experience and qualifications.
Include Examples: If you have samples of your work, include them in your cover letter. This will give the employer a better idea of what you can do as a blog writer.
Proofread: Before you hit send, make sure to read over your cover letter carefully. Typos and grammatical errors can reflect negatively on you, so make sure that your cover letter is free of mistakes.
Common mistakes to avoid when writing Blog Writer Cover letter
Every jobseeker knows how important a cover letter is when applying for a job. If you're seeking a position as a Blog Writer, your cover letter should show off your writing skills, demonstrate your experience in the field, and accurately reflect your qualifications. Here are a few common mistakes to avoid in your Blog Writer cover letter:
Not Showcasing Your Writing Skills: Your cover letter should demonstrate the writing style and ability you possess. Be sure to include relevant samples that reflect your writing style, as well as any other qualifications that make you an ideal candidate for the position.
Being Too General: It is important to tailor your cover letter to each position that you apply for. Resist the urge to send a generic cover letter with every job application. Instead, be sure to focus on how your qualifications and experience make you a perfect fit for the role.
Failing to Research the Company: Research the company thoroughly before applying. This will help you to create a cover letter that is tailored to the company and position you are seeking. Show your knowledge of the company and its mission by including relevant information in your cover letter.
Not Following Directions: Many employers include specific instructions and requirements for submitting a cover letter. Make sure you follow those directions to the letter. Failing to do so could result in your application being overlooked.
Not Proofreading: Read over your cover letter carefully before submitting it. Pay close attention to spelling, grammar and other mistakes that could detract from the overall quality of your letter. If possible, have a friend or family member read over it as well.
By avoiding these common mistakes, you can ensure your Blog Writer cover letter stands out from the crowd and helps you land the job you're seeking.
Key takeaways
A cover letter is an essential part of the job application process, as it allows you to showcase your skills and experience in a professional way. As such, it is important to write an impressive Blog Writer cover letter to stand out from the competition. Here are some key takeaways to help you create an impressive cover letter for this role:
Highlight your writing experience: Emphasize your writing experience, especially if it pertains to the blog writing role. Also, make sure to include any awards, certifications, or other recognition you might have received for your writing.
Demonstrate knowledge of the company: Demonstrate that you are knowledgeable about the company and the position, and that you are passionate about working for them. Show them that you understand their company culture and values, and that you believe you would be a great fit.
Showcase your creativity: Blog writing requires creativity, and your cover letter is the perfect place to showcase this. Include examples of creative writing pieces you've done, or any other creative projects you've worked on.
Focus on the highlights: Make sure to focus on the highlights of your experience, rather than going into too much detail. Keep it concise and to the point to make sure it captures the reader's attention.
Conclude with enthusiasm: Your cover letter should end with enthusiasm and optimism, reflecting your desire to contribute to the company's success. Express your excitement for the potential opportunity, and let them know that you are looking forward to hearing from them.
Frequently Asked Questions
1. How do I write a cover letter for an Blog Writer job with no experience?
Writing a cover letter for a blog writer job with no experience can be a daunting task. It is important to focus on the specific skills you can bring to the blog writing job. Highlight any prior writing experience, even if it isn't blog- related. Show off your research and organizational skills, as these are essential for blog writing. Demonstrate your knowledge of the industry, and provide evidence of your passion for writing. Finally, showcase your ability to communicate ideas effectively and succinctly.
2. How do I write a cover letter for an Blog Writer job experience?
If you have prior experience in blog writing, use the cover letter to emphasize your abilities and accomplishments. Focus on metrics to quantify your success, such as increasing website traffic or readership. Showcase your ability to stay up- to- date on industry trends and topics, as well as your ability to create engaging and informative content. Demonstrate your knowledge of SEO and online media, and mention any awards or recognition you have received for your writing.
3. How can I highlight my accomplishments in Blog Writer cover letter?
Include specific examples and numbers to demonstrate the success of your blog writing. If you have increased website traffic or readership, provide the exact numbers to show your impact. If you have won awards for your blogs, mention them. If you have been published in any notable publications, include that information. If you have increased the engagement of readers, explain how you did this. Use specific examples to show how your blog writing has made an impact.
4. What is a good cover letter for an Blog Writer job?
A good cover letter for a blog writer job should demonstrate your passion for writing as well as your knowledge and experience in the field.
In addition to this, be sure to check out our cover letter templates, cover letter formats, cover letter examples, job description, and career advice pages for more helpful tips and advice.
Let us help you build
your Cover Letter!
Make your cover letter more organized and attractive with our Cover Letter Builder