Writing a cover letter can be an intimidating task for many job seekers, especially those who are new to the job searching process. However, it is an essential component of any job application and should not be overlooked. Crafting a successful cover letter can go a long way in helping to secure a desired job. This guide will provide tips and advice on how to write an effective cover letter and provide an example cover letter for reference.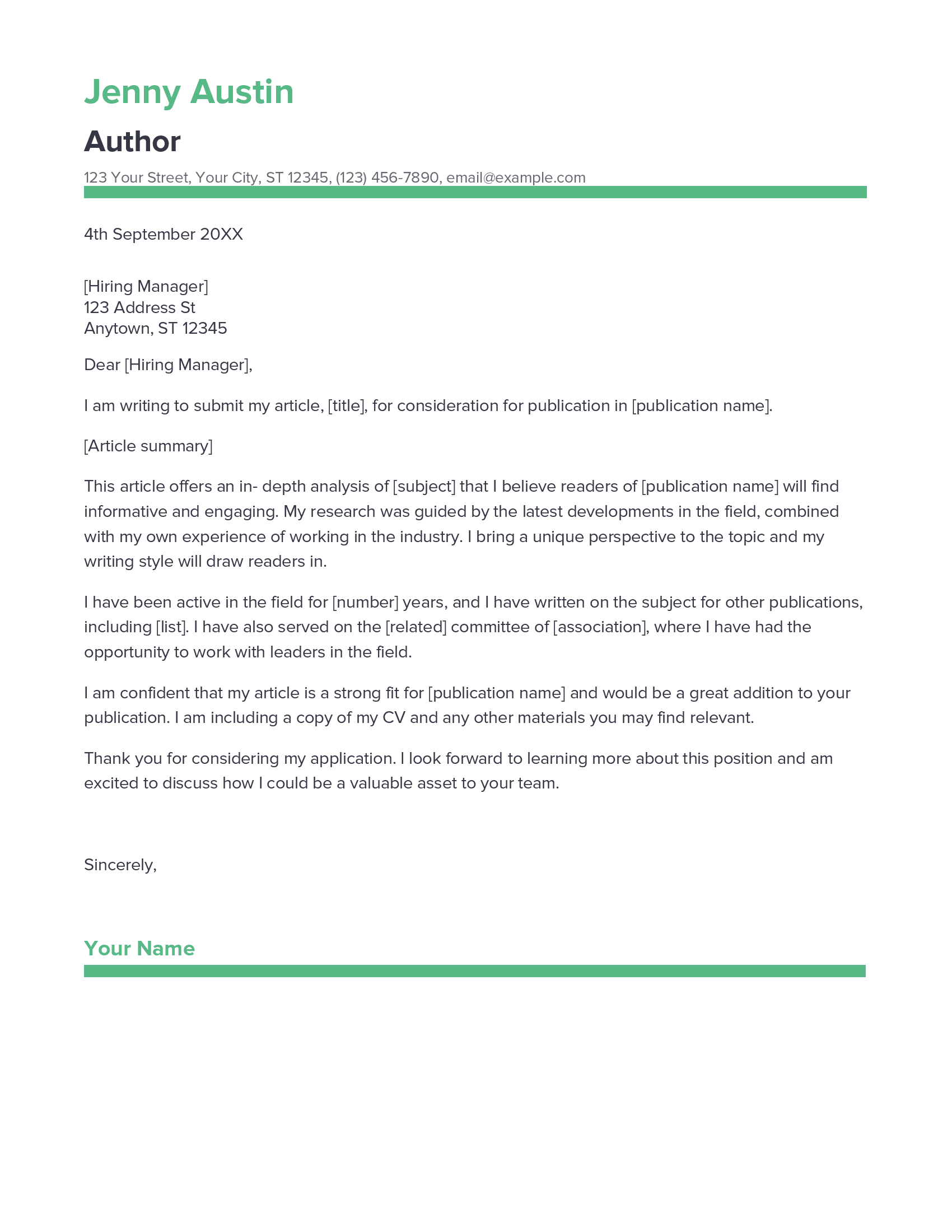 Download the Cover Letter Sample in Word Document – Click Below
If you didn't find what you were looking for, be sure to check out our complete library of cover letter examples.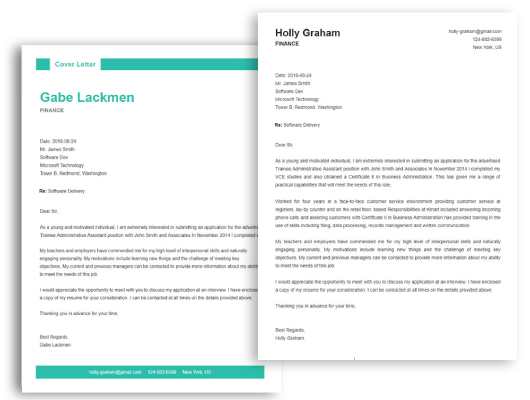 Start building your dream career today!
Create your professional cover letter in just 5 minutes with our easy-to-use cover letter builder!
Author Cover Letter Sample
Dear [Editor's Name]:
I am writing to submit my article, [title], for consideration for publication in [publication name].
[Article summary]
This article offers an in- depth analysis of [subject] that I believe readers of [publication name] will find informative and engaging. My research was guided by the latest developments in the field, combined with my own experience of working in the industry. I bring a unique perspective to the topic and my writing style will draw readers in.
I have been active in the field for [number] years, and I have written on the subject for other publications, including [list]. I have also served on the [related] committee of [association], where I have had the opportunity to work with leaders in the field.
I am confident that my article is a strong fit for [publication name] and would be a great addition to your publication. I am including a copy of my CV and any other materials you may find relevant.
Thank you for your time and consideration. I look forward to hearing from you.
Sincerely,
[Your Name]
Looking to improve your resume? Our resume examples with writing guide and tips offers extensive assistance.
What should a Author cover letter include?
A cover letter for an author should include the following:
A brief introduction of yourself and your work.
A brief explanation of why you believe your work is suitable for the intended audience.
Information about any accolades or awards your works have received.
A list of your published works, including any book reviews or other relevant information.
A clear and concise description of the type of writing you specialize in, and any related fields of expertise.
Examples of your writing, either via direct link or as attachments.
Your contact information, including a valid email address and phone number.
A professional closing statement, thanking the recipient for their time.
Author Cover Letter Writing Tips
Writing an author cover letter can be a daunting task, but it doesn't have to be. With a few tips and tricks, you can make sure that your cover letter stands out from the crowd and gets noticed. Here are some tips to help you write the perfect author cover letter:
Research the Publisher: Before you start writing your letter, it's important to do some research on the publisher you're pitching to. Make sure you understand their mission statement and what kind of book they publish. This will help you tailor your letter to their specific needs.
Make it Personal: Make sure your letter is customized to the publisher you're sending it to. A generic, one- size- fits- all letter won't get you very far. Address the letter to a specific person if possible, and make sure that you're addressing their specific needs.
Keep it Short and to the Point: There's no need to write a long and winding letter. Keep your cover letter short and to the point. Include a few paragraphs that describe your book, why you think it's a great fit for the publisher, and why you're the best person to write it.
Showcase Your Writing Ability: This is your chance to show off your writing skills and show the publisher that you're the right author for the job. Make sure your letter is well- written, error- free, and engaging.
Follow Up: After you've sent your letter, be sure to follow up with the publisher. A polite email or phone call will let them know that you're serious about your work and that you're interested in working with them.
These are just a few tips to help you write the perfect author cover letter. With a bit of effort and some research, you can
Common mistakes to avoid when writing Author Cover letter
Writing an effective author cover letter is a crucial part of the publishing process. It provides a brief introduction to an editor or publisher and gives them an insight into your writing style. A well- crafted cover letter can help you stand out from the competition and secure a publishing deal.
However, getting it wrong can result in your work being overlooked. To ensure your author cover letter is successful, here are some common mistakes to avoid:
Not addressing the editor or publisher by name: When writing your cover letter, it's important to address the editor or publisher by name. An impersonal letter addressed to "To Whom It May Concern" will not impress them and can make it look like you're not taking the process seriously.
Not customizing to the publisher's needs: Every publishing house has their own requirements and preferences. If you're submitting a manuscript to an editor, research the publishing house and tailor the cover letter accordingly. This will show the editor that you've put the effort into making sure your work meets their standards.
Not including a brief synopsis: A brief synopsis of your book or article should be included in the cover letter. An editor will want to get an idea of what the piece is about before agreeing to publish it, so make sure you include a concise overview.
Making it too long: A cover letter should be concise and to the point. It should be no more than one page and should focus on the main points. If you're sending a longer submission, such as an article or book proposal, you may need to include more information, but keep it as brief as possible.
Not proofreading: Before sending your cover letter off, make sure you proofread it for any spelling or grammatical errors. An editor or publisher will not be impressed by an error- ridden letter and it could
Key takeaways
Writing an impressive author cover letter can help you land a book deal, as it's your chance to show potential publishers why your book is worth their investment. Here are some key takeaways for creating an outstanding author cover letter:
Tailor your cover letter: Your cover letter should be tailored to the particular publisher you're submitting your book to. Make sure to address the right person in the right department, and that you include information relevant to the publisher's target audience.
Showcase your credentials: You don't need to have extensive writing experience to write a compelling cover letter, but you should highlight any credentials that might make you stand out. This could include awards, publications, or any writing- related experience.
Show enthusiasm: You should express enthusiasm for writing, and for this particular book. Describe what sparked your idea and why you're excited to write it.
Display your understanding: Demonstrate your understanding of the industry and of the genre your book falls in. Showcase your knowledge of the publisher, and how you plan to market the book to their audience.
Focus on the book: Make sure to focus the majority of the letter on the book, by including a brief synopsis and highlighting why it's unique and worth publishing.
Keep it short & sweet: Your cover letter should be short and to the point. Keep it to one page, and use clear and concise language to get your message across.
Frequently Asked Questions
1. How do I write a cover letter for an Author job with no experience?
Writing a cover letter for an author job with no experience can be challenging. Nonetheless, it is possible to create a powerful and persuasive letter that will draw attention to your skills and aptitude for the position.
Start your letter by addressing the hiring manager by name, and make sure to explain what position you are applying for. Then, outline any education, voluntary work, and internships you have taken that are related to the job. This will show the employer that you have the necessary skills, even if you don't have hands- on experience.
Next, explain why you are interested in the position and how it relates to your career goals. Include any awards or accolades you have received that are relevant to the job. Finally, explain what value you can bring to the company, and close with a request for an interview.
2. How do I write a cover letter for an Author job experience?
When writing a cover letter for an author job with experience, it is important to emphasize your writing and research skills. Begin your letter by addressing the hiring manager, and outlining the position you are applying for.
Next, list your relevant experience, such as published works, freelance gigs, and other related activities. Be sure to provide details about the types of projects you have worked on, and any successes you have achieved.
Explain what you have learned from your experiences and how it makes you an ideal candidate for the job. Finally, explain why you are passionate about the position and what you can contribute to the company. Close with a request for an interview.
3. How can I highlight my accomplishments in Author cover letter?
When writing an author cover letter, you should use the letter to showcase your best accomplishments. Start by addressing the hiring manager by name, and clearly
In addition to this, be sure to check out our cover letter templates, cover letter formats, cover letter examples, job description, and career advice pages for more helpful tips and advice.
Let us help you build
your Cover Letter!
Make your cover letter more organized and attractive with our Cover Letter Builder