Writing a cover letter for a roofer job can be intimidating, however it doesn't have to be. With the right information, cover letter writing can be straightforward and can be an effective way to communicate your qualifications and background to an employer. This guide provides a comprehensive overview of how to create a cover letter for a roofer role, and includes a sample letter to help you get started.
If you didn't find what you were looking for, be sure to check out our complete library of cover letter examples.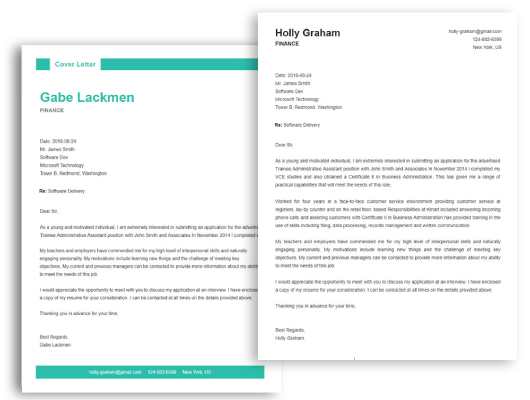 Start building your dream career today!
Create your professional cover letter in just 5 minutes with our easy-to-use cover letter builder!
Roofer Cover Letter Sample
Dear [Hiring Manager],
I am writing to express my interest in the position of Roofer for [Company Name]. With my experience in the roofing business and my commitment to providing high- quality workmanship, I am confident that I can make an immediate and positive contribution to your team.
My extensive experience in residential and commercial roofing includes projects of all sizes and complexities. I have a strong command of the necessary tools and techniques, excellent physical strength and endurance and a knack for problem solving. I have a proven track record for creating lasting, quality installations and always follow manufacturer's specifications.
I am highly experienced in the installation of all types of roofing systems, including asphalt shingles, slate, wood shake, clay tiles, and metal. I also have experience in repairing and maintaining existing roofing systems, ensuring that they are safe and structurally sound. Additionally, I am knowledgeable in the proper removal of roofing materials and in the disposal of waste materials.
My priority is always to deliver quality results, and I take pride in paying attention to the details. I am a reliable and hardworking professional, and I am confident that I can be an asset to your company.
I am eager to discuss how I can contribute to your team and am available for an interview at your convenience. Thank you for your time and consideration.
Sincerely,
[Your Name]
Looking to improve your resume? Our resume examples with writing guide and tips offers extensive assistance.
What should a Roofer cover letter include?
A Roofer cover letter should be a concise and persuasive document that outlines why you are the best candidate for the position. It should include a brief summary of your professional qualifications and any relevant experience that you may have with roofing. Additionally, the cover letter should include any other pertinent qualifications such as certifications or licenses that may be applicable to the job.
It is also important to emphasize your skills and knowledge in regards to the specific roofing techniques discussed in the job description. Include details about your experience and knowledge of new roofing materials, installation and repair techniques, as well as any safety measures that you are familiar with. Additionally, be sure to include any past projects or jobs that you have completed as a Roofer, providing any relevant information that can attest to your skills and abilities.
Finally, be sure to highlight your interest in the position and your enthusiasm for the company. Be sure to express your belief that you would be a great addition to the team, and provide any additional information that may make you stand out. By providing a comprehensive and detailed cover letter, you are sure to make a great first impression and will be one step closer to getting the job.
Roofer Cover Letter Writing Tips
A cover letter can be the most important factor when attempting to land a new job as a roofer. A well written and detailed cover letter can make all the difference between getting a hiring managers attention and being overlooked. Here are some tips to help you craft a quality cover letter that will set you apart from other job applicants:
Start with a professional greeting. Address the letter to the hiring manager by name, if possible.
Highlight the most relevant skills and experiences that make you the right fit for the job. Be sure to include any certifications or qualifications you possess that are related to a roofer position.
Explain why you are interested in the job and why you think you would be a great fit.
Demonstrate your knowledge of the roofing industry. Show your understanding of roofing techniques, materials, and safety requirements.
Demonstrate your commitment to providing excellent customer service.
Showcase your ability to work with a team and lead a crew.
Include a call to action. Ask to set up an interview or provide your contact information so the hiring manager can reach out to you.
Following these tips will ensure that your cover letter is professional, detailed, and focused on the job you're applying for. With a well written cover letter, you'll be one step closer to landing your dream job as a roofer.
Common mistakes to avoid when writing Roofer Cover letter
When it comes to writing a cover letter for a roofer position, your goal should be to make yourself stand out from the competition and show that you're the best candidate for the job. However, many job seekers make mistakes with their cover letters that leave employers cold. To ensure your cover letter is the best it can be, here are some common mistakes you should avoid.
Using a Generic Cover Letter: Generic cover letters are the ones that are sent to any employer for any job, without customizing them for the position. To stand out, make sure your cover letter is tailored to the specific roofer position you're applying for and highlights the skills and qualifications that make you the right person for the job.
Focusing Too Much on Your Needs: While your cover letter should explain why you're the right candidate for the job, it should also focus on how you can meet the employer's needs. Make sure you explain what you can do for the employer and how your skills and experience can be of benefit to them.
Not Being Concise: Your cover letter should be to the point and not too long. Employers don't want to read a lengthy cover letter and will be more likely to read yours if it is clear, concise and relevant.
Not Proofreading: Before you send your cover letter, make sure you check for spelling and grammar errors. Nothing leaves a worse impression than a cover letter filled with mistakes.
By avoiding these common mistakes, you can ensure that your cover letter for a roofer position will stand out from the competition and get you one step closer to landing the job.
Key takeaways
Writing a cover letter for a roofer job is an important step in the job search process. It is your opportunity to introduce yourself to a potential employer and show your interest in the job. With the right guidance, you can create a cover letter that will make an impact on a potential employer. Here are some key takeaways for writing an impressive roofer cover letter:
Focus on the job requirements: When writing your cover letter, make sure to focus on the job requirements listed in the job description. Highlight your relevant skills, knowledge and experience that make you a good fit for the job.
Showcase your accomplishments: Highlight any awards, certifications or achievements that you have earned in the roofing industry. This is a great way to show employers that you have the right skills and qualifications for the job.
Be concise and to the point: Make sure to keep your cover letter brief and to the point. Your goal should be to provide enough information to make the employer want to learn more about you.
Use keywords: Use keywords from the job description in your cover letter to demonstrate your knowledge and understanding of the job.
Address the employer: Make sure to address your cover letter to the appropriate hiring manager or contact at the company. This will show that you have taken the time to research the company and demonstrate your interest in the job.
Proofread: Always be sure to proofread your cover letter for typos and errors before submitting it. This will show employers that you are professional and detail- oriented.
By following these key takeaways, you can create an impressive roofer cover letter that will make a great impact on potential employers. Good luck in your job search!
Frequently Asked Questions
1. How do I write a cover letter for an Roofer job with no experience?
Writing an effective cover letter for an Roofer job with no experience can be challenging. To start, focus on emphasizing any relevant experience you have that applies to the position. If you don't have any relevant experience, consider describing your transferable skills, such as problem- solving, communication, and teamwork. Additionally, emphasize any relevant training you have completed, such as safety courses or certification programs. Finally, provide evidence of the qualities that make you a great candidate for the job, such as your work ethic, strong organizational skills, and ability to work independently and under pressure.
2. How do I write a cover letter for an Roofer job experience?
When writing a cover letter for an Roofer job with experience, you should focus on highlighting your accomplishments and experience. Start by providing examples of projects you have completed in the past and describe how you made an impact with those projects. Additionally, focus on emphasizing any technical skills or specialized knowledge you have that may apply to the job. Finally, explain why you believe you are the best candidate for the job and point to any awards or accolades you have received in the past that speak to your qualifications.
3. How can I highlight my accomplishments in Roofer cover letter?
When highlighting your accomplishments in a Roofer cover letter, begin by describing any projects you have completed or participated in that directly relate to the position. Additionally, emphasize any awards or recognition you have received for your work, such as safety awards or job performance reviews. Lastly, outline any additional skill sets or knowledge you have that may be beneficial for the job, such as experience with specialized tools or software applications.
In addition to this, be sure to check out our cover letter templates, cover letter formats, cover letter examples, job description, and career advice pages for more helpful tips and advice.
Let us help you build
your Cover Letter!
Make your cover letter more organized and attractive with our Cover Letter Builder