Writing a cover letter for a home builder position can be a challenge. With many job seekers competing for the same position, it is important to create a letter that stands out and makes a lasting impression. This guide will provide you with helpful tips and an example to craft a professional and effective home builder cover letter. You will learn how to address the recruiter, highlight your qualifications, and make your letter shine.
If you didn't find what you were looking for, be sure to check out our complete library of cover letter examples.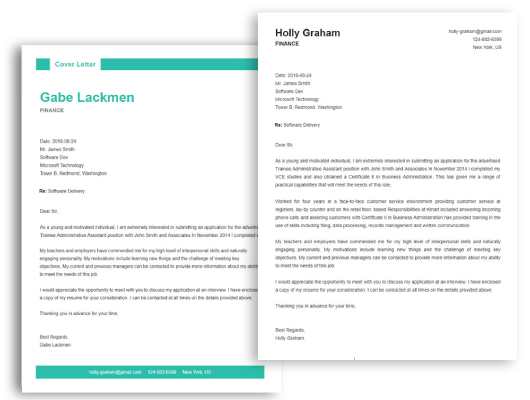 Start building your dream career today!
Create your professional cover letter in just 5 minutes with our easy-to-use cover letter builder!
Home Builder Cover Letter Sample
[Date]
[Company Name]
Attn: [Hiring Manager]
[Company Address]
Re: Home Builder
Dear [Hiring Manager],
I am writing to express my interest in the position of Home Builder at [Company Name]. With more than 10 years of experience in the development and construction of high- end, custom homes, I am confident I can make an immediate and positive impact on your team.
As a reliable and experienced Home Builder, I have demonstrated the ability to facilitate the entire homebuilding process, from concept to completion. My expertise includes a thorough understanding of the design and building process, as well as a strong eye for detail and an aptitude for problem solving. I am also very familiar with the various codes and regulations that must be adhered to when constructing a home.
In addition to my homebuilding skills, I also bring to the table excellent organizational and communication skills. I am adept at working with a variety of contractors and stakeholders, and I am confident I could quickly become a valuable member of your team.
I am excited at the prospect of joining your team and am eager to discuss my qualifications and experience in greater detail. Please do not hesitate to contact me at your earliest convenience.
Thank you for your time and consideration.
Sincerely,
[Your Name]
Looking to improve your resume? Our resume examples with writing guide and tips offers extensive assistance.
What should a Home Builder cover letter include?
A Home Builder cover letter should include details about the applicant's experience and qualifications in the construction industry. It should also include specific examples of successful projects the applicant has completed and any challenges they faced along the way. The cover letter should also focus on the applicant's ability to effectively collaborate with other experts in the home building industry, such as architects, engineers, and subcontractors. Additionally, it should emphasize the applicant's strong communication skills, attention to detail, and ability to manage projects from start to finish. Finally, it should convey the applicant's passion for home building and devotion to ensuring customer satisfaction.
Home Builder Cover Letter Writing Tips
Writing a cover letter for a home builder job may seem intimidating, but by following some basic tips and guidelines, you can craft an effective and professional letter that will help you stand out from the competition.
Start with a Strong Introduction: Make sure your opening paragraph grabs the reader's attention by introducing yourself and briefly explaining what you have to offer.
Highlight Your Qualifications: The body of your letter should focus on your qualifications and experience that make you an ideal candidate for the job. Be sure to emphasize specific skills and accomplishments that relate to your experience in the home- building industry.
Showcase Your Knowledge: Demonstrate your knowledge of the company, the industry, and the home- building process by mentioning relevant information in your cover letter.
Focus on Your Communication Skills: Home builders need excellent communication skills to work with clients, so be sure to highlight your ability to communicate effectively with customers.
End on a Positive Note: Close your letter with a polite and professional tone, thanking them for considering you for the position and expressing your enthusiasm for the role.
By following these tips, you can ensure that your home builder cover letter will make a great impression and improve your chances of getting an interview. Good luck!
Common mistakes to avoid when writing Home Builder Cover letter
A cover letter is a great opportunity to introduce yourself to potential employers and make a good first impression. When it comes to Home Builder cover letters, there are some key mistakes you'll want to avoid making. Here are some of the most common mistakes to avoid when writing a Home Builder cover letter:
Not Customizing Your Letter: When applying for a job, it's important to tailor your cover letter to the specific job you're applying for. Don't just use a generic cover letter template; make sure to include specific details about why you're the best fit for the job.
Not Including Relevant Experience: Make sure to include relevant experience in your cover letter. Include details about your past experience as a Home Builder and any relevant skills or qualifications that you possess.
Not Mentioning Your Soft Skills: It's not just your technical skills that make you an attractive candidate. Make sure to mention your soft skills, such as communication and problem- solving, in your cover letter.
Not Proofreading: It's essential to proofread your cover letter before submitting it. Check for spelling and grammar errors, as well as typos. Even if you think you've covered everything, it's always a good idea to get a second pair of eyes on your letter before sending it off.
Not Doing Research: Before submitting your Home Builder cover letter, make sure to do your research. Read up on the company, the role you're applying to, and any industry news that could be relevant. This will help you craft a more tailored letter and show that you're serious about the job.
By avoiding these common mistakes, you can make sure your Home Builder cover letter stands out and gives a great first impression.
Key takeaways
Writing a cover letter for a home building position can be a great way to set yourself apart from other applicants. A good cover letter will not only demonstrate your qualifications, but also show your enthusiasm for the job and how you can contribute to the company. Here are some key takeaways to keep in mind when crafting your cover letter:
Highlight your qualifications and experience. Show how your experience and qualifications make you a great fit for the role.
Demonstrate your enthusiasm. Be sure to mention why you are excited about the job, and how you plan to contribute to the company.
Showcase your skills. Mention any special skills related to the job, such as experience with building materials or knowledge of local building codes.
Focus on the details. Be sure to mention details like the company's name, the position you are applying for, and how you heard about the job.
Keep it concise. A cover letter should be one page and to the point. Avoid using long, drawn- out sentences and keep your language clear and concise.
Proofread your letter. Make sure to read over your letter for any spelling errors, punctuation mistakes, or grammar issues.
By following these tips, you can write an impressive cover letter that will set you apart from other applicants and show your enthusiasm for the job. Good luck!
Frequently Asked Questions
1. How do I write a cover letter for an Home Builder job with no experience?
Writing a cover letter for an Home Builder job without experience can be a challenge. You don't have any experience to showcase but you need to make a strong impression to secure the job. The best way to tackle this is to focus on your skills and qualifications that are relevant to the job. Focus on the experience and knowledge you do have and showcase how you can use them to excel in the role. It is also important to highlight your enthusiasm for the job and the company. Demonstrate your willingness to learn and explain why you would make a great addition to the team.
2. How do I write a cover letter for an Home Builder job experience?
If you have experience in Home Builder, you should take advantage of that in your cover letter. Start by mentioning the specific skills and qualifications you have that are related to the job. Explain how your experience makes you an ideal candidate and highlight how you can use your skills to benefit the company. You should also demonstrate your knowledge of the Home Builder industry and explain how you are prepared to handle the challenges of the job. Most importantly, explain why you are passionate about Home Builder and how it aligns with your career goals.
3. How can I highlight my accomplishments in Home Builder cover letter?
When highlighting your accomplishments in a Home Builder cover letter, it is important to focus on the specific skills and abilities you have that are relevant to the job. Provide examples of successful projects you have completed, tasks you have accomplished and knowledge you have accumulated in the field. Explain how your experience has helped you develop your skills and how these skills have been beneficial to your previous employers. Clearly communication your successes and explain how they are applicable to the Home Builder job you are applying for.
In addition to this, be sure to check out our cover letter templates, cover letter formats, cover letter examples, job description, and career advice pages for more helpful tips and advice.
Let us help you build
your Cover Letter!
Make your cover letter more organized and attractive with our Cover Letter Builder