Writing a cover letter can be an important step in the job application process. While it may take some time and effort, crafting a well-written cover letter can make a positive impression on potential employers and give you an edge over other candidates. To help you get started, we've put together a guide on how to write a Glazier cover letter that stands out. We'll highlight some tips on what to include and provide an example of a Glazier cover letter. With this guide, you'll learn how to create a cover letter that is sure to make a great impression.
If you didn't find what you were looking for, be sure to check out our complete library of cover letter examples.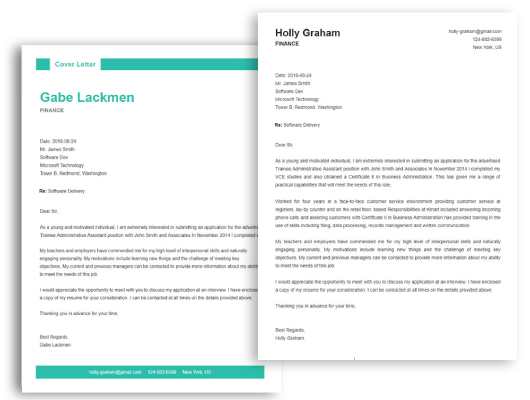 Start building your dream career today!
Create your professional cover letter in just 5 minutes with our easy-to-use cover letter builder!
Glazier Cover Letter Sample
Dear [Hiring Manager],
I am writing to apply for the position of Glazier at [Company Name], as advertised in [Ad Source]. I have extensive experience in glazing, with a strong background in installing, replacing, and repairing materials such as glass, mirrors, and other glazier products.
As a glazier, I possess the necessary skills and tools to complete any job to the highest standard. My experience in the construction and glazing industry has equipped me with the ability to read blueprints, conduct accurate measurements, follow instructions, and use power tools and hand tools safely and effectively.
I am committed to providing a professional service and customer satisfaction while maintaining a safe work environment. I am also a team player, having worked as part of a glazing team and expecting to do so again in the future.
I am confident I have the knowledge and skills to fulfill the role of glazier and look forward to discussing the position with you further. I would welcome the opportunity to meet and discuss my qualifications, experience, and passion for the job.
Thank you for your time and consideration.
Sincerely,
[Your Name]
Looking to improve your resume? Our resume examples with writing guide and tips offers extensive assistance.
What should a Glazier cover letter include?
A glazier cover letter should include a brief introduction of yourself and your experience in the glazing industry. You should also highlight your strongest areas of expertise, such as window replacement, working with a variety of glazing materials, and installation of commercial and residential glazing systems. Provide specific examples of projects you have completed, such as challenging glazing jobs and the successful results of your work.
In addition to your experience within the glazing industry, describe your abilities in communication, teamwork, problem- solving, and project management. Mention any certifications or licenses you hold that are relevant to the glazing profession. It is also important to explain why you are the best candidate for the position, emphasizing your dedication and commitment to quality workmanship. Finally, thank the employer for their time and express your interest in an in- person interview.
Glazier Cover Letter Writing Tips
Writing a cover letter for a glazier position can be intimidating. After all, many employers use cover letters to gauge your interest and knowledge about the company, as well as your skills and qualifications. But with the right tips and advice, you can craft a cover letter that will stand out from the competition and help you land the job. Here are some tips to get you started:
Research the company: Before you start writing your cover letter, take the time to research the company. Find out what they do, what they're looking for in a glazier, and what kind of environment they offer. This will help you tailor your cover letter to their needs and show that you're well- informed.
Use keywords: When writing your cover letter, be sure to use relevant keywords to demonstrate your knowledge and skills. This will help you make a good impression on the hiring manager and make it easier for them to assess your qualifications.
Highlight your experience: Describe any relevant experience you have that makes you a good candidate for the job. If you have any specialized training, certifications, or other qualifications, be sure to mention those as well.
Showcase your skills: Don't just list your skills, but demonstrate why you'd be an asset to the team. Explain how you can contribute to the company and why your skills make you a great fit for the position.
Proofread: After you've written your cover letter, it's important to proofread it for errors. Check for any typos or grammar mistakes, and make sure the letter is clear and concise.
These tips should help you write an effective cover letter for a glazier position. With the right research and preparation, you can craft an impressive cover letter that will give you a competitive edge and help you land the job.
Common mistakes to avoid when writing Glazier Cover letter
Writing a glazier cover letter can be difficult, but getting it right is essential to a successful job application. An effective cover letter should showcase your skills and experience, as well as grab the reader's attention and make them excited to learn more about you. To ensure that your cover letter is as effective as possible, here are some common mistakes to avoid:
Not Customizing the Cover Letter: It's important that your cover letter is tailored to the specific position you're applying for. Generic cover letters do not typically impress recruiters. Take the time to research the company and the position, and customize your letter to showcase why you're the perfect fit for the role.
Not Including Keywords and Phrases: Many employers use keyword- searching software to identify potential candidates for a position. Include keywords and phrases from the job listing in your cover letter to ensure your application is easily found.
Using an Unprofessional Tone: Your cover letter should demonstrate your enthusiasm for the role and show why you're the perfect fit for the position. Avoid an overly casual or unprofessional tone, and instead express your interest in a professional manner.
Not Including Your Contact Information: Make sure to include your contact information at the top of your cover letter. This allows the employer to easily reach out to you if they're interested in your application.
Not Proofreading: Before submitting your cover letter, make sure to proofread it thoroughly. Typos, grammar errors, and other mistakes can give a negative impression and may cost you the opportunity.
By avoiding these common mistakes, you can ensure that your glazier cover letter is as effective as possible and increases your chances of landing the job. Good luck!
Key takeaways
A well- crafted Glazier cover letter is essential to any job search. A good cover letter can make a big difference in how employers view you and your qualifications. Here are some key takeaways for writing an impressive Glazier cover letter:
Highlight your experience and qualifications. Showcase your specific skills and experience that make you an ideal fit for the position. If you have any relevant certifications or training, make sure to include them in your cover letter.
Demonstrate your glazing knowledge. Show employers that you understand the basics of glazing, from measuring to cutting and installing glass.
Make sure to showcase your ability to work with customers. Glaziers often have to interact with customers and show them their options. Demonstrate your ability to handle customer questions and provide quality service.
Mention any safety measures you take. Employers want to know that their glaziers are knowledgeable about safety protocols and do their best to protect themselves and others.
Show that you are organized and detail- oriented. Glaziers must be able to read blueprints, keep track of measurements, and handle materials carefully. Show employers that you can handle these tasks with precision.
Demonstrate your problem- solving skills. Glaziers often have to make decisions in the field, so be sure to highlight any times you've successfully troubleshot an issue.
A well- written Glazier cover letter is an important part of the job search process. By highlighting your experience, qualifications, and knowledge of glazing, you can make a great impression on potential employers.
Frequently Asked Questions
1. How do I write a cover letter for an Glazier job with no experience?
Writing a cover letter for a glazier job with no experience can be difficult. However, there are a few tips you should keep in mind that can help you create a stand- out cover letter. First, make sure you clearly explain your interest in the job and why you are an ideal candidate. Highlight any relevant skills and education that you have, even if they are not directly related to the job. Additionally, emphasize any practical or hands- on experience you have that could be useful for the role, such as using tools or working on projects. Lastly, make sure to provide specific examples of how you could be an asset to the glazier team.
2. How do I write a cover letter for an Glazier job experience?
If you already have experience in glazing, then you have a unique opportunity to show off your skills and experience in your cover letter. Make sure you emphasize any specialized glazier experience you have and how it can help the team. Additionally, highlight any successes you have had in your previous roles and how you can bring those successes to the current position. Showcase your knowledge of glazing techniques and explain any unique skills that make you an ideal candidate. Finally, use specific examples to demonstrate how you could be an asset to the team.
3. How can I highlight my accomplishments in Glazier cover letter?
When highlighting your accomplishments in a glazier cover letter, make sure to be specific and provide concrete examples. For instance, if you have completed a major project or won a safety award, make sure to explain the details. Additionally, explain any research or special studies you have conducted and how they have improved your skills. You should also emphasize any certification or advanced training that you have obtained to become a better glazier.
In addition to this, be sure to check out our cover letter templates, cover letter formats, cover letter examples, job description, and career advice pages for more helpful tips and advice.
Let us help you build
your Cover Letter!
Make your cover letter more organized and attractive with our Cover Letter Builder