Writing a cover letter to accompany your job application as a furniture assembler requires careful consideration of the job description and a strong commitment to conveying your qualifications. Crafting a successful cover letter can be an intimidating task, but with the right knowledge and preparation, you can create a compelling and professional document that will help you stand out from the competition. This guide provides tips and an example to help get you started.
If you didn't find what you were looking for, be sure to check out our complete library of cover letter examples.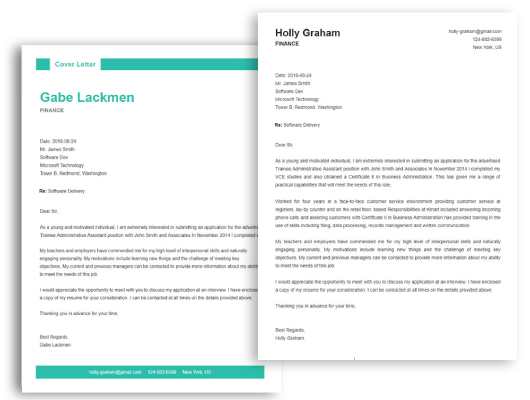 Start building your dream career today!
Create your professional cover letter in just 5 minutes with our easy-to-use cover letter builder!
Furniture Assembler Cover Letter Sample
Dear [Hiring Manager],
I am writing to express my interest in the furniture assembler position at [Company Name]. With more than three years of experience in the furniture assembly industry, I have the expertise to help [Company Name] expand its business operations.
My primary job responsibility was to assemble furniture for customers in a timely and efficient manner. I have a great eye for detail and I am capable of assembling furniture with precision. I also have experience in utilizing different tools and materials to construct furniture. My background in customer service has also enabled me to work well with customers, which is essential when working in the furniture assembly industry.
I have a passion for assembly and enjoy working with my hands. I take great pride in my ability to assemble high- quality furniture that meets our customers' expectations. I also understand the importance of following instructions and ensuring that all safety protocols are adhered to.
I am confident that my skills and experience align perfectly with the goals set for the furniture assembler position. I am excited to further discuss my qualifications and to join [Company Name] in this role. Thank you for your time and consideration.
Sincerely,
[Your Name]
Looking to improve your resume? Our resume examples with writing guide and tips offers extensive assistance.
What should a Furniture Assembler cover letter include?
A Furniture Assembler cover letter should include a professional introduction that outlines your qualifications for the role, your experience in assembling furniture, and your motivation for applying. It should also detail the skills you possess that make you an ideal candidate for the position, such as your knowledge of carpentry, your ability to read and interpret assembly instructions, and your attention to detail. In addition, you should describe any relevant certifications or qualifications you have, such as a diploma or certification in furniture assembly, and explain why you would make a valuable team member. Finally, the cover letter should provide a clear closing statement that summarizes your enthusiasm for the opportunity and expresses your willingness to discuss your qualifications and experience further.
Furniture Assembler Cover Letter Writing Tips
Writing a cover letter for a furniture assembler role is an important step in the job search process. A well- written cover letter can set you apart from other job applicants and can help you get noticed by potential employers. Here are some tips to ensure your cover letter is successful:
Highlight your qualifications: In your cover letter, you should emphasize your qualifications that are relevant to the furniture assembling role. Include any technical skills, such as carpentry or plumbing experience, as well as any relevant education or certifications.
Demonstrate your knowledge of the field: Show potential employers that you are knowledgeable about the furniture assembling field by including examples of projects you have completed in the past. Discuss any challenges you faced and how you overcame them.
Describe your experience: If you have prior experience in furniture assembling, make sure to talk about it in your cover letter. Include information about the types of furniture you have worked on, how long you have been in the field, and any specialties you have.
Showcase your customer service skills: As a furniture assembler, excellent customer service is essential. In your cover letter, describe any customer service experience you have, and discuss how you handle difficult customer requests or disputes.
Proofread: Before submitting your cover letter, make sure that it is free from spelling and grammar errors. Have a friend or family member read through your cover letter to catch any mistakes you may have missed.
By following these tips, you can create an effective cover letter that will help you stand out when applying for a furniture assembling role. Good luck!
Common mistakes to avoid when writing Furniture Assembler Cover letter
When applying for a Furniture Assembler position, it is important to avoid common mistakes in your cover letter. Here are some of the most important mistakes to watch out for when writing a Furniture Assembler cover letter:
Not having a clear format: It is important to have a clear structure that helps the reader understand the points you are making and follow the narrative of your letter. Use a standard format, such as a heading, introduction, body, and conclusion.
Not paying attention to detail: Your cover letter should be error- free. Read over it multiple times and have a friend or family member read it over to make sure there are no mistakes. Spelling and grammar mistakes can be seen as lack of attention to detail and will reflect poorly on you.
Not customizing your letter: You should take the time to tailor your cover letter to the specific job you are applying for. Include details about your experience that is relevant to the job and show why you are uniquely qualified for the position.
Not including measurable achievements: Whenever possible, highlight your accomplishments and provide evidence of your success. Quantifiable results can be a great way to show that you are a capable Furniture Assembler.
Not proofreading: Make sure to re- read your cover letter for errors. Typos can make it look like you're not serious about the job and can be a major turn off to potential employers.
By avoiding these common mistakes, you can ensure that your Furniture Assembler cover letter stands out and will help you get the job you want.
Key takeaways
A Furniture Assembler cover letter is an important part of the job application process. It should be tailored specifically to the job opening and demonstrate why you would be a great addition to the team. Here are some key takeaways for writing a successful Furniture Assembler cover letter:
Show your enthusiasm: Let the hiring manager know why you're passionate about the Furniture Assembler role. Mention any relevant skills, experience, and qualifications you have that make you a great fit for the job.
Demonstrate your knowledge: Share information about your experience and knowledge related to the job. Include details about any furniture- related projects you've worked on and the results you achieved.
Highlight your organizational and teamwork skills: As a Furniture Assembler, you'll need to be organized, pay attention to detail, and be able to work as part of a team. Showcase these skills in your cover letter to emphasize how you can be an asset to the company.
Demonstrate your problem- solving skills: As a Furniture Assembler, you'll need to be able to think on your feet and troubleshoot any issues that arise. Showcase any times you solved a problem in a creative way, or how you handled a difficult customer.
Show your commitment: Demonstrate your commitment to the job and company by including information about any volunteer work or furniture- related projects you've done in the past.
By following these key takeaways when writing your Furniture Assembler cover letter, you can create a compelling document that will stand out in the crowd.
Frequently Asked Questions
Writing a cover letter for a job as a Furniture Assembler can seem intimidating, especially if you have no prior experience in the field. Whether you are just entering the job market or looking to transition into a new career, the right cover letter can make the difference between getting noticed and getting ignored. Here are some tips for how to write a successful cover letter for an Furniture Assembler job, no matter your level of experience.
1. How do I write a cover letter for an Furniture Assembler job with no experience?
If you have no prior experience in furniture assembly, the best approach to take when writing a cover letter is to emphasize your transferable skills. Focus on the other strengths, such as an attention to detail, ability to follow instructions, and problem- solving skills that you have developed in your existing work. You may also want to highlight any relevant courses or certifications you have completed. With no prior experience, it is also important to show enthusiasm and demonstrate that you are willing to learn.
2. How do I write a cover letter for an Furniture Assembler job experience?
If you have previous experience in furniture assembly, you will want to make sure to highlight your accomplishments and qualifications in your cover letter. Provide specific examples of how you have improved efficiency, increased accuracy, or solved problems. Additionally, be sure to mention any experience you have in other related areas, such as carpentry, woodworking, or construction. You can also draw attention to any relevant certifications you have earned.
3. How can I highlight my accomplishments in Furniture Assembler cover letter?
When writing a cover letter for a Furniture Assembler job, it is important to highlight your achievements. Provide specific examples and metrics of how you have increased efficiency, improved accuracy, or solved problems.
In addition to this, be sure to check out our cover letter templates, cover letter formats, cover letter examples, job description, and career advice pages for more helpful tips and advice.
Let us help you build
your Cover Letter!
Make your cover letter more organized and attractive with our Cover Letter Builder