Writing a cover letter for a bricklayer position can be an important step in the job application process. It's an opportunity to highlight your skills and qualifications, as well as introduce yourself to a potential employer. Crafting a well-written cover letter can also help make a positive impression and set you apart from other applicants. This guide will provide you with tips on how to write an effective bricklayer cover letter and provide an example to help you get started.
If you didn't find what you were looking for, be sure to check out our complete library of cover letter examples.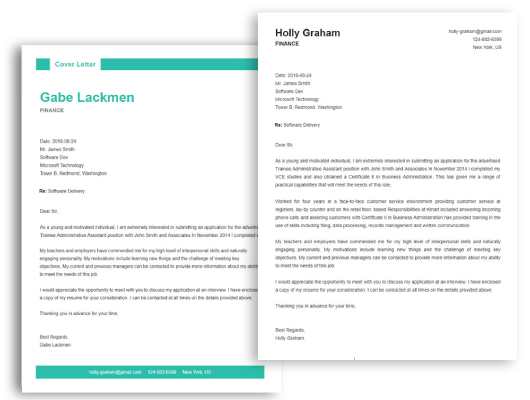 Start building your dream career today!
Create your professional cover letter in just 5 minutes with our easy-to-use cover letter builder!
Bricklayer Cover Letter Sample
Dear [Hiring Manager],
I am writing to express my strong interest in the Bricklayer position at [Company Name]. With over five years' experience in the industry, I possess a the knowledge and skills necessary to make a significant contribution to [Company Name].
My expertise and experience in bricklaying include laying bricks and masonry units, mixing mortar, and arranging and filling joints with natural or artificial materials. I am also experienced in using a wide variety of tools and equipment, including trowels, levels, and hammers. In addition, I am highly adept at reading and interpreting blueprints and working to exact specifications.
I have a proven record of success in delivering excellent work. Over the course of my career, I have served as a leader on many projects and worked to ensure a high- quality product. My commitment to safety and attention to detail make me a great asset to any team.
I am confident that my qualifications make me an ideal candidate for the position and I am committed to delivering results. I would welcome the opportunity to discuss my qualifications in more detail and look forward to hearing from you soon.
Sincerely,
[Your Name]
Looking to improve your resume? Our resume examples with writing guide and tips offers extensive assistance.
What should a Bricklayer cover letter include?
A Bricklayer cover letter should be concise and to the point, highlighting the most relevant and impressive elements of the applicant's experience, knowledge and skills.
The letter should begin with a short introduction that states the applicant's interest in the position and why they would be well suited for the role. The most important skills and qualifications should be mentioned and expanded upon, such as experience with a variety of bricklaying techniques, as well as any certifications held or relevant courses completed.
The applicant should also explain why they are passionate about bricklaying, as well as any relevant career goals they have.
Finally, the cover letter should include a polite and enthusiastic closing statement, expressing the applicant's enthusiasm for the role and a willingness to discuss the position further.
Bricklayer Cover Letter Writing Tips
A cover letter is a critical component of any job application. It is your way of introducing yourself to a potential employer and should be written with care and precision. For those looking for a job in the building and construction industry, a bricklayer cover letter can be an invaluable tool. Here are some tips to help you create an effective cover letter:
Start with an attention- grabbing introduction. Your introduction is the first thing the employer will read and should be used to demonstrate why you are the best candidate for the job.
Focus on your skills and experience. Make sure to highlight any relevant qualifications or experience that you have that makes you the ideal candidate. This is your chance to showcase what makes you stand out from the crowd.
Keep your cover letter concise. A bricklayer cover letter should not exceed one page in length and should focus on the most important points.
Use strong action words. Use active verbs to demonstrate your abilities and draw attention to your skills and experience.
Proofread your letter. Before you submit your letter, make sure to double- check for any typos or spelling errors. These mistakes can have a negative effect on your application and undermine your credibility.
Follow up. After submitting your letter, make sure to follow up with the employer to make sure it was received. This shows that you are serious about the job and shows the employer you are keen to progress the application.
By following these tips, you can create an effective bricklayer cover letter that will showcase your skills and experience and help you stand out from the crowd.
Common mistakes to avoid when writing Bricklayer Cover letter
Writing a good cover letter is essential if you're applying for a bricklayer job. A well- crafted cover letter can make a positive impression on the employer and help you get closer to the job you desire. However, there are some mistakes that are easy to make when writing a cover letter and should be avoided if you want to make sure your cover letter stands out from the competition.
Here are some common mistakes to avoid when writing your Bricklayer cover letter:
Not tailoring the letter to the job: It's important to customize your cover letter to fit the job you're applying for. You should highlight your skills and experiences that match the particular job you're applying for.
Not proofreading: A cover letter should be well- written and error- free. Before you send your cover letter, make sure to read it over several times to make sure there are no typos, grammatical errors, or spelling mistakes.
Not following the proper format: A cover letter should be written in a professional manner and should follow the standard cover letter format. Make sure that your letter is properly formatted and includes all the necessary elements, such as your address, contact information, and the recipient's address.
Not mentioning your experience: When writing a cover letter for a bricklayer job, it's important to mention your experience as a bricklayer. Talk about any particular skills you have that make you a good fit for the job, such as your ability to follow instructions, work with teams, and handle difficult tasks.
Not giving enough information: Your cover letter should provide enough information that the employer can get a good idea of who you are and what you bring to the table. Make sure that you include relevant information about your experience and qualifications, as well as a few details about why you're a good fit for
Key takeaways
Cover letters are an important part of any job application. As a bricklayer, you will need to show potential employers that you have the right skill set and experience to excel in the position. Here are some key takeaways for writing an impressive cover letter:
Showcase your experience and skills: Highlight your experience as a bricklayer, such as specific construction techniques you know, any certifications you have, or other related qualifications.
Demonstrate your commitment to safety: As a bricklayer, safety is essential, so make sure to emphasize your commitment to following safety protocols on the job.
Display your positive attitude: It helps to demonstrate your enthusiasm for the job and dedication to getting the job done right.
Explain why you're the best candidate: You should explain why you're the ideal candidate for the job and why your skills and experience make you the perfect fit.
Include any references: If you have professional references that can attest to your work as a bricklayer, make sure to include them in your cover letter.
Proofread and edit: No matter how great your content is, mistakes can make you look unprofessional. Be sure to read your cover letter several times and edit for any errors.
Following these tips will help you craft an impressive and professional cover letter for your next bricklayer job application. Good luck!
Frequently Asked Questions
1.How do I write a cover letter for an Bricklayer job with no experience?
Writing a cover letter for an Bricklayer job with no experience is a challenge. It can be intimidating to put yourself out there and compete against other applicants who may have more experience in the field. However, with the right approach, you can still make a great impression on potential employers.
Start by researching the company you're applying to. This will give you a better understanding of the company's mission and values, which will help you tailor your cover letter to their specific needs. Also, be sure to highlight any skills you have that are transferable to the bricklaying field, such as working with tools, problem- solving, and attention to detail.
When it comes to your lack of experience, don't be afraid to make your cover letter an opportunity to showcase your enthusiasm and commitment to the field. Explain why you're eager to learn and how you plan to make up for your lack of experience with your dedication and hard work.
Finally, thank the employer for their time and consideration, and end with a call- to- action that encourages them to contact you.
2.How do I write a cover letter for an Bricklayer job experience?
When writing a cover letter for an Bricklayer job with experience, you want to focus on the accomplishments you've achieved in the field. Showcase the skills, tools, and techniques you've learned and utilized over the course of your career.
Again, start by researching the company and their values, so you can tailor your cover letter to their specific needs. Then, draw attention to any relevant projects or jobs you've completed in the past. Be sure to highlight any successes or awards you've earned along the way.
In addition to this, be sure to check out our cover letter templates, cover letter formats, cover letter examples, job description, and career advice pages for more helpful tips and advice.
Let us help you build
your Cover Letter!
Make your cover letter more organized and attractive with our Cover Letter Builder