Writing a compelling cover letter to accompany your resume can be a challenging task. Fortunately, there are some steps you can take to make the process easier. This blog post provides a guide to writing the perfect cover-letter for a position as a pos technician, with an example cover letter included. With these tips, you can craft a letter tailored to the job and make sure you stand out from the competition.
If you didn't find what you were looking for, be sure to check out our complete library of cover letter examples.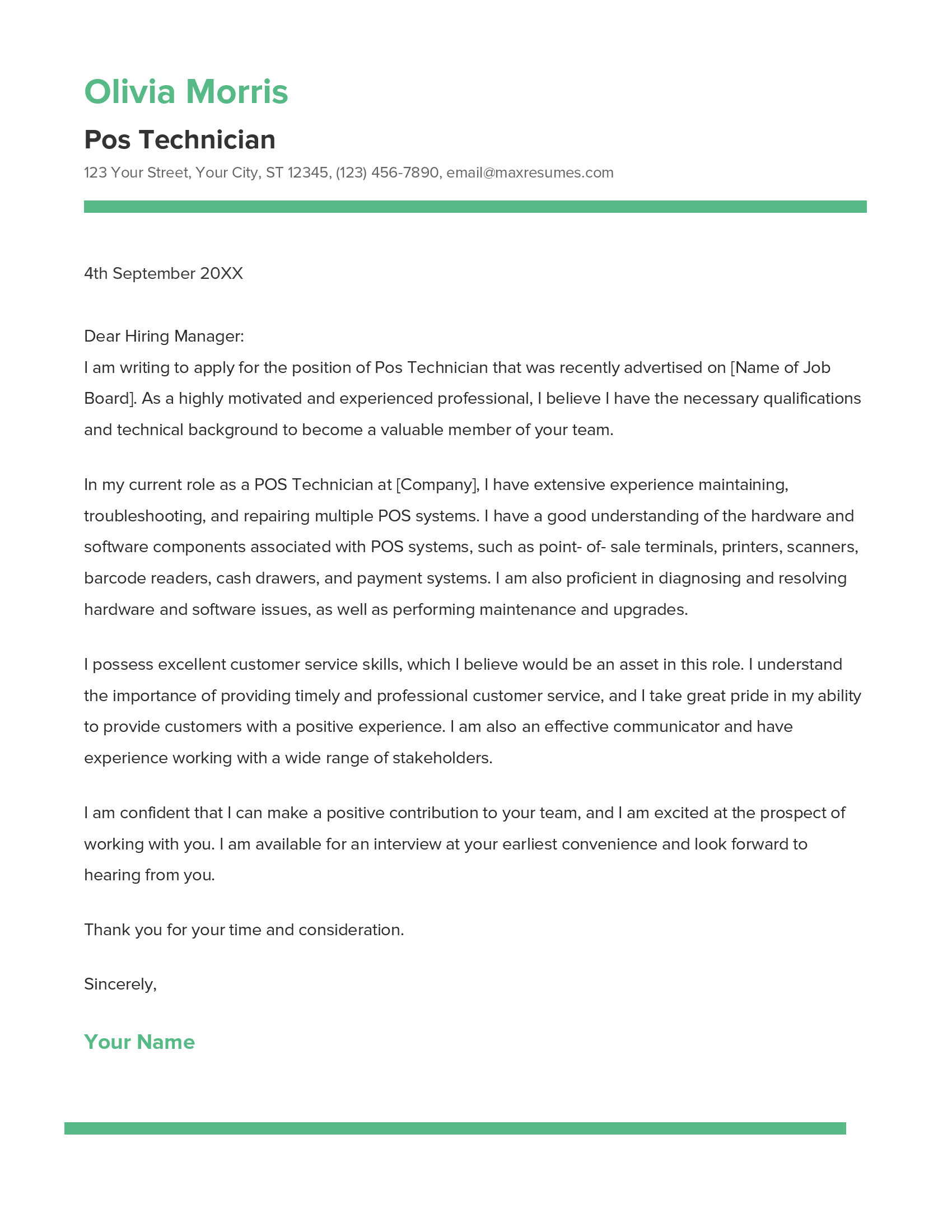 Download the Cover Letter Sample in Word Document – Click Below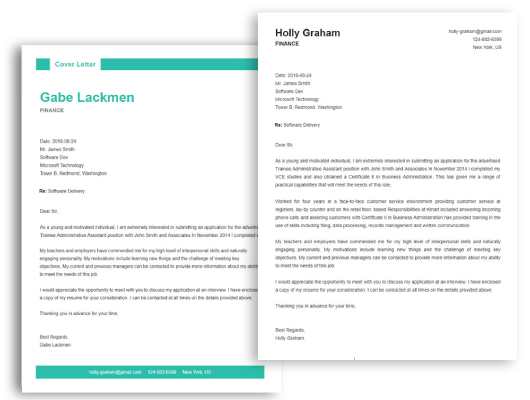 Start building your dream career today!
Create your professional cover letter in just 5 minutes with our easy-to-use cover letter builder!
Pos Technician Cover Letter Sample
Dear [Hiring Manager],
I am writing to apply for the position of Pos Technician that was recently advertised on [Name of Job Board]. As a highly motivated and experienced professional, I believe I have the necessary qualifications and technical background to become a valuable member of your team.
In my current role as a POS Technician at [Company], I have extensive experience maintaining, troubleshooting, and repairing multiple POS systems. I have a good understanding of the hardware and software components associated with POS systems, such as point- of- sale terminals, printers, scanners, barcode readers, cash drawers, and payment systems. I am also proficient in diagnosing and resolving hardware and software issues, as well as performing maintenance and upgrades.
I possess excellent customer service skills, which I believe would be an asset in this role. I understand the importance of providing timely and professional customer service, and I take great pride in my ability to provide customers with a positive experience. I am also an effective communicator and have experience working with a wide range of stakeholders.
I am confident that I can make a positive contribution to your team, and I am excited at the prospect of working with you. I am available for an interview at your earliest convenience and look forward to hearing from you.
Sincerely,
[Your Name]
Looking to improve your resume? Our resume examples with writing guide and tips offers extensive assistance.
What should a Pos Technician cover letter include?
A post technician cover letter should include several key elements in order to be effective. First, it should clearly explain the applicant's qualifications and experience in the field. The cover letter should also explain why the applicant believes they would be an asset to the company they are applying to, emphasizing their technical skills and any other relevant knowledge or experience. Additionally, a post technician cover letter should highlight the applicant's customer service skills, communication abilities, and problem- solving skills. Finally, the letter should include a statement expressing enthusiasm for the opportunity and a call to action asking for an interview.
Pos Technician Cover Letter Writing Tips
A position technician cover letter can be a crucial part of your job application package, as it helps to showcase your skills and qualifications in a concise manner. Here are some tips to ensure that your cover letter stands out from the rest:
Start off strong by introducing yourself and your qualifications in a confident and professional way.
Highlight the skills and experiences that make you the ideal candidate for the position, and explain how you can contribute to the team.
Make sure your cover letter is well- formatted, using fonts and size that are easy to read.
Double check for any grammar or spelling errors, and make sure that all relevant information is included.
Mention specific accomplishments or awards that are relevant to the position.
Show how passionate you are about the company and the position, and express enthusiasm for the opportunity.
Include a call to action at the end of the letter, such as asking for a follow up interview.
Close the letter with a polite thank you and your contact information.
Following these tips can help you create an effective and memorable cover letter that will help you stand out from the competition. Best of luck in your job search!
Common mistakes to avoid when writing Pos Technician Cover letter
Writing a cover letter for a position as a pos technician can seem intimidating. There are so many details to consider, and it can be hard to know where to start. However, by avoiding a few common mistakes, you can ensure that your cover letter stands out and accurately conveys your skills and qualifications.
Below are some common mistakes to avoid when writing your cover letter for a pos technician position:
Not following the instructions: Make sure to thoroughly read the job description and follow the instructions provided by the employer. This can include things like formatting requirements, word count, and how to submit your cover letter.
Not researching the company: Before writing the cover letter, you should research the company and use this information to tailor your application. This will give you a better understanding of the company, its mission, and the position you're applying for.
Being too generic: Your cover letter should be tailored to the company, job, and why you're the best candidate for the position. Generic phrases and sentences won't help to make your letter stand out.
Not proofreading: Once you've finished writing your cover letter, it's important to proofread it for any grammar, spelling, or typographical errors. This will help to ensure that your letter is clear and professional.
Not including your contact information: Make sure to include your contact details at the top of your cover letter so that the employer can easily get in touch with you if they're interested in your application.
By avoiding these common mistakes, you can ensure that your cover letter for a pos technician position is professional, clear, and effective. Good luck!
Key takeaways
Writing an impressive and effective cover letter for a position as a Post Technician can be daunting. However, there are some key takeaways that can help you create an effective cover letter that will grab potential employers' attention. Here are the key takeaways for writing a post technician cover letter:
Tailor the cover letter to the specific job you are applying for. Include details about the specific position and why you believe you are the best candidate for the job.
Focus on the skills and experience you have that are directly related to the job. Highlight special qualifications that make you a great fit for the job.
Keep the cover letter concise and on point. You don't need to go into too much detail about your qualifications or experience. Keep it brief and to the point.
Make sure to proofread and edit the cover letter before submitting it. Typos and grammar mistakes can easily be avoided with a quick read- through.
Use a professional and friendly tone throughout the cover letter to make it memorable. Show potential employers why you would be an asset to their team.
Writing a great cover letter as a post technician will make you stand out from the competition and show potential employers why you are the best candidate for the job. Keep these key takeaways in mind as you craft your cover letter and you're sure to make an impression on potential employers.
Frequently Asked Questions
1.How do I write a cover letter for an Pos Technician job with no experience?
Writing a cover letter for a position as a POS Technician when you have no experience can be a challenge. However, there are some strategies you can use to make your cover letter stand out. First, emphasize your transferable skills. Explain how the skills you have acquired, such as problem- solving, customer service, and technical proficiency, make you a great fit for the job. Next, explain why you are passionate about the position. Share what you know about the industry and why you are excited about this particular job opportunity. Finally, highlight any relevant coursework or training you have completed. This will show potential employers that you have the knowledge and skills necessary for the job.
2.How do I write a cover letter for an Pos Technician job experience?
If you have experience as a POS Technician, you should use your cover letter to showcase your accomplishments. Start your letter by mentioning the specific job you're applying for and how you heard about it. Then, use the body of your letter to highlight the key elements of your experience and successes. Provide examples of your technical proficiency and leadership skills. Showcase your ability to stay up- to- date with the latest technologies and be a team player. Finally, emphasize the value you can bring to the job and the organization.
3.How can I highlight my accomplishments in Pos Technician cover letter?
When highlighting your accomplishments in your POS Technician cover letter, focus on specific achievements and successes. Provide concrete, quantifiable examples of the projects you have completed and the results you achieved. Examples might include the successful implementation of new technology, resolving customer issues, and meeting tight deadlines. Additionally, you can discuss any awards or recognition you have received for your work.
4.What is a good cover letter for an Pos Technician job?
A good cover letter for a POS Technician job should demonstrate your technical expertise and highlight your accomplishments in the field. Start by thanking the employer for considering your application, and then explain why you are the perfect candidate for the job. Make sure to include specific examples of your success and experience as a POS Technician. Showcase your knowledge of the industry and your ability to work in a fast- paced environment. Finally, express your enthusiasm for the position and your dedication to providing the best customer service.
In addition to this, be sure to check out our cover letter templates, cover letter formats, cover letter examples, job description, and career advice pages for more helpful tips and advice.
Let us help you build
your Cover Letter!
Make your cover letter more organized and attractive with our Cover Letter Builder