Writing a cover letter for an Associate Project Manager position can be a challenging task. It is important to make sure your letter stands out from other applicants. This guide will provide helpful tips on crafting a compelling and effective Associate Project Manager cover letter, along with an example to get you started.
If you didn't find what you were looking for, be sure to check out our complete library of cover letter examples.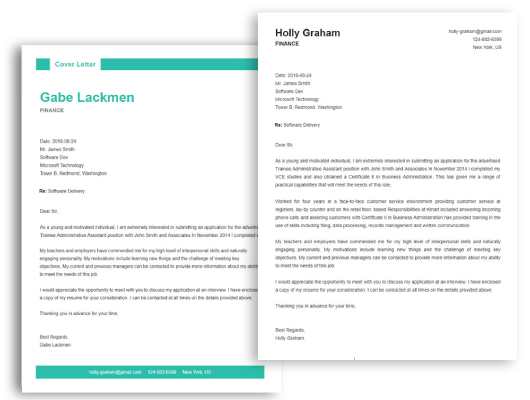 Start building your dream career today!
Create your professional cover letter in just 5 minutes with our easy-to-use cover letter builder!
Associate Project Manager Cover Letter Sample
Dear [Hiring Manager],
I am writing to express my interest in the Associate Project Manager position at [Company Name].
With over seven years of project management experience in the IT industry, I am confident that my skills, knowledge, and experience can be a valuable asset to your organization. I have extensive experience developing project plans, managing budgets and using project management software to ensure that projects are completed on time and within budget.
I have a proven track record of success in project management, and I am passionate about ensuring that projects are completed in a timely and efficient manner. My expertise includes developing detailed plans and schedules, managing resources and delegating tasks to ensure that project goals and objectives are met. I also have strong problem- solving and communication skills, which I use to resolve conflicts and ensure team cohesion.
I am a highly organized and driven professional with a passion for delivering successful projects. I am confident that I can make a positive contribution to your team as an Associate Project Manager. I am eager to discuss my qualifications in greater detail and am available for an interview at your convenience.
Thank you for your time and consideration.
Sincerely,
[Your Name]
Looking to improve your resume? Our resume examples with writing guide and tips offers extensive assistance.
What should a Associate Project Manager cover letter include?
A cover letter is an important document that provides a potential employer with insight into your qualifications, experience, and personality. As an Associate Project Manager, your cover letter should demonstrate your understanding of project management principles and your ability to effectively manage projects.
When writing an Associate Project Manager cover letter, be sure to include details about your experience with project management. Highlight any relevant certifications or qualifications you have earned, such as a PMP or CAPM certification. Additionally, include information about projects you have successfully managed, such as project timelines and budget. Showcase your ability to work with clients and other stakeholders, as well as your understanding of the project lifecycle.
Your cover letter should also demonstrate your communication skills and your ability to work both independently and as part of a team. Explain any strategies you've used to ensure projects remain on schedule and on budget. Explain your approach to project management and include examples of how you've effectively managed projects in the past.
Finally, your cover letter should showcase your enthusiasm and energy for the position. Explain why you are the ideal candidate for the job and why you think you will be successful in the role. Demonstrate your commitment to the company and the position, and explain why you are the perfect fit.
By including all of these details in your Associate Project Manager cover letter, you can show potential employers that you are dedicated, organized, and a great fit for the position.
Associate Project Manager Cover Letter Writing Tips
Writing a cover letter as an associate project manager can be intimidating, especially when you are trying to make a strong impression on a potential employer. A powerful cover letter can be the difference between getting an interview or being overlooked. Here are some tips to help you write an effective associate project manager cover letter:
Highlight Your Achievements: Your cover letter should focus on your achievements and successes in the project management field. Showcase all the skills and experience that make you a standout applicant.
Show Passion: Employers want to hire enthusiastic employees who are excited about the job. Show that you have a deep passion and commitment to project management, and that you are ready to tackle any challenge.
Be Specific: Don't be too generic in your cover letter. Instead, be specific about the position you are applying for. Describe how your experience and skills are uniquely suited to the role.
Demonstrate Your Value: Explain why you are the ideal candidate for the position, and how you will bring value to the organization.
Keep It Short and Sweet: Your cover letter should be concise and to the point. Don't ramble on for pages and pages. Get to the point quickly and effectively.
Proofread: Make sure to thoroughly proofread your cover letter and check for any typos or grammatical errors. Even the smallest mistake can be a major turn- off for employers.
Common mistakes to avoid when writing Associate Project Manager Cover letter
When writing an Associate Project Manager cover letter, it is important to avoid certain common mistakes to ensure your letter is professional and effective. Here are some mistakes to avoid:
Not tailoring your letter. Your cover letter should be tailored to the job for which you are applying. Use the job description of the position to identify the necessary skills and experiences the employer is looking for, and be sure to include these in your letter.
Not proofreading. An error- filled cover letter can create a negative impression on the employer. Before submitting your letter, make sure you read it several times and have someone else read it as well.
Not being specific. Vague statements such as "I am an experienced project manager" won't tell the employer much. Instead, focus on specific examples of your experience, such as how you successfully managed a particular project or how you developed a new process that increased efficiency.
Not highlighting your achievements. The employer needs to know what makes you a viable candidate for the position. Make sure to include any notable accomplishments or awards that may be relevant to the position.
Submitting a generic letter. Generic letters are usually quickly discarded. Make sure to personalize your letter to the employer and position.
By following these tips, you can be sure to create a strong and effective Associate Project Manager cover letter. Good luck with your job search!
Key takeaways
Writing a great cover letter as an Associate Project Manager can be a daunting task, but there are a few key takeaways to remember that will help you craft an impressive and effective letter.
Highlight your relevant experience and skills. Emphasize the accomplishments you've had in previous project management roles and how you can bring those same skills to the role you're applying for.
Show enthusiasm for the job and the company. Demonstrate your enthusiasm for the position and the organization by emphasizing the ways in which the role aligns with your experience and skills.
Showcase your communication skills. A successful project manager is an effective communicator, so make sure to demonstrate this in your cover letter.
Explain why you're a good fit. Your cover letter should explain why you're the perfect fit for the role, and how you can use your skills and experience to make sure the projects you manage are successful.
Keep it short and to the point. Your cover letter should be no longer than one page, and should focus on the key points of why you're the right candidate for the job.
Following these key takeaways will help you write an impressive and effective cover letter that will give you the best chance of securing the job.
Frequently Asked Questions
1. How do I write a cover letter for an Associate Project Manager job with no experience?
As an aspiring Associate Project Manager with no experience, creating a compelling cover letter may seem daunting. However, it's possible to present yourself in the best light by demonstrating your enthusiasm for the position, your knowledge of the industry, and your skillsets that could benefit the organization. Start by introducing yourself and why you are interested in the job. Then, explain what makes you a strong fit for the job, such as any industry certifications, educational accomplishments, or previous relevant volunteer efforts. Finally, end your letter with a call to action and provide contact information so that the hiring manager can reach out to you.
2. How do I write a cover letter for an Associate Project Manager job experience?
If you have experience working as an Associate Project Manager, a compelling cover letter can help you stand out among other applicants and make a lasting impression on potential employers. Begin by introducing yourself and expressing your enthusiasm for the position. Then, provide a brief overview of your experience and highlight any successes or accomplishments. Be sure to mention any relevant skills and certifications that you possess. Finally, express your willingness to learn and grow in the position and provide your contact information so that the employer can easily reach out to you.
3. How can I highlight my accomplishments in Associate Project Manager cover letter?
A great way to highlight your accomplishments in an Associate Project Manager cover letter is to focus on tangible results and successes. For example, if you have managed large- scale projects, outline the objectives and the outcomes that you achieved. Mention any awards or professional recognition that you have received and explain what makes them unique. Additionally, be sure to mention any certifications or specialized training that you have completed that make you an even more desirable candidate.
In addition to this, be sure to check out our cover letter templates, cover letter formats, cover letter examples, job description, and career advice pages for more helpful tips and advice.
Let us help you build
your Cover Letter!
Make your cover letter more organized and attractive with our Cover Letter Builder